Days before the 22nd Conference of the Parties (COP22) meets in Morocco next week, the landmark Paris Agreement to combat climate change has come into effect today.
Agreed by nearly 200 countries in December 2015, the agreement commits world leaders to keep global warming well below two degrees above pre-industrial levels. Scientists and researchers are rallying for an even tougher target of 1.5 degrees to hold back the most devastating effects of climate change.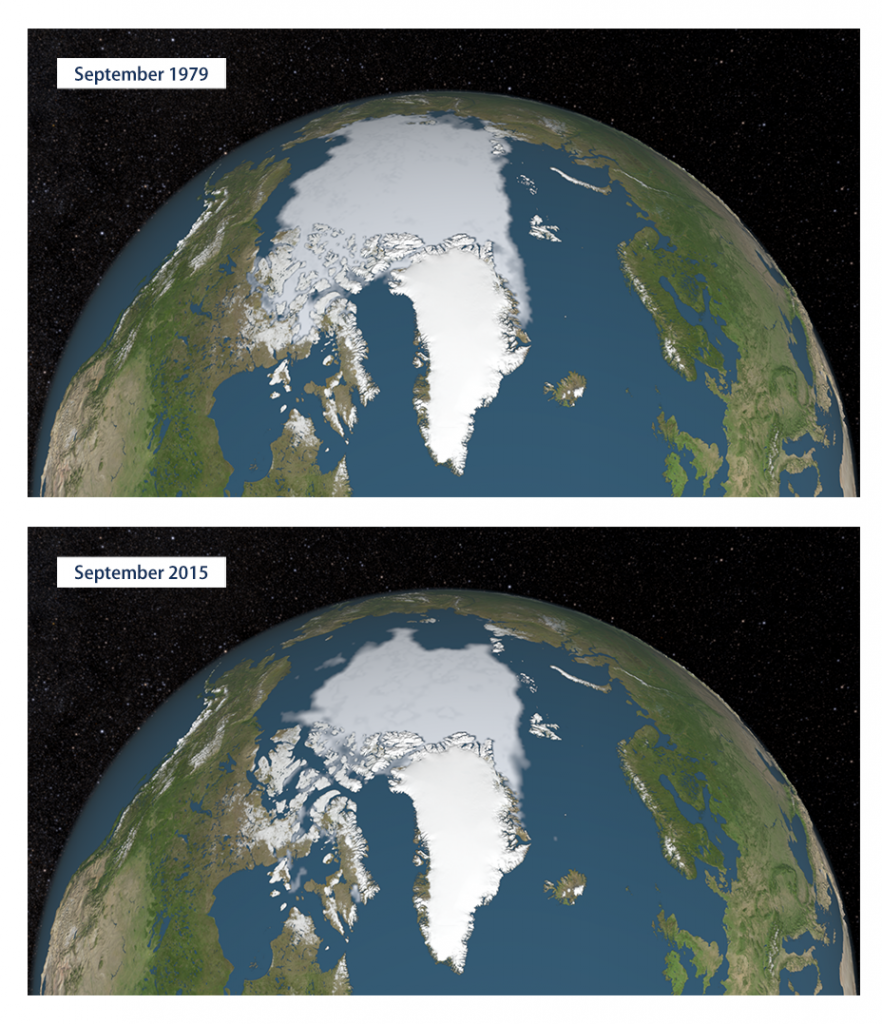 Now that the passage of accord has become legally binding, the hard part begins: How do we do this? While fighting climate change on a number of fronts, the role of geoinformation and space technologies cannot be discounted. Earth observation data and high-resolution satellite imagery are absolutely vital for monitoring, analyzing and effectively planning to mitigate the effects of climate change.
Out of the 50 essential climate variables being monitored today, 26 can be measured only from space. These include sea level monitoring, polar ice extent and greenhouse gas emissions in all layers of the atmosphere.
Geospatial technologies not only provide visual proof of the extreme weather conditions, melting polar ice caps, dying corals and vanishing islands, it links all kinds of physical, biological and socioeconomic data in a way that helps us understand what was, what is, and what could be. Spatial analysis highlights the realities of our planet in an irrefutable way to streamline decision-making and aid policymakers to understand which areas need immediate attention and action.
Climate change knows no borders. It is an issue that affects all of us. It is a problem that needs to be tackled holistically on a global level, not just on a countrywide basis. Satellite data transcends borders. It can be used to evaluate the effects of climate change beyond administrative boundaries.
"Earth observation satellites provide a vital means of obtaining measurements of the climate system from a global perspective," believes Indian Space Research Organization (ISRO) Chairman A.S. Kiran Kumar. Which is why, under the impetus of ISRO and the French Space Agency (CNES), space agencies of more than 60 countries have agreed to engage their satellites, to coordinate their methods and their data to monitor human-induced greenhouse gas emissions.
According to Dr. V. Liebig, Director, ESA's Earth Observation Program, "Satellites provide a unique opportunity to observe the Earth and its environment in great detail. They give us a global view on a regular basis of more or less every remote region on our planet. They deliver independent information daily and provide measurements that are not available with any other technology. Counter measures can only be put in place if we have a thorough understanding of what is going on."
Geospatial technologies are unarguably the most powerful tool we have to fight climate change. So, even though there is no explicit role for geospatial technologies in the official draft of the Paris Agreement, the industry must take the onus to lead from the front and give policymakers an up-close-and-personal view of the power of geoinformation.
Craig Hanson, Global Director of Food, Forests & Water, World Resources Institute, agrees. "Geospatial doesn't really need a mandate, but what it does need is availability and free access. We have all seen the benefits of geospatial data when it comes to sustainable development," he told Geospatial World before COP21 last year.
Free access and availability of data is a priority for UNEP Executive Director Achim Steiner also. "If good data drives better decisions, open data drives better collaboration. We will need both to meet the challenges of a sustainable future for our planet and its peoples. When information and knowledge are made accessible to everyone across the social spectrum, informed choices and decisions can be made at all levels that support the goals of sustainable development," he said at Eye on Earth Summit last year.
After all, when it comes to climate change, the world does not have a Plan B.