The last few months have strengthened our faith in the power of An increasingly vibrant European EO data market. Satellite imagery has been playing an unmatched role in measuring the worldwide impacts of COVID-19 outbreak and facilitating timely actions.
Location based services have been crucial for understanding the size of this pandemic, but they have also been crucially important to support people in overcoming the limitations that COVID-19 generated. Geoinformation systems are actually a game changer for monitoring human activities and defining correct solutions to sustain the economic recovery in this critical situation.

The pandemic has made each one of us realize the immense potential of visualization in making effective business decisions. Additionally, collaboration has emerged as one of the most important characteristics to imbibe in the new way of living.
Cloud computing, facilitating collaboration
In case of almost every business today, the concept of collaborative working is picking up, making cloud computing the 'go-to' technology. Cloud computing enables businesses to improve performance, control costs and ultimately transform business models. The underlying philosophy behind the cloud is the sharing of data and services, which has become a necessity in today's time of integrated workflows. Cloud infrastructure has become the preferred mode of hosting, storing and exploiting large EO datasets as well.
"Today, the market no longer demands for images only, but data analysis as well: this change in paradigm impacts the space industry and requires the optimization of processes, research and development of algorithms, based on artificial intelligence. CLEOS is born for this reason," says Paolo Minciacchi, CEO, e-GEOS.
With the changing times, the space industry is also rapidly changing. High-resolution high revisit optical and radar imagery, cloud computing and Artificial Intelligence (AI) are the key disrupting innovations driving the evolution in the Earth Observation domain. In particular, AI has the power to make a lot of sense out of this vast amount of data that are stored in controlled temperature data centers. Thanks to the computing power offered by scalable cloud infrastructures, AI algorithms are delivering unprecedented and new insights to organizations to make their business more data data driven.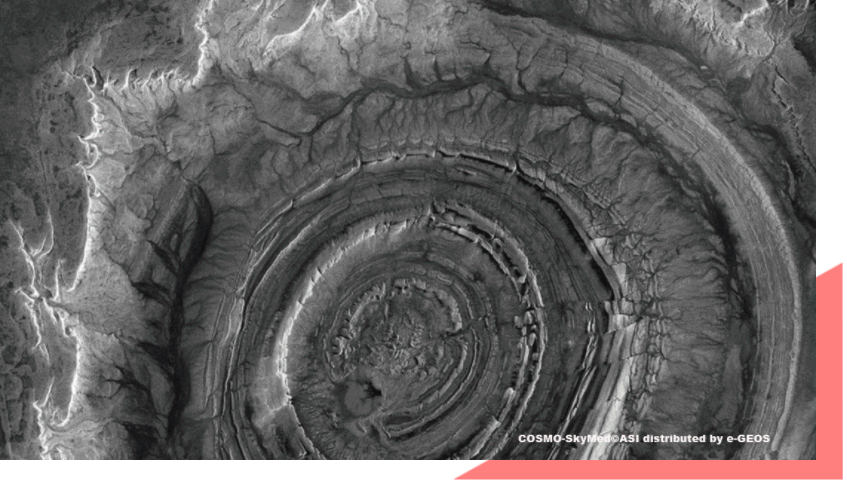 "The increasing availability of high resolution data provided by large constellation like COSMO-SkyMed, the data coming from systematic acquisition missions like the Copernicus Sentinels, aerial data, integrated non-EO and IoT data for geospatial solutions, require large computing capabilities to exploit this "new oil" and interconnecting large storage close, as much as possible, to the processing units. CLEOS represents e-GEOS gateway for multi-sensor data fusion leveraging on complex algorithms," shares Minciacchi.
Better insights powered by AI
Satellites are constantly observing and measuring our planet, delivering a huge amount of data that help us to understand how our world is changing. These data can feed a myriad of applications, helping in solving crucial problems. Using AI, a lot more value can be extracted out of these valuable data. As the relevancy of space data increases in several business applications, there is an emerging need for robust solutions to facilitate data collection and information delivery; solutions that can effectively unlock the geoinformation value in AI-powered applications. 
e-GEOS is a leader in providing information and answers to manage natural and business resources from supplementary perspective and fast response. It has been providing Earth Observation data from optical and radar satellite imagery, aerial data, integrated non-EO and IoT data for geospatial solutions, enabling businesses perform more efficiently.
Also Read: Why space traffic management is crucial
"The value trapped in large EO data collections is humongous and developing AI-powered models and algorithms tailored to EI data analysis it is possible today to deliver this value to our Customers detecting and reporting a lot of different signals at scale, every day and everywhere. CLEOS is our factory to quickly build, test and put in operations AI-powered workflows addressing increasingly automated applications," Domenico Grandoni, Head-AI Centre, e-GEOS, rightly points out.
CLEOS- the one-stop-shop for Satellite and Earth Observation data
Taking things further, e-GEOS presents CLEOS, the all-in-one solution to master the digital revolution of geoinformation services. It offers direct access to a wide set of space and non-space data, information products and predefined processing services. Through the developer portal, expert users can build, test and scale their own geoinformation services and market them in CLEOS Marketplace. Through a rich and secure set of APIs, external platforms and systems can exploit CLEOS services in highly automated, machine-to-machine transactions. SMEs and start ups can also take advantage of CLEOS to focus on new applications development rather than on basic functions.
CLEOS offers a unique process to access e-GEOS world. Managed through Salesforce and connected to the whole e-GEOS portfolio, it grants a virtual unified multi-channel approach. Through a unique marketplace, all users can access directly online many commercial EO and non EO data to feed customizable workflows already optimized for scalability in the cloud.
Thanks to its technological infrastructure and innovative concept, CLEOS makes Geoinformation System available to every single user. In fact, common people, small and medium sized company can now benefit from this powerful tool that had been principally used by bigger companies, to positively Impact their business models.
"Today the competition is moving a step forward. We are now living the platform economy that supports the sharing of the capabilities to tackle at the best the needs of the actual customers  and new stakeholders coming from new markets. This is the real transformation that CLEOS is bringing to e-GEOS's world-wide partners and customers," says Bruno Versini, COO, e-GEOS.
"Many processes are going to be redesigned thanks to the capabilities enabled by CEOS. It's a process that require time and induction within the e-GEOS people and also within the ecosystem, shares Pier Francesco Cardillo, Head-Digital Transformation, e-GEOS.
"CLEOS is also introducing a new level of services at e-GEOS: thanks to CLEOS marketplace we will serve our customers on round the clock on a daily basis. This requires great effort and a new approach. This is the goal of the digital transformation that CLEOS is supporting at e-GEOS," Minciacchi continues.
CLEOS accelerates the use of AI for Earth Observation by providing the perfect environment for building, testing and scaling AI based geoinformation services. As the enabler of new Earth Observation recipes, CLEOS stands out as the perfect choice for managing the purchase and delivery of geospatial and non-geospatial data, products and services in a safe and transaction-friendly environment. Explore today!
Also Read: Journalism from Sky