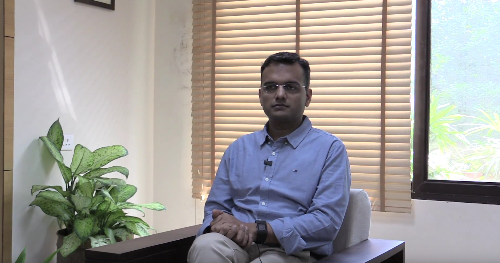 Smart Cities are not about infrastructure but its citizens, shares Dr Krishan Kumar during an exclusive interview on Bhubaneshwar Smart City.
How would you define a smart city?
A smart city is built with the objective of doing more with less, using technology. This is how evolution has happened across the world, and with smart cities, our objective is to have more efficient systems in governance, in the delivery of public services, in the management of city infrastructure and management of citizens' day to day life.
What are the key enablers in the development of smart cities?
First is vision- whether the city and the citizens are ready to be connected with the municipal council and the government and whether they are able to think through what they want in the future, that's the beginning point. If we are able to envision together, we will be able to implement together.
The second thing is capacity. Today we have huge capacity constraints, and gaps as to how should we fill up those quickly and how do we move forward.
Thirdly, it is gaining an understanding of technology and keeping citizens at the center of the whole program. And we must also consider how sustainable our projects and programs are, do we have the necessary understanding on sustainable urbanization, the new urban agenda or we are just chasing some dreams which look good on paper but are not really good for the sustainable future of our cities.
What are the fundamentals of Bhubaneswar Smart City?
Citizens are always at the center. Cities are about their citizens, not the infrastructure. Infrastructure is a requirement of citizens. That's why it's there in the second place. We shall never ever lose sight of this fact. Having said that, some of the functional areas about the public service delivery we need to improve in days to come for which we have been making plans. For instance, the transportation planning, Bhubaneswar has a city bus service but it's not up to the mark, so we are in the process of strengthening that and we are very sure within one and a half years Bhubaneswar will have one of the best bus-based public transport systems.
We also need to ensure that we are able to manage our waste properly. We are good at collecting the waste and getting it to a particular place and we are now working on waste to energy plant where we are tackling certain teething problems. We are also working on decentralizing waste management. The new rules of waste management focus on it as well. When we talk about waste management, people usually forget about e-waste, it's a digital age, the fourth industrial revolution is about digital economy, and the quantum of e-waste is going to be humungous in days to come. We are working with IFC on this and a draft plan is getting ready. In six months period we will be rolling out our action plan on e-waste management, and similarly with plastic waste management and other issues.
What is the progress of the Smart City project?
A lot of work has begun, and by the end of this year, we will have most of our important projects take off. We have started working on multi-level car parking, on major smart corridors, on smart parks; five of them have been executed. We have also started work on social equity programs. In fact, Bhubaneswar's proposal was very strong on social equity, because we strongly believe that even the last man in the city needs to be taken care of. It's not just about building some jazzy infrastructure, and hence we are setting up social equity centers across the city which will provide good drinking water, good food at a subsidized rate of INR 5 only under Ahar Scheme. We are running a large number of shelters and construction workers' hostels for the urban homeless.
We have completed about 30kms of underground cabling on major streets. Housing projects have taken off now. We have almost finalized our systems for about 10000 houses for weaker sections in Bhubaneswar, which will take care of about 15% of our requirement. This, if repeated 3-4 times, should take care of housing for all. These are some of the projects where progress has been achieved.
We are also coming with a modern railway station, a multi-model hub program, which will take off between the end of this year and March next year, it's at a very advanced stage of planning. The City bus modernization plan will soon take off.
Bhubaneswar has come under the sports radar also. We hosted Asian Athletic Championships last year where 45 countries had participated. This year we will be hosting the Hockey League series. And next year we will be proudly hosting the Hockey World Cup.
What are major challenges you are facing in the implementation of the project?
There are definitely some challenges. In case of Bhubaneswar, a city already exists. It is not a Greenfield development where you can plan out on a plain paper and you can develop it like a real estate project. There are one million people living here, they have their aspirations, they have their idea of a city. How do you take them along, how do you develop that kind of a brownfield development, how do you build infrastructure without inconveniencing them, that forms a big challenge. It makes the project executions very difficult. Multiple agencies, multiple departments, multiple stakeholders are involved who are already there. For instance, when we are doing a railway station redevelopment, we are coordinating with at least 20 agencies to get it executed and to get it on the ground.
Secondly, Bhubaneswar is not an industrial town, it's a capital city. Hence it must reflect not only the aspirations of the citizens but also the aspirations of the entire state of Odisha. It's a growth engine for the whole state. Like any capital city, you have multiple agencies here, fragmented city governance, that's a huge challenge again.
What is Intelligent City Operations and Management Center and what is its role in Bhubaneswar Smart City?
Data is the new king. Until and unless we have data available for each and every department which gets collected collated and analyzed at a large scale, we will not be able to make optimum decisions about allocation of resources and increasing the efficiency of existing services. We realized until and unless we create the entire architecture from down below including setting up of the optic fiber network, Wi-Fi systems and then sensor and IOT based systems, we will not be able to achieve the best results of the existing infrastructure. Keeping that in mind we designed this program of city operation center along with that safe city program, e-health, e-municipality, e-education and child care and all the components. Now we have tendered it out and we also believe the building in which these operations will be housed should also reflect the aspirations of the city, and we have accordingly finalized the designs of an iconic building in Bhubaneswar. This will help the citizens a lot in ease of living in the city.
Please explain about Bhubaneswar Town Center District (BTCD).
For the smart city, we were expected to block a particular area, called Area Based Development. And for Bhubaneswar Town Center District we have selected a district where this development should be taken up. A large number of projects have been planned there and many of them are under execution, like smart parks, social equity center, smart Janpath, housing projects, all these are under BTCD area. We hope that in days to come, this area, which is about 4 square kilometers would be something comparable to any place in the world.
What is the role of Bhubaneswar Smart City Development Limited in making Bhubaneswar a smart city?
Bhubaneswar Smart City Company Limited (BSCL) is the SPV for this program. It is executing most of our infrastructure works and envisaged our smart city vision and it's doing well.
How are you using geospatial information for building smart cities?
Bhubaneswar was one of the first cities to have a city-wide geospatial platform. We call it Bhubaneswar One. Bhubaneswar project is already launched and is based on one map in Singapore, where today you can get a lot of details about the city on this map based portal, which is geospatially linked. In days to come, not only GIS but the spatial nature of urban planning, which used to be only with urban planners, will be getting transformed towards technology. GIS layers will help the city grow further in terms of making better decisions and in terms of understanding where the infrastructure is required and in terms of business analytics and deciding where the next water pipeline should be linked and managed. So geospatial systems would be something akin to the blood in the body.
What is the data source of Bhubaneswar one?
We have collected and collated city-wide data. There are multiple agencies and if they are spending any money from the public exchequer, we have made it mandatory to share that dataset with any georeference with us. Then they get sanitized and linked with our systems so that information from various departments gets stored on a georeference platform of Bhubaneswar One. For e.g., if sewerage works are going on in a couple of areas in Bhubaneswar, the existing scenario has to be geo-referenced and what they will do afterward has to be georeferenced as well and that GIS they have to share with us. This will help us know where the next sewer line is going to come. Next time, before issuing a road cutting permission, we will know what infrastructure is running there. That's how we are linking up information available with various departments and agencies with Bhubaneswar One, integrating them and bringing them on one platform so that one set of information informs another set of information about what could be the next best investment possible.
Is it a centralized platform where everyone can use the information?
Yes, it's a web-based portal. It has three levels of capabilities; one for the citizens, where they can download a land use map of a particular area. Earlier they used to come to Bhubaneswar BDA office and take a print out of that. Now they can just to go the map and locate their land, find their location and as per the location, they can download the land use map of that area directly. So there are a large number of capacities and attributes that have been built for the citizens. Secondly, it is for the departments and agencies, slowly all departments are being given access to the portal. Thirdly it is for the development authority, which is a nodal point for all the system integration.
How are you handling the issue of data duplicity?
Yes, that's an issue we are trying to deal with. One road is being surveyed by five agencies again and again and that's what we should not be doing because we are ultimately spending public money on it. If the road has been surveyed today it can be used by any department for their work, why should it be surveyed again. Similarly, if you have created education database, why should someone else create a database? That's why we are trying to create a uniform layer or geospatial link where all datasets of all departments get linked to or get geo-referenced so that others can use it for their services.
How are the citizens playing a role in the development of Bhubaneswar as a smart city?
They are very involved through social media as well as through direct communication. We conduct large meetings with the wards and ward committees. We proactively reach out to institutions and have a dialogue with them. We have started a program with the youth under the Socially Smart Bhubaneswar, where we don't just talk about Bhubaneswar's smart infrastructure, but we also try to learn how the citizens are socially smart in it. Young women and young adults are being taken care of by way of counseling, by adolescent groups, and we are working with UNFPA to create a socially smart Bhubaneswar.
We also organize a large number of programs on outreach, like 'Pathotsav,' which is one of the most successful programs across the country with almost 40000 people participating every Sunday morning. We have Ekamra Walks where people come and join us. We conduct a lot of such programs directly involving citizens, getting their feedback on social media as well. These are some of the ways we engage with people and try and understand what they want. We also go through a social auditing in some of the welfare schemes so that people can audit what has been done.
What's the future going to be like for the city?
I believe change is the only permanent thing in life and this holds true in public service as well. The way cities are growing today it will go further. As of now Odisha is now only 16% urbanized, and soon it will be 40% urbanized, and Bhubaneswar will go from being a million city to a two million city in years to come. We need to keep up the pace with that keeping in mind our urban expansion program. Under the town planning schemes, we are coming up with new sectors and new plans. And keep in mind our vision for 2035, we are improving the transportation system, water system, sewerage system and waste management system, and putting a top-up the layer of technology through the smart city mission on it. So the idea is that everything we do is technologically enabled, resulting in increased efficiency. Out of a 100 crore project, I can derive a value of 150 crore by putting a technology layer on it. That will remain the vision for the smart city.
Also Watch
Smart city is about citizen engagement, says Pramod Kaushik, Hexagon India