An underwater drone — wallpaper-thin TVs — a computer the size of a credit card — chores doing home robot, those are only a few of the gadgets that have been unveiled in Consumer Electronics Show 2017 (CES 2017), which is counted as one of the biggest tech gatherings globally. Thousands of tech companies descended on Las Vegas from 5-8 January to showcase future technologies. With this biggest technology conference coming to its closure, it has given a projection that 2017 will be all about autonomous cars.
Toyota unveiled a concept car to highlight its vision for what cars may look like in 2030. While the Concept-i vehicle shown at CES would be capable of driving autonomously, its biggest draw is the Artificial Intelligence (AI) that powers it. Toyota claims the car will be able to learn more about the drivers' preferences and needs over time, such as suggesting destinations after a driver chats with the vehicle's virtual assistant, called "Yui."
Fiat Chrysler aimed head-on at the next generation car buyers. It's semi-self-driving in its initial form — Portal concept car, have the ability to take over driving, braking and acceleration in certain highway situations, Chrysler said the vehicle, which is like a cross between an SUV and a luxury sedan, would be upgradeable to full autonomy when the technology improves.
Faraday Future a two-year-old electric-vehicle start-up has unveiled a self-driving electric car that claims to accelerate at a faster pace than Tesla's top model. Its FF91 features facial recognition technology allowing it to adjust its settings depending on who is behind the wheel. It has the first LiDAR that pops up from and retracts into the hood.
Honda showcased the quirky NeuV describing it as an 'Electric Urban Vehicle' that will be part of an automated ride-sharing programme. The pod-like car features an 'emotion engine' — on-board software that generates emotions and, Honda says will add to the connection between passenger and car.
But the biggest bowl over came from BMW. The Munich headquartered automotive giant announced that a fleet of approx. 40 autonomous BMW vehicles for testing will be on the roads by the second half of 2017.  The cars — BMW 7 Series will employ cutting-edge Intel and Mobileye technologies during global trials starting in the U.S. and Europe. Revealing this at a joint press conference at CES, the companies further explained its plans to integrate Intel and Mobileye technologies into BMW's "iNext" platform, the company's target vehicle for fully automated (driverless) cars in 2021. 
This news follows the partnership that was announced between the BMW Group, Intel and Mobileye in July, 2016. The companies have since developed a scalable architecture that can be adopted by other automotive developers and carmakers to pursue state-of-the-art designs and create differentiated brands.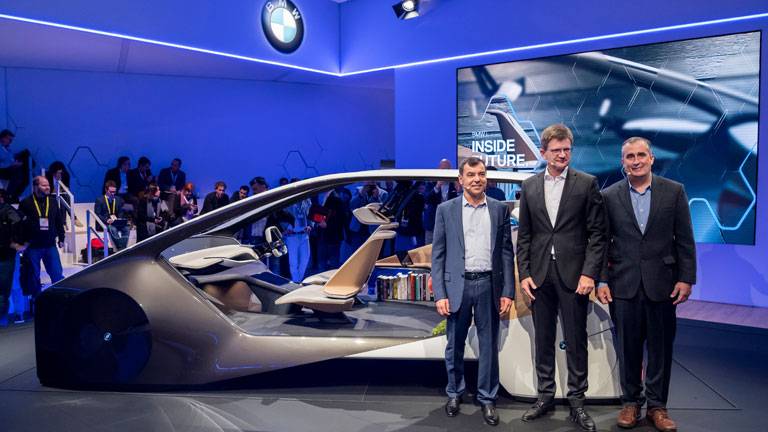 As part of this partnership, the BMW Group will be responsible for driving control and dynamics, evaluation of overall functional safety including setting up a high performance simulation engine, overall component integration, and production of prototypes and eventually scaling the platform via deployment partners.
Intel brings to the partnership innovative high performance computing elements that span from the vehicle to the data center. The newly launched Intel GO automated driving solutions offer world-class processor and FPGA technologies for the most efficient balance of performance and power, while meeting the stringent thermal and safety requirements of the automotive industry.  Within the car, the Intel GO system offers a scalable development and compute platform for critical functions including sensor fusion, driving policy, environment modeling, path planning and decision making.  In the data center, Intel offers a wide range of technologies that support Intel GO automated driving solutions, including Intel Xeon and Intel Xeon Phi processors. Intel also offers powerful machine and deep learning training and simulation infrastructure required for the autonomous driving industry with the Intel Nervana platform for artificial intelligence.
Mobileye, the Israeli supplier of driver-assistance systems and sensors that supplies a large percentage of the auto industry contributes its proprietary EyeQ5 high-performance computer vision processor offering automotive-grade functional safety and low-power performance. The EyeQ5 is responsible for processing and interpretation of input from the 360-degree surround view vision sensors as well as localization. EyeQ5, in combination with Intel CPU and FPGA technologies, forms the Central Computing Platform to be integrated into each autonomous vehicle. Mobileye will further collaborate with the BMW Group to develop the sensor fusion solution, creating a full model of the environment surrounding the vehicle, using input from vision, radar, and LiDAR sensors.  As well as establishing a driving policy, including Mobileye's reinforcement learning algorithms used to endow the vehicle system with the artificial intelligence required to safely negotiate complex driving situations.
At CES 2017, BMW also revealed its concept car showing its vision of the future of car interiors. The car aims to show how control systems might adapt in the connected world, with Cortana and
Alexa on board as well as features such as a holographic touchscreen that gives haptic feedback through ultrasound and a rear-seat wide screen that folds down from the ceiling so that passengers in the back can enjoy movies on the move. The car also has personalized audio zones, so that it is possible to have your own media experience that differs to what others in the vehicle are watching or listening to.
As part of this self-driving effort, Mobileye and Intel joined the HERE consortium, co-founded by BMW, Mercedes-Benz and Audi. HERE supplies maps and crowd-sourced driving information to enable self-driving cars.
BMW, Intel, and Mobileye aren't the only ones who will be testing self-driving cars this year. Klaus Fröhlich, member of the board of management of BMW for development, called for other companies to join the three, saying: "The holy grail of autonomous driving will not be easy to reach. This is why we are partnering with experts. We are thinking in terms of scalability and welcome other companies – manufacturers, suppliers or technology companies – to participate and contribute to our autonomous platform."
Intel CEO Brian Krzanich added: "We are trying to build an open platform that will benefit other companies wanting to get into this as well. We are already seeing savings and speed in development by sharing costs and in pooling resources."
Since September, Uber has been offer rides in its autonomous vehicles to the public in Pittsburgh and briefly San Francisco, before running afoul of the state's DMV. Ford, GM, and a variety of tech start-ups have been testing their own cars as well. And Tesla has said that all its new vehicles will come equipped with fully autonomous hardware Google is already well into developing its own driverless systems, as are Audi, Mercedes and many others, including, supposedly, Apple, but this is the first time such a large brand has explicitly asked competitors to join forces to create a standardized approach to the autonomous platform, one which multiple car companies can then refine and tweak to offer their respective differing models. Intel said that this project will require 100's of people from the company, with a spend of 100's of millions of dollars. The big question is whether other automakers might be willing to follow the lead of a strong competitor like BMW.