Advancements in drone technology are increasing its applications too. One sector that can deploy this technology proactively is oil and gas. Drones can make offshore oil and gas operations safer and efficient with the help of secure and strong communications network.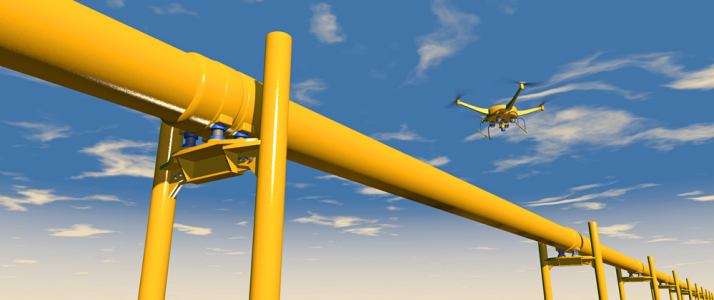 The traditional methods of detecting, locating, and surveying leaks in remote offshore oil and gas locations can prove to be expensive and inefficient due to shutdowns with safety being the utmost priority for offshore ventures. Two crucial challenges associated with running a successful offshore operation are safety and cost. Introducing drones in this sector can help in overcoming these challenges. 
An unmanned aerial vehicle (UAV), commonly known as a drone, is an aircraft without a human pilot aboard. UAVs are a component of an unmanned aircraft system (UAS); which include a UAV, a ground-based controller, and a system of communications between the two. The flight of UAVs may operate with various degrees of autonomy: either under remote control by a human operator or autonomously by a GPS program and sophisticated software.
According to the US Department of Transportation's Pipeline and Hazardous Materials Safety Administration, as well as Deloitte Consulting, the global oil and gas industry spends $37 billion a year to monitor nearly 10 million kilometers of pipelines. Using drones for offshore oil and gas operations can reduce costs due to their efficiency, mobility and speed. It can also eliminate the need for deploying men at the location and reduce risks.
How can drones streamline offshore operations?
UAVs can be utilized in offshore oil and gas industry for various applications. These are: monitoring of gas emissions; security; detection of oil spill and damages; the inspection of offshore oil platform; and flare stack inspections. When fast flight control responsiveness is vital, the drones can enable detailed optical imagery in case of flare stack head inspections. According to SkyFutures, a drone inspection organization that specializes in oil and gas industry, "The risk can be reduced to a greater extent as the employees do not need to climb the stacks and there is no need for shutting down the stacks for ensuring safety of employees thus eliminating the interruption of production which adds up to as much as $4 million." Aerial inspection can also result in early detection of damage to structural abnormalities, piping and other external and internal inconsistencies.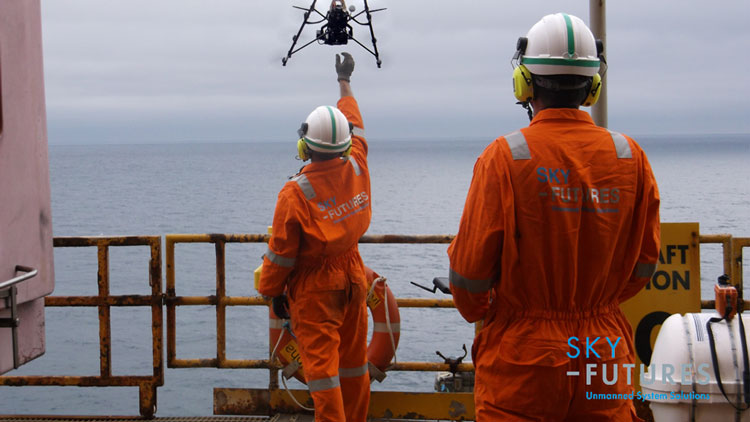 Earlier this year, the company was awarded a 3-year contract to inspect Eni facilities globally. Eni, one of the largest operators worldwide in the Energy Sector, operates in 66 countries. The official press release states that the global contract is the first of its kind between a drone-based technology business and an international oil and gas company and represents a significant shift in the oil and gas market. James Harrison, CEO and co-founder of Sky-Futures said, "By partnering with Eni we can further enhance the benefits on offer by analyzing and forecasting operational issues before they happen."
Future of drones in oil and gas industry
The use of drones can change the face of the oil and gas industry and make it more productive and safe. The industry is adapting to new approaches like employing remote medics for rigs who can communicate with physicians through teleconferencing for on-the-spot medical diagnosis and treatment on the rig. It will be soon unimaginable for organizations to function without drones. Accurate networks, coupled with the power of drones, will enable the oil and gas industry to reach new levels of safety and efficiency.