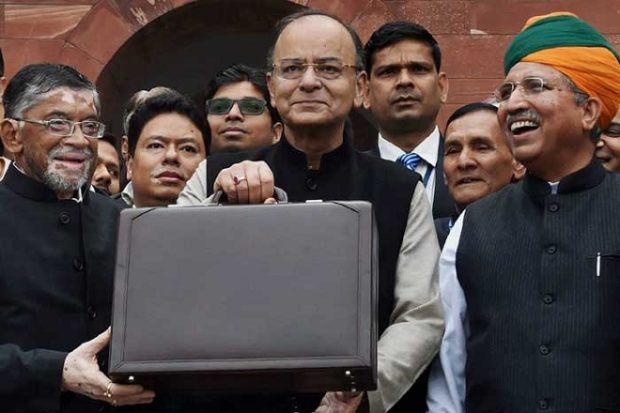 The Union Budget 2018 has brought cheers to major industries and the geospatial industry is no exception. But the key take away of this budget is undoubtedly the record allocation of INR 5,970 billion for infrastructure spending in India. This comes as a bonanza as it will open up new avenues for the Indian geospatial industry.
The budget has also given major emphasis on the welfare of rural society by announcement of National Health Protection Scheme and huge investment in agriculture, both rural and agriculture sectors having a great potential for the geospatial industry.
Along with this, the space sector has benefited too. At INR 107.83 billion, the Department of Space (DoS) gets its biggest outlay to date and also the best yearly increase in five years — of 18.6%. A bid to further give a booster dose to the space technology, ISRO's allocation crosses INR 100 billion. This comes at a time when ISRO is providing space technology to government departments in 125 areas to help them work on projects effectively and efficiently. Earlier the government had identified 156 areas where space technology can be used for the welfare of common man. Also, with the recent Space Bill probable to become a law in near future, this Budget comes as a sweet news to the space industry.
Delighted to see government's increased impetus on emerging technologies, Dr B.V.R. Mohan Reddy, Executive Chairman, Cyient and Former Chairman Nasscom says, "Given the fiscal and political constraints the government is operating today, I believe Finance Minister Arun Jaitley did his best."
Rajan Aiyer, Managing Director, Trimble Navigation backs him by saying, "The Union Budget 2018 has focused on key areas where the use of geospatial technologies will aid immensely towards timely, economic and quality completion."
Another sector that the government has primarily focused on is the rural segment. Agendra Kumar, President, Esri India explains, "A budgetary provision of INR 14.34 Lakh Cr is being provided for Rural Development. This money will essentially be spent on rural roads, construction of houses, toilets and electricity distribution. All these sectors have good opportunity for leveraging GIS technologies."

Infrastructure being the focal point
What makes this Budget all the more exciting is its "all-time high" allocation to roadways and railways. It has been established that India needs investment of over INR 500 billion in infrastructure to increase growth of GDP, connect and integrate the nation with a network of roads, airports, railways, ports and inland waterways and to provide good quality services.
The capital expenditure of the railways for 2018-19 had been pegged at INR 1,485.28 billion with a large part devoted to capacity creation, which involves 18,000 km of line doubling, third and fourth line works and 5,000-km of gauge conversion. Also, 35,000 km of rail tracks are to be built under Bharatmala project with the budget of INR 5,350 billion.
Apart froom this, the Budget has continued the trend to provide funding for urbanization programs like Smart Cities and AMRUT, an outlay of INR 2,040 billion has been planned for these.
Throwing more light on this, Sandeep Srivastava, Executive Director, Association of Geospatial Industries (AGI) says, "The government has recommitted to two flagship projects – Amrut and Smart Cities. Infrastructure and agriculture have been identified as key drivers for the economy. Substantial allocations have been made in these sectors like the rejuvenation key railway stations; development of Mumbai urban transportation; expanding airports; the Pradhan Mantri Gramin Sadak Yojna III; the Prime Minister Krishi Sinchai Yojna- Har Khet ko Pani to be taken up in 96 deprived irrigation districts; the National Heritage City Development Augmentation Scheme; and many more."
Heavy investment in these areas will be hugely beneficial for the geospatial industry. Aiyer elaborates, "In the case of road infrastructure various geospatial technologies such as survey and mapping using drones, mobile LIDAR, scanning solutions, road alignment/design solutions, construction project management solutions, machine control solutions for various stages such as cut-and-fill, compaction, grading, paving etc., road asset management solutions, and O&M solutions."
He adds, "In the case of Rail/HRS/Metro again need survey/mapping solutions like roads, rail alignment solutions such as geodetic trolleys, asset management solutions, rail construction machine control solutions, construction project management solutions. Additionally for new railway stations or enhancing existing stations, the use of constructible BIM xD solutions encompassing architecture, design/detailing, construction and O&M."
Giving more insight on AMRUT and explaining the scope of geospatial, Agendra says, "As a prt of AMRUT, every household in 500 cities will be provided running water. This calls for significant use of water management and utility management geospatial solutions. These include watershed management solutions, utility asset mapping and O&M solutions."
Rakesh Verma, Managing Director, MapmyIndia highlights, "Union Budget 2018 looks motivating for the geospatial industry with the focus on infrastructure sector. For our industry which is primarily MSME, the reduction of 5% in corporate taxes will boost the overall industry."
There is a tremendous opportunity for the geospatial industry since all these programs are where geospatial products, services and technologies can make significant impact towards better planning, timely execution and cost reductions.
Digital India, R&D necessary for growth
India is at the cusp of massive digital revolution. Digitization and huge invest in research, especially in new areas such as machine learning, artificial intelligence, robotics will prepare India to become a technology driver in future. NITI Aayog will establish a national program to conduct research and development in these areas. Also, there will be a huge investment in Big Data, quantum communication and other areas. He added that the Department of Science would start a mission on cyber security and set up a centre of excellence.
With an aim to digitize India in a big way, some of the measures that the government will initiate are launch of two new schemes to promote BHIM app, including cashback scheme for merchants. Aadhaar Pay will be launched for people who don't have mobile phones. There will be more focus to strengthen financial inclusion fund.
A panel on digital payments has recommended structural reforms. There will also be payment regulatory board at RBI.
Appreciating the measures taken by the government, Dr Reddy says, "The investments in research, training and skilling in AI, robotics, digital manufacturing, and IoT will pay rich dividends by creating new jobs and reskilling the existing workforce."
Geospatial an effective tool
As mentioned above the budget has given a grave importance to agriculture. In this sector the use of geospatial technologies can span from water-management solutions, to use of drones for disease control, yield monitoring, the use of precision agriculture solutions for increasing yield with lower input costs, use of telematics for acreage measurement, machine performance etc.
Elaborating on this Agendra says, "Among the new investment areas Agriculture including fisheries and irrigation have been identified by the government, GIS technologies can help here too."
However, Agendra stresses that the Budget does not talk about any allocation for National GIS. Some additional impetus in this area would have helped in growth of the geospatial industry.
Apart from agriculture, Dr Reddy also gives a thumbs up to the government's initiative to improve education and skilling of 50 lakh youth by 2020 and to provide research facilities to 1000 brightest engineers of the country at the premier institutes every year.
He adds, "The massive health scheme aims to cover 50 crore beneficiaries. Though ambitious, this program can be transformation and can certainly pave the way for 'ease of living', provided the budgetary allocations and implementation are well-chalked out."