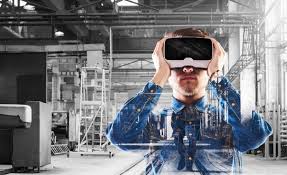 Building Information Modeling is already making the life of construction (AEC) professionals easier, enabling them to more efficiently plan, design, construct, and manage buildings and infrastructure. By bringing BIM and Augmented Reality together, the construction industry is geared up to have an enhanced view of the different phases of the project lifecycle and thus have enhanced outcomes.
The adoption of 3D modeling in construction has brought in numerous benefits. 3D or reality modeling, not only speeds up the design process but also enables architects and designers to play around with different ideas and identify potential design problems before they become actual issues. 3D modeling in construction, by putting all the pieces together, provides a real-view of the finished project. Amazingly! 3D modeling brings a project to life without even moving a single speck of dust!
3D modeling in construction also allows animation. Naturally, the client can visualize so much more about an upcoming project that a flat drawing could ever provide. Clients can literally have a virtual walkthrough of the proposed building. Just like a 3D movie, a 3D model enables the client to get a feel of how things will be laid out. They can walk through the entry of their future home, reach the lobby and even visualize guests having dinner at the dining area. They can see all this even before a brick has been laid out!
The excitement doesn't seem to end as we now have BIM with Augmented Reality. Augmented Reality (AR) can enhance BIM by enabling users to view BIM model data hands-free in 3D. Architects and designers can use smart glasses to visualize their models at tabletop scale, and quickly polish their designs.
The 5 main beneficiaries of BIM and AR
The advantages of bringing augmented reality into BIM are many. BIM with AR benefits the design, construction, inspections, operations and maintenance, and renovations phases of a construction project the maximum. Let us understand how.
Designing
By bringing 3D models into AR, designers and architects are able to evaluate designs for feasibility, function, and aesthetics in a more immersive way. The functionality also enables clients to enjoy a richer review experience. Accordingly, the changes get more easily identified and design options and proposals can get quickly evaluated.
Construction
Accessing BIM models in AR enables workers in construction to understand more easily where materials should be laid, where walls should meet, and where doors should be placed. BIM with augmented reality help with routing services such as HVAC ducts, water pipes, and electrical conduits. Installation errors also get reduced with AR and construction tasks are likely to get executed faster.
Inspections
So, how does BIM with AR help in improving inspections? This is achieved through visual comparison of as-designed versus as-built. Accordingly, safety checklists can be presented in context and filtered for a specific location. An AR user with BIM models can see hidden overhead and underground power lines, and if he discovers any issues, he can drop AR pins at the issue location, and tag with comments or photos for later corrective action.
Operations and Maintenance
BIM with AR adds value to operations and maintenance phases of the project lifecycle. The AR user doesn't need to stop his work to get information about the building models, manuals and schematics for machinery etc. These can be made available to the users directly. During maintenance, with work orders and work instructions being made directly available to users with AR, improvement in performance accuracy, efficiency, and compliance, can be observed.
Higher ease of work is achieved in both operations and maintenance as the AR wearable enables hands-free use: the user can view information without having to hold drawings or turn pages of a manual.
Renovations
Placement of hidden infrastructure — e.g., beams and other structural members, ducts, conduits, and pipes can be viewed easily using an AR wearable. This helps in renovations. AR also enables the clients to visualize redesigns and identify any issues early in the planning, thus making renovation an easier task.
Recognizing the benefits of integrating virtual reality into BIM, a premier firm like Turner & Townsend has adopted Matterport technology for launching 3D virtual tours as part of its documentation process for site compliance and reporting.
Matterport's technology allows users to quickly and easily capture real-world spaces with its Pro2 camera in order to create 3D virtual tours, floorplans and precision photography.
By integrating the technology into BIM, firms can more accurately document key construction milestones and effectively communicate progress to project stakeholders. This leads to higher transparency throughout all phases of a project.
According to Nick Jones, director, project management at Turner & Townsend, "The potential for Matterport to be integrated with BIM technology makes the landscape for its future application vast. Using the Matterport 3D virtual tours means that those clients who don't want to get mud on their boots can have direct access to site progress, and we have a clear and honest depiction of work on site documented in an interactive format."
Besides aiding in achieving higher efficiency in construction project lifecycle, AR can provide a variety of other benefits to BIM users.
For instance, an AR wearable provides an audio-visual calling service, which connects the user to a remote expert, who can see exactly what the AR wearer sees: the physical environment as well as the virtual content enhancement. This coordination enhances the skills of the wearer, leading to faster diagnosis and resolution of issues.
Accessing BIM with Augmented Reality is the next big thing for the construction industry and it should embrace it with open arms to achieve higher efficiency in the projects.
Also Read