It's so rare to come across an outstanding combination like Blockchain and the Internet of things. 'A kickass fusion' is the phrase that comes to mind when I think about it. Well, I will start, as I always do, by offering a brief explanation of how blockchain and the internet of things work so that we're all on the same page.
The idea of combining the two techs is still foreign and intimidating to many. But slowly and steadily, things are changing, and it's only the beginning of what's possible. Blockchain is a sort of appropriated record for keeping up a changeless and carefully designed record of transactional data. Managed by computers belonging to a peer-to-peer (P2P) network, the tech successfully acts as a decentralized database. In a layman's language, each one of the computers in the disseminated network keeps up a duplicate of the record to keep a single point of failure (SPOF), and all copies are updated and approved at the same time.
Internet of things, on the other hand, is all about associating any device to the internet and to other associated devices. These devices can be anything who are capable enough to represent themselves digitally, and they can be controlled from anyplace. Set up them together and in principle, you have a precise, secure, and changeless technique for recording data prepared by "smart" machines in the IoT.
Merging These Two Mega Trends
No brainer! There are a plethora of clear advantages when thinking about building smart machines which are capable of communicating and operating via blockchain. First of all, the issue of oversight. With more and more data transaction taking place between multiple networks owned by numerous organizations. With the help of blockchain, one can easily track data or physical goods, pass between points in the supply chain. Apart from this, building trust, reducing risk with superior security, reducing costs, and acceleration of transaction are other perks to take into account.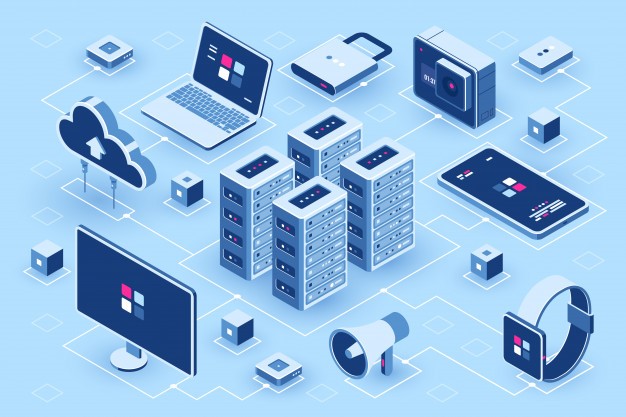 Further, I would like to mention a couple of significant IoT challenges which can be adequately answered via blockchain technology.
One of the main issues identified among several research and surveys is the increasing security concern among potential adopters of IoT technology. With an estimated 8.4 billion IoT devices being a connected day in day out, it turns out to be the most insecure way. Due to which incorporating blockchain becomes a pure necessity. Like it or not, Hackers have thus far managed to disable cars remotely entirely, control implanted cardiac devices, even used a refrigerator to attack businesses and launch the world's most massive DDoS attack.
Comprising of the most robust encryption standards, blockchain ensures a much-needed layer of the security in IoT stack. Any harmful, malignant, and dangerous entity/actor will have to bypass this superior layer to access IoT data or IoT devices, which will make cyber-attacks a way more difficult and time-consuming of possible at all.
Another primary concern is privacy. If you are using encrypted data which is distributed at a verifiable place to store and share data, you are a trustable partner for all the parties involved. Only those with an authorized cryptographic public and private key can read the information, or with no human oversight, machines and smart devices will securely record transactions that take place between themselves. As soon as the data is stored in the chain, it cannot be changed or modified in any way, which makes collected data absolutely accurate and precise.
This also implies that hackers can't collect confidential or sensitive information by compromising IoT devices or manipulate the system in any other way.
Used cases of Blockchain & IoT
Supply Chain– According to IBM, 40 other organizations are trying to improve and speed up a very complicated and time-consuming process of international trade and shipping and bring transparency to its unavoidable bureaucracy.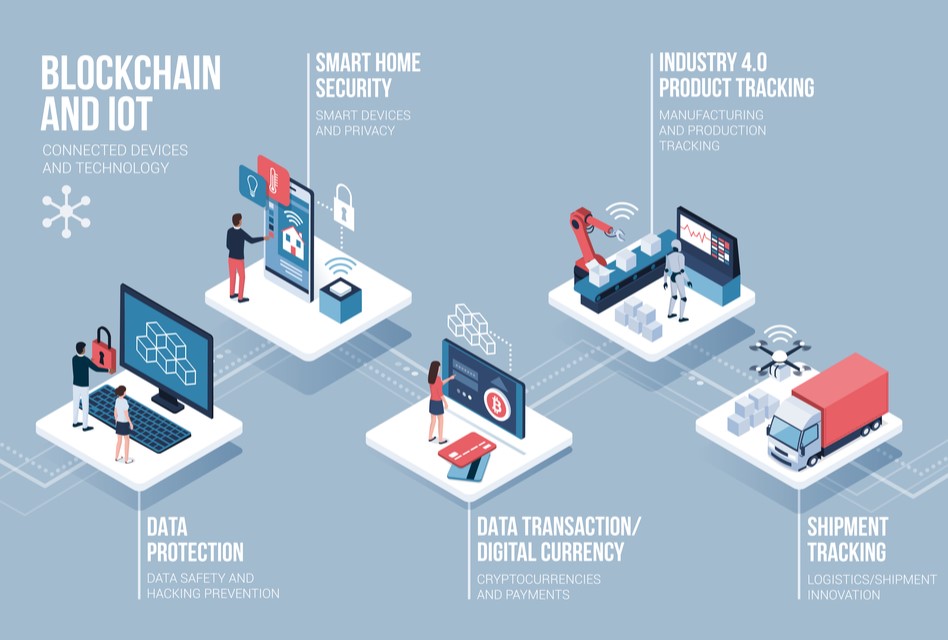 By merging these two techs, temperature control to container weight, enables shippers, shipping lines, freight forwarders, port, and terminal operators, inland transportation and customs authorities to interact more efficiently through real-time access to shipping data and shipping documents in a single shared view of a transaction without compromising details, privacy or confidentiality.
In addition to this, all the parties involved in international trade can easily collaborate in cross-organizational business processes and information exchanges, all backed by a secure, non-repudiable audit trail.
Logistics- Pharma and many other industries are seen using these solutions that have the potential to generate value leveraging on IoT and blockchain in a relevant way. With several IoT sensors being verified against predetermined conditions, medicines can be given to specific conditions.
Insurance- claims management, fraud management, health insurance, and property & casualty insurance seems to have improved in many ways with smart contracts combined with IoT data from wearable personal technologies, sensors on objects (vehicles, shipping containers), location-based sensors (factories, warehouses, homes, alarms, cameras, industrial control systems).
Note: This is a guest blog by Herman Morgan, who works as a tech analyst at Tatvasoft.com.au