And 2016 could be the hottest year ever, predicts World Meteorological Organization
Conspiracy theorists and Donald Trump will cry hoax but Climate Change is real and Earth is getting warmer with each passing year. While the World Meteorological Organization (WMO) said 2016 is likely to be the hottest year on record — third year in a row – a statement from the European Space Agency had further alarming news on November 30: The Arctic freeze is slowing down.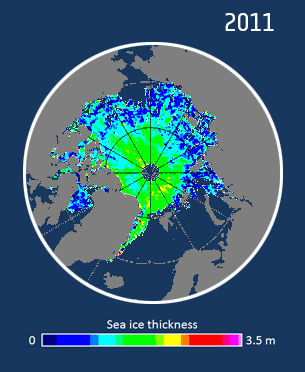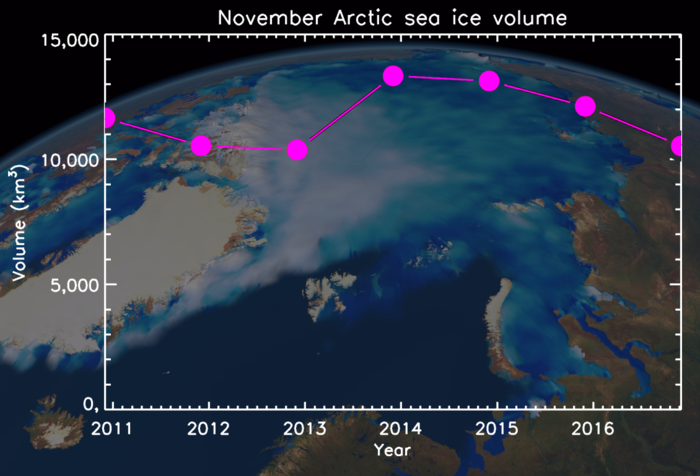 ESA's CryoSat satellite has found that the Arctic has one of the lowest volumes of sea ice of any November with its ice levels currently matching the record lows of 2011 and 2012. The Arctic usually gains about 161 cubic km of ice per day in November, but this year's growth has been about 10% less, data from CryoSat satellite revealed..
Earlier in September, the US National Snow and Ice Data Centre had reported that the area of the Arctic covered by sea ice fell to 4.1 million sq km in September this year — slightly less than the sea-ice extent in September 2011.
"Although sea ice usually grows rapidly after the minimum extent each September, this year's growth has been far slower than we'd expect – probably because this winter has been warmer than usual in the Arctic," said Rachel Tilling, at the UK's Centre for Polar Observation and Modelling (CPOM), who came to these conclusions.
Heatwave across the globe
It is widely accepted that the Arctic is going to be the early warning system for climate change and what we are seen this year is reinforcing that belief.
WMO Secretary-General Petteri Taalas said today at the Budapest Water Summit that the cost of climate-related disasters is now 50 times higher than in the 1950s.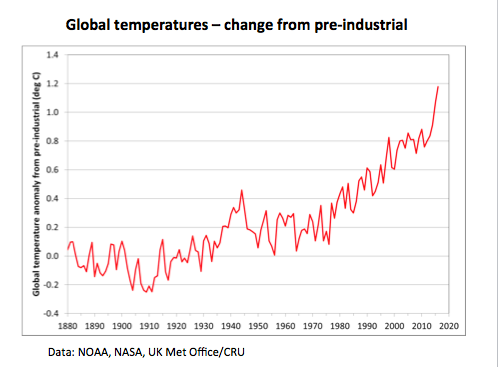 Year 2016 has seen cities across the world on both hemispheres reeling from heat waves. Pretoria in South Africa recorded a new high of 42.7 degree Celsius in January; Thailand saw a national record at 44.6 degree Celsius in April; the desert town of Phalodi in India reached 51.0C in May and Mitribah in Kuwait recorded 54.0C in July. In parts of Arctic Russia, temperatures were 6 to 7 degree Celsius above the long-term average. Many other Arctic and sub-Arctic regions in Russia, Alaska and northwest Canada were at least 3°C above average.
Over 90% Northern Hemisphere land areas outside the tropics recorded at least 1 degree Celsius above average temperatures. Southern Hemisphere was less extreme, but in many parts temperatures were still 1 degree Celsius or more above average.
Temperatures were above normal over most oceans. This contributed to significant coral bleaching and disruption of marine ecosystems in some tropical waters. Coral mortality of up to 50% was reported in parts of the Great Barrier Reef.
Even though warmer weather towards the beginning of the year was attributed to El Nino effects, there seems to be no respite now that we are at the fag of the calendar, with many cities across the world from London to Bangalore recording hottest November in years.
Temperatures higher than pre-industrial levels
"Because of climate change, the occurrence and impact of extreme events has risen. 'Once in a generation' heatwaves and flooding are becoming more regular. Sea level rise has increased exposure to storm surges associated with tropical cyclones," Taalas said.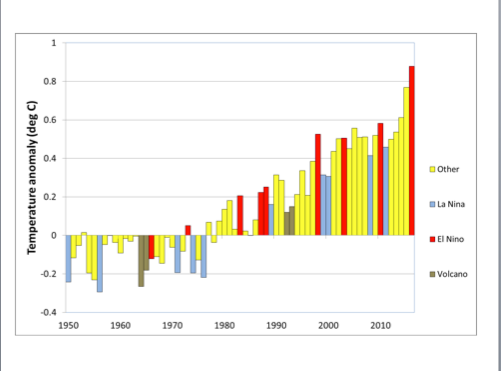 In a provisional statement on November 14, the WMO said data indicated that global temperatures in 2016 are approximately 1.2 degree Celsius higher than pre-industrial levels, which is perilously close to the 1.5C target included as an aim of the Paris climate agreement last December. This means 16 of the 17 hottest years on record will have been this century.
Long-term climate change indicators are also breaking records with concentrations of major greenhouse gases in the atmosphere continuing to rise and very early melting of the Greenland ice sheet, pointed out Taalas.
The provisional WMO statement for the first time includes input from UN partners on the humanitarian impact. It complements a report global climate from 2011 to 2015, which showed that, more than half of the 79 studies published by the Bulletin of the American Meteorological Society during 2011- 2014 found that human-induced climate change contributed to extreme events. Some studies found that the probability of extreme heat increased by 10 times or more.