In the previous post, we spoke about Hexagon Smart M.Apps, where we understood more about the Cloud GIS offering from Hexagon Geospatial. In this post, we will deep dive into their M.App Exchange offering.
What is Hexagon M.App Exchange?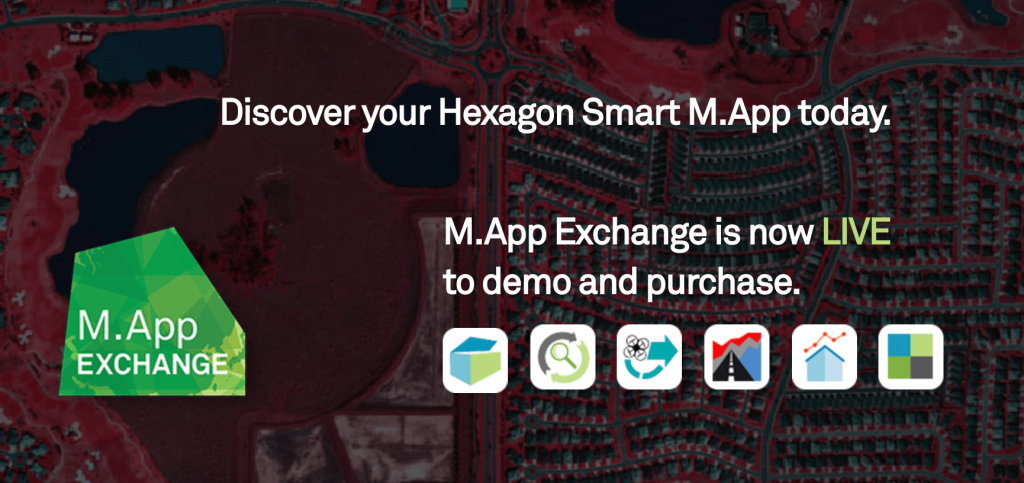 M.App Exchange is the e-commerce store from Hexagon Geospatial, that allows you to discover, purchase, and use online applications. Partners publish and manage their Hexagon Smart M.Apps in the M.App Exchange.
How can you get access to apps in M.App Exchange?
At this point of time, Hexagon Geospatial is providing you with free to certain apps, where you can create an account and try out the apps. With the free version, you can have the apps available to unlimited users with storage up to 2 GB and data transfer up to 10 GB.
Paid editions available:
Bronze – $10/month up to 3 users; 10 GB storage; 50 GB data transfer
Silver – $70/month for unlimited users; 100 GB storage; 100 GB data transfer
Gold – $300/month for unlimited users; 500 GB storage; 100 GB data transfer
Platinum – $550/month for unlimited users; 1000 GB storage; 1000 GB data transfer
Six apps you can try from Hexagon Smart M.App Exchange