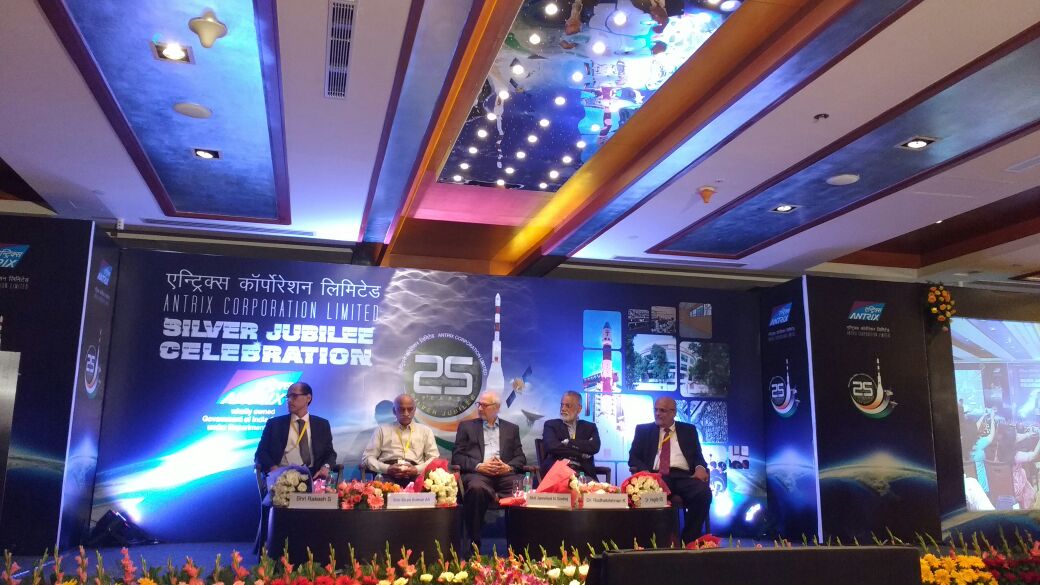 September 15 2017 – a golden day for ISRO and its commercial partner Antrix Corporation as they completed 25 years of a robust relationship. The silver jubilee celebration of Antrix Corporation at Bengaluru turned into an excellent platform for collaborative learning as distinguished contributors of the Space industry, viz. Rakesh S (CMD, Antrix), Dr V S Hegde (Former CMD, Antrix), A.S.Kiran Kumar (Chairman, ISRO), Dr K. Radhakrishnan (Former Chairman, ISRO), Jamshyd N Godrej and others, shared views on the contribution of Antrix in the development of the industry.
First cry
Antrix Corporation Limited came into being (though not with a cry!) in September 1992 under the guidance of Professor U R Rao as ISRO felt the need of a dedicated partner for promotion and commercial exploitation of space products, technical consultancy services and transfer of technologies developed. Development of space related industrial capabilities in India was also fixed as an important function of Antrix.
Growing up
Since its inception, Antrix's relentless efforts have enabled ISRO to achieve several milestones in the Space industry. Matching the brains behind, using its fully equipped state-of-the-art facilities Antrix has been providing an exemplary end-to-end solution for many of the space products. From providing hardware and software support to space related services like remote sensing data service, transponder lease service, launch services, mission support services and consultancy and training services, Antrix has been a constant companion to ISRO.
In the process, it has achieved stupendous growth. One could feel the pride in CMD Rakesh's voice at the silver jubilee celebration, when he said, "Antrix's turnover has grown from half a crore in first year to 2000 crore." He attributed the success mainly to the infrastructure that ISRO brings to the nation.
Former CMD of Antrix, Dr V S Hegde shared his feelings of pride of accomplishment as he narrated his journey with the Corporation. His words, "For 5 years, I was a thick part of Antrix. My association with  Antrix from day 1. Those days, Antrix quickly made its niche by getting into marketing IRS data products to global applications community. I always derived a great pleasure in presenting immediately the variety of applications we did with Landsat data and IRS data. That was our USP. The Indian Applications Program. The institutionalized national natural resources management system which assured the global customers that IRS is 100% government backed and the government has institutionalized use of IRS data. So, we go with IRS, we have assured data supply. So, at one point of time, Antrix had 20 ground stations abroad and 20 resellers or so marketing data in all continents of the world including Russia, Kazakhstan, China, Africa, South America. It's a unique achievement," must have motivated the entire Antrix team to achieve more.
What now
Antrix's contribution to the Space industry has undoubtedly been commendable. However, there remains a lot to achieve. CMD, Rakesh agrees by saying on the occasion, "In line of current trend of liberalization, we need to venture into new markets to continue our performance. The arrival of NewSpace has brought a host of opportunities to work with the Indian industry. Antrix aims to liberalize the technologies to build a new healthy space ecosystem in India that will in turn serve ISRO's production needs. Antrix is looking into a new future."
The Space market is facing intense competition from private players who are ready to take risks. They are constantly innovating and to keep pace and create a mark, Antrix needs to improve its abilities. Congratulating Antrix on its eventful journey and success so far, at the silver jubilee function, ISRO Chairman, A S Kiran Kumar, encouraged Antrix to take cue from the private industry and think of new ways to create a bigger impact on the Space industry.
Kumar said, "Companies like Space X and Virgin Galactic are building small launchers. There are others who are offering a one-way ticket to Mars. Launch vehicle technology is a risky business and yet there are Indian companies like Bellatrix Aerospace that are offering Garuda, a launch vehicle and Chetak, a nano satellite launch vehicle. Their presence means that they are willing to take the risk."
To thrive in such a competitive market, Antrix needs to think and work harder. It must aim to capture a bigger share of the global space market, Kumar feels.
Former Chairman of ISRO, Dr. K Radhakrishnan conveyed the same message on the occasion, though he quantified things a bit more for easier understanding. He shared the thought that even though Antrix Corporation enjoys a huge turnover, it just holds 0.123 per cent of 260 billion US dollar space market. This surely can get transformed into a magical figure. He motivated the company to work harder so as to grab at least one percent of the global market by 2030.
Hegde feels, backed by patronage of industry leaders and thought leaders, Antrix has created a name for itself in the Space industry, and in times to come it can definitely become a greater brand ambassador for Space India production services to the global customers and global community.
More hands to make a difference
The silver jubilee celebration of Antrix Corporation brought excellent news for the Indian Space Industry as Godrej & Boyce confirmed on the occasion that it would join an industry consortium being formed by ISRO to build PSLVs to send local and global satellites into space. We expect to see the first privately built rocket launched into space by 2020.
ISRO has built PSLV rockets used for the Moon and Mars missions on its own. However, it has not been able to scale up to meet the growing global demand for launch services of smaller satellites. This has prompted it to get associated with private firms for building PSLVs. Producing hardware for use by ISRO is not new for Godrej. Besides antennae and thrusters, it produces Vikas, the rocket engine that powers both the PSLV and GSLV.
Jamshyd N Godrej, Chairman, Godrej & Boyce said at the function, "If you have to really develop a major aerospace industry in India you need all these building blocks. Companies with different expertise have to come together."
ISRO is planning to restructure Antrix Corporation, keeping partnership with the private sector and promotion of homegrown space technology for global markets on cards. In this scenario, association with Godrej will prove highly fruitful for ISRO. Godrej's support will significantly help ISRO in creating a bigger name in the global Space Industry.
Overall, the silver jubilee function served as the perfect platform for Antrix as well as ISRO to understand where, what and how they need to improve upon so as to achieve higher performance and create a stronger footprint on the global Space industry. We await several success stories in days to come.