I was fortunate enough to be asked to participate in a panel discussion by the National Spatial Information Framework (NSIF) of the Department of Agriculture, Land Reform and Rural Development in South Africa. This is part of A Partner Alliance Project called the Advancing Role of Geospatial Knowledge Infrastructure(GKI) in the World Economy, Society and Environment. This initiative is being led by Geospatial Media and Communications and the first version of their discussion document about this initiative was made available as the basis for the panel discussion.
The vision of the GKI initiative is to make geospatial information, which is the "power of where", more easily available to enrich the lives of citizens by maximizing their social, economic and environmental benefits. Putting it more simply, it is about getting people to use geospatial information more in their daily lives and them contributing through the collection and provision of geospatial data. It is also about mainstreaming the geospatial industry globally through the use of geospatial location, information, expertise, technologies and analytics. GKI is said to be about automating the integration of geospatial location, technologies, information, analytics and visualization into the digital economy to provide trusted and understandable knowledge for decision making. The goals of GKI are to:

make geolocated data a part of the "new norm"

fully part of the wider knowledge/digital ecosystem

heart of predictive analytics and modelling

ensuring collaboration, innovation and connection between players in the geospatial industry

optimizing digital policies and standards

fundamental geospatial datasets being continuously updated.
A further purpose of GKI is to enable a response to many of the global challenges of climate change, urbanization, inequality, governance and accountability, being part of an interconnected global community and geopolitical uncertainty. This can be accomplished through many of the existing geospatial technologies (eg GNSS), advancement of existing technologies (eg real-time data) and in the innovation of new ones (eg sensors). Through the implementation of the fourth industrial revolution (4IR) new innovations, such as big data, artificial intelligence, automation and smart web technologies can be incorporated with geospatial technologies to provide an effective response to the global challenges.
Also Read: Collaboratively building a Geospatial Knowledge Infrastructure
Experience of the geospatial industry in Africa
AfricaScope is a private company that has been involved in the geospatial industry in Africa for more than 10 years focusing on the effective development and use of geospatial information to bring about socio-economic development. It has been integrally involved in the defining and cataloguing the fundamental geospatial datasets for Africa and identifying who the custodian of fundamental geospatial dataset should be in South Africa. AfricaScope is involved in the sourcing and development of fundamental geospatial data sets in Africa. Probably one of the most important datasets is the censuses of countries on the continent.
This information is needed to encourage Foreign Direct Investment, enable the optimal provision of government and retail services as well as collecting statistically accurate data for use in the conducting of household surveys, as an example. Over the years that AfricaScope has been involved on the African continent we have found that the availability and accessibility to geospatial information are two critical issues. Although there is a lot of geospatial data available for many African countries, the continent remains far behind other regions of the world. When it comes to accessibility of geospatial data there are many laws and policies in African countries that inhibit the access to information for use in decision making. This is one of the main reasons why international initiatives go ahead and do not involve the geospatial industry in Africa.

Key aspects to collaboration and partnerships in Africa
It is from this perspective that the following six key points were identified about "approaches to collaboration and partnerships through GKI" for consideration in the African context.
1. Data frameworks. it is important to emphasize from the onset that all geospatial data should be developed and used considering appropriate global, political and strategic data frameworks. It is for this reason that the United Nation's Statistics Division developed the Integrated Geospatial Information Framework (IGIF) as part of the Global Geospatial Information Management initiative (UN GGIM).
The IGIF "provides a basis and guide (framework) for developing, integrating, strengthening, and maximizing geospatial information management and related resources in all countries. It will assist countries in bridging the geospatial digital divide, secure socio-economic prosperity, and to leave no one behind." These are high ideals that build on the concept of the Spatial Data Infrastructure (SDI) It must be accomplished if Africa is to prosper.
Within the GKI initiative, prime position is given to the "location" aspect of the geospatial industry. Although location is seen to refer to the geospatial industry as a whole, it is also mentioned separately to that of geospatial data and analytics, thereby emphasizing its distinction. There is no doubt that this sector of the geospatial industry, has made the greatest impact on the world in the last decade with the launch of the Global Navigational Satellite System (GNSS).
The availability of easy to use locational analytics of satellite imagery through Google Earth as an example, has also had a significant impact. However, from an African perspective it is not only about the locational aspects of the geospatial industry. A key focus will be about the use of geospatial information in improving the standards of living, addressing the high levels of poverty and using geospatial information to bring about disease control (eg malaria, HIV/AIDS, Ebola and now COVID-19) on the continent.
The future of geospatial information on the African continent must be about maximizing the use of our resources to improve the living conditions and quality of life of all people in Africa. Africa will be a key part of the future economic development of the world because of the incredible resources it has from the demographics of the population, minerals, land for agriculture, an abundance of sun as well as some of the most beautiful parts of the world for tourism.
2.Africa an important player in the global geospatial industry. Africa can and must play an important role in the development of GKI. It was one of the first regions of the world to identify its fundamental geospatial datasets and to catalogue them. This was an initiative of the United Nations Economic Commission for Africa (UNECA) and has been acknowledged by UN GGIM as an important contribution to the global geospatial industry.  This initiative of the UNECA provides a framework within which there must be the development and use of geospatial information on the continent.
3.Collaboration and partnerships with other world regions. Africa must have the opportunity to learn from the successful implementation of regional SDIs, such INSPIRE in the European Union. An initiative called the African-European Spatial Data Infrastructure Alignment (AESI-Align) initiative was proposed that would enable African countries to learn from the implementation of INSPIRE. The intention was to ensure the effective development, integration, strengthening and maximizing of geospatial information management and related resources in African countries, which is the same vision of the UN IGIF.
Whatever global collaboration and partnership is established, significant funding to African countries will be required, especially in the short term. Africa must be assured that when entering such collaboration and partnership, although requiring financial support, they will enter them on an equal basis.  Although there is much that Africa can learn from Europe, the Americas and other regions of the world, there is also much that Africa can contribute to the global geospatial industry. For example, South Africa is recognized as a leader in the development of early warning technologies for fire detection and the development of drone technology, as an example.
4. Geospatial initiatives in Africa. Over many decades several international geospatial initiatives have been implemented in Africa. Many of these initiatives have been collaborative, such as the Africover and Worldpop initiatives. These initiatives have included geospatial specialist from Africa and as a continent it has benefited by being able to freely access this information. However, there have been many other initiatives that have been more exploitive, in that the geospatial industry in Africa has not been involved nor have they benefited from being able to access the geospatial information.
5. Development of a geospatial industry cluster. Over decades there has been talk about "political champions" and the need for "political will" to ensure the effective integration of geospatial information, technologies and analysis in decision making within African countries and on the continent. There have been many initiatives to try and ensure that this happens but all of them have largely failed. As a consequence of this, there are many international organizations that are beginning to take over the role of the geospatial industry on the continent and leave local organisations out in the cold.
History has shown us that for the successful uptake of geospatial information in decision making requires the private sector to drive the process given appropriate policy frameworks. These enabling policy frameworks within the African continent are far and few between. For the successful integration of the geospatial industry into decision making processes on the African continent, requires the development of geospatial industry clusters at a national and continental level.  Some may ask what the differences between a cluster and an association is – the main difference is that an association is mostly about providing opportunities for networking while a cluster has a specific industry goal to bring about a collective competitiveness and improve the performance of the industry as a whole.
Clusters are a concept that was promoted by Prof. Michael Porter at Harvard Business School, which includes companies, institutions (eg standards), organizations (eg think tanks), universities, associations and government departments to create a critical mass in a particular industry and geographic area that will provide a competitive advantage in a global economy. The advantage of the cluster is that it creates economies of scale, a knowledge base, builds relationships, and motivates growth and innovation in an industry. Through coordination, cooperation and competition it encourages greater productivity, effectiveness, flexibility and more cost effective solutions for customers.
Clusters within the geospatial industry will have the power to engage with national governments and regional organizations to ensure that geospatial information becomes a core part of the digital transformation of the continent. This will include addressing issues of availability of geospatial information as well as the changing of policies to make geospatial information more accessible and an integral part of decision making. It will provide a recognized body that will be able to engage with international funders to source critical funds needed in the development of the geospatial industry, such as training and capacity building. These functions cannot be fulfilled by regional organizations and government departments that have a distinct policy mandate, which limits or inhibits them from petitioning for changes in strategy and policies.
There are many more benefits to the development of a geospatial cluster that have not been described above. Developing geospatial clusters nationally and on the continent will enable the geospatial industry to be more competitive and to stand a chance of developing and fulfilling its rightful role in GKI in Africa. A critical aspect of the geospatial clusters will be to identify opportunities for innovation and to make them more visible from a marketing perspective.
Also Read: GKI has potential to transform global economy, society
6.  The need for innovation. There are many countries in Africa that are taking the lead as innovation hubs. South Africa is one of those countries, but the geospatial industry is not being supported to the extent that it should be in the development of innovative products and services because of lack of support and funding. South Africa and many African countries have shown the ability to innovate within this very limiting environment. Below are some innovative initiatives that are at the conceptual or commercialization stage.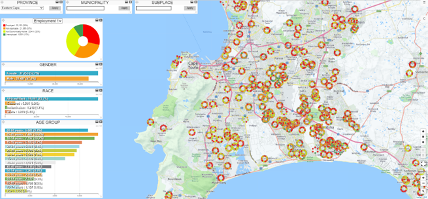 Big data

– the use of satellite data to map the location of dwellings and integrate household survey data to supplant the conducting of censuses in the future

IoT

– Development of mobile apps to enable the accurate reporting of crime in South Africa

Artificial intelligence

– imputing social surveys to create geospatial data for rapid knowledge development

Machine learning

– developing sample frames for social surveys from open source geospatial datasets (eg MSME survey).

Augmented reality

– to capture the location and collect attribute data of small businesses as well as to monitor their existence

Qualitative analysis

– the use of the Circle Point Thematic maps to show the results of social surveys (eg General Household Survey in South Africa).

Web mapping

– develop of an investment potential atlas for Africa.
African geospatial industry must move forward through collaboration and partnerships
In conclusion, there is the need for collaboration and partnerships though an initiative such as GKI, as without it the geospatial industry in Africa will not move forward. However, Africa must have an equal stake in the development of GKI, otherwise it will not be to the full benefit of the continent. Rather than being collaborative, it will again be one of those initiatives that focus on the African continent that are exploitative.
The implementation of GKI is complex and as the saying goes in Africa, one has to "eat this elephant in small pieces". What this points to is that not all the objectives of GKI can be accomplished in the short to medium term and as a consequence, a few things need to be identified and targeted so that they can be accomplished.
Andiswa Mlisa from the South African National Space Agency (SANSA) put it differently and said that the "expectations of GKI seem overwhelming". What needs to be accomplished seems to be way bigger than the objectives of SDI, which was limited in its effective implementation in Africa. She also pointed out that African countries cannot leap (to the accomplishing of GKI) if the basic building blocks of the geospatial industry or not in place. Marcelle Hattingh from the City of Johannesburg said that we must learn to crawl before we can run when it comes to GKI. Prof. Serena Coetzee from the University of Pretoria asked if we were ready to implement GKI and reminded us that in all things, humans will play a significant part – it is through people that knowledge is generated.
The key recommendation as a first steps for Africa's involvement in GKI will be to develop national and regional geospatial industry clusters. Africa must move forward in the development of the geospatial industry on the continent and to accomplish this, there needs to be collaboration and partnerships with institutions, multinational and multilateral organizations and other regions of the world.
Also Read: Improved gravity data brings geospatial greatness