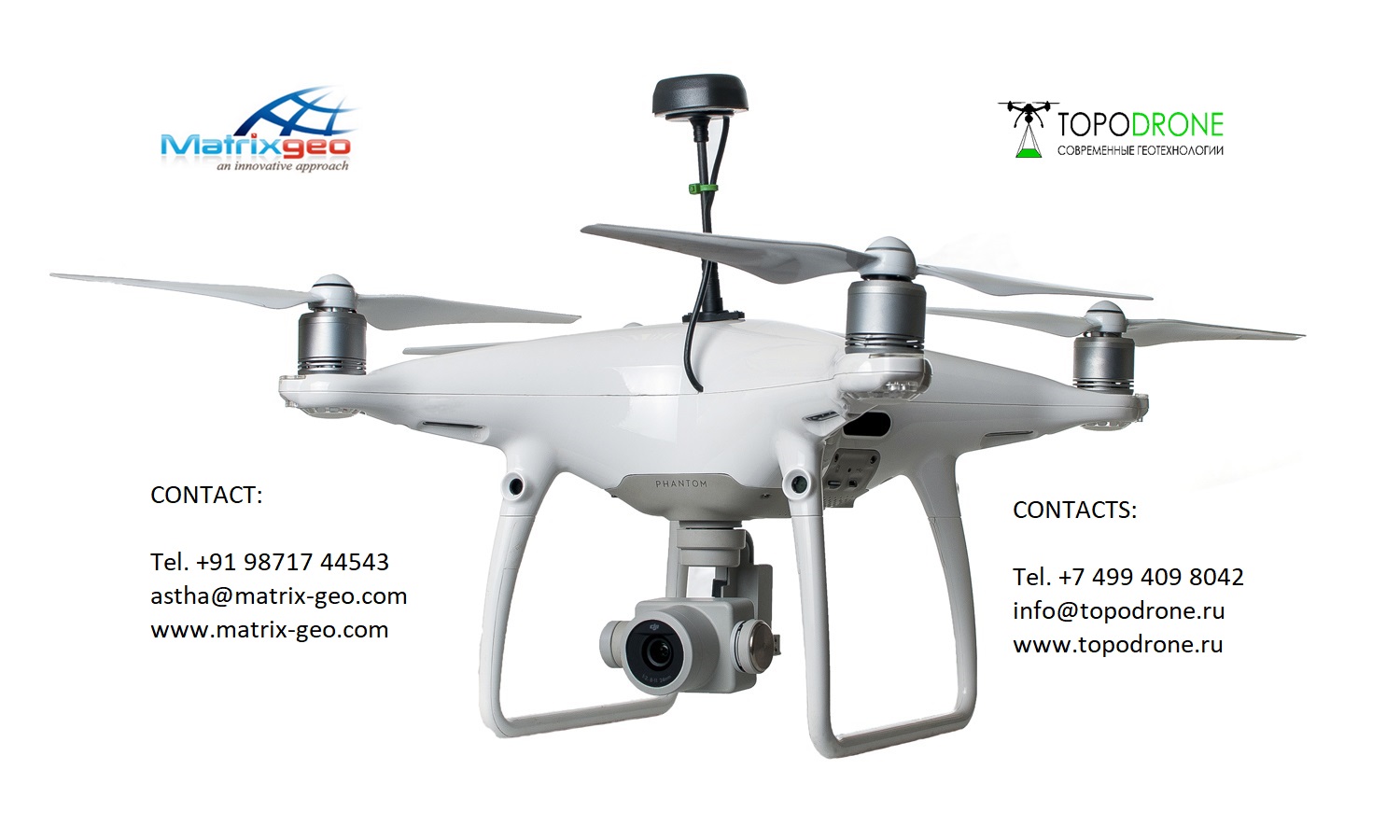 Lower down your project cost by reducing ground control points and yet achieve the better accuracy. This can effectively be done with an efficient aerial survey solution.
Topodrone Russia and Matrix Geo Solutions India have recently introduce a groundbreaking product — Professional Aerial survey solution based on DJI Drone + Topodrone RTK/PPK upgrade Kit. The PPK drone delivers reliable ground accuracy that may be considered as a true alternative to ground control points.
It is a ready to fly and easy to use DJI drone with additionally installed GNSS receiver connected with modified and calibrated camera, everything you need to get high accuracy photogrammetry data up to 3cm accuracy in XYZ.  Built-in survey grade GPS/QZSS, GLONASS, BeiDou, Galileo, SBAS, with the possibility to work in RTK and PPK mode turns your drone to a professional survey tool.
The result of composite study done by Institute of Photogrammetry & Geo-Informatics (IPGI), Matrix Geo Solutions along with Topodrone Russia concludes, that the upgraded DJI PHANTOM 4PRO PPK drone not only achieves an accuracy of 3-5cm RMSE consistently, but also has potential to achieve an accuracy up to 2cm RMSE, without the need of Ground Control Points.
Also Read: Drone imagery shows striking income inequality in the metropolis Mumbai
Matrix Geo and Topodrone also offers all range of geospatial services and engineering consultancy in Railways, Road, Mining, Water and Power sector for Topography & Mapping
Key Features
• The "Topodrone – RTK/PPK kit"can be installed on DJI MAVIC PRO, DJI PHANTOM 4 PRO, DJI MATRICE 200 or DJI MATRICE 600 PRO.
• Does not require any additional power supply for PPK.
• Easy to use and with open source post processing software.
• Fast geotagging of correct coordinates.
Also Read: Higher accuracy in aerial imagery? Topodrone and Matrix Geo collaborate for an answer