With the signing of the American Declaration of Independence on July 4, 1776, the newly founded nation threw the yoke of colonialism and established itself as a sovereign nation committed to Republican principles of democratic governance and dedicated to individual liberty, peace, prosperity, and the pursuit of happiness. The declaration remains, to date, a seminal text on liberty.
243 years later, on the eve of the American Independence Day in 2019, USA is a vibrant, inclusive nation – as envisioned by its founding fathers – and a melting point of different cultures, races, ethnicities and nationalities.
Let's have a look at the breathtaking diversity in US population patterns and other trends with the engaging maps created by Business Insider.
Population density
The US is the fourth largest country in the world and its population of around 327 million are scattered throughout its length and breadth. The map shows the concentration of people in different states. Darker shade of blue indicates big cities here.
Settlement patterns
80% of the US population lives in metropolitan areas and as per the US Census Bureau's population estimates, in 2018, about a quarter of US population lives in 10 metropolitan cities.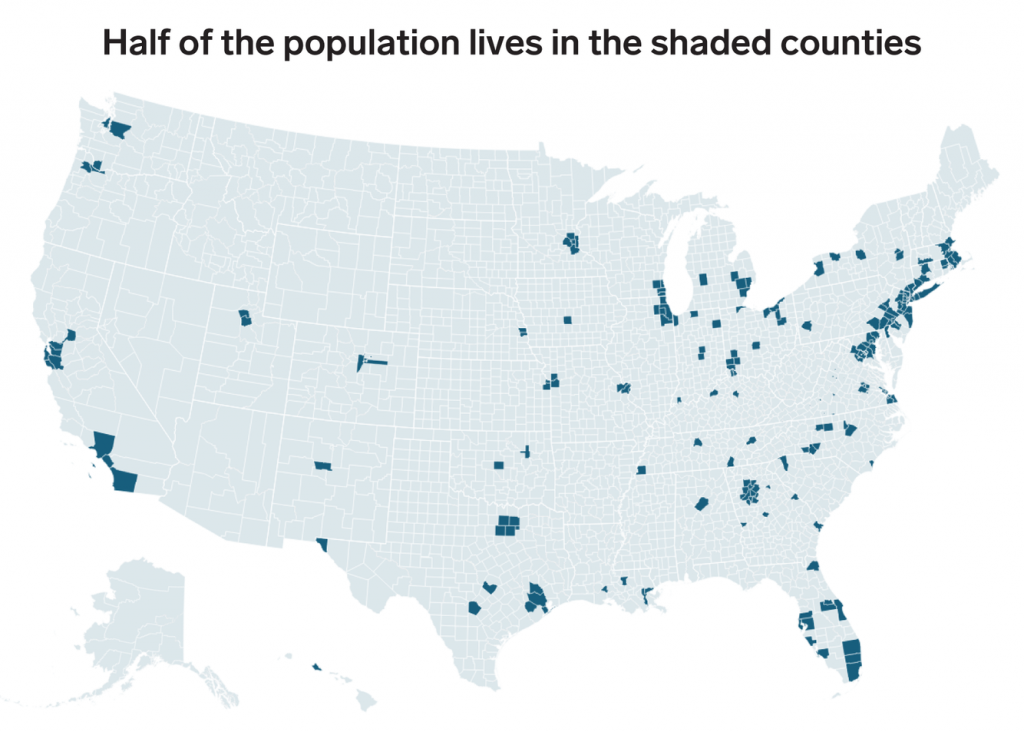 Ancestry in different states
USA has been made and enriched by waves of migrants who found in America a 'land of opportunity' and a country where the sky is the limit if they put their mind and heart into achieving what they want. From the pioneering migrants who crossed the Atlantic to escape the dreary conditions in mainland Europe and toiled hard in the 'New World' to later waves escaping persecution or determined to improve their lives, people of more than a 100 nationalities co-exist in USA. This map shows the most prominent ancestries in different states.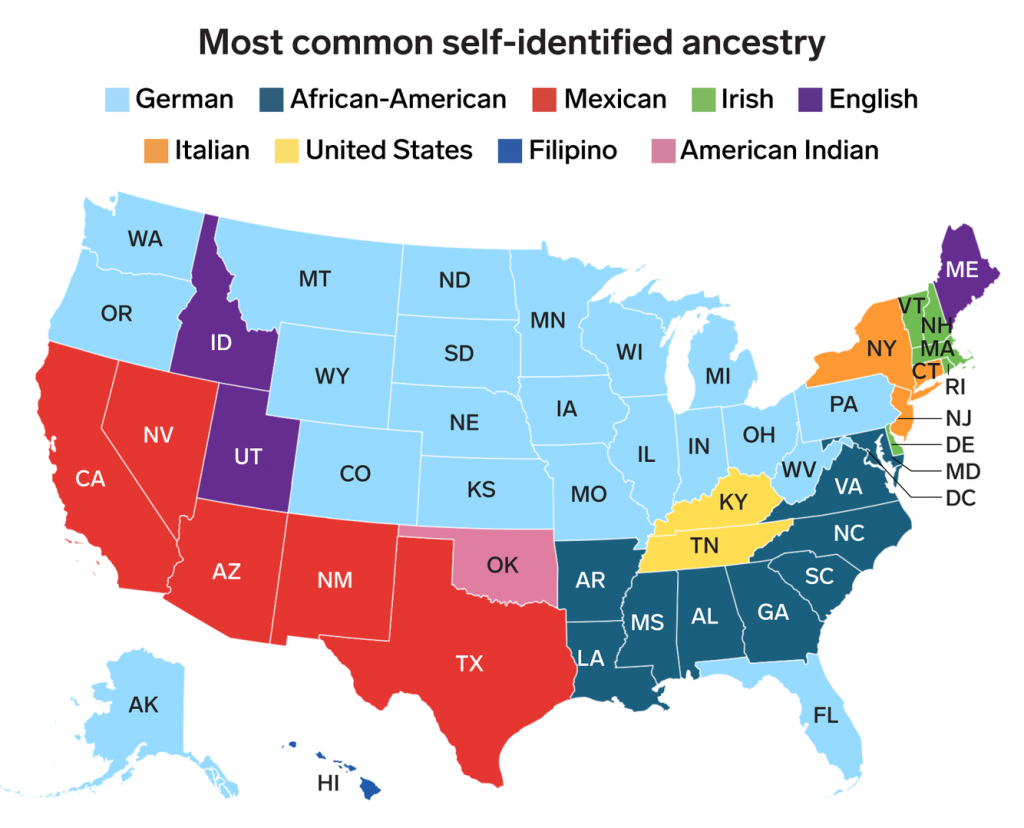 Most common foreign languages
Spanish is the most widely spoken language in the USA after English. Barring these two, this map shows the most commonly spoken languages in different states.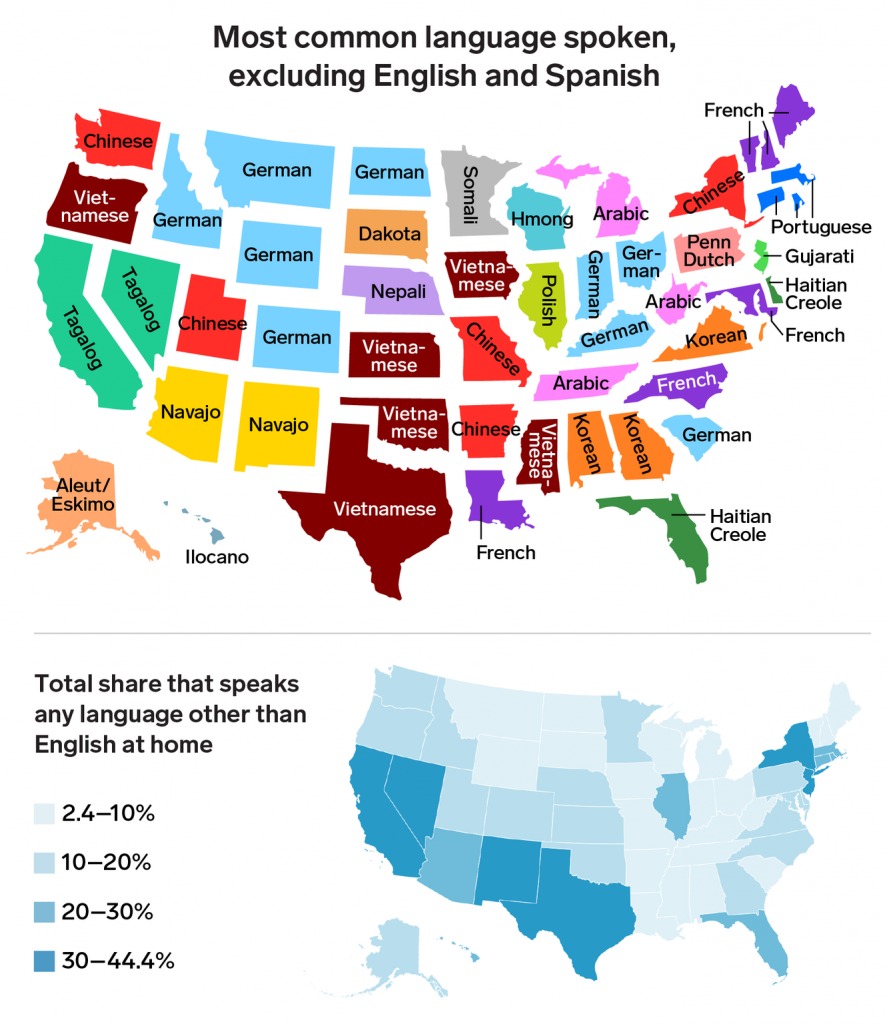 Population born overseas
The US is among the very few countries in the world that provide naturalized citizenship at birth to anyone born on its soil. The map shows the section of population that was born overseas.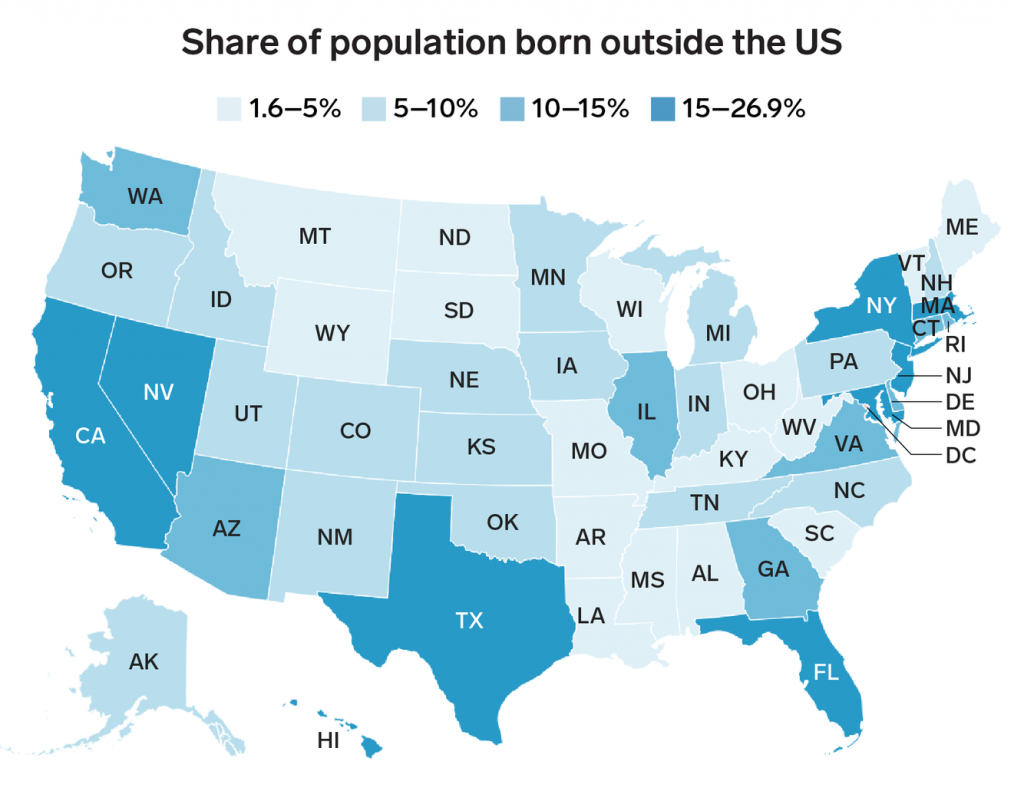 Country of Origin
The map shows the most common country for birth for residents, with the sole exception of Mexico.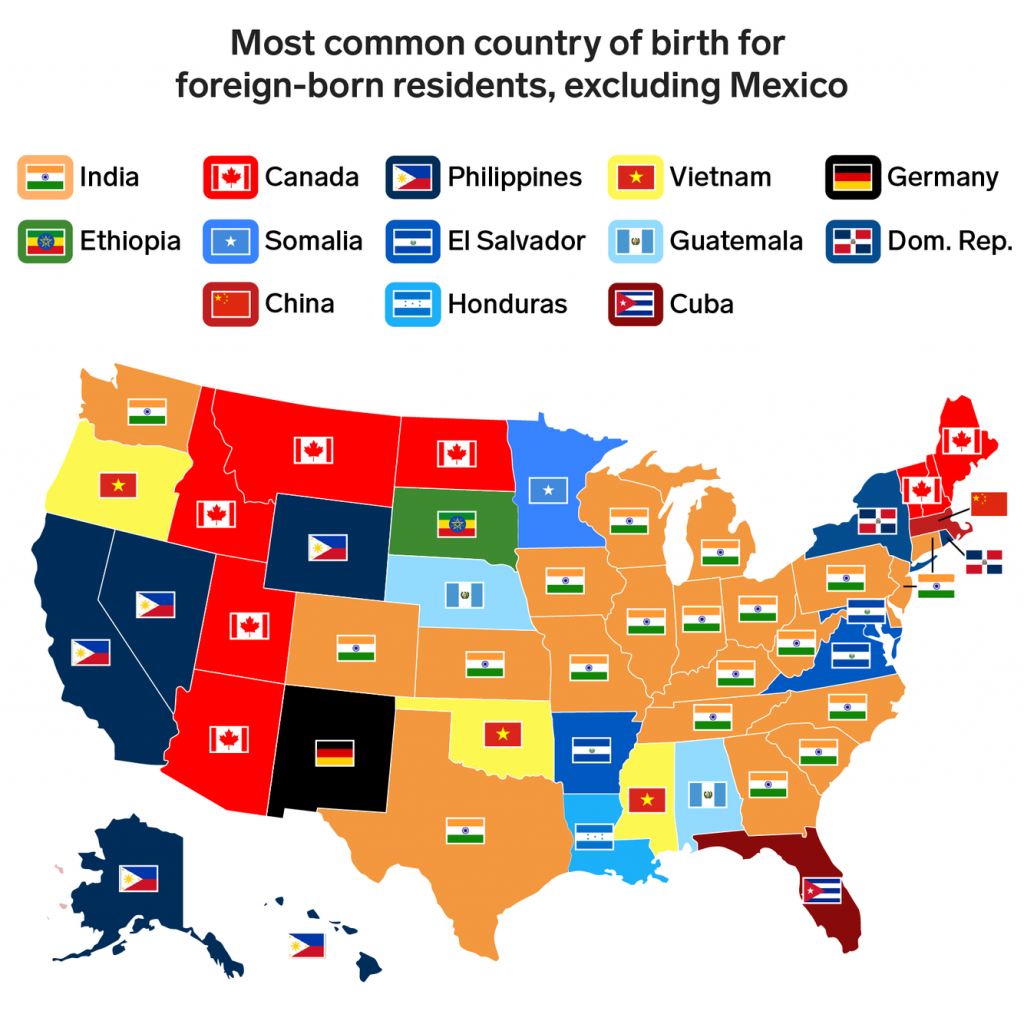 Sex Ratio
USA has a very healthy sex ratio. The map shows the percentage of males.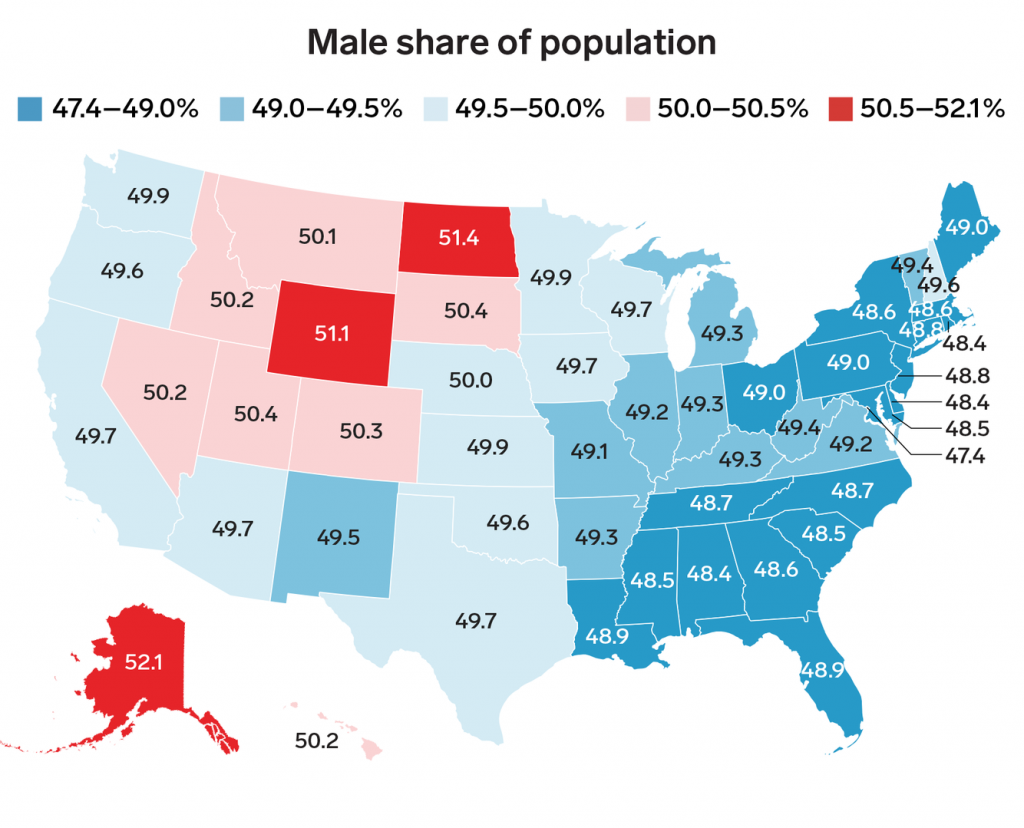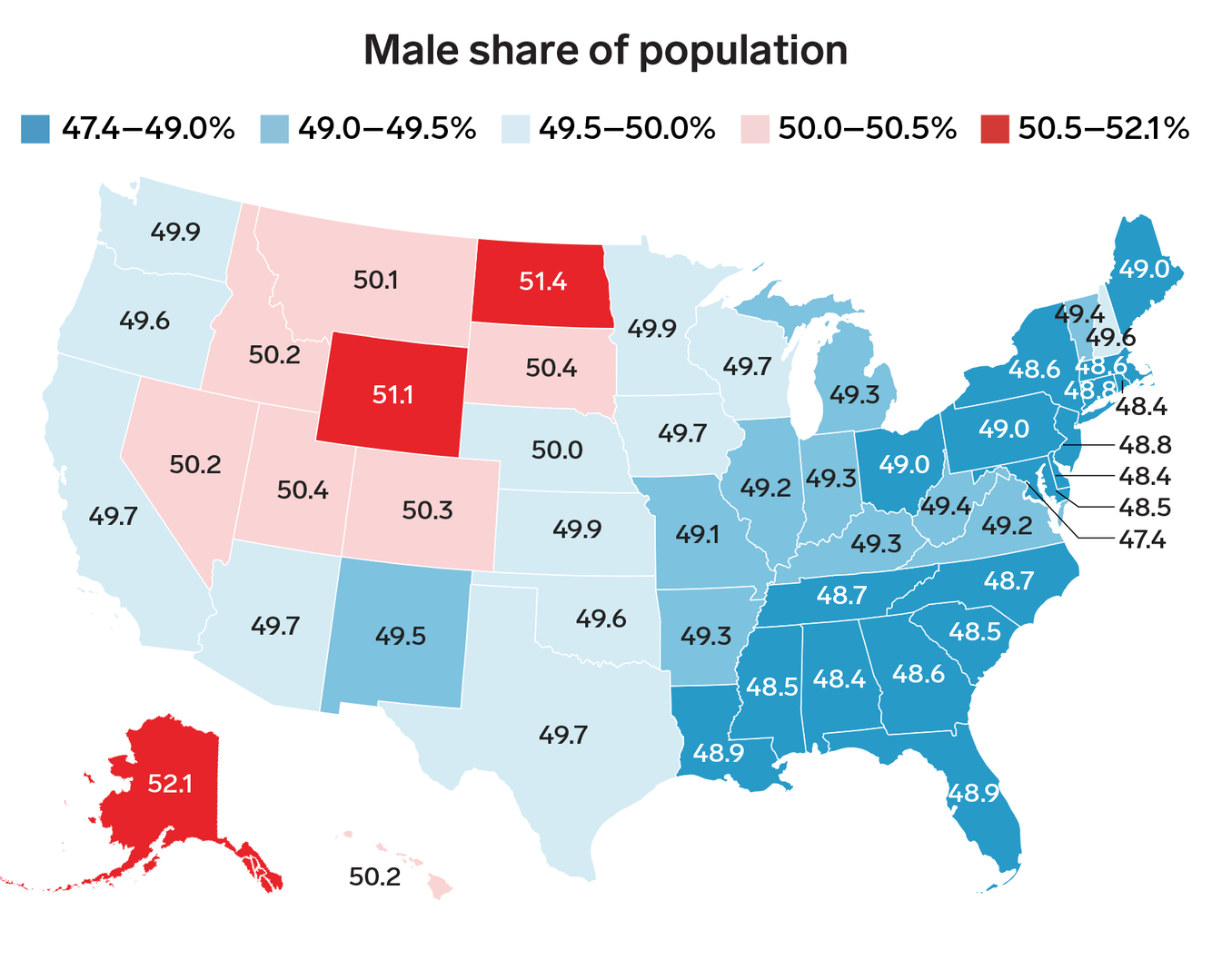 Religiosity
Most Americans, particularly in the Bible Belt southern states, are very religious.  About a third of the populations of Maine, Vermont, New Hampshire, and Massachusetts self-identify themselves as devout believers. The map shows the percentage of people in different states who are highly religious.