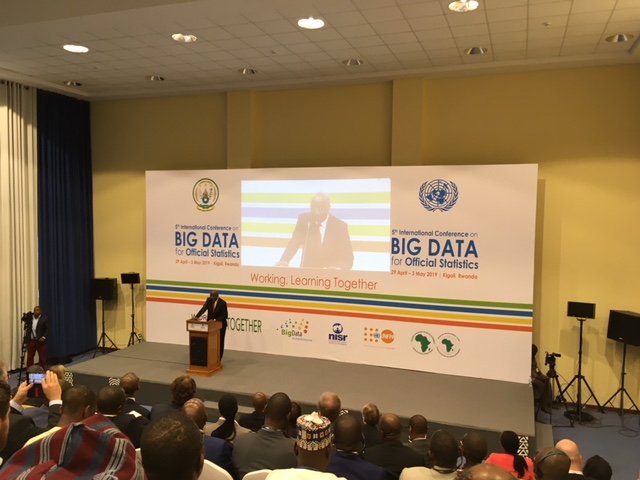 The UN Global Working Group's 5th International Conference on Big Data for Official Statistics took place from April 29th to May 3rd in the Land of a Thousand Hills — Kigali, Rwanda. This global event attracted representatives from NSO's, the private sector, and government officials. A comprehensive agenda of three days of workshops and two days of conference provided the participants with information on tools, technologies, and resources, as well as several presentations around Sustainable Development Goals (SDGs), national statistics, and integration.
The introductory message was delivered by UN Deputy Secretary-General, Amina Mohammed:
The United Nations Global Working Group (GWG) on Big Data for Official Statistics was created under the UN Statistical Commission in 2014. The GWG provides strategic vision, direction, and coordination of a global programme on the use of new data sources and new technologies, which is essential for national statistical systems to remain relevant in a fast-moving data landscape. Big Data has the potential to fill gaps, make statistical operations more cost effective, enable the replacement of surveys, and provide more granularities in outputs, e.g. support the monitoring of the SDG goal of 'leaving no one behind'. The GWG built the UN Global Platform as a collaborative environment to work together as a global statistical community and to learn together sharing knowledge, data, and methods for all countries in the world.
My recent travels to several global conferences focused on the UN Sustainable Development Goals have proven very informative in developing knowledge and identifying challenges, concerns, and opportunities to provide assistance to developing countries.
There is a growing concern surrounding the SDG's and the market actors' (both public and private) participation in providing assistance to developing countries. There are numerous and significant global efforts to develop and provide tools and resources for countries to utilize SDG reporting efforts. The challenge, as made clear by conversations with country representatives, remains the plethora of data available with marginal capacity building or training provided.
It is evident that the commercial sector continues to promote tools, platforms, and data at an aggressive rate with a variety of business models ranging from SaaS to Freemium to open source platforms. In particular, earth observation and big data sectors continue to evolve and make such tools more and more readily available to countries in need. We applaud this effort.
However, the traditional thought of "if we build it, they will come" is a flawed approach that is contributing to confusion and challenges to developing nations. The fact is that the vast amount of data from satellites, drones, airplanes is and will continue to prove valuable. Earth observation and big data management have the opportunity to provide significant assistance in moving the SDG agenda forward for developing countries.
In a recent conference in Amsterdam, the challenges for developing countries has been placed in 3 major categories and ranked in importance as follows:
Access to data & tools
Funding
Capacity Building and Training
Conversely, at the recent UN International Conference on Big Data in Kigali, Rwanda, my observations based on presentations and discussions suggested a different ranking of priorities:
Capacity Building and Training
Funding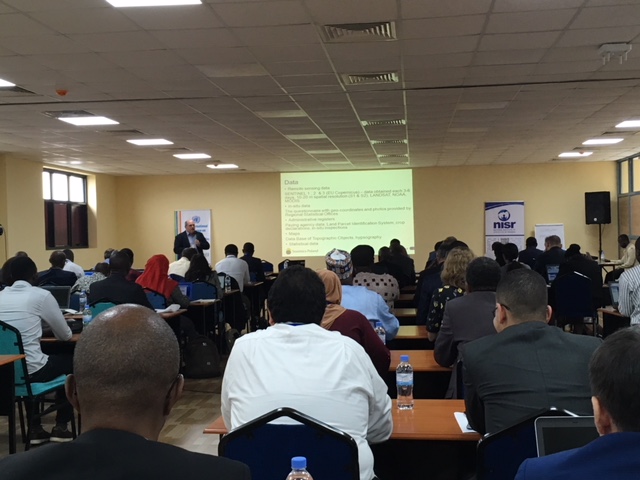 It is of paramount importance, for short- and long-term needs, that robust capacity building and skill development is included in each and all projects involving technology and solutions for developing countries.
Towards that end, the GWG created the UN Global Platform as a collaborative environment to develop and test new data sources, methods, and algorithms for the global statistical system. The Global Platform will support capacity-building through a library of trusted training materials, methods and software applications.
Ronald Jensen, UN Statistical Division Assistant Director and Chief, Data Innovation and Capacity Branch commented: "The UN Global Platform offers participating institutes access to a wide network of experts, to global datasets (like satellite data), to shared services, and to advanced methods. This means that through this platform collaboration statistical offices of least developed countries or small island developing states can also use – for example – satellite data to compile agriculture or environment statistics and SDG indicators."
The UN Global Platform Earth Observation service, in partnership with Azavea, provides an out of the box imagery catalogue that makes it easy for organizations to make all of the geospatial imagery they use available in one place, and easily shareable across multiple teams. It enables users to search through massive imagery datasets, both public and commercial, upload your own data, manage permissions, and share imagery publicly as a map service and integrate it into your website or application.
These resources lend themselves to the implementation of training and a curriculum to be included with the development of projects to add capacity to the countries, develop skills for self sufficiency and provide the opportunity for additional education with the universities and job creation with local entrepreneurs.
"A global ecosystem for data, algorithms, and insights must foster national engagement and buy-in for data to be used for SDG implementation, policy development, and evidence based behaviours. This requires building capacity of governments, academics, and citizens in using and guiding data collection and analysis," commented Jillian Campbell, Chief Statistician at UN Environment.
The "Digital Divide" continues to grow between developed and developing countries. Depending on the conference and participating audiences, presentations and discussions range from the use of blockchain and AI to how to use OSM and open source data. Free and long term access to available data is essential for countries challenged by financial and internal constraints.
Jillian Campbell and David Jensen, UN Environment, co-authored an article on the subject titled: The Case for a Digital Ecosystem for the Environment. In the article, digital divide and capacity building are discussed:
"Investments are essential for closing the gap between the potential for new data to be used in the implementation of SDGs, and the actual capacity of countries and citizens to access and use data for effective decision making and monitoring. The most notable gaps are found between developed and developing countries, between private companies and public agencies, and between urban and rural settings."
Capacity and courses to be considered will vary by country needs, requirements, and specific projects for the development of solutions. The commercial sector must listen to countries and their specific needs. Solutions of this nature, no matter how hard the commercial sector tries, are not one size fits all.
Of course, funding continues to emerge as a challenge and an issue for these countries. However, the efforts by many of the government entities, NGO's, multilateral banks, and philanthropies must achieve a balance of delivering on a mission alongside the necessary training and capacity building to ensure long term goals and self-sufficiency.
In Kigali, several African and Middle Eastern country representatives had the opportunity to listen and learn about the commitment from the global community to ensure tools and resources are available to support and deliver on their SDGs strategy. As one of the country representatives in Kigali so eloquently commented to me, "For developing countries, please do not talk to us about blockchain and artificial intelligence. Teach us how to get started with simple tools that we can build on."
This is a comment that resonates with me as a native of Colombia and resonates with the rest of the developing countries that are hungry for capacity to develop solutions for a better future.