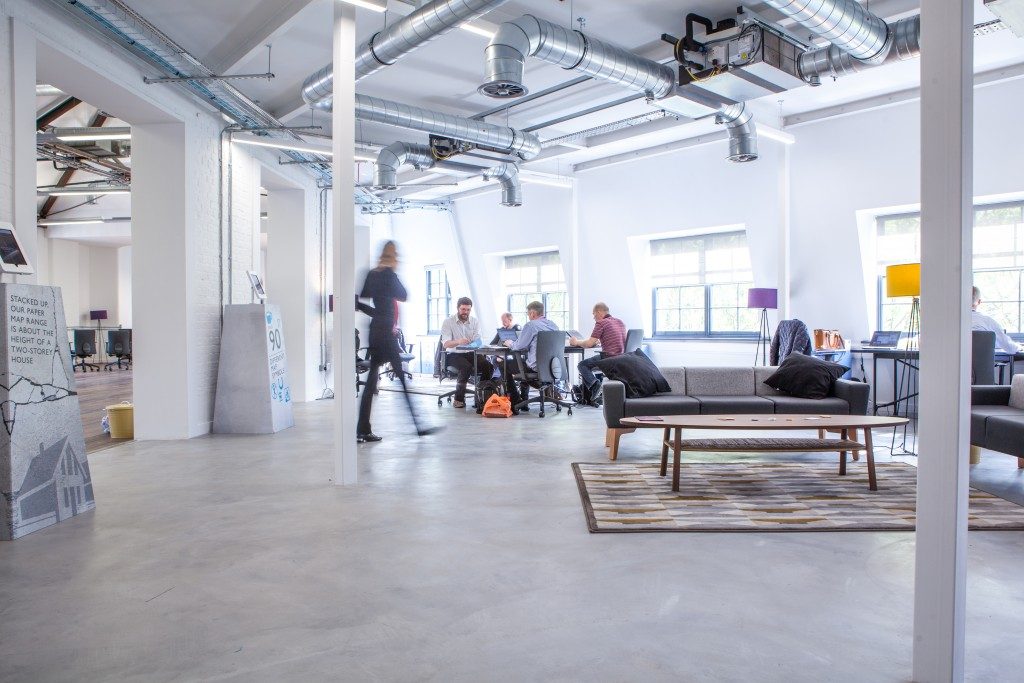 Ordnance Survey is at the forefront of exciting innovations in geospatial and GIS in the UK. Apart from being a trailblazer in innovations, it also supports the larger industry ecosystem through knowledge and expertise sharing. So when three years ago, Ordnance Survey established the Geovation Hub for supporting GeoTech visions, it was not a one-off decision, but rather a result of a decade-long experience of organizing Geovation challenges and legacy of supporting enterprises that depend on geography.
Let's have a look at some of the business that are a part of the Geovation Hub. Some of the businesses are performing exceptionally well, despite factors like economic slowdown or the Brexit anxiety in the global market.
Pocket Pals is an app that uses Augmented Reality to hopefully reconnect young people to British wildlife.
Trik is an award-winning drone mapping and 3D Reporting software for structural inspection that solves one of the construction industry's major challenges – the inspection of large structures for purposes of maintenance and repair.
Trik is the brainchild of Pae Natwilai, an entrepreneur, engineer, designer and thought-leader in drone innovation and digital construction. A Forbes 30 under 30 Europe, and winner of several innovation and engineering awards, her achievements also include a degree in Mechanical Engineering from Chulalongkorn University, Thailand and a Masters in Global innovation Design from Imperial College London and the Royal College of Art, London.
LandInsight – Provides comprehensive insight into land information: mapping polygons of land, who owns it, what it's currently being used for, and future development plans – to help with land ownership transparency and identification of pockets of land for SMEs to build on and create housing. They are a previous Geovation Housing Challenge (2015) participant, who have now been able to benefit from the tangible community and start-up space of the Hub. They have considerable in-team technical expertise, so although they don't need to call on Geovation's developers, we are able to get involved in other ways, through introducing contacts, providing business advice, and being very active in Geovation Hub life. http://www.landinsight.io/
Refil Natalie Fee, Olivia Drake, Thomas Bell and Gus Hoyt aim to reduce dependency on plastic bottled water with a nationwide rollout of an app that pinpoints free tap water refill points. The app will capture data and encourage behavior change by rewarding users and allowing them to build points that can be exchanged for money off vouchers.
OpenPlay – A platform to connect sports facilities to their users; breaking down barriers to get more people active (because I love sport and like the idea of underused facilities – such as council footy pitches – being used rather than being sat empty. It's a simple yet effective idea for improving people's access to exercise, particularly encouraging group sport, by removing this access barrier and providing better facility for people to set up sports group events.
They are winners of the active lifestyles Geovation Challenge (2014). Returning to use the Geovation Hub facilities to grow their team full-time I find a real testament to the value of the Hub in both (for OS) being able to collaborate back with the wider Geovation community created that can otherwise become lost forever, and (start-ups) providing co-working space invaluable to letting a team get on with focussing on the real stuff without worry of office space –  with great business and technical expertise, and open innovation opportunities, readily available here. Active Hub members – they've even set up an open weekly lunchtime football group here using their booking system at a pitch nearby! https://www.openplay.co.uk/
Flock: Insurance just got smarter. With Flock's smartphone app you'll pay for drone insurance only when you need it, and receive a customized policy for your flight. Our real-time pricing is risk-dependent, so the safer you fly, the less you pay. And if something goes wrong? Claim with the tap of a button. It really is that simple. Recently partnered with Allianz insurance:
Safe & The City is a London-based technology company that uses GPS, crowdsourced information and police risk data to reduce victims of opportunistic crimes and sexual harassment that can make people feel unsafe. The company was founded in February 2017 by Jillian Kowalchuk and officially launched on 8th March 2018. Safe & The City's vision is to create a world in which women and their male allies can be empowered to collectively tackle sexual harassment in public and private environments. The startup anticipates its following will continue to grow and facilitate quickly scaling into other global cities.
Open Capacity – Real-time capacity tracking for public transport. It's a really smart way to use existing data to improve user experience on public transport. The idea is simple yet incredibly effective: it solves a real problem, experienced by many people on a daily basis: disproportionately overcrowded train carriages, particularly in large and growing cities (e.g. London – whose population increases by 2 tube trains every week). This business gives value both to customer experience and also transport logistic companies for better management of crowds and delays this causes. (There's some striking stat like for every minute of delay, such as due to overcrowding, this incurs £1 million in costs: http://opencapacity.co/
Shipamax – platform for the bulk shipping industry. If you wish to get an offer on a voyage, we'll do the leg work for you. On your request, we will contact all ships that are relevant to your voyage. Like the fact that this will have global impact. http://www.shipamax.com/
Ment.at– machine learning for real time anomaly detection. Imagine a live dashboard, predicting where a crowd is likely to form in the next twenty minutes in central London. Imagine a cybersecurity solution that is able to flag malicious activity against a background of shifting legitimate behaviour within the enterprise firewall. Imagine a search engine that not only identifies relevant resources, but actually digests them and summarises them for you, and then keeps you abreast of relevant developments dynamically. Imagine moving from diagnostics to prognostics to pre-empting faults in manufacturing plants, large server farms, or vehicles in motion. Imagine a machine intelligence offering early warnings of cardiac arrests on the basis of live data from wearable sensors.  http://www.ment.at/