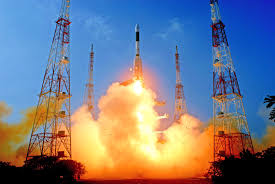 The year 2016 turned out to be quite a successful year for the Indian Space Research Organisation. The first few months didn't only see ISRO complete its constellation of seven satellites for its own GPS, but ISRO also took a baby step towards Re-usable Launch Vehicle.
Launch of NavIC- Our own GPS
ISRO started the year with a bang when they launched PSLV-C31 on January 20, 2016. The launch successfully carried India's Fifth Navigation Satellite IRNSS-1E into the orbit. 
On March11, ISRO successfully launched PSLV-C32 carrying IRNSS-1F, India's Sixth Navigation Satellite.
PSLV-C33 carried India's seventh Navigational Satellite into orbit on April 28. It was a significant launch as it completed the constellation of seven satellites and India joined the prestigious group of nations having their own Geographical Positioning System [GPS].
NAVIC, as it is called, is India's own GPS. Designed to provide position information in the Indian region and 1,500 km around the Indian mainland. Speaking to Geospatial Media on the sidelines of summit in Hyderabad, ISRO Chairman AS Kiran Kumar had said that NavIC is going to be more accurate than GPS [USA] with just seven satellites in orbit.
So, we can look forward to use our own GPS very soon in our handsets. The satellite offers services like terrestrial and marine navigation, disaster management, vehicle tracking and fleet management, navigation aide for hikers and travellers, visual and voice navigation for drivers.
Success Story
On the technological side, apart from simultaneously launching 20 satellites, the year also saw testing a reusable launch vehicle (RLV) and a scramjet engine. 
The year 2016 also saw ISRO putting into orbit 34 satellites — 33 satellites with Indian rockets. Of the 34 satellites launched, 33 were launched with Indian rockets, 22 satellites belonged to foreign customers and the remaining 11 were owned by ISRO including few by academic institutions.
Antrix, the commercial arm of ISRO, earned $73 millions in 2016 and negotiations for another $73 millions are on.
The ISRO also put one more rocket — the Geosynchronous Satellite Launch Vehicle Mark II (GSLV-Mk II) to geo-transfer orbit in the global market. The Indian space agency launched INSAT-3DR, an advanced weather satellite, using its heavy GSLV Mk II rocket. ISRO is all set to test its GSLV Mk III rocket in 2017.
Helping the Nation
Apart from earning revenue ISRO is also credited to have given the necessary images to the Indian Army to carry out its surgical strikes on terror camps across the Line of Control (LOC) in September. NavIC is likely to give an edge to Indian army with its accurate positioning system and real time updates.
ISRO also successfully launched earth observation satellite Resourcesat-24 in the first week of December and the satellite has beamed back images, which will be useful in better land use and will help policy makers in making better decisions. 
Marching Ahead
Apart from many successful launches from its time tested PSLV rocket, ISRO took the first baby step towards developing a RLV and successfully testing it. The structure was released in space and it landed back in the Bay of Bengal as planned.  The Reusable Launch Vehicle-Technology Demonstrator (RLV-TD) was launched on May 23. By doing so ISRO joined the race to develop a space vehicle that can fly numerous times into space like aeroplanes. 
ISRO also successfully tested Scramjet engine. Though it would take more than a decade to develop it, but once fully developed it will help reduce the cost of satellite launches. The scramjet engine sucks the atmospheric oxygen and use that to burn fuel. As a result, the weight of the rocket will come down drastically which in turn can be used to increase its carrying capacity.
ISRO and NASA are jointly working on the development of Dual Frequency (L&S band) Synthetic Aperture Radar Imaging Satellite named NISAR, slated to be completed and launched by 2021. 
BIG BANG 2017
2017 is expected to start with a big bang for ISRO. It is aiming for a world record by putting into orbit 83 satellites on a single rocket. All the 83 satellites will be put in a single orbit and there will be no switching off and on of the rocket. ISRO will use its Polar Satellite Launch Vehicle XL (PSLV-XL) rocket variant for the record launch.
The launch is scheduled for January 17 and we can hope that like 2016, the year 2017 is going to be remarkable for ISRO. 
We are proud of you!