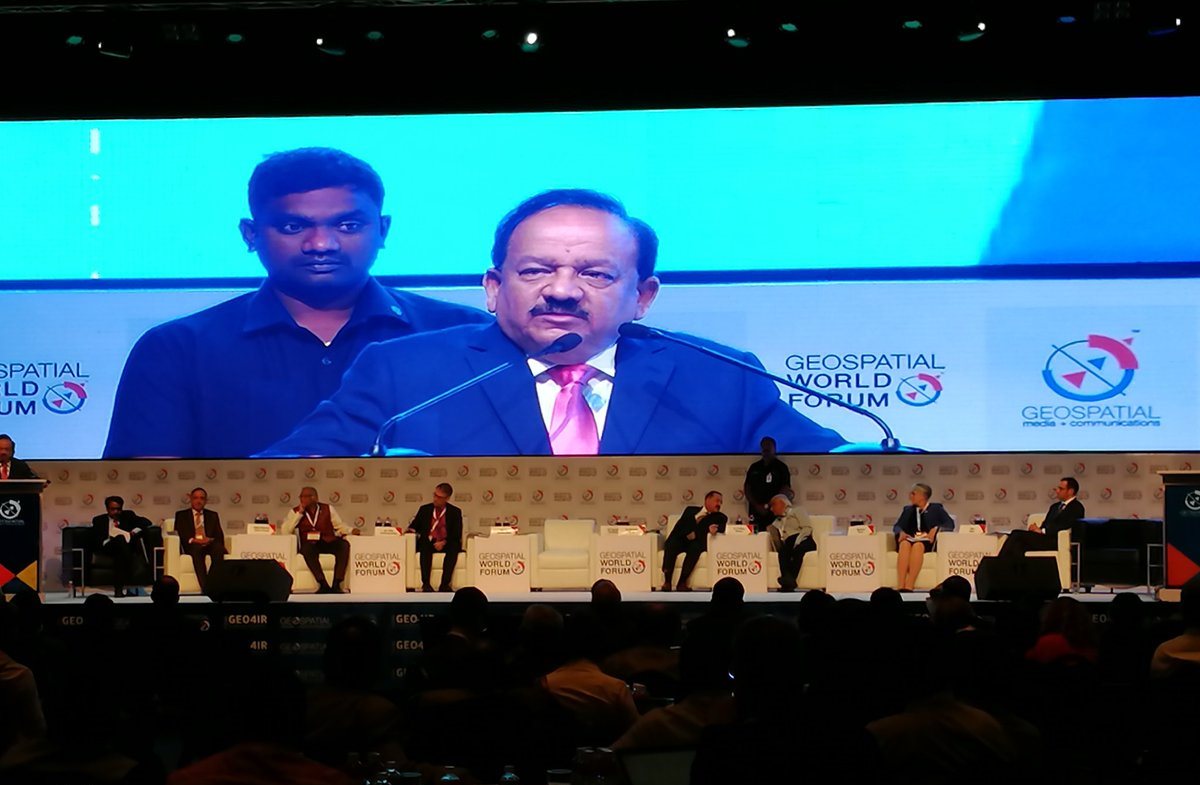 Grandeur cannot be defined, it has to be witnessed. This is how the 11th edition of Geospatial World Forum 2018 began with much fervour. A mega geospatial business-cum-technical event highlighting the role of geospatial technologies enabling the Fourth Industrial Revolution, begun in Hyderabad, India.
The three-day knowledge enriching forum, from January 17 to January 19, comprises of the 'Who's Who' of the global geospatial community, policy makers, academia, researchers, technology providers, solution providers, and end-user segments across industries, regions and communities targeted, the forum features large-scale conference and exhibition, top-ranked keynote speakers, major industry segments, high-level discussion programs and various social networking events. The event is organized by Geospatial Media and Communications.
Inauguration with zest
The forum was inaugurated by Dr Harsh Vardhan, Minister of Science & Technology, Ministry of Environment, Forest and Climate Change and Ministry of Earth Science on January 17. Praising the futuristic theme of the event, Dr Vardhan reinforced that the geospatial industry is contributing immensely in the overall development of India both economically and technologically.
He said, "Use of space and location technologies adds thousands of crores to the country's GDP. Geospatial is no more a fundamental science; it has become a solutions science. Space technologies enable and connect 32 ministries in India, complementing each other's work. The technology should also be used for sustainable development and alleviation of poverty."
Elaborating on the scope of science, he further said, "We have a Prime Minister who talks about Big Data analytics, Artificial Intelligence and IoT in cabinet meetings. He believes that every bit of scientific knowledge has to be used and everyone in the country should have knowledge information facility in mobile for the poorest of poor." The minister of Earth Sciences and Technology also said that the geospatial industry has the huge potential to provide enormous number of jobs.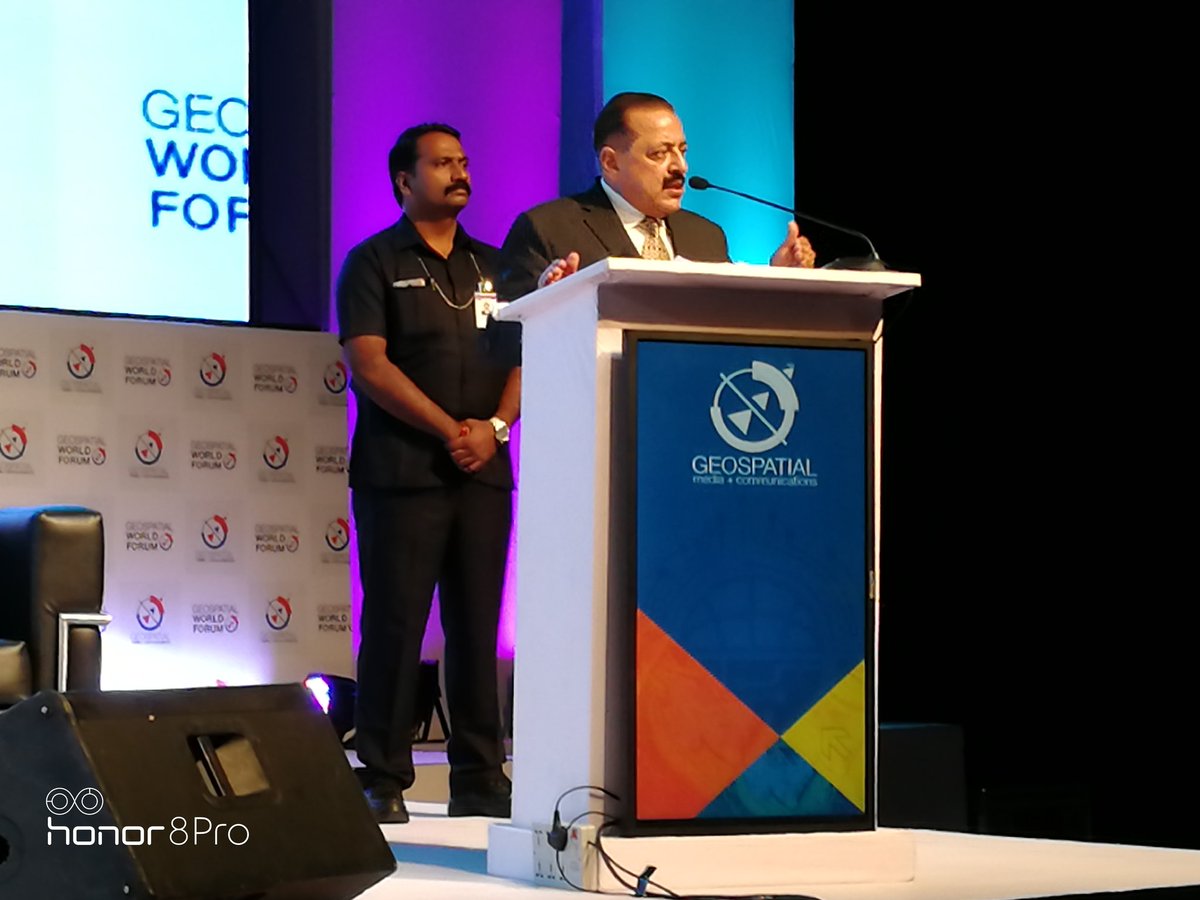 Throwing more light on the potential of geospatial industry and the space industry in particular, Dr Jitendra Singh, Minister of State (Independent Charge), Prime Minister Office, Department of Atomic Energy & Department of Space, India, said, "Space technology has entered in each and every household of India whether it is smart cities, railways, agriculture, insurance, banking, etc. Space technology can predict accidents. The agriculture sector is using soil testing technology. Now, a modern technocrat can be a start-up in space technology and work from home. Today India is a leading nation in space application not only in launching but also in the applications segment. In future there is going to be huge revenue generation opportunities. We will set an example in the public-private partnerships."
Global viewpoint
Setting the tone further and giving a global perspective, Stefan Schweinfest, Director, UN Statistics Division, United Nations said, "I have two key messages for you. First is we need geospatial industry sector to work together and second, we needs all kinds of data for sustainable development, and geospatial information is an important driver in this."
Agreeing to this, Barbara Ryan, Secretariat Director, GEO, Switzerland adds, "Time is running out. Governments, private sector, public sector, citizens all must come together in our efforts to build a sustainable future and meet the SDG agenda."
She further said, "That it is time that the government must open their data more. More access to data will lead to more value-added products and services. This will also lead to more transparent environment."
Giving a different dimension and celebrating the role of geospatial professional in the Fourth Industrial Revolution, Ron Bisio, Vice President – Geospatial, Trimble, USA said, "If you look at previous industrial revolution, there were certain capabilities that drove those revolutions. Now data analytics, Big Data, artificial intelligence are powering 4IR. We should be proud of this as being part of this revolution."
NRSC's User meet
The inaugural session also introduced the NRSC's User meet. On the occasion Dr YVN Krishnamurthy, Director, NRSC, India said that the association with Geospatial Media and communication has ben very fruitful. Talking on the importance of the geospatial industry he said that in 1990s they were around 200 geospatial-based companies. Now, most of theses companies have grown exponentially, many are also working with ISRO. "We are seeking for start-ups to come up, do data analytics and come up with innovative applications.. From financial services, urrban taxation to agriculture, the scope is vast and there is lot to be done.
Dr Krishnamurthy threw some light on the works of NRSC, "We had 500 users long back now we have 1800 users. Previously we had 1 petabyte of data five years back, but now every year we are adding some 2.5 petabytes of data, and in the next two years, it is going to be 25 petabytes of data from the Indian satellites. We have state-of-the-art data archival and dissemination system which is being produced in the hands of Bhuvan geo Web portal. Where today we have 9, 08,000 downloads in the last one year, online, there are 32 ministries, which are working their applications on top of Bhuvan and more than 200 MoUs have been signed so far."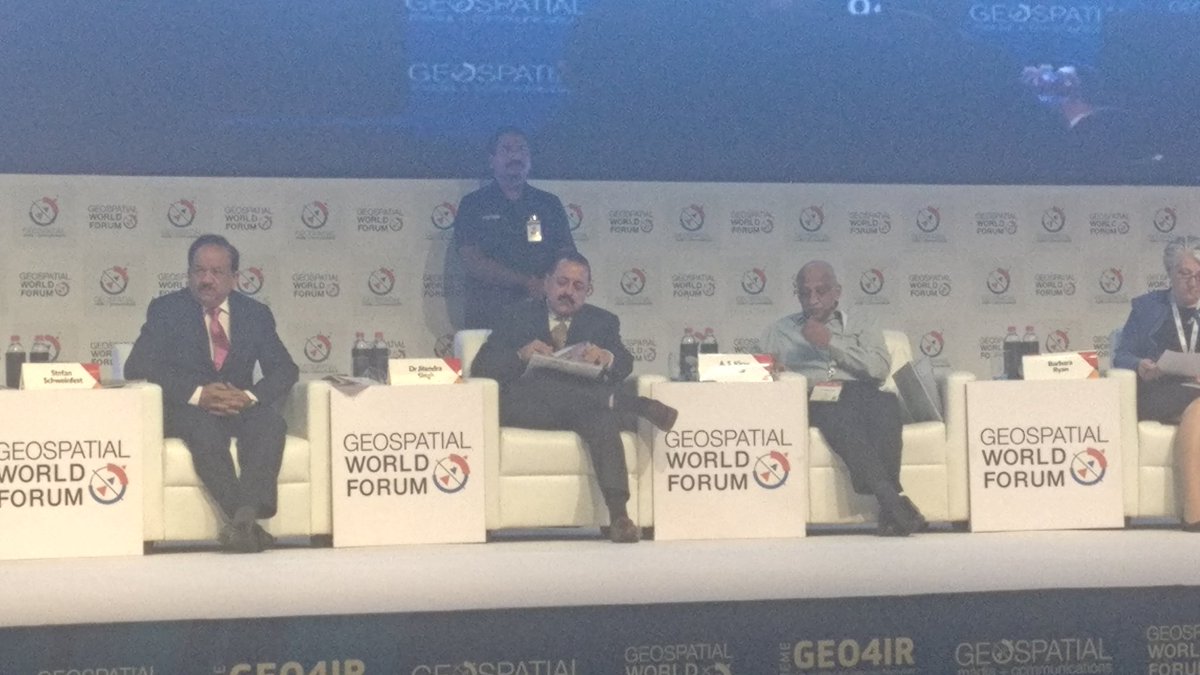 GWF – Thought provoking platform
As Major General Girish Kumar, Surveyor General, Survey of India aptly said that GWF is the largest gathering of the geospatial community in the world. Geospatial is increasingly becoming a part of our everyday lives. Spatial analytics is enabling the world to take better informed decisions. The world is using a lot of technologies but lot is yet to be done. GWF is such a platform, which has to play a very important role in enabling this. It's a unique platform where exchange of thoughts with various national mapping agencies, national space agency, service providers, industry academia, and users also taking part."
"As part of a national mapping agency which is the oldest in the world, with loads of knowledge and experience in geospatial domain, Survey of India is glad to be a part of this event, and we would like to share our experience, and exchange ideas, with the industry leaders present here," said Maj. Gen. Kumar.
Also present in the event, Kiran Kumar, Former Chairman, ISRO gave a run down on India's vision of Space for inclusive and sustainable growth. He said, "It is time for the governments and industry to work together for the benefit of the citizens and towards a sustainable future."
Ending on a happy note, Dorin Burmanje, Chair of the Executive Board, Dutch Kadaster and Co-Chair, UNGGIM, announced that the Dutch government will co-gost the forum – Geospatial World Forum 2019 – in The Netherlands.