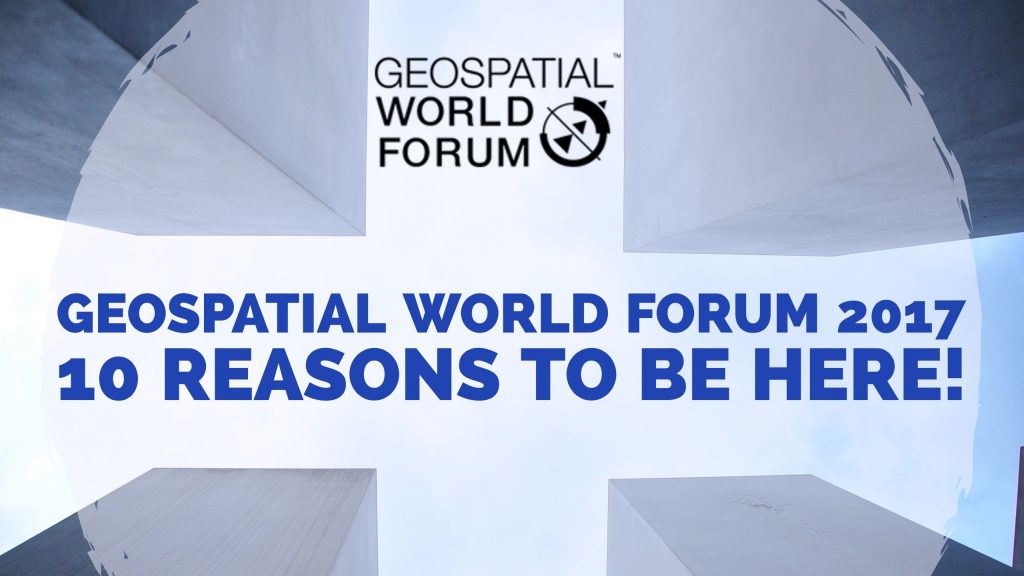 Get ready to witness a brand new and unique Geospatial World Forum 2017, in January!
3000+ global geospatial professionals are expected to come together to discuss new insights about the directions that the industry is taking!
Want to convince your team members and colleagues to participate? Here's a list of reasons to choose from.
What to expect from Geospatial World Forum 2017:
Survey of India, the national mapping agency of the country is celebrating 250 years of its establishment. Get ready to interact with the heads of 50 National Mapping Agencies from across the globe, at Digital Cartography Summit!
Geospatial Hall of Fame will honor the best of the geospatial industry founders. Grab the unique opportunity to meet top 20 business leaders, at the event.
CEOs and senior executives of multinational companies are coming to this show. If you have a business agenda, it's the perfect time for you to meet them.
Join our panel discussions and check out talks being delivered by Ministers from various countries about their geospatial programs.
As Geospatial technology is catching up with Deep Learning, industry stalwarts are planning to help you understand how the integration will help in shaping a smarter world.
From Smart Cities to Agriculture, Defense to Land Administration, Health to Water resources, Energy to Transportation, this is the only platform where you can discover more about the latest applications of the geospatial industry.
If technology is your thing, binge on sessions related to Artificial Intelligence & Deep Learning, Autonomous Vehicles and Internet of Things
If you are missing the kick of Location technology, join the exclusive two-day conference 'Location World

'

, to understand the trends in business intelligence, risk management, advertising & marketing, and social media
Start-up ecosystem is crucial to our agenda. Meet young entrepreneurs at the start-up boot camp and hackathon
If you are looking at business networking and getting the hang of latest technologies in the market, our 2000 Sq m. exhibition, showcasing history of surveying and futuristic technologies is THE place to be!
So what's in it for you? Tell us what your interests are and what you're looking forward to at the Geospatial World Forum
Online registration opens on 1st September 2016. Get an early bird access to save more than 40% on your registration fee.