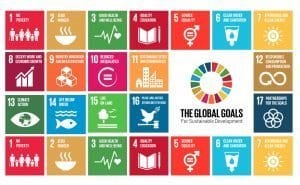 Recently, while watching a documentary about life of an English agent operating in France during the Second World War, I came to know how Germans were able to circle her position by tracking her wireless device. Though, she was told that it was safe to operate the device for up to 15 minutes continuously and she used it from different locations, but she knew that it wouldn't be possible to hide her location for more than six weeks.
Moving forward a few decades, the end of The Cold War in 1990s brought about a revolutionary shift in the overall outlook of the geospatial industry, opening its frontiers for commercial exploitation. End of selective availability of GPS and granting of the first commercial license for earth observation satellite brought the power of location into the hands of the common man. Soon, the world began to witness the emergence of innovative companies, creating new markets and simultaneously embedding spatial dimensions in engineering, businesses, infrastructure, and consumer industries.
Today, what excites me is the fact that location offers the much needed fourth pillar (along with AI, IoT and Big Data) to the Fourth Industrial Revolution, enabling disruptive innovations and driving smart solutions for the future generations who are facing challenges of growing consumerizm and depleting resources. All this makes it all the more important to observe, monitor and manage our Planet Earth in almost real time.
Innovations in technology and delivery platforms like the NewSpace revolution, duly augmented by drones, miniature sensors, Cloud platforms, and artificial intelligence has made geospatial data and its capabilities a commodity to such an extent that it has become "by default" in our work and personal lives.
The 'Geospatial Way' is the future and probably the most efficient and effective way to collect, process and utilize information in the overall global development agenda. It helps to identify, understand and contextualize challenges the world is facing today. Integrated geospatial information framework and readiness have direct co-relation with human development and quality of life. The Geospatial Readiness Index has clearly indicated that countries which have better geospatial institutional infrastructure and policies, have also adopted its benefits across almost every walk of socio-economic activities, furthering their programs of sustainable development.
However, digital divide is increasing and the geospatial divide may make it even worse for some countries to catch up. It's the right time to invest in developing a positive and collaborative approach towards building global geospatial infrastructure and policy frameworks. While, recognizing that the world economy runs on location-based services and data is the new oil, it is equally important to develop partnership models towards adoption of geospatial knowledge in making the Sustainable Development Goals a reality. In our quest to leave no one behind, it is pre-requisite to work with everyone with an approach of mutual trust, respect, and gains.
Join the #geospatialbydefault movement!
Also Read: Geospatial 4.0: Time to focus on social equity and sustainability