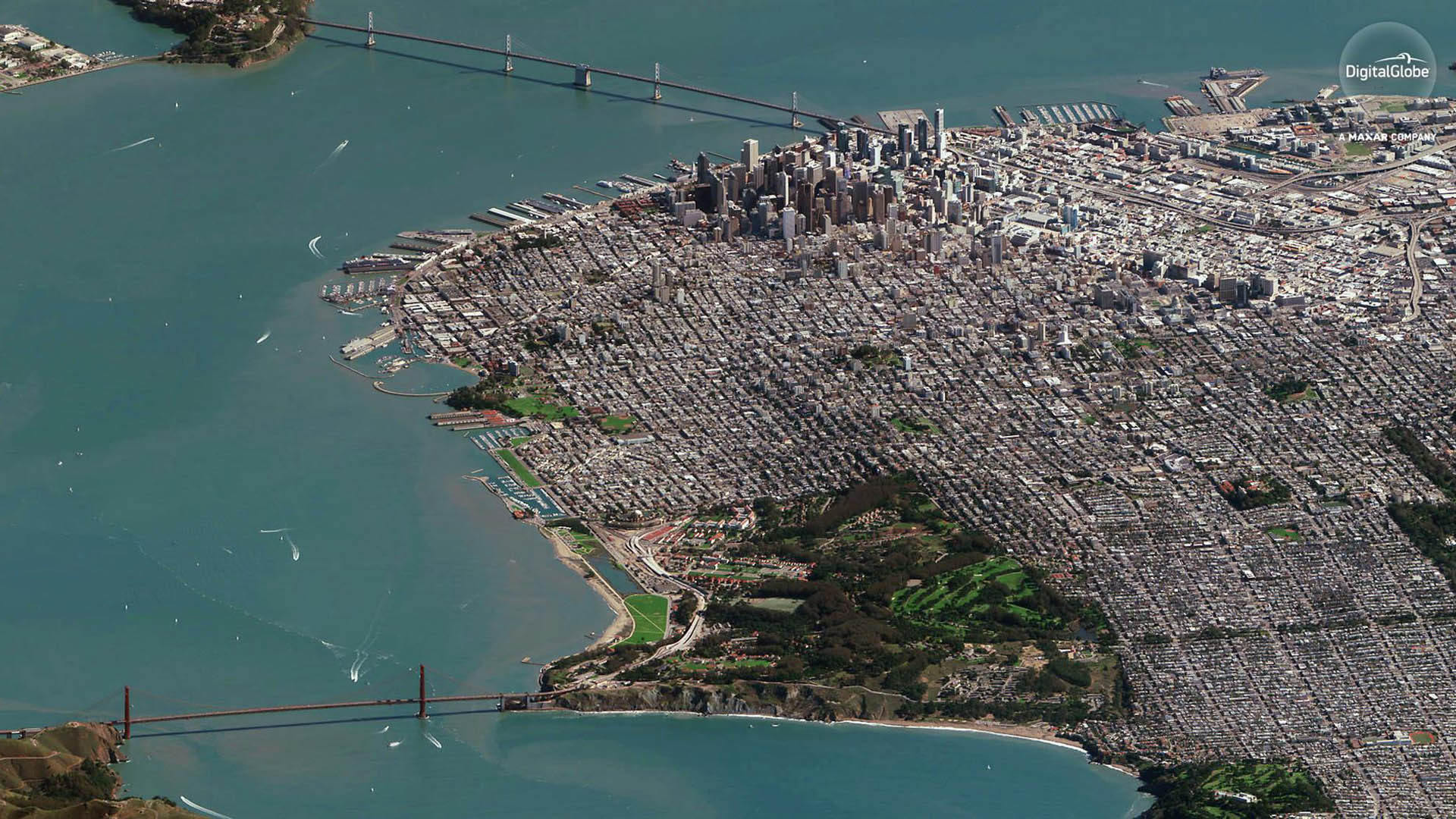 Even as the satellite imagery market has expanded leaps and bounds with a host of new players joining the market in the last few years, and the demand for earth observation data has grown exponentially, governments still rule the roost as the biggest customers.
The privatization of the upstream earth observation industry has proceeded apace from the 1980s with the initial thrust provided by the National Oceanic and Atmospheric Administration (NOAA) of the US Department of Commerce, followed by several efforts by American, European and Canadian companies. Today, Morgan Stanley believes that there are 93 companies that are reshaping the space industry. Interestingly earth observation accounts for 14% of the total space industry market, which includes launchers, satellite Internet and eight other areas. Increasing demand and plummeting costs to access make this industry "a highly relevant domain of disruption," according to the report by Morgan Stanley. The report also predicts that by 2040 the Global Space Economy Revenue will rise to $11.1 trillion led by Internet, ground equipment and government (See Graph 1 and Graph 2).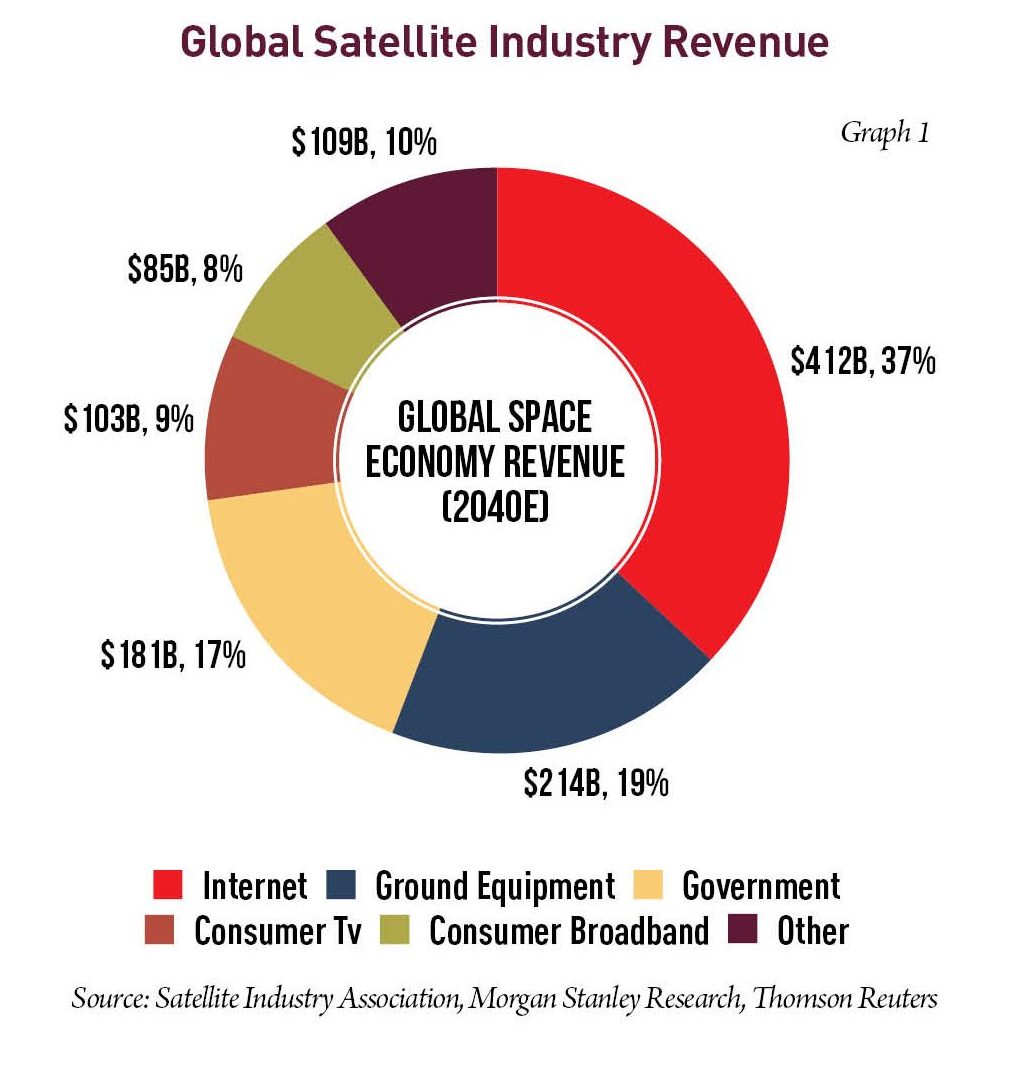 However, when it comes to the privatization of the downstream earth observation data market, it is another story. In the paper on "Towards disruptions in Earth observation? New Earth Observation systems and markets evolution: Possible scenarios and impacts" by Gil Denisa, et. al. which appeared in Acta Astronautica 137 (2017) 415–433, the market projections show that in 2015 the dominant market for EO data was defense (61%) followed by infrastructure (10%) and natural resources (9%), all government related activities. Even the value added services market is dominated by environment monitoring (21%), defense (15%) and natural resources (13%).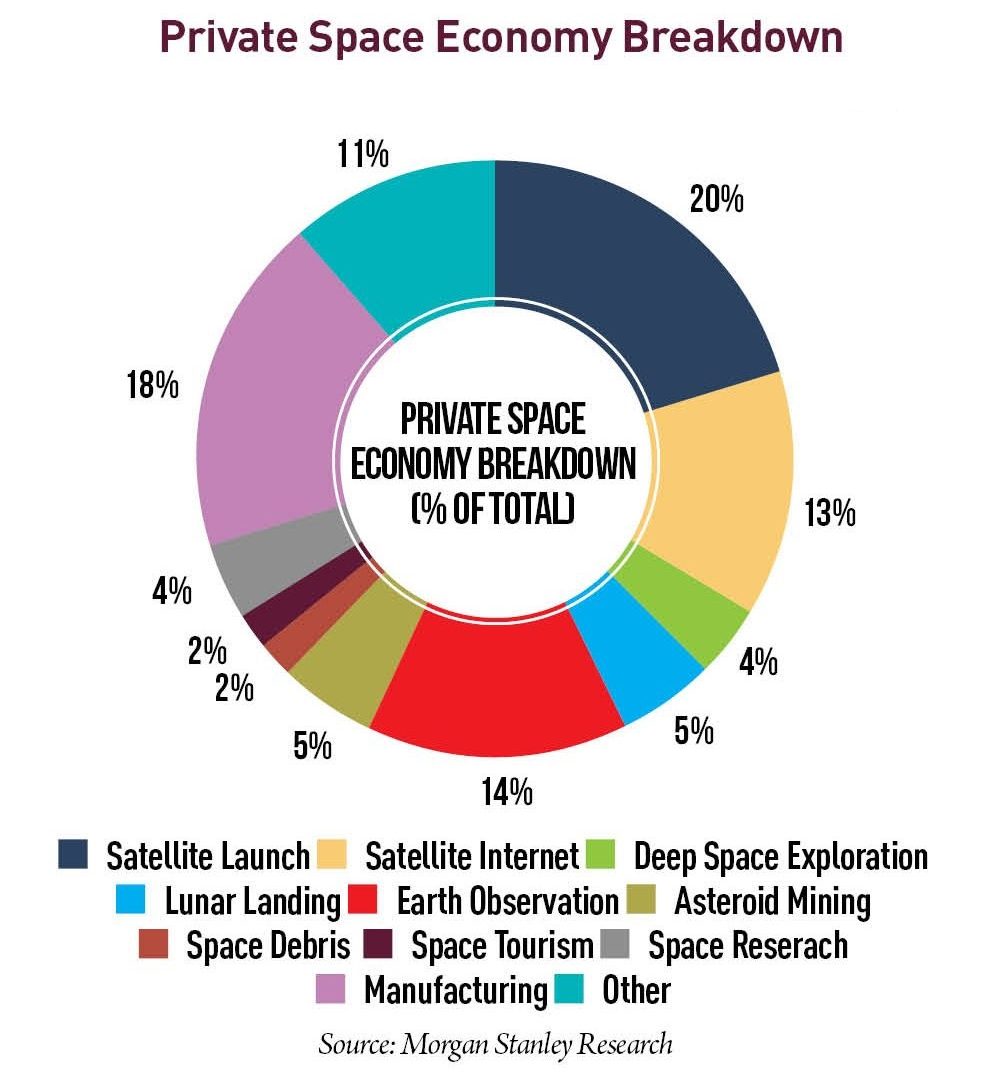 Note that these figures are from "Satellite-Based Earth Observation: Market Prospects to 2025", a report by Euroconsult 9th edition, September 2016 and refer to the situation 2015 (See Graph 3 and Graph 4).
Even the GeoBuiz 2018 report published by Geospatial Media and Communications, shows that out of the top ten drivers of the earth observation downstream market, defense, internal security, e-governance and infrastructure — all government activities — lead the list well into 2020. Looking at India as an example, from the India Geospatial Economy Report of 2018 by Geospatial Media and Communications, more than 50% of the earth observation market is government driven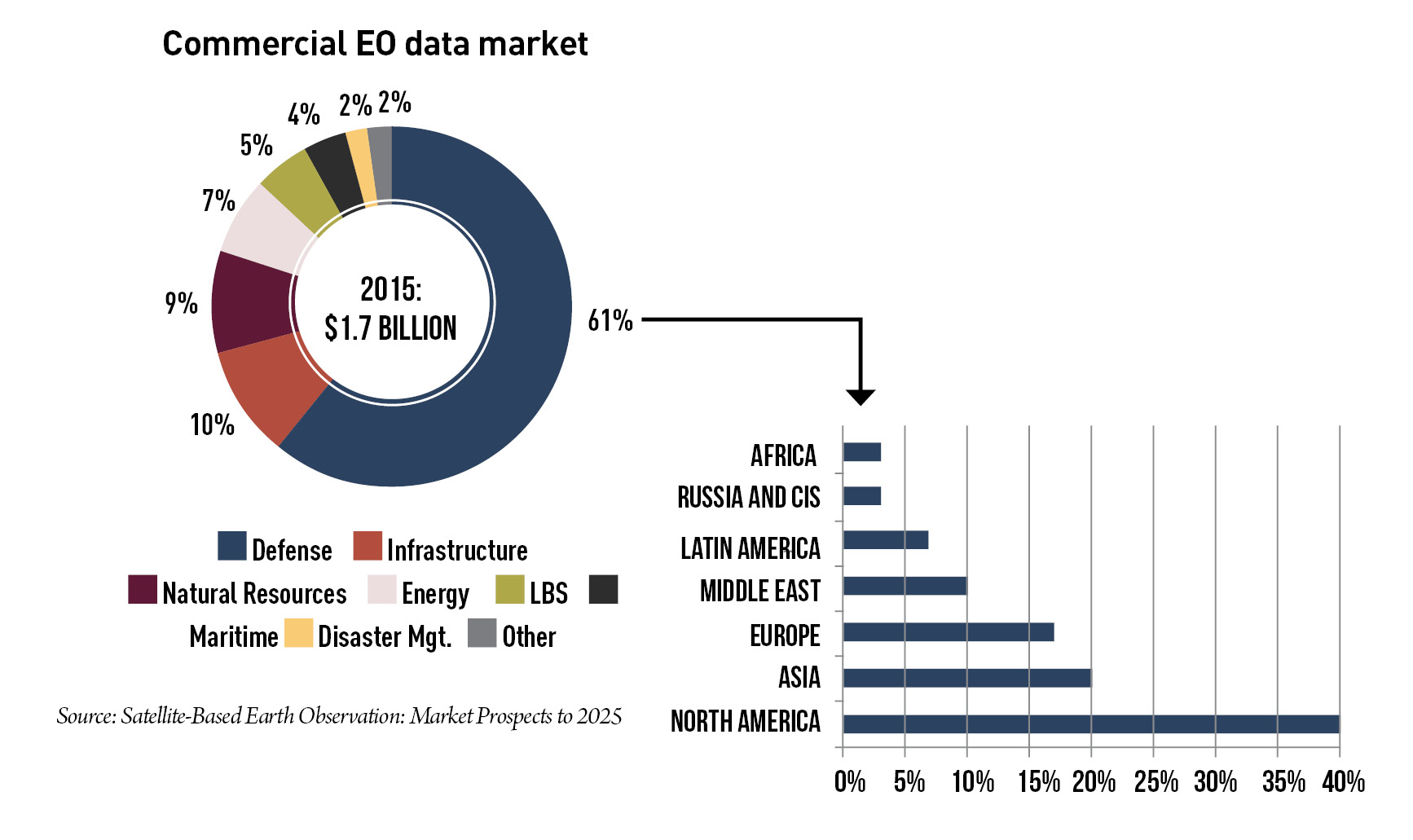 This situation is further reinforced by two major private players in the earth observations market. Quoting from the Planet Labs website (accessed on June 29, 2018): "To have the US government as a customer for a commercial service isn't just a win for Planet — it's a boon for all innovators and new players participating in this space renaissance — whether they're building powerful new satellites, increasing access to launch opportunities, or developing novel imagery analysis methods".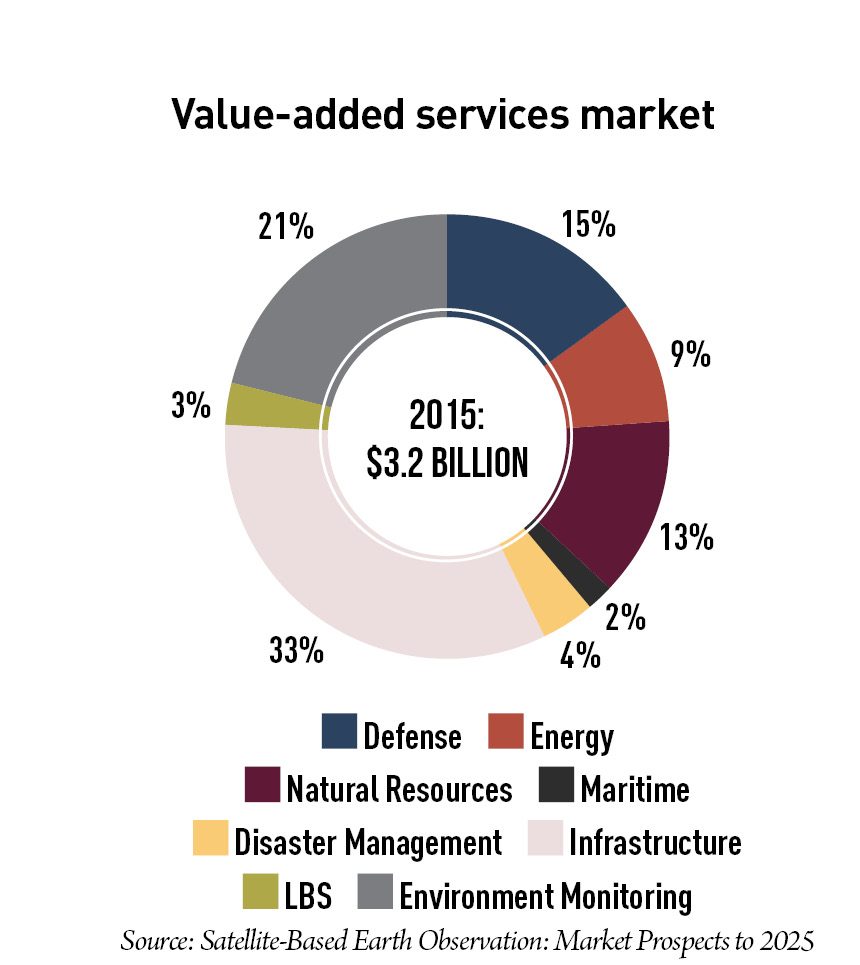 It continues, "As the resurgence of commercial space continues, we're eager to help commercial companies, humanitarian organizations, and organized governments around the world harness the power of space for the benefit of life down here on Earth."
This is reinforced by Maxar Technologies statement in their Annual report of 2017 that "… Maxar's principal customers in the Imagery segment are US, Canadian and other international government agencies, primarily defense and intelligence, as well as a wide variety of commercial customers in multiple markets". Maxar's primary customer in the services segment is the US government, but many capabilities also support intelligence requirements for other international governments, global development organizations and commercial customers.
Planet Labs and Maxar represent two companies on opposite ends of the spectrum in imaging from space. Planet is young and brash, Maxar is comparatively mature. Yet both  private sector companies ultimately count the government as one of their major customers. The story of privatization of remote sensing imagery acquisition wended its way through mergers and acquisitions from EOSAT, Space Imaging, GeoEye, DigitalGlobe to Maxar. Of these the merger of GeoEye and DigitalGlobe was the most interesting as it was precipitated by the loss of a major contract for imagery with the US Government's National Geospatial Agency.
In "Geospatial Imagery Analytics Market — Global Forecast to 2021" by Markets and Markets, the total imagery market is estimated to be $2,639 million in 2016 which is expected to rise to $9,696 million by 2021. Out of this, defense and government take up the lion's share of the global geospatial imagery analytics market. In fact, the share is shown to increase by 2021 at a CAGR of 24.9% and 30.3% respectively.
Given this scenario, what is it that earth observation data producers and value adders look forward to from the private sector?
A study of the Markets and Markets report shows that while the absolute numbers are low, the CAGR of the commercial sectors do show a healthy CAGR of 30 percentage points to 35 percentage points in the same period. However, the data producers, aggregators and value adders are very cagey about market prospects.
The Geospatial World circulated a questionnaire which elicited responses ranging from silence to "does not pertain to us" to very general statements sans any numerical projections. However, one fact emerged from the responses; the way forward is not just from selling data but selling actionable information for decision support.
Changes in the market composition from 2020 to 2025
"Currently most of the sales are to governmental organizations, but we expect the B2B fraction to increase significantly in the next few years," says Fabrizio Pirondini, CEO, Deimos Imaging. On the future, his prediction is that by 2020 the company will have a 50%-50% split between B2G and B2B, while for 2025 the expectation is around 65% B2B, 25% B2G and 10% B2C. With the launch of UrtheDailyTM Constellation in 2020, which will collect high quality multispectral imagery daily, it will be possible to use M2M and AI for daily change analysis and innovative solutions enabling B2B services.
According to Fritz Schlereth, Head of Product,Descartes Labs, which in their own words "positions its platform and solutions for geospatial science and machine learning applications to a variety of commercial, governmental, and non-governmental organizations," involvement with defense-related agencies in the US federal government is set to increase by 2020. He mentions that Cargill and other forward thinking organizations will continue to be commercial user base of Descartes Labs. However, by 2025 the company "anticipate a blended portfolio of customers among commercial enterprises, government, and research/academia. Large commercial enterprises with significant exposure to the physical world, for instance in industries like oil & gas, metals, agriculture, mining, construction, and shipping, will continue to make up a significant part of our target market". These organizations have become more aware of the competitive advantage of persistent insight and predictive analytics based on remote-sensing-enabled visibility across their supply chains.
Nick Merski, Vice President, Space Operations, BlackSky, expects that by2020 "… a nearly even balance between traditional consumers of geospatial information, such as government agencies and academic institutions, as well as new customers who are discovering the power of geospatial insights". Further he projects that by 2025 BlackSky's customer portfolio will be varied. "We anticipate geospatial information to become more mainstream, and that a variety of industries and organizations, including venture capitalists, media and environmental groups, will have a better understanding of how to gain insights from this data to create innovative solutions," he adds.
Impact of AI and Big Data Analytics
Schlereth feels that with the explosion of data from satellites, sensors and IoT, comes opportunities to solve long-standing business problems in ways unthinkable earlier. Big Data analytics and AI will come to the aid of processing such huge and varied data almost in real time and at global scale. He quotes examples like "predicting corn yield across the US, developing a near-real-time feed of wildfires as they develop, monitoring environmental variables nationwide for infectious diseases… global monitoring of freight, crop production schedules, construction activity, manufacturing output; all of which have a location-component, and all require platforms capable of delivering sensor-fusion and frequent and consistent geospatial analyses." He envisages that decision making for global physical supply chains of tomorrow will be enhanced through continuously iterating analysis using data from always-on sensors, analytic platforms powered by machine learning and computer vision algorithms.
UrtheDailyTM of UrtheCast (Deimos Imaging's parent company) is the world's first earth observation system planned to truly power machine-learning and artificial intelligence-ready geo-analytics applications, on a global scale. "It will be a paradigm shift in utilizing EO data, allowing people to plug-in to a consistent flow of high-quality, scientific-grade data, every day, exploding the application possibilities," claims Pirondini.
Merski expects that Big Data analytics and AI will play an important role in geospatial technology. While currently BlackSky's end product is geospatial data, the ability to process not only the EO data but data from other sources including social media with AI and machine learning will lead to increased intelligence and the evolution of entirely different products that can provide answers to business and operational questions. Data-driven insights from geospatial data will provide another layer that can be incorporated into business or operational workflows impacting a wide variety of industries.
Lily Xu, CEO, Space View also indicates that in terms of artificial intelligence and other technologies, "AI will satisfy the precision demand of statistic Big Data analytics in the short future, but still long way to meet the demands of mapping".
Also Read: The NewSpace Revolution: The emerging commercial space industry and new technologies
Constellations vs individual smallsats
Expanding on this, Merski avers that a country might opt for a mix of sources depending on their needs. They might buy some geospatial services from large enterprises while depending on their own satellites for their unique requirements. The bottom line is that with affordable satellite capability the number of space-proficient nations will grow and so will the power of geospatial information.
Pirondini has an interesting take when he says that the approach of the PanGeo Alliance of federating incumbent players into a large virtual constellation capable of providing a consolidated service to the customer base will continue to incorporate smaller countries and even small commercial operators. "The resulting federated resources are already starting to impact the biggest players, and this trend is likely to continue," he adds.
Regulatory hurdles
Schlereth feels that individual nations owning their own satellites through contracting out to private industry for building, launching and operating them cannot impact the larger trend of constellations. No country or satellite, he adds, can stand alone in addressing the multitude of problems that require geospatial data.
In contrast, Lily envisions that the efforts by small countries to have their own satellites will marginally impact big players but also impact on themselves as well.
Privacy concerns can limit the proliferation of data sources and so impact the analytics process. However, satellite data has not yet been affected because of the regulatory environment that effectively prevents any invasion of privacy, feels Schlereth,.
On regulations Lily says that while it is necessary, the policies should be clear.
Merski takes a positive approach to regulations and while working within the regulatory framework they also look ahead and monitor space management issues relating to space traffic and frequency utilisation. It is important to note that regulations are not static and there is a need to be prepared for future changes. Technical design must be strong but also aligned to future policy so that operations become easy in changing regulatory environments.
Governments to be biggest market
Governments started the space imaging boom. Governments encouraged privatization of the space borne imaging industry. It is to be expected that governments would therefore be the biggest market for space imagery. As technology advanced, the use of such imagery for commercial use began to grow. Such use is at the doorstep of an explosive growth that might see industry demand becoming as big as the government demand in the next five years. The key to this explosion will be the use of Big Data Analytics and AI to power decision making processes using space imagery, location, in situ sensors and sources of opportunity like social media. The future is exciting.
Also Read
On-orbit satellite servicing: Process, Benefits and Challenges
NewSpace is about democratization of geoinformation, says Massimo Comparini, CEO, e-Geos