Around the world, millions of GIS users in hundreds of thousands of organizations are already building data layers for their areas of interest and particular geographies
The Map of the Future is Now
It's an incredibly exciting time to be a GIS user. There is a massive transformation taking place in the world of GIS. The era of implementation has been replaced by one that is about community and sharing. These communities may be based on relationships fostered by living in a single geography (a city, region, state, or country), by working in the same industry, or by shared interested in a given subject matter (conservation, utilities, government, land management, agriculture, epidemiology, business, etc.).
The current Social Era of GIS has become a hugely collaborative ecosystem. It empowers people to do incredible things, thanks to unprecedented accessibility to an ever-growing community through web-based platforms. Cloud computing, combined with the proliferation of mobile apps, has extended the reach of the GIS community to include almost anyone on the planet.
The result? GIS has really become a human integration engine.
The GIS Tipping Point — A New Era in Collaboration
The breadth, depth, and sheer volume of Cloud-accessible geographic information available from the GIS community today represent a new paradigm. GIS enables us to be more engaged in life and about our place and impact on the planet. People now apply Web GIS as a framework to collaborate within their community, gain insight, work more efficiently, make better decisions, communicate more effectively, and make a real difference — intelligently effecting meaningful change.
GIS has become a highly personable experience that empowers people to consider others' perspectives via the shared Cloud. It's not simply about computing becoming more personal; it's also about GIS becoming more social, more accessible, and more powerful in scope. This is where GIS is making a real difference and adding meaning to people's lives.
The GIS world is no longer focused only on raw data or technology. The industry is now more concerned with articulating the practice of GIS — how do you implement working, useful systems? How can GIS community members ensure that their work is relevant and connects with the real problems confronted by their organizations? How can agencies and societies expand the reach of their GIS work with the power to address many of the issues and problems facing the world today? The answer lies in the work done by those in the field to arrive at this point.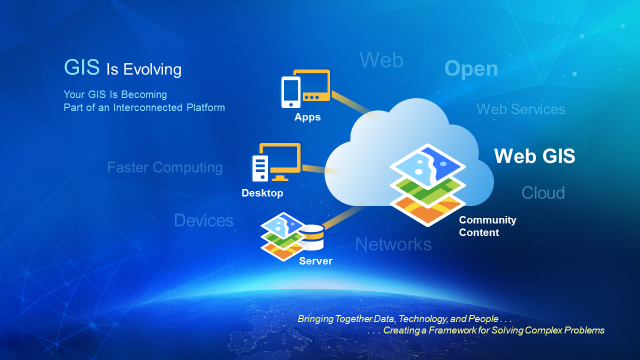 It's important to recognize and acknowledge that the investments made by thousands of GIS organizations have been absolutely critical. Of course, we recognize that body of accomplishments as being integral to the remarkable progress we have seen in the field. But GIS is now about more than individual contributions. It's about intelligent information items: maps, layers, and analytical models that are built and shared across communities.
The use of Web GIS and the Cloud is broadening the reach of your work — impacting your organizations, constituents, the public and fellow GIS community members.
You are limited only by your vision and imagination of what may be possible.
The History behind GIS Transformation
The Implementation Era (circa 1990–2010)
Beginning in the early 1990s, we entered the Implementation Era of GIS. Software systems prioritized the implementation of GIS capabilities such as building GIS data models, storing and managing data, creating a broad range of analytical tools and processing engines, mapping in 3D, and image processing.
Computing paradigms evolved and grew during this era, with the advent of desktop computing in an enterprise network environment. The Internet was born and then transformed into the World Wide Web. Network communications evolved further into a series of connected systems that could be accessed from virtually anywhere. Billions of mobile and smartphone devices were implemented into the web-enabled computing environment we enjoy today. Meanwhile, there was explosive growth in communities using and implementing GIS. Early on, organizations were focused on compiling and building their foundational data layers to fuel their GIS work. The need for strong data sharing was recognized in these GIS communities, signaling the trend toward "Social GIS." The entire GIS industry was growing, including private companies composed of consultants, experts, and developers who could implement various GIS apps and solutions for deployment across all kinds of platforms.
The adoption of GIS among universities and educational institutions, in a number of disciplines, grew rapidly during this transformational period. This contributed to the technology's substantial growth, enabling a new generation of people — the future GIS workforce — to eagerly apply GIS in meaningful ways.
During this era, people everywhere began to recognize the unique power of GIS to address the problems and issues that they faced daily. GIS was seen as a critically important system that could be applied in almost every field of human endeavor. The key component would be the degree of collaboration amongst GIS community members, in sharing their work with their peers.
GIS is a Participatory Sport
Around the world, millions of GIS users in hundreds of thousands of organizations are already building data layers for their areas of interest and particular geographies. These users are also building layers for key themes of information. What's interesting and compelling about geographic data is that it consists of layers that reference the surface of the earth — the global collection and aggregation of information has been assembled and continues to be built by the GIS user community.
One of the most intriguing developments in GIS today is that every layer has a URL, a living address. Data layers are now easily discoverable, usable, and measurable and integrate simply into your GIS work, thanks to the never-ending collection of cloud-based apps.
We are beginning to assemble this comprehensive GIS of the world. And it's growing and getting richer every day, thanks to the accessibility of the Cloud platform delivered on the Web.
 The Human Era — Present and Future
The transformation has forever changed the concept and vision for GIS. The new environment is inviting and encourages an incredible level of collaboration and sharing across organizations and communities.
The Web has enabled collaboration across the broad GIS community, whose members can share and leverage each other's work due to unprecedented accessibility. If you are using GIS in your organization, you are a member of a worldwide community and ecosystem that thrives through the integration of the important work of your peers.
Web GIS is the GIS of the world. And your own GIS is your view into the larger system — that's the big idea today.
Your GIS is now a pathway into a collaborative community of users that is mutually beneficial. The two-way street empowers you to quickly and easily consume the information that you need from others while simultaneously feeding your own work into the ecosystem for others to use.
People are taking advantage of this collaborative revolution via Web and Cloud-based platforms to intelligently effect change.
GIS Professionals will become Geodesigners
GIS is not just about knowing where you are. It's about being able to explore the world and see it from others' points of view. This is a uniquely human activity. Through a measure of empathy, you can begin to understand important issues and problems from another person's perspective as you might not have understood them before. The new social GIS offer valuable viewpoints to empower your GIS work.
The work you do as GIS professionals is absolutely critical for this vision to really come to life. The community builds the foundational layers of information — the enabling geographies so valuable to the work we do.
These layers provide the context and the framework for a vast number of important milestones that will occur in this ever-expanding GIS of the world. And the GIS practitioners who really understand the value that data-fueled insight can deliver; will be the ones that provide those building blocks for a GIS that helps improve the world around us.
Clint Brown 
Director of Software Products, Esri