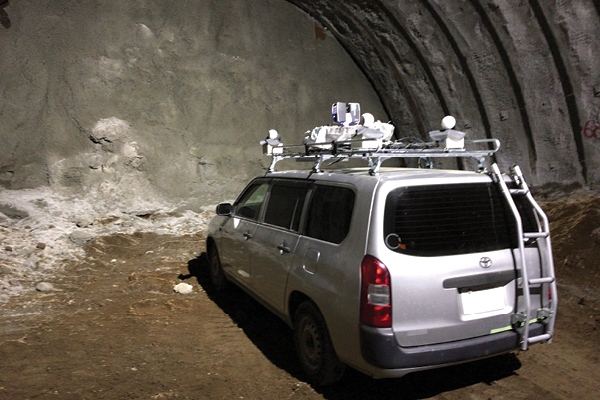 FARO's Focus3D increases overall efficiency and precision to 5mm tolerance for point cloud measurement.
In the construction of tunnels, surveying operations are deemed to be one of the most important operational tasks. A cross-section surveying operation is particularly significant for surface modeling, profiling, volume calculations and as-built control.
However, it is a common assumption that tunnel surveying is a perilous task due to the unique working environment.
Ichikawa-based company, MAC Co., Ltd (MAC), which develops construction management systems for mountain tunnels, has worked with Nishimatsu Construction Co., Ltd. (Nishimatsu Construction) to co-develop a vehicle-mounted scanning system with the FARO Focus3D.
This leading-edge scanning system measures and processes point cloud data of a mountain tunnel face within a 5mm tolerance in just six minutes. The engineers selected the FARO Focus3D for the system because of its superior automatic control function on computers, fast measuring speed and the overall convenience it offers.
These are some of the most critical factors for precision equipment when working in harsh construction environments such as tunnel sites.
The world's most precise construction management for mountain tunnels
"Recently, we have observed significant improvements in productivity for mountain tunnel construction projects," says Mr. Hirofumi Miyahara, President of MAC. "For example, drilling precision requires us to secure the design field and suppress surplus drilling (also known as over-digging) within 50mm. With precision construction control, we can reduce material cost, labor cost and project duration, as well as improve productivity levels. As 50mm tolerance cannot be determined visually, we need to rely on a surveying instrument. With the conventional total station, it takes too much time to obtain the large number of points and that affects the construction timeframe. Measurement using the 3D scanner also requires quite a bit of time — in setting up the equipment and reference balls, and for data processing."
Also Read: Exploring the true potential of Earth Observation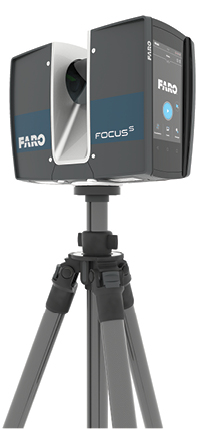 The vehicle-mounted scanning system is actually a van with the FARO Focus3D, a 3D laser scanner mounted on the roof. It enables fast point cloud measurement in a short time.
The key benefit of this system is that measurements can be taken very fast for multiple tasks such as blast hole drilling (where a hole is drilled and explosives rigged for blasting), muck discharging (where drilled rocks and excavated dirt are removed) and tunnel support erection (where temporary supporting structures are constructed to prevent rock mass from collapsing).
Detailed point cloud data at the touch of a button
In designing the scanning system, the team mounted the FARO Focus3D on an automatic horizontal retention cradle supported by a vibration-proof air cushion, such that it automatically keeps level once the vehicle stops at the measurement point.
A retractable enclosure covers and protects the Focus3D. In addition, four marker spheres with built-in prisms provide positioning in relation to the total station. The markers allow point cloud data to be converted into coordinates. The system is built such that a host of processes — including horizontal retention, built-in prism reference sphere measurement by total station, rotation of the markers and also the scan — are all executed automatically at the touch of a button.
Faced with this challenge, MAC was motivated to co-develop a new vehicle-mounted scanning system with Nishimatsu Construction, using the FARO Focus3D. Mr. Miyahara adds, "Our system allows operators to perform point cloud measurement around the tunnel face, with a range of 10m (in front of and behind the vehicle) and an accuracy of 5mm in about six minutes. In the unlikely event, where there are parts of the tunnel that do not reach the excavation cross-section, this data can prevent the parts from being missed and ensure the regularity of the tunnel."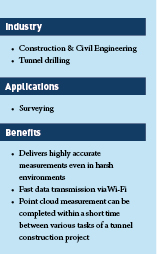 This feature empowers construction teams to conduct quick checks, even when surveying technicians are not on site. While construction work on mountain tunnels generally goes on round the clock, key contract personnel are usually not on duty during the night shift. However, with MAC's scanning system, workers operating heavy machinery can remotely perform point cloud measurements just by hitting a button on the tablet PC.
The vehicle-mounted scanning system also defies the common assumption that a high-specification workstation is required to process large volumes of point cloud data. As the team took care to equip the system with a function to automatically reduce the number of data points, it is comfortably operated with a low-specification computer system that runs on a 1.4GHz Core 2 processor and 2GB RAM.
Simplified tunnel maintenance for contractors
Previously, when contractors used general 3D terrestrial laser scanners or total stations with a tripod, the measurement of any tunnel deformity was limited to just once a day. To overcome that challenge, some project owners tried to permanently install 3D laser scanners or total stations onsite. However, there were issues with accuracy and obstruction using this method, because measurements had to be done from a distance to avoid the flying stones from blasting, and there was also limited space due to the heavy machinery involved.
MAC's vehicle-mounted scanning system resolves these difficulties. By conducting 3D measurement regularly during the tunnel construction, technicians can identify subtle displacements on the tunnel's inner wall that is not visible to the naked eye. This can also prevent accidents (e.g. falling rocks to partial collapse) that may happen during drilling work.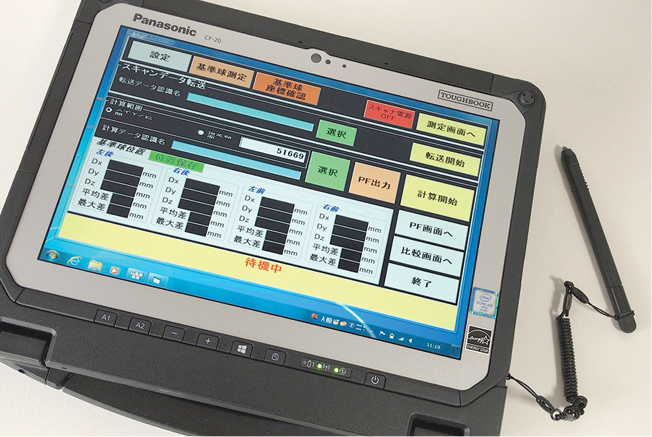 "Recently, the introduction of Construction Information Modeling (CIM), also known as Building Information Modeling (BIM), has been encouraged among Japanese contractors," explains Mr. Miyahara. "We are often asked to deliver as-build point cloud data at the time of tunnel completion. With this information, it would be much easier to manage tunnel wall displacement that happens with the passage of time."
MAC first introduced the FARO Focus3D laser scanner as a trial in June 2016. Since then, they have purchased nine other Focus3D laser scanners, including the one used in the vehicle-mounted scanning system.
"We chose the Focus3D because it can be used on its own and provides high-speed point cloud measurement and fast data transmission via Wi-Fi," says Mr. Jyungo Miyachi, Section Chief of MAC's Development Department. "Furthermore, with the inherent harsh environment in tunnels, where dust and water cannot be avoided, having to insert and remove a memory card can be detrimental to a device."
Mr. Miyachi adds, "In the development of this system, we used both the Application Program Interface (API) and the Focus3D software development kit (SDK) to control operations and data exchange functions on the vehicle-mounted scanning system. And the FARO development team provided excellent support throughout this process. This after-sales service also led to our decision to purchase more Focus3D devices."
Also Read: What are popular uses of drones?