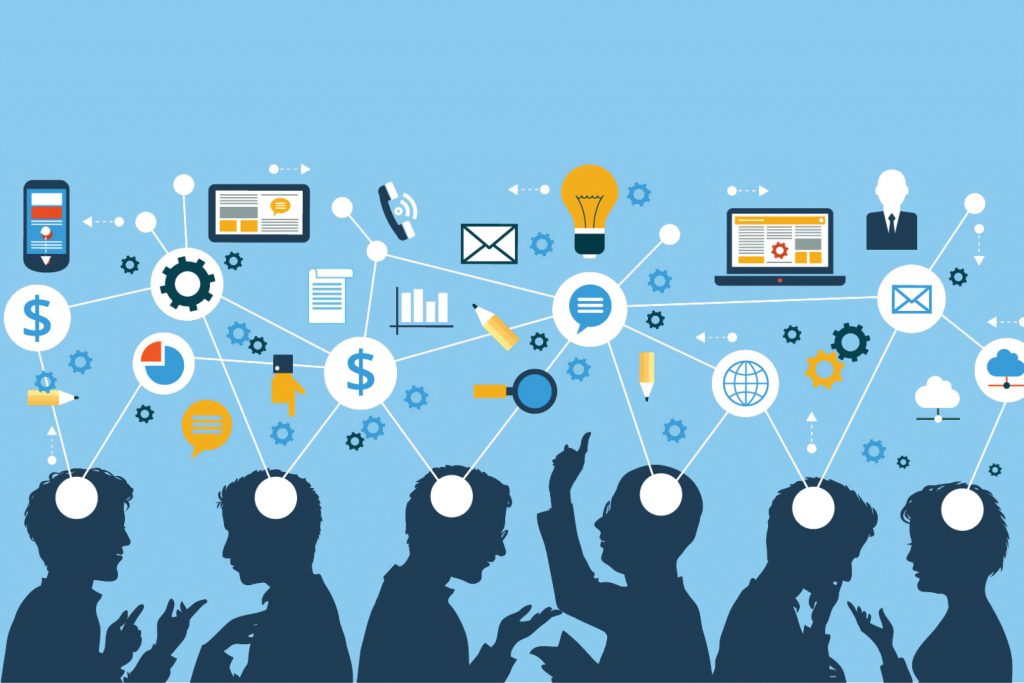 Collaboration is the Key
Rapid globalization, fierce competition, technological breakthroughs, customer demands… In a world of fast-changing technology, businesses need to reinvent themselves continuously to cope with this string of challenges. The future of business also needs to be seen through the prism of new collaborations. Like 2015, collaboration was the keyword for companies across the board in 2016 too.
When considering collaboration, it is easy to fall into the trap of thinking about it as two businesses coming together for one goal. But actually, a meticulous analysis reveals that there are four different types in which companies can collaborate. The first — technology oriented/market collaboration model — wherein the big players go on a collaboration spree to boost their portfolio. The second is, IT players partnering with the geospatial sector for competitive advantage. Here, the objective is not to develop geospatial products or solutions, but a need for new technologies for seamless delivery in their own field. The third type is solution-oriented, wherein an established geospatial player collaborates because it wants to venture into a specific market, but doesn't have the domain knowledge. And finally, there are partnerships between equals for competitive advantage.
Autodesk and Trimble have entered into an interoperability agreement aimed at saving customers time and reducing project costs typically associated with workflow inefficiency across different suppliers' technologies. The two companies have a shared goal of meeting the evolving needs of the building and infrastructure industries. The collaboration demonstrates their ongoing commitment to support open industry standards and can enable current and prospective customers of both working on the same projects to work together seamlessly through optimized file compatibility across applications.
In another agreement, Autodesk and Siemens are aiming to help manufacturers decrease the costs associated with incompatibility among product development software applications and avoid potential data integrity problems. Through this agreement, Autodesk and Siemens' product lifecycle management (PLM) software businesses will take steps to significantly improve the interoperability between their companies' respective software offerings. The agreement is aimed to decrease the overall effort and costs that are commonly associated with supporting multi-CAD environments.
Bentley Systems and Topcon Positioning Group announced their joint intentions to connect Cloud services for constructioneering. Each company will bring to market Cloud-based solution offerings, which include services of both and provide construction workflows not previously possible. Compared to traditional workflows between design and construction in which data from survey and digital engineering models can be lost and inefficiently recreated, constructioneering empowers engineers to extend their role within both surveying and construction.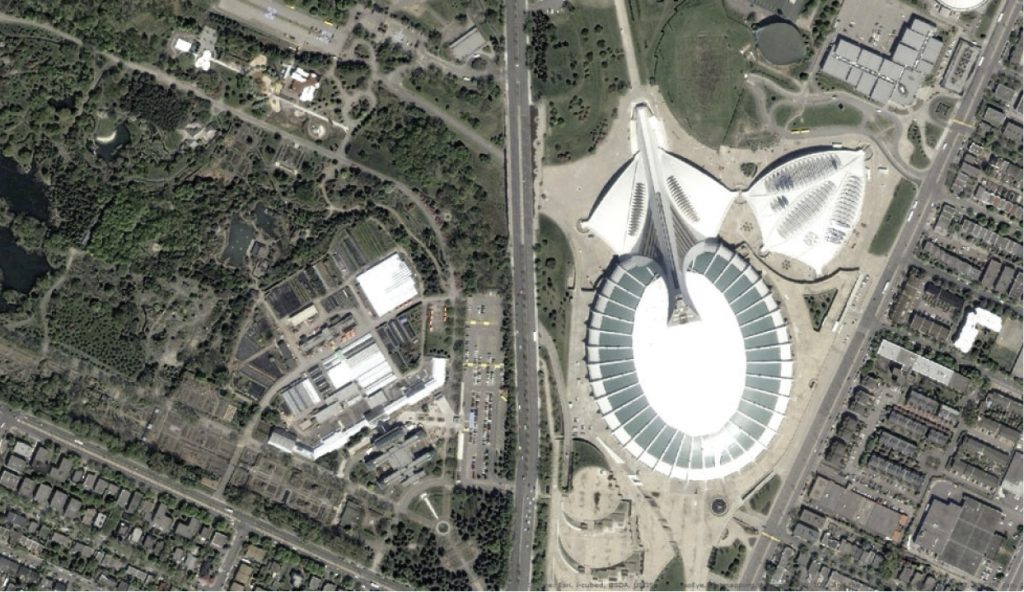 In another strategic alliance with Siemens, Bentley Systems announced that they have formalized to drive new business value by accelerating digitalization to advance infrastructure project delivery and asset performance in complementary business areas. Siemens and Bentley Systems will initially invest at least €50 million in developing joint solutions to enlarge their respective offerings for infrastructure and industry to the benefit of the end-customers. This work will uniquely leverage new Cloud services for a connected data environment to converge respective digital engineering models from both companies.
Bentley Systems and Microsoft have joined forces to advance connected data environments for infrastructure projects and assets. Bentley's new AssetWise CONNECT Edition and ProjectWise CONNECT Edition will uniquely support hybrid computing environments across desktops, mobile devices, and in-house servers. And together they will leverage Microsoft's Azure Cloud services to advance beyond common data environments to connected data environments. Bentley and Microsoft discussed the advancements made possible through their partnership and some of their future priorities working together.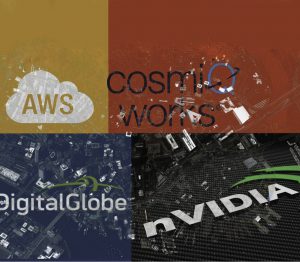 DigitalGlobe has partnered with East View Geospatial to provide access to DigitalGlobe's Geospatial Big Data platform (GBDX). The partnership is aimed to expand research and design capabilities with high resolution imagery archives. The announcement strengthens the partnership between DigitalGlobe and East View Geospatial, laying the groundwork for long-lasting collaboration between the two organizations.
DigitalGlobe announced an agreement to make more current satellite imagery of the entire world available to users of Esri's ArcGIS product family. The new long-term partnership with Esri will enhance the World Imagery Map and give ArcGIS Online and ArcGIS Data Appliance users access to current and complete high-resolution satellite imagery mosaics. The World Imagery Map is foundational to Esri's vision of connecting people with maps, data, and apps through geographic information systems. In addition, the two companies will work together over the coming months to explore new ways to connect Esri's ArcGIS Online and market place to DigitalGlobe's Geospatial Big Data platform, GBDX, allowing users to perform advanced analytics at scale against a 15-year time-lapse image library to solve complex problems.
DigitalGlobe announced the launch of SpaceNet, an online repository of satellite imagery and labeled training data that will advance the development of machine learning and deep learning algorithms that leverage remote sensing data. SpaceNet is a collaboration between DigitalGlobe, CosmiQ Works, and NVIDIA, and the imagery is now freely available as a public data set on Amazon Web Services (AWS). Until now, high-resolution satellite imagery has not been readily accessible for data scientists and developers to build meaningful computer vision algorithms.
DigitalGlobe and Uber also entered into an interesting partnership that will give Uber the ability to use satellite images for its mapping ambitions. It will improve the Uber experience for riders and drivers by using DigitalGlobe's technology to identify and improve pick-up and drop-off locations rather than displaying maps to users of the Uber app. The partnership was fuelled by the ever increasing presence of Uber in countries like India and China, where roads are confusing and difficult to understand.
FARO announced an extended partnership with Siteco Informatica to bring affordable mobile mapping, using FARO Focus3D Laser Scanners, to users worldwide. This partnership pairs FARO᾿s worldwide sales network with Siteco᾿s technical expertise in mobile mapping systems to launch the new Road-Scanner C ῾Compact Edition᾿.
An agreement between Hexagon Geospatial and HERE will enable Hexagon Smart M.App developers and end-users to access and benefit from a variety of map data and location platform services from HERE. This partnership equips developers with a variety of the latest HERE services to plug into their Smart M.App.
Hexagon Geospatial and Airbus Defense and Space signed an agreement for a content-sharing program that will enable Hexagon Smart M.App developers and end-users to access and benefit from Airbus' Earth Observation data. The partnership will help developers with a steady stream of reliable and rich data to plug in to their Smart M.App cloud applications, driving the dynamic information experience.
Pitney Bowes and TomTom have expanded their partnership. TomTom's global location content is assisting Pitney Bowes to strengthen its position as the preferred single-source provider of enterprise-grade location intelligence solutions worldwide. This announcement bolsters the long-standing partnership between TomTom and Pitney Bowes, and demonstrates both companies' commitment to serving the Enterprise GIS market.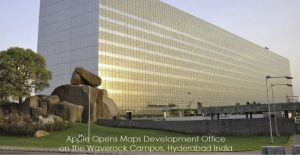 RMSI is to partner with Apple to accelerate maps development. Apple announced the opening of a new office in Hyderabad, India, that will focus on development of Maps for Apple products, including iPhone, iPad, Mac and Apple Watch. Apple has been continually updating and adding new features to maps, including 3D views, the Flyover feature and tools to help customers find convenient places to shop eat and explore nearby areas. With iOS 9, Apple added Transit, offering a combination of trains, subways, and buses and walking, which is already available for more than 300 cities around the world. RMSI is an expert in geospatial data and will be hiring thousands of people from the local area to support this effort.
Topcon Positioning Group announced a new partnership with digital photogrammetric solution provider Agisoft. The agreement is designed to further expand the Topcon solutions portfolio for mass data collection (MDC).
As part of an ongoing commitment to transform the way mines manage their business, Trimble and Caterpillar extended their collaboration to bring mining customers improved operational decision-making capabilities. The collaboration will leverage Caterpillar Global Mining's industry expertise and combine its in-pit operational execution system, Cat MineStar, with Trimble's portfolio of technology-enabled mining information solutions.
To explore the intersection of human interfaces, architecture and computing using mixed-reality technology, Trimble also collaborated with Gensler, a leading global architecture and design firm.
Trimble and MapShots announced a new integration that allows all users of MapShots' signature AgStudio software platform to read as-applied maps and production data from Trimble's Connected Farm solution. Previously, AgStudio software users could only read harvest data from the Connected Farm solution. Now, users are able to communicate seamlessly with Trimble field devices and wirelessly transfer field data, as-applied maps and production data from planters, spreaders and sprayers as well as combines for harvest data. Together, the two companies allow agricultural providers to better manage production data.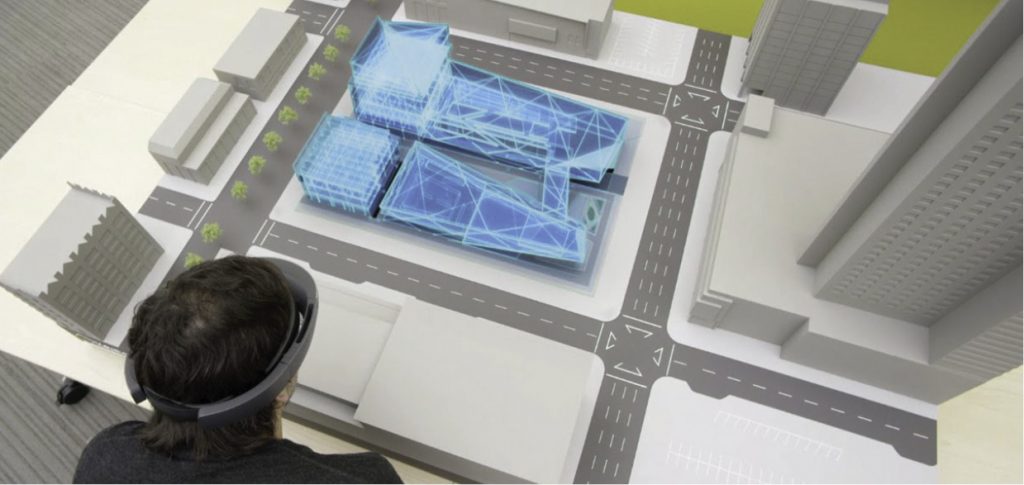 At the recent Dimensions Conference in November, Trimble announced a commitment to work together with XCMG Excavator Machinery Business Division (XCMG), based in China, to integrate Trimble machine control solutions with XCMG excavators.
Trimble and AECOM collaborated on the world's first use of Microsoft HoloLens ῾mixed-reality᾿ technology for engineering and construction. AECOM launched a pilot program with Trimble to apply the technology to projects on three continents. Trimble's innovative mixed-reality solutions allow AECOM to feed 3D engineering models into the HoloLens world, including models of large or complex projects.
Under Trump, NASA's earth science and climate change missions hang in balance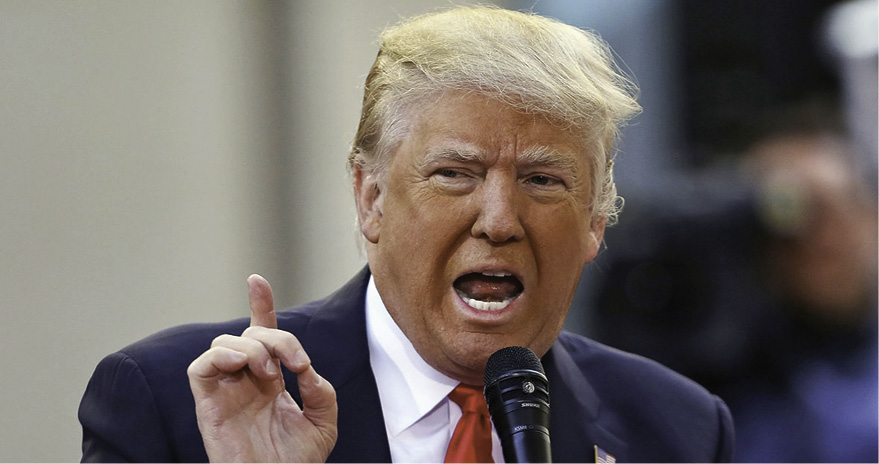 Even as US President-elect Donald Trump appeared to have somewhat mellowed down over his climate change denial, there are already apprehensions that NASA's $2 billion annual budget for earth science could be his target. According to Casey Dreier, Director of Space Policy, at Planetary Society it is almost certain that "the [earth science] division will lose its privileged funding position under a Trump administration (of all the sciences, it alone has enjoyed consistent growth of its budget under Obama)." In an article, National Geographic wrote: "Another casualty — this one seemingly more assured than the demise of SLS — is NASA's earth sciences program, which employs a fleet of satellites to study and understand our home planet. In addition, Trump may try to reduce NASA's role in ferrying goods to and from the Earth-orbiting International Space Station."
Under the Obama administration, NASA had a renewed focus on earth observation as a major mission. In an exclusive interview with Geospatial World earlier in the year, NASA Chief Charles Bolden had admitted that the space agency had really gone down in funding for earth science over the last decade or so. "Now we are trying to get the level of funding for earth science back to its historic level."
Arctic freeze slows down; 2016 could be the hottest year ever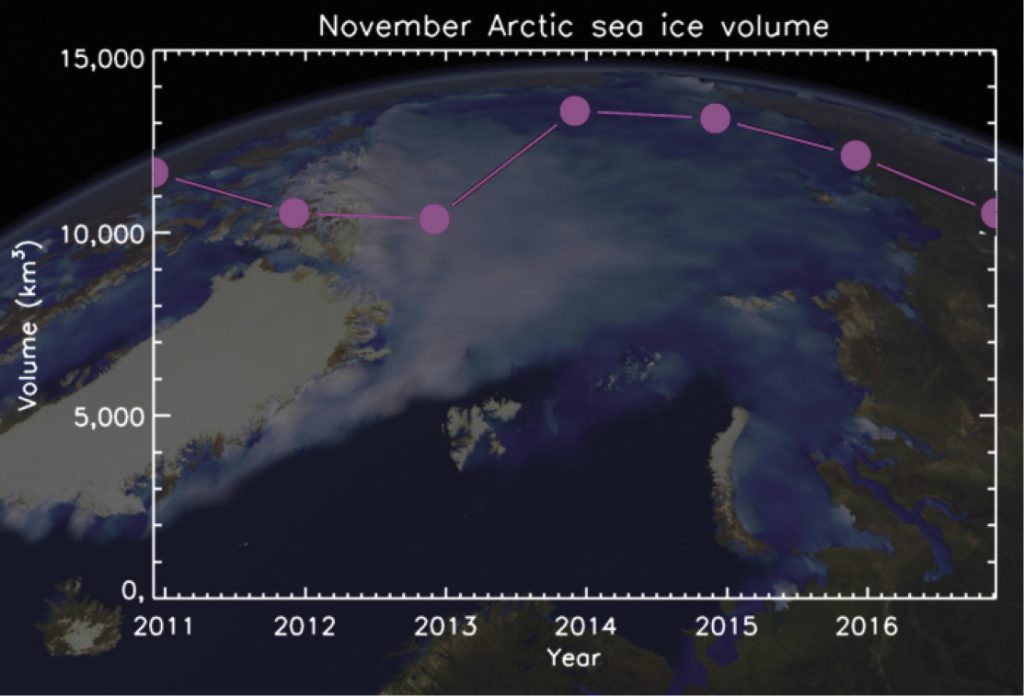 Donald Trump may call it as Chinese hoax but climate change is real and Earth is getting warmer with each passing year. While the World Meteorological Organization (WMO) said 2016 is likely to be the hottest year on record — third year in a row — the European Space Agency had further alarming news — the Arctic freeze is slowing down. ESA's CryoSat satellite has found that the Arctic has one of the lowest volumes of sea ice of any November with its ice levels currently matching the record lows of 2011 and 2012. The Arctic usually gains about 161 cubic km of ice per day in November, but this year's growth has been about 10% less, data from CryoSat satellite revealed.
Also, year 2016 has seen cities across the world on both hemispheres reeling from heat waves. Over 90% Northern Hemisphere land areas outside the tropics recorded at least 1 degree Celsius above average temperatures. Southern Hemisphere was less extreme, but in many parts temperatures were still 1 degree Celsius or more above average. Temperatures were above normal over most oceans.
DigitalGlobe doubles capacity with WorldView 4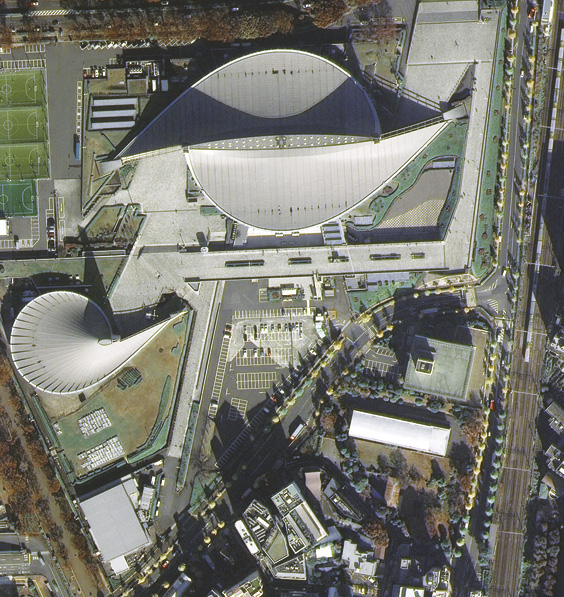 DigitalGlobe successfully launched its WorldView-4 satellite, the company's newest high-resolution commercial imaging satellite. It has also released the first public image from WorldView-4, which shows the Yoyogi National Gymnasium in Shibuya, Tokyo, where Japan hosted the 1964 Summer Olympics and plans to host them again in 2020. The WorldView 4 satellite is the fifth active spacecraft in the company's constellation and will more than double DigitalGlobe's capacity to collect 30-cm commercial satellite imagery and will accelerate the growth of DigitalGlobe's 80-petabyte, 16-year time-lapse image library. WorldView 4 aims to enhance global transparency and security, power location-enabled applications and services, support the response to global humanitarian crises, among others.
Galileo to enter initial operational phase with 4 satellite launch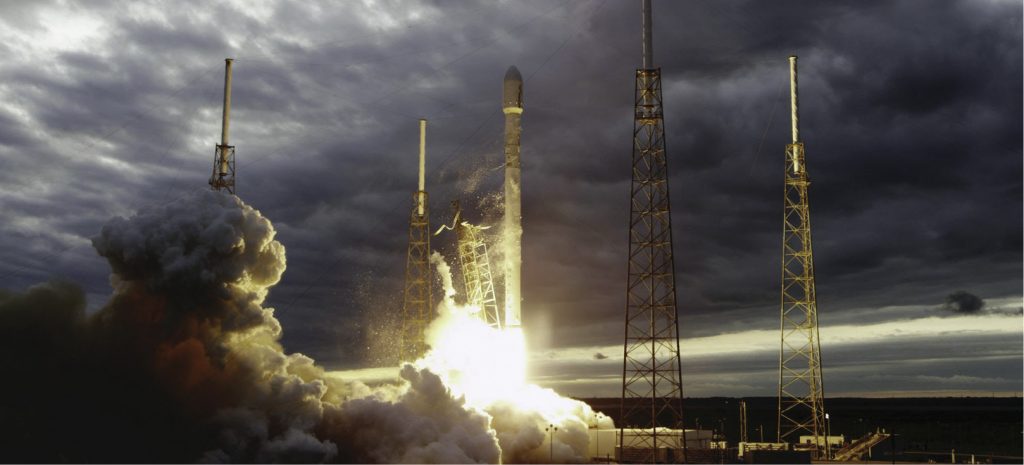 Following a successful launch of four satellites in November, Paul Verhoef, ESA's Director for the Galileo Programe and Navigation-related Activities said, "Now that we can rely on the powerful Ariane 5, we can anticipate the quicker completion of Galileo deployment, permitting the system to enter full operation." The satellites, which blasted off from Europe's spaceport in French Guiana aboard an Ariane 5 rocket will be part of the Europe an Union's alternative to the U.S. Global Positioning System, or GPS.
The launch brings the number of Galileo satellites in orbit to 18, of a planned total of 30, according to the European Space Agency (ESA). The satellites weigh about 700 kgs (1,543 pounds), and are equipped with antennae and sensors and powered by two 5-square-meter (53.8 square foot) solar wings. The EU aims to use Galileo to tap into the global market for satellite navigation services, which it estimates will be worth €250 billion ($267 billion) by 2022. Also, it says that around 6 to 7% of the $16-trillion EU economy depends on the availability of global navigation satellite signals.
Tesla announces all production cars now have fully self-driving hardware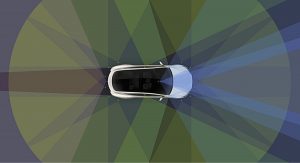 Tesla has provided a glimpse into its self-driving future. The company recently revealed that all of its cars 'from here on out' will be made with the technology necessary to become self-driving. Tesla founder Elon Musk released a video showing exactly what the self-driving cars will 'see' as they navigate the streets. The video shows views from the car's left rearward, medium range and right rearward vehicle cameras as it drives itself along, navigating through busy traffic. The system has eight cameras with 360 degree visibility around the car at up to 250 meters (820 feet) of range. It's available in the Model S and X now going forward, and every Model 3 will be equipped with the new hardware suite — hence why Musk referred to the announcement as the 'Model 3 part 2', but that's the extent of the information released today about the upcoming $35,000 all-electric vehicle.
Airbus to launch 4 very high resolution satellites by 2021
Airbus Defence and Space has announced that it will launch four very high resolution satellites by 2021. Dr. Bernhard Brenner, Senior Vice President, Head of GEO Intelligence, Airbus Defence and Space, made this announcement at the 8th Summit on Earth Observation Business in Paris, in September. Asked if very high resolution meant Airbus would developing better resolution than DigitalGlobe's WorldView-3 and WorldView-4, Dr. Brenner quipped; "I can only say we will give tough competition to DigitalGlobe."
With rockets on the move and comeback, SpaceX up for Mission Mars
For the eighth time in 2016, SpaceX in August executed a successful launch of its Falcon 9 rocket, this time lifting a Japanese telecommunication satellite into orbit. SpaceX successfully landed a reusable Falcon 9 rocket on a floating drone ship in sea. This launch year was part of the company's ongoing effort to re-use costly rocket parts instead of jettisoning them into the ocean. In order to make the successful landing, the first stage of the rocket was subjected to "extreme velocities and re-entry heating." Earlier this year in April Falcon 9 launched Dragon on a cargo resupply mission to the International Space Station for NASA and, for the first time, landed the first-stage of the Falcon 9 back on a droneship in the Atlantic Ocean. Then in May, SpaceX landed the first stage of its Falcon 9 rocket on a ship at sea. In September 2016, SpaceX's CEO Elon Musk unveiled substantial parts of the launch vehicle, spacecraft, and mission architecture of the Interplanetary Transport System program, an ambitious privately funded initiative to develop spaceflight technology for use in interplanetary spaceflight, and if demand emerges, could lead to sustainable human settlements on Mars over the very long term. Though this is not technically geospatial, but definitely gives us a peep in to SpaceX's future plans.
A roller coaster year for Ola Rollén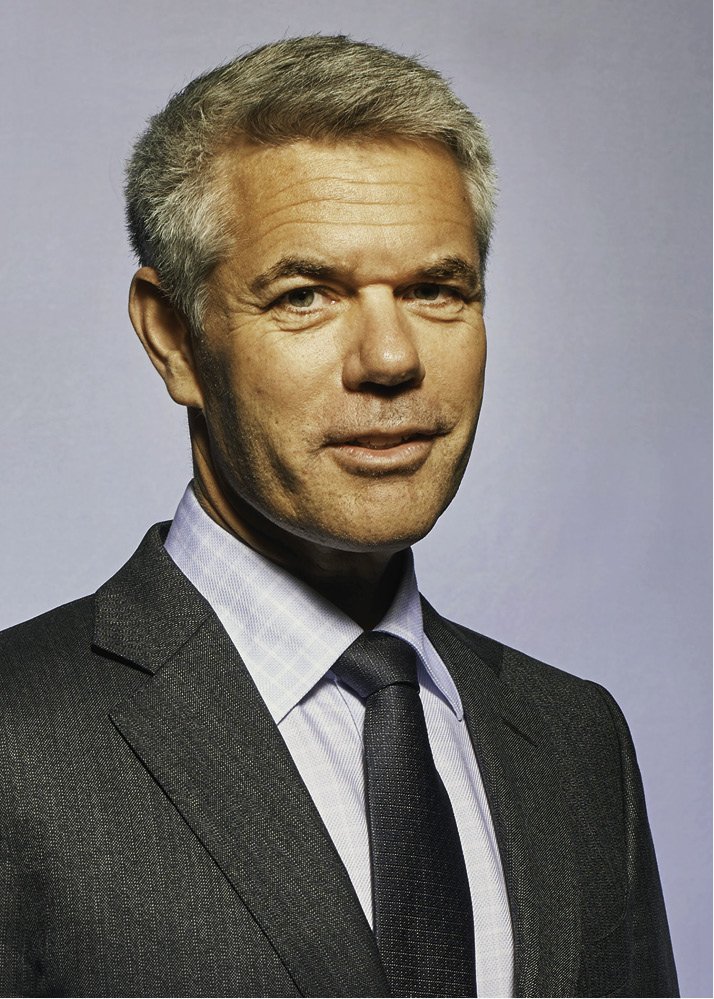 The year 2016 was a mix of highs and lows for Hexagon CEO Ola Rollén. While under his leadership Hexagon's M&A juggernaut continued to roll, Rollén was also featured in the Harvard Business Review's list of best-performing CEOs for the year 2016. He was placed 100th. The best known face of the geospatial industry, this is not the first time for Ola Rollen to feature in the Harvard Business Review Business Leader list. In 2014, Rollen was placed 72nd.
However, the later part of the year saw Rollén embroiled in an insider trading case in Norway. After a brief controversy he resumed his duties as Hexagon President and CEO as the authorities failed to press any formal charges. "I am of the firm opinion that there are no grounds for the current allegations against me," Rollén said in an intercation with the media. "So what next? I can tell you that I have as of today resumed my CEO responsibilities for Hexagon. And I can tell you I am excited. I love this job. I love this company and I intend to lead hexagon with full force," he said in a live webcast and telephone conference organized by Hexagon.
Esri helps you catch Pokémon!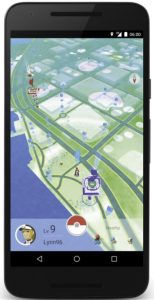 With its ArcGIS mapping platform, Esri is helping players of the game to find Pokémon in their vicinity. Esri announced that Pokévision, a third-party app for the viral mobile game Pokémon Go, uses Esri's award-winning location-based data and mapping platform ArcGIS to help players of the game find Pokémon around them. A Web map powered by ArcGIS services, Pokévision shows all Pokémon near user-requested locations. When visitors type an address or drop a pin on the map, Pokémon are displayed in real-time. Pokévision helps Pokémon Go players hunt more strategically by displaying location changes and time spent in each place; the length of time in a given location depends on the rarity of the character.
ISRO launches 8 sats into two orbits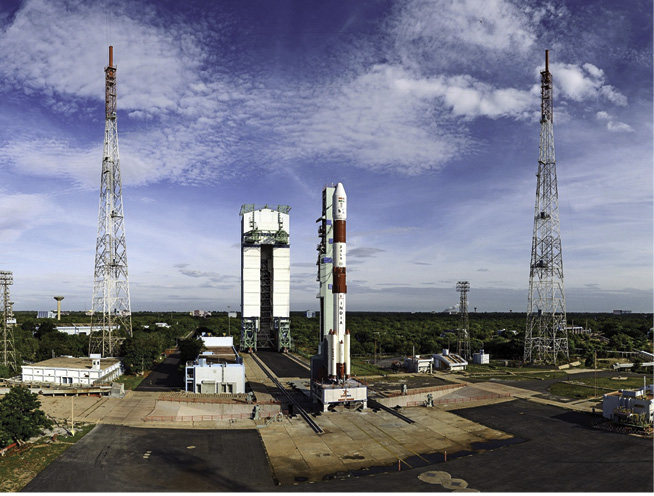 In a first, Indian Space Research Organisation (ISRO)'s PSLV C-35 rocket launched a total of eight satellites, into two different orbits in the month of September. The 371 kg SCATSAT-1, a satellite for weather-related studies, was placed in the polar sun synchronous orbit at an altitude of 730 km some 17 minutes after the rocket took off from Satish Dhawan Space Centre at Sriharikota. About two hours later, the rocket placed two satellites from two educational institutions, three commercial payloads from Algeria (ALSAT-1B, 2B and 1N) and one each for Canada (NLS-19) and the United States (Pathfinder-1). The rocket was re-ignited twice during its flight to place the set of satellites in different orbits. Due to the re-ignition, this launch is by far the longest PSLV launch by ISRO.
Silicon Valley teams up on artificial intelligence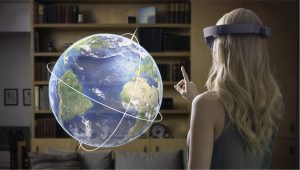 Google, Microsoft, Facebook, Amazon, DeepMind and IBM have joined hands to create a non-profit organization that will work to advance public understanding of artificial intelligence technologies and formulate best practices on the challenges and opportunities within the field. The organization, named the Partnership on Artificial Intelligence to Benefit People and Society (Partnership on AI), aims to serve as an open platform for discussion and engagement about AI and its influences on people and society, and will invite academics, non-profits, and specialists in policy and ethics to join the Board. Apple is a notable absence in this Silicon Valley Partnership on AI, but Microsoft's Eric Horvitz, an interim co-chairman for the new partnership said, "We've been in discussions with Apple, I know they're enthusiastic about this effort, and I'd personally hope to see them join." Another notable absence is OpenAI, Elon Musk's research outfit which is seeking to "advance digital intelligence in the way that is most likely to benefit humanity as a whole".