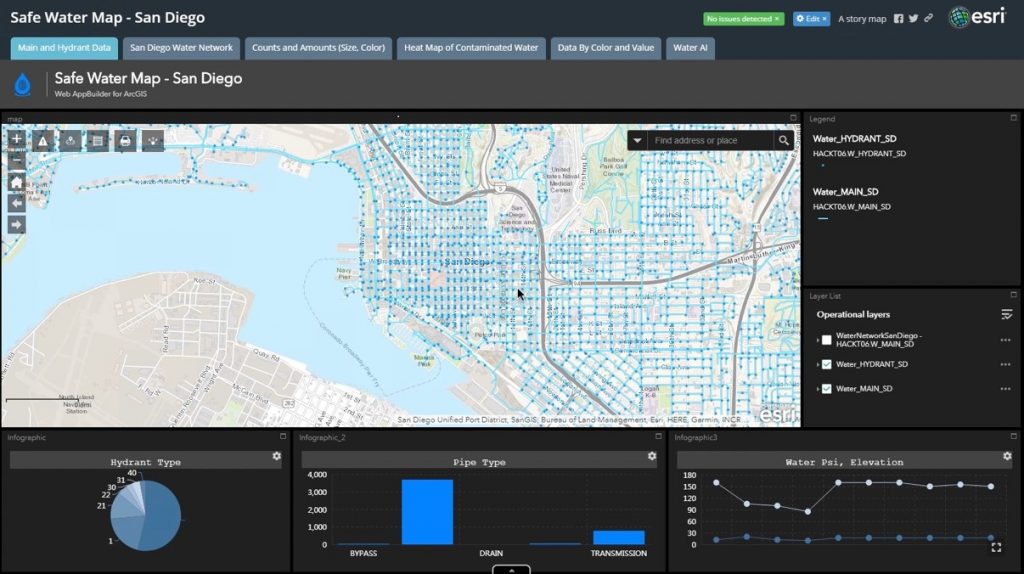 As part of the first SAP + Esri Spatial Hackathon, GIS developers, enterprise architects, data scientists, BI developers, and students got together to solve a variety of challenges through the use of geospatial analytics and machine learning technology. Teams had roughly 40 hours to define the issue at hand and develop compelling platforms that provide an effective solution that can be applied in real-world scenarios.
Objective/Problem:
According to the World Health Organization "Globally, at least 2 billion people use a drinking water source contaminated with feces." Armed with this statistic and inspired by the water quality crisis in Flint, Michigan, team Brontosaurus – or Safety of Water – was tasked with detecting contaminated water in order to alert the appropriate officials so they could quickly begin to notify residents and rectify the problem.
Testing water quality is many times a manual process done with dipping the testing strips in person and logging results. Because it's intensive, gradually cities stop doing this as frequently. Then when an anomaly comes up, it looks like only one blip in the data because the tests are so infrequent.
 By using sensors and machine learning to test the quality, we can get a much more frequent, automated stream of water quality testing and make that transparent to consumers and agencies. Eager to provide more real-time, automated water quality maps, Brontosaurus brought a microscope and trained a machine learning model to distinguish quality water from contaminated water.
 "Flint (MI) would never have happened", Team Brontosaurus
Technology Used:
Digital Microscope and machine learning for water quality
SAP HANA spatial as Esri Geodatabase
ArcGIS Pro for GIS
SAP Analytics Cloud for water mapping and interactive BI
ArcGIS Online for in-depth GIS mapping
Solution/Benefits:
Team Brontosaurus used tea water and clean water to train a machine learning model that could identify clean water. These results were stored in the SAP HANA enterprise geodatabase for Esri ArcGIS. Analytics were then published to SAP Analytics Cloud and ArcGIS Online.
 The result is a real-time map showcasing the location of contaminated water based on the machine learning model of identification.
 "SAP + Esri Integration is probably the best mapping combination technology to display complex datasets on a simple map," said Peter Ma, Brontosaurus team member and co-founder of Doctor Hazel,  "It was easy for developers to show off their data and informed end users about the data that's being shown."
 UX Designer and team member, Omar Yacubi was particularly impressed with the backend technology, noting, "the in-memory computing power of SAP Hana makes it possible to crunch through very large data sets in a short period of time. In addition to water sample data, we found it was possible to overlay real-time geolocated data from Twitter to show stakeholders how citizens are responding to potential contamination and water protection measures."
 Team:
Jodi Luostarinen, 

CEO, Quartic Solutions

Sarah Han,

Software Engineer, Collide LLC

Omar Yacoubi,

freelance UX Designer

Brian Cottrell,

Mobile Software Engineer, DirecTV

Peter Ma,

Co-Founder, Doctor Hazel