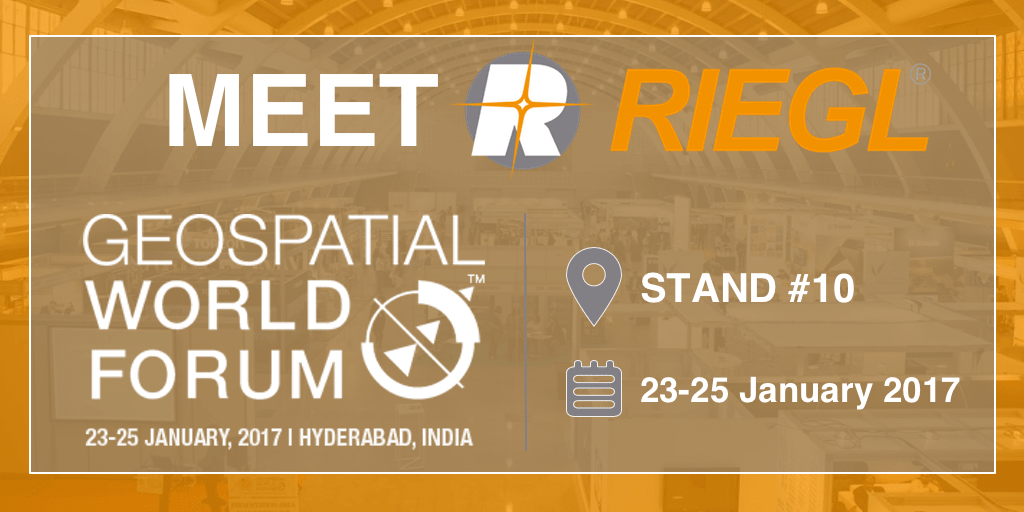 What is the focus of RIEGL when it comes to geospatial technology offerings?
RIEGL is a performance leader in research, development, and production of terrestrial, industrial, mobile, bathymetric, airborne and UAS-based laser scanning systems. RIEGL's innovative hard- and software provides powerful solutions for most application fields in surveying. Worldwide sales, training, support, and services are delivered from RIEGL's Austrian headquarters and its offices in Vienna, Salzburg, and Styria, main offices in the USA, Japan, and in China, and by a worldwide network of representatives. At this year's Geospatial World Forum RIEGL will showcase its latest developments including the RiCOPTER and the VZ-400i 3D Laser Scanner System.
What are the top three technologies that RIEGL will demonstrate at Geospatial World Forum 2017 exhibition?
RIEGL will demonstrate the following LiDAR technology products at Stand #10 at the GWF2017 exhibition:
UAV LiDAR Platform – RiCOPTER with RIEGL VUX-SYS
RIEGL Laser Measurement Systems provides a complete UAV LiDAR platform from one single manufacturer, the RiCOPTER.
With the RIEGL VUX-SYS miniaturized airborne laser scanning system integrated, they provide a versatile remotely piloted platform for commercial survey applications such as terrain mapping, archaeology and cultural heritage documentation, pipeline and rail track monitoring, or topography for open-cast mining. The excellent measurement performance of the eye safe Laser Class 1 VUX-1UAV LiDAR Sensor in combination with IMU/GNSS unit, antenna, control unit, and optional cameras results in survey-grade accuracy of 10 mm, a 230° Field of View, up to 550 m measurement range at 20% target reflectivity, and 350,000 measurements per second.
More information: http://www.riegl.com/products/unmanned-scanning/ricopter-with-vux-sys/
Laser Scanning System – RIEGL VZ-400i
The RIEGL VZ-400i is a cutting-edge 3D Laser Scanning System which combines a future-oriented, innovative new processing architecture and internet connectivity with RIEGL's latest waveform processing LiDAR technology.
The real-time data flow is enabled through dual processing platforms: one for data acquisition, waveform processing and systems operation, and a second for onboard data registration, goe-referencing, and analysis to be executed simultaneously. A high laser pulse repetition rate of up to 1.2 MHz, high-speed data acquisition with up to 500,000 measurements per second and survey-grade accuracy of 5 mm make it ideally suited for applications in as-built-surveying, architecture & facade measurements, BIM, forensics & crash scene investigation, and much more. The system is equipped with onboard orientation sensors and supports numerous external peripherals and accessories via its integrated USB ports and stable mounting points. The easy-to-use HMI (Human Machine Interface) and single touch operation, as well as the operation of several pre-defined workflows, set a new standard in user-friendliness.
More information at 
http://www.riegl.com/nc/products/terrestrial-scanning/produktdetail/product/scanner/48/
Long Range 3D Terrestrial Laser Scanners: RIEGL's VZ-Line Scanners
RIEGL's portfolio of long-range 3D scanners for terrestrial laser scanning provides sophisticated waveform LiDAR technology like echo digitization, online waveform processing, and multiple-time-around (MTA) processing resulting in user-friendly solutions for various applications. The scanners are equipped with GNSS receiver, inclination sensors, laser plummet, built-in or optional camera, and provide advanced camera options (RGB, Thermal, etc.).
The VZ-2000 provides up to 2,000 m, the VZ-4000 up more than 4,000 m, and the VZ-6000 up to 6,000 m measurement range. In combination with proven software packages like RiSCAN PRO and RiMINING, they are ideally suited for long range scanning applications including topography and mining, long range monitoring, civil engineering, and archaeology.
More information at: 
http://www.riegl.com/nc/products/terrestrial-scanning/produktdetail/product/scanner/30/
What are the demonstrations planned by RIEGL at the exhibition?
Experience the RIEGL VZ-400i 3D Laser Scanner System!
Meet with our team of RIEGL experts at Booth #10 to experience the VZ-400i, RIEGL's ultra-high performance 3D terrestrial laser scanner.
We will be holding live demonstrations at the booth throughout the conference and we would like to invite you to come learn about the capabilities of the VZ-400i.
The RIEGL VZ-400i is the latest advancement in 3D laser scanning technology. This cutting-edge 3D laser scanning system combines future-oriented, innovative new processing architecture and internet connectivity with RIEGL's latest waveform processing LiDAR technology, redefining productivity!
Don't miss your opportunity to test it out, live and in person!