Hukum Singh Meena, Joint Secretary, Department of Land Resources, Ministry of Rural Development, Government of India, tells how the New Digital India Land Records Modernization Program will lead to conclusive titling
India's National Land Records Modernization Program (NLRMP) has been revamped and has been given a new name — Digital India Land Records Modernization Program (DILRMP). What was the purpose behind this?
The basic purpose of this program was to achieve conclusive titling. There are four principals in conclusive titling. The first is a single window to handle land records. The second is the mirror principle, which refers to the fact that cadastral records mirror the ground reality. The curtain principle indicates that the record of title is a true depiction of the ownership status, mutation is automated and automatic following registration and the reference to past records is not necessary. And lastly, title insurance guarantees the title for its correctness and indemnifies the title holder against loss arising on account of any defect therein. However, till date land administration is dealt by three different departments — registration, settlement, and survey and revenue administration — which operate in silos. So, the basic intent is that a single agency should handle it, making sure that there is no problem in transfer of title.
How would this program further the Digital India initiative?
The Land Records Modernization Program is a flagship program of Digital India program. The central government will provide full support to states for this initiative. We are redesigning the whole scheme. We have already modified certain things, and would now be adding some new components as well to achieve the basic objective.
So, how much land record data has been modernized so far?
We have achieved significant progress. Out of 29 states, 27 have computerized their records, and they can now be accessed by anybody. Moreover, 24 states have started computerized registration process as well and 11 states have digitized their cadastral map. In order to replicate this quantum of work, we will have to integrate all three processes. Although this was mandated in the initial guideline of NLRMP as well, it didn't receive much attention from the central and state governments. Computerization of land records and registration process, and digitalization of cadastral maps need to be integrated.
The implementation of conclusive titling is being planned in an incremental and selective basis. For this purpose, Chandigarh has been selected as the pilot project because it has the advantage of falling directly under the central government judiciary. In the states, we are encouraging the governments to make their own laws and will support their efforts to implement conclusive titling.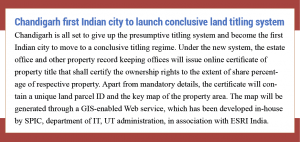 What technologies are being used for land record modernization?
This year, we have introduced the Person-Parcel-Pixel concept. We have to link our land parcels to the records of right which have been seeded with Aadhaar [unique identification] number. Once the seeding process is complete, it needs to be authenticated by the person who owns the land parcel. This will help in dispute-free land transactions.
How will the program help the development of smart cities?
For any development, including the smart city project, hassle-free land transaction is needed. The program will not only tell us where we can plan smart cities, but also which areas can be used for infrastructure development, residential purposes or for services like schools and hospitals. It will also help to improve the transport system.
Which technologies are essential for smart cities?
We have three technologies available with us — GPS, real photography and satellite imaginary. Different states are using these technologies already. Recently, some academic institutions have developed drone technology also. Drones help to capture the basic data of any geographical location. This has been tested on pilot basis in the states of Delhi, Haryana and Uttar Pradesh.
What are the lessons to be learnt from advanced countries?
After studying the technologies used by some of the more developed countries, we have realized that most of them either use aerial photography or satellite imaginary. There is a difference between the data base of those countries and ours. They have strong and accurate datasets based on GPS mapping. We are at an initial stage in this regard and need to develop accurate and transparent database to use advanced technology.