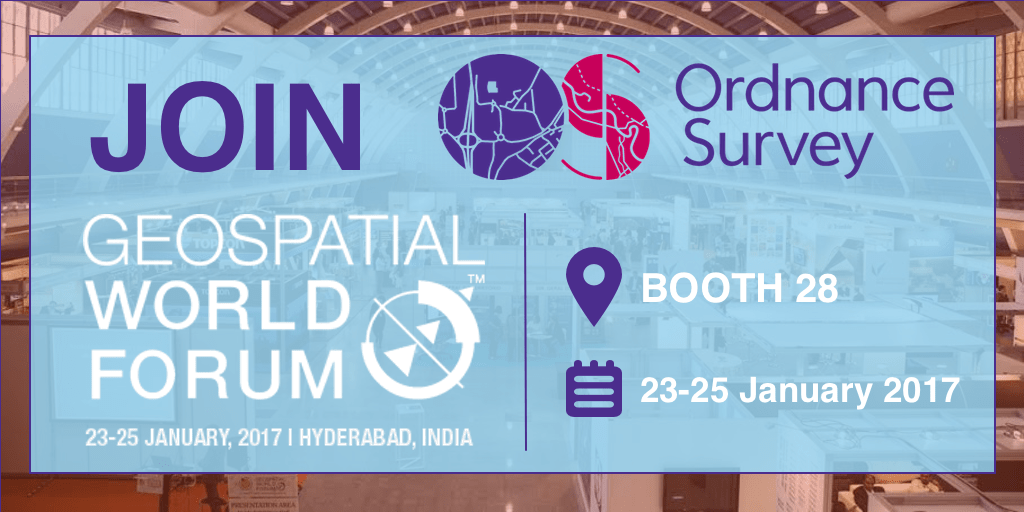 Ordnance Survey at the exhibition of Geospatial World Forum 2017.
Geospatial data powers decisions that improve lives, and deliver societal and economic benefits for a nation. Ordnance Survey International draws on unrivaled expertise and experience in innovating to shape the geospatial industry.
Geospatial data is revolutionizing the world through Smart Cities, and Smart Government. Ordnance Survey International helps nations develop 21st Century geospatial capability to take advantage of this rapid change.
We offer advisory services around the world, working with organizations, governments, and other national mapping agencies. We work in partnership with our customers, tailoring our services to meet their unique needs.
Participants can speak to the staff of Ordnance Survey about how to grow your capabilities throughout the geospatial data journey; from capture and production, through to licensing and distribution.
What will Ordnance Survey demonstrate at the GWF 2017 exhibition?
Ordnance Survey will focus on the following three offerings at Geospatial World Forum 2017 exhibition.
Geospatial Maturity Assessment
A geospatial maturity review will assess how mature your organization is collecting, managing and disseminating geospatial information to meet stakeholder requirements and business goals. The assessment by Ordnance Survey International will help you understand not only how mature you are now, but how mature you need to be.
Read More: https://os.uk/gma
 ResilienceDirect™
ResilienceDirect offers a single, shared view of a crisis on any web-enabled device. It underpins collaboration and communication between multiple agencies and organizations during emergency planning and response activities. Developed by the users, for the users, this service can be adapted to suit your requirements and is now available in your country to improve decision making and ultimately save more lives.
Read More: https://www.ordnancesurvey.co.uk/business-and-government/case-studies/resilience-direct.html
Enabling strategic geospatial development
We offer our expertise in developing strategies to enable spatially connected governments to make better policy. Governments with access to accurate, up to date data can make better decisions on where and how to direct resources. Ordnance Survey provides the UK Government with this data from across the public sector, through a comprehensive spatial data agreement and referencing standard. Ordnance Survey International can show how Great Britain's public bodies are using the same approach and standards to data to:
Save millions of pounds each year.
Reduce carbon emissions.
Deliver efficient public services.
Ordnance Survey's work also supports government initiatives to improve transparency, accountability, innovation and the accessibility of data across the public sector. We will explain how this model can create the foundation to achieve Smart City status.
Want to talk to Ordnance Survey at Geospatial World Forum?
Get to meet OS staff at Geospatial World Forum at BOOTH 28 from 23-25 January 2017* in the exhibition area.
To fix an appointment with OS staff write to
Greg Davis
International Marketing Manager
Ordnance Survey, UK
Greg[.]Davis[@]os.uk
https://www.linkedin.com/in/grgdvs
* Timings for exhibition Monday – 23 January 2017: 1800 hrs 1930 hrs Tuesday – 24 January 2017: 1000 hrs 1800 hrs Wednesday – 25 January 2017: 1000 hrs 1600 hrs
About Geospatial World Forum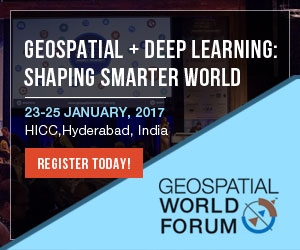 Geospatial World Forum is known as the only conference covering the entire spectrum of geospatial technologies, workflows, policies and practices in one global platform. Founded in Hyderabad in 2007, the conference has traveled to Amsterdam, Geneva, Lisbon and Rotterdam. GWF is coming back to Hyderabad in 2017, and being co-hosted by Survey of India and Indian Space Research Organization. Scheduled to take place from January 23- 25, 2017, the conference is expected to witness participation of 3000+ delegates from 100 countries. The event will be action packed with more than 30 thematic sessions and workshops with over 300 presentations.