Soliciting suggestions from the general public on the Open Data Use License draft is a welcome step by the Indian government, but the draft offers no clarity on geospatial data
The India government has been on an open data kick for some time now. With empowered citizenry becoming a tenet of a progressive nation, it cannot afford not to.
In fact, the whole global open data race is fuelled by growing evidence that the deluge of crime stats, pollution readings, budgets, property-tax records and the like allows governments to serve citizen better. Add to that the potential economic benefits arising out of transparent information sharing, and the great deal of excitement surrounding open data starts to make more and more sense.
So, in continuation of the National Data Sharing and Accessibility Policy (NDSAP) 2012, the Indian Government has formulated a draft called Government Open Data Use License – India. The draft seeks to give clarity on data that can be used and shared for commercial and non-commercial purposes. It was circulated for public consultation last month.
Conflicting mandates
However, the Open Data Use License draft — laid out by a committee which had no representation from the Department of Space — offers no clarity on geospatial data. There is a lack of consistency between the proposed license and the existing National Map Policy. The draft also doesn't specify which series of maps would be covered under open data. Besides, since the Remote Sensing Data Policy of India says that all data involving better than 1-meter resolution will need to be screened and cleared, how would the open data license accommodate for that? What is more, the license even seems to be in direct confliction with the draft Geospatial Information Regulation Bill 2016, which wants to make sharing of location and map-related data illegal without a license.
India features on #17 in the Open Knowledge International's Global Open Data Index 2015, which evaluates 122 countries for legal and technical openness of data
According to the new Open Data Use License draft, users can access, use, adapt, and redistribute data published under this license for all lawful and non-exclusive purposes, without payment of any royalty or fee; apply this license worldwide, and in perpetuity; and use the data in any medium or format for commercial or non-commercial purposes. The draft also stipulates that the data provider(s) are not liable for any errors or omissions in the dataset.
And while the data provider(s) are urged to update the data continually, there is no liability if continued supply of updated data is not ensured. This is a clause which bothers Dr. Shailesh Nayak, Distinguished Scientist, Ministry of Earth Sciences. "The success of this license would largely depend on the volume of the information available, and the frequency of its update," Dr. Nayak insists. "Inadequate data is of no use to anyone. Since the license doesn't guarantee continuous updates of the data, it would be good if at least the frequency of updates is known to the public. For example, people know that updated Census information comes every 10 years, not before."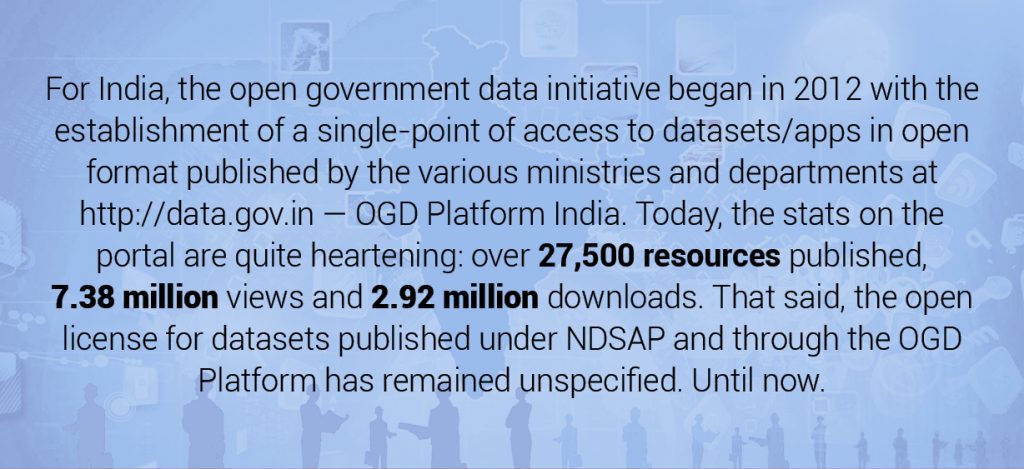 Further, the Open Data Use License draft asks the data provider(s) to ensure that a data package once published will always remain publicly available for reference and use. The earlier versions of an updated dataset are also to be kept available with appropriate versioning. The Centre for Internet and Society, a non-government organization working on policy issues relating to open data in India, recommends that the integrity of published data must be established through a real or digital signature. "This is to ensure that a user can effectively identify and verify the agency that has published the data, and if any parts of the data have been lost/modified in the process of distribution through technological corruption of data, or otherwise."
Keeping it private
Taking stock of privacy concerns of the citizens, the license exempts the following kind of data from use: personal information; data that the data provider(s) is not authorized to license; names, crests, logos and other official symbols of the data provider(s); data subject to other intellectual property rights, including patents, trademarks and official marks; military insignia; identity documents; and any data publication of which may violate Section 8 of the Right to Information Act, 2005.
Dr. P.S. Acharya, CEO, National Spatial Data Infrastructure (NSDI), urges the formation of a monitoring body to ensure that the license's terms are not violated by anyone, especially when it comes to an individual's privacy. "A mechanism needs to be put in place to effectively prevent any misuse of openly-available data. I don't see any infrastructure being established for that at the moment, but, perhaps the government will take care of this before rolling out the final draft."
Stressing that this initiative of the government will lead to wider discussion and multiple views for evolving the right framework, Mrutyunjay Mishra, Founding Member of India Open Data Association, adds, "We must also refer to and learn from existing global frameworks available and used for sharing open data."
And while the government may be looking to expand the scope of NDSAP with this license, slackness in implementation of NDSAP continues to hold India back in fulfilling its commitment to Open Government Data (OGD). Dr. Natasha Agarwal, a research economist affiliated with the World Education Foundation, sums it up when she says, "Repeated attempts showcasing the poor implementation of NDSAP appear to have not bore fruitful results. A case in point is the continuing non-compliance of the Ministry of Tourism to NDSAP while publishing data on the 'number of e-visas issued to eligible countries in a given time period'. Therefore, adherence to domestic policies is as important, if not more, as conforming domestic policies to international principles on open data."
Ishveena Singh
Senior Assistant Editor