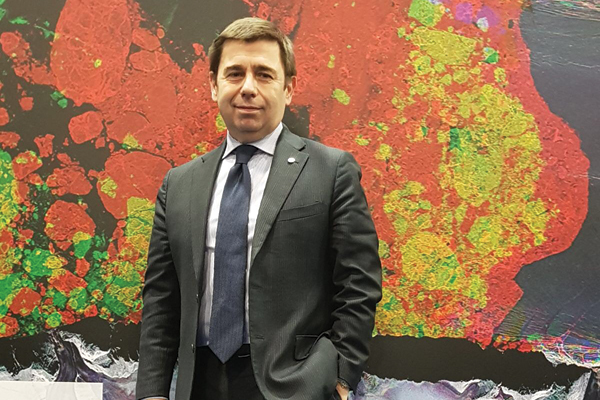 The quantity of data available today is humongous. In order to get good services, we need to invest in new algorithms that can manage such quantity of data in real time, believes Massimo Claudio Comparini, Director Line of Business GeoInformation, Telespazio (Leonardo) and CEO, e-GEOS
e-GEOS has a long-standing experience and legacy in the geospatial business, what are your core offerings?
e-GEOS, a joint venture between Telespazio and the Italian Space Agency, is a global hub for geoinformation data, application, service, information products and near real-time reports based on earth observation information and IoT (non-earth observation) data. The company is the global distributor of COSMO-SkyMed (the largest Syntethic Aperture Radar systems today available with a constellation of four satellites) and we can grant access to the most of the commercial satellite operators, thanks to a global partnership with DigitalGlobe, IRS, DEIMOS, ALOS and the others.
From last year, more emphasis has been given on the evolution of application platforms for all the verticals — defense and intelligence, agriculture, emergency and risk management, asset and infrastructure monitoring and management, etc. — towards information products and solutions integrating the power of data analytics.
The #RapidMappingTeam is also our key strength. With the help of the team, the company is able to support emergency authorities in case of hazards like floods, earthquakes, volcano eruptions, etc., delivering detailed damage assessment maps within few hours from the first activation. The largest customer of this service is the European Commission's Copernicus EMS rapid mapping service. The h24 team, together with our EU partners, has been involved in more than 100 activations all over the world. e-GEOS is able to map everything on the globe in the shortest time possible — from the number of cars in parking lots in urban areas to the damaged buildings in a remote area.
What are your immediate priorities for e-GEOS?
The company's mission is to promote the adoption of radar data, combined and fused with all other EO data sensors, as live data for monitoring. There is a lot of potential in the geoinformation market and hence efforts are being made to fully exploit it. e-GEOS is in the middle of a transformation like all other earth observation companies. We are moving from a one-to-one request to a platform SaaS business model. The main objective is to allow right access to the information in the shortest time possible.The real change is coming from non- EO customers like the new start-ups purely dedicated to data analytics. We are considering radar data and EO reports as live ingredients of the new dashboard, dedicated both to the decision makers and infield operators. The Defense market is also definitively opening to the support coming from trusted companies. Our pathfinder in this respect is European Union Satellite Center (SatCen) and we target to cooperate in the world to share this experience with other institutional centers in order to bring the value of our COSMO-SkyMed Data and of our dedicated platforms like SEonSE and BraInt.
There is an ongoing debate about whether smaller satellites can meet mission needs. What are your views?
The large number of new constellations based on micro/mini-satellites seems to be the challenge of the NewSpace industry during these years. This will represent an important asset to deliver fresh information flow. I think those new systems will be an important complement to the high-end, high-performance sensors, not at all a possible replacement.
The real change is coming from the non-EO customers like the new start-ups dedicated to data analytics. We are considering radar data and EO reports as live ingredients of the new dashboard, dedicated both to the decision makers and infield operators
e-GEOS is managing the largest radar constellation of four big class1 satellites. We now know perfectly how this class of sensors is fundamental to deliver high-resolution and very high-quality data. Today small satellites with medium resolution are changing the monitoring market paradigm, hence giving companies like us, the opportunity to have daily or even better revisit time. This fantastic quantity of data is opening new scenarios but need also to reflect on the real costs of the solutions. We are investing on AI and Cloud system to rethink all the algorithms to deal with such amount of data and at the same time we are interrogating ourselves on the revolution in the business approach that is required to serve customers with the best results at the right cost and price.
Our Matera Space Centre, one of the most important EO data hub in the world, is ready for this mission and the company is investing in new antennas to be able to gather data along the Mediterranean region.
How e-GEOS is emerging out as an important contributor in space technology?
Each of us is a game changer and a key player in this deep and fast transformation. We have been in the market since the early '80s (as Telespazio). This experience gives us the opportunity to work with the medium-resolution with a long-standing experience that is not common today. We have a perfect mix of young engineers who know the new technologies, and senior data experts who are able to read the data and teach machines with their human knowledge.
More people and organizations are participating in the space industry. Do you think we are on the verge of a NewSpace race where the players, technology and services are as diverse as it is innovative?
We are part of the so-called space alliance between Leonardo and Thales, and with their joint ventures Telespazio and Thales Alenia Space, we cover all the value chain of space systems. A breeze of novelties in each of the single step of the chain is required to speed up the traditional science to this new era of the space market. We observe a sort of democratization of the geoinformation domain in the up-stream and in the downstream part. It started with Google Earth some years ago, was boosted by Amazon AWS and today we are part of this wide and growing market together with the main software vendors, GIS players, data and solution providers. The big IT/ ADV companies are investing in space and we are benefiting out of it.
Do you think cheaper launches, better communication services, easy dissemination of information and new technologies like artificial intelligence have made data cheaper and more accessible?
The combination of all those elements is really a revolution in the space sector. Global SatCom connectivity combining HTS and LEO/MEO constellations, global Earth monitoring, location-based services and location analytics, and the combination of all this is pushing a real democratization of space. The quantity of data available today is humongous, EO data latency will collapse. A continuous stream of information will be generated, a new generation of services is conceived now and it will be available for a better life on Earth. To catch this challenge we need to invest in new algorithms that can manage such quantity of data in real time and to derive information flow for a broad range of user communities. We are hugely investing more in algorithms, learning techniques, automatic processing and in a complete and wide dataset.
The merger between MDA and DigitalGlobe was unique in a way it brought all diverse sections of the satellite industry — manufacturing and servicing, communications, earth observation and data analysis — under one single umbrella. Do you see further such consolidation in the satellite industry?
This trend has been there in Europe since years. The European commercial space sector sees integrated players like the Space Alliance, between Leonardo and Thales, and Airbus as the key global actors. The Space Alliance with its joint Ventures Thales Alenia Space and Telespazio, covers the entire value chain of space systems from technologies and manufacturing to space systems operations and global services delivery in all domains SatCom, EO, Satellite Navigation and positioning. In this picture e-GEOS (the joint venture between Telespazio and the Italian Space Agency) covers the complete downstream earth observation domain. The Maxar merger represents just another step in this integration path and verticalization process.
You are chairman of the space innovation technology platform in Italy, national expert in the space configuration of the European Horizon 2020 program while leading e-GEOS as the chief executive. How do you manage so many roles simultaneously?
Space has been a passion since my first year in university. My long run in the space sector, for many years in what is today Thales Alenia Space and now in Telespazio and e-GEOS, both in technology and service and operations helped me to get a complete perspective of the industry. The vision of our industry must be highly innovative and we must be able to connect short and long-term R&D strategies with business development.
My leadership is energetic and strategic oriented. I am a good listener and open to suggestions, respectful of hierarchy in the organization but I always speak my mind out, openly and sincerely. Even though I am tough with my team members, they know I am there to guide them whenever needed. One thing which is imperative is to work hard. My main aim in business is to build partnerships, execute with perfection to deliver, network to gather best ideas in action.
Personally, I love to enjoy life to the fullest, visit good places, have quality time with friends, love to read interesting books, sometimes I try my hands in cooking and love to pen down my thoughts about good wines as well.
Also Read
The NewSpace Revolution: The emerging commercial space industry and new technologies