Improvements in launch systems and innovations such as the use of commercial-off-the-shelf technology for space applications are driving down costs, while a diverse range of sensors are bringing in greater spatial resolution, higher temporal cadence and richer spectral coverage. This combination of decreased cost and increased capabilities is unleashing a whole new NewSpace ecosystem.
January 1999: Two professors from California Polytechnic State University and Stanford University developed the concept of a very small spacecraft to enable students and researchers worldwide perform space exploration. 
June 2003: World's first six cubesats were placed in orbit by Germany's Eurockot vehicle from Russia's Plesetsk launch site.
January 2014: Planet Labs, a California-based company founded by three former NASA engineers, launched 33 cubesats in orbit from the International Space Station.
February 2017: The Indian Space Research Organisation launched a record 104 satellites on a single rocket. The combined payload of about 1,380 kg consisted of 101 nanosatellites from five different countries, including 88 from US-based Planet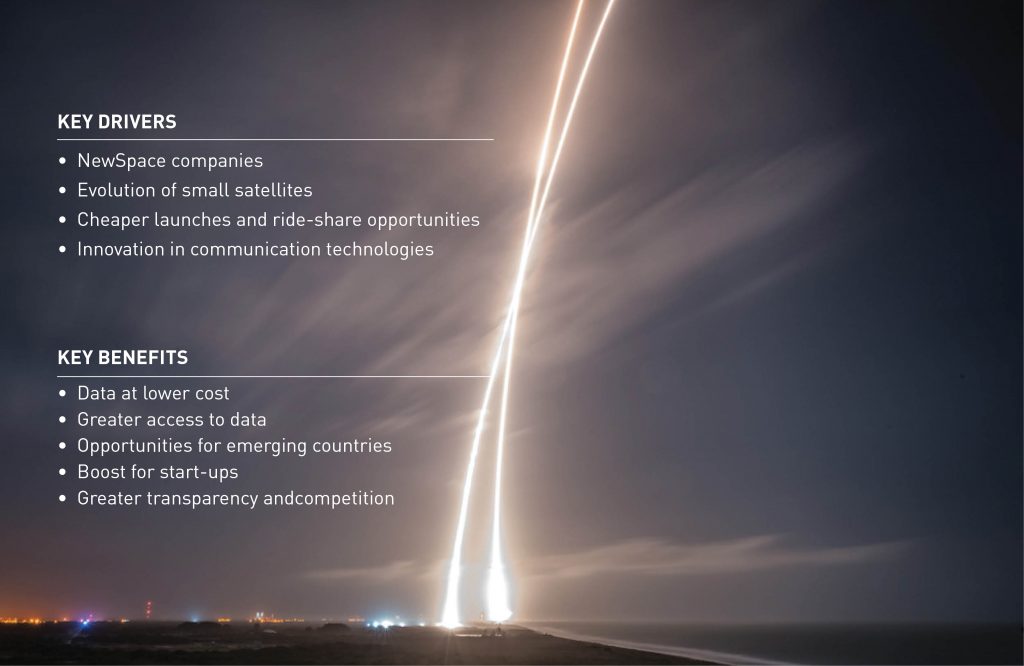 The Planet satellites, each weighing as much as a bread loaf — as against the traditional school bus-sized satellites that took years to build and millions of dollars of investment — opened up a new era in earth observation. Since 2014, hundreds of small satellites have been launched. What was once niche has today become a booming business, with estimates putting the number of small satellites to be launched between 2018 and 2027 in the range of 6,500-7,000.
Such advancements not only promote innovation and democratize access to space, but also mean easy availability of a lot of data. At the same time, improvements in launch systems and innovations such as the use of commercial-off-the-shelf technology for space applications are driving down costs, while a diverse range of sensors are bringing in greater spatial resolution, higher temporal cadence and richer spectral coverage. This combination of decreased cost and increased capabilities is unleashing a plethora of opportunities in earth observation — from monitoring pollution and agriculture to tracking commercial shipping and pre-empting/managing disasters.
In addition to heavy government push, the surge in investments by billionaires such as Elon Musk, Jeff Bezos and Richard Branson, and more recently venture capitalists, has provided the much-needed fillip to the industry. Nearly $3 billion in equity capital was invested in space companies globally in the first two quarters of 2019, according to a report by Space Angels, a leading source of capital for early-stage space ventures. This brings the cumulative total invested in 476 space companies since 2009 to $22.3 billion.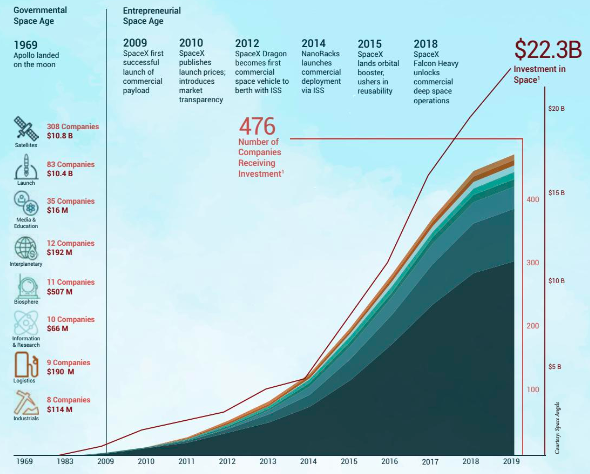 With 200+ satellites in orbit and the ability to monitor all of Earth once a day, Planet is a veteran of the game, a game that compelled industry heavyweight Maxar (formerly DigitalGlobe) to get into the small satellite business. Maxar is currently building WorldView Legion, a constellation of numerous small satellites that will replace its three oldest satellites (WorldView-1 and 2 and GeoEye-1). While the exact number of satellites that will make Legion is not known, the first launch is scheduled in early 2021. Once complete, Legion will be able to revisit spots 15 times a day.
New technologies opening new vistas
Optical imaging has benefited from smaller and cheaper spacecraft for a long time. Now, a crop of new brave space startups is venturing into the niche market of synthetic aperture radar (SAR).
"Fitting synthetic aperture radar technology into a satellite under 100 kg was deemed largely impossible before we did it," points out Mikko Keränen, Vice President (Marketing) of Finland-based ICEYE.
While NASA has been using synthetic aperture radar since the 1970s, it is only recently that the US has started allowing commercial SAR satellite players to operate. In 2015, Arlington-based XpressSAR became the first American company to get a license from the Department of Commerce to operate a private, commercial, space-based, SAR remote sensing system. While the first XpressSAR satellite is to be launched in 2022, San Francisco-based Capella Space, a startup founded in 2016, seized the opportunity and launched its satellite in December 2018 — the first of its 36-satellite constellation planned by 2022.
Capella will use radio waves to provide hourly coverage of every point on Earth, rendered in sub-meter resolution. "SAR has emerged as an all-weather, all-condition imaging technology for increasing the coverage and frequency with which we could observe change on Earth. [But] if you look across the market, there actually aren't that many SAR providers, with majority of small satellite players focused on traditional sensors such as optical," says Payam Banazadeh, Founder & CEO of Capella Space.
WATCH: WHAT ARE SAR SATELLITES AND HOW DO THEY WORK?
"The demand for radar imaging (SAR data) has always been very high. It has simply been incredibly costly and plain difficult to make these satellites in the past, which has limited its use more broadly," explains Keränen.
After its maiden launch last year, on July 5 this year, ICEYE launched two more SAR satellites — each weighing less than 200 pounds — on a Soyuz rocket. The company is on track to launch a total of five missions this year. "ICEYE is aiming to serve commercial customers with imaging from their locations of interest as often as every few hours. This would require an 18 SAR satellite constellation," says Keränen. However, the number is highly dependent on customer needs.
HawkEye 360, headquartered in Herndon, Virginia, has a more innovative approach as it seeks to deliver a brand new geospatial data layer that has never been available commercially — precise mapping of radio frequency emissions. This too was a domain of governments, but technology advancements have enabled the company to deploy the first-of-its-kind commercial constellation of formation flying satellites that can identify and independently geolocate a broad range of RF signals on Earth through triangulation.
"Among our distinctive capabilities, we are able to identify and independently geolocate a variety of RF signals. Common signals of interest include locating emitters such as maritime radars, VHF push-to-talk radios, vessel Automatic Identification System (AIS) transponders, satellite terminals and cellular towers," says Adam Bennett, Product Marketing Director, HawkEye 360.
Currently, the company has three satellites in orbit — launched in December 2018 by a SpaceX Falcon 9 — with each one capable of tuning across most of the frequency range from 144 MHz to 15 GHz. These low-Earth orbiting satellites are in a sun-synchronous polar orbit and their large field of view makes it possible to sense RF signals at every point on the planet multiple times a day. "Our second cluster of satellites is already under development and our goal for a fully operational constellation is to reach six clusters (18 satellites), allowing us to achieve a revisit rate every 30- 45 minutes," adds Bennett.
Hyperspectral imaging, again a domain of military agencies and governments, is coming up as another major area of innovation. Narrow spectral signatures generated by hyperspectral sensors allow unprecedented precision in the classification of land and water, and a window into the chemical and molecular processes of crops, soil, aerosols and effluents. This offers an added dimension to geospatial data, further enhancing and complementing existing data streams to provide a competitive edge.
With eight satellites in orbit, Satellogic, a Buenos Aires-based space imaging company, is currently the sole supplier of commercial hyperspectral satellite imagery in the world. The firm has plans for three more satellites by the end of 2019. "Each of our commercial satellites carries two payloads — one for multispectral imaging and the other for a hyperspectral camera of 30m GSD and 150km swath (at a 470km flying altitude). This unique sensor can discern hundreds of different spectral bands positioned arbitrarily in the spectrum with nanometric precision," says Satellogic Founder and CEO Emiliano Kargieman.
The company plans to launch a 300-satellite constellation to build the first scalable earth observation platform with the ability to remap the entire planet at both high-resolution and hyperspectral. Once complete, the constellation will provide daily remaps of the Earth at 1-meter resolution and deliver best-in-class frequency with a fully automated platform.
Satellogic has tied up with China Great Wall Industries Corporation (CGWIC), the company that commercializes Chinese space technology outside the country, to launch a constellation of 90 satellites in a series of dedicated LongMarch-6 and LongMarch-2D rockets.
Also Read: Building a real-time, on-demand solution for the 21st century — Payam Banazadeh, Capella Space
The first LongMarch-6, carrying 13 satellites, is expected to launch in the second quarter of 2020, which will be followed by one launch per quarter throughout 2021.
UK-based Satellite Vu is developing a fleet of small satellites equipped with special sensors that will be used for monitoring plastic pollution and heat and thermal mapping. Again, the capability of sensing the thermal characteristics of objects, particularly buildings, has been the preserve of military systems or environmental applications. Satellite VU plans to change that by providing commercial data at a much higher resolution.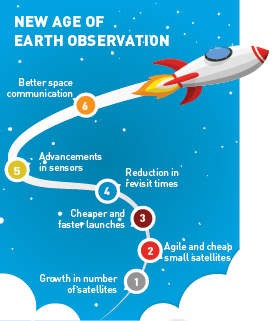 "Plastic has become the scourge of our society and it is choking our maritime areas. Existing methods to track these threats are not as effective either in terms of technology or cost. These include shipborne and airborne monitoring techniques," explains Anthony Baker, CEO, Satellite Vu. The company has come up with a technology that will decrease the time required to measure the plastic problem from years to weeks.
The satellites are the size of a shoebox and they need a special telescope to achieve the required resolution. They can also be maneuvered to a point towards specific targets of interest. The rapid revisit time of the satellites coupled with their sensors ensures that a real-time picture of what is built up and happening is available. "By enabling rapid identification of where the plastics are located and where they are originating from, governments and organizations can act fast," says Baker. By 2020, its future satellite sensor will be in the final stages of completion and the data platform will also become operational.
Similarly, Bluefield, founded in 2017 in Palo Alto, California, is launching microsatellites to track methane emissions. The satellites, the first of which will be launched in 2020 and eight more by 2023, uses a proprietary, miniaturized version of a sensor technology previously deployed by NASA on 12 missions. By mounting this sensor on several backpack-sized microsatellites — and enhancing the raw data with its proprietary machine vision algorithms — Bluefield will provide methane emission monitoring at a previously unthinkable combination of global coverage, high resolution, and low cost.
"We will be mapping every critical emitter on the planet every day. That would make for a better tomorrow because methane is responsible for 25% of global warming. By bringing this powerful data, we will play a significant role in slowing down Climate Change," says Yotam Ariel, CEO and Founder, Bluefield.
Bluefield, which is funded in part by Village Global LP, a venture capital firm backed by tech moguls such as Jeff Bezos and Mark Zuckerberg, uses an optical technique, which when combined with proprietary machine vision algorithms, enable unprecedented precision, frequency and affordability to pinpoint the millions of emitting sources on the planet. The company plans to expand to tracking other greenhouse gases like SO2, NO2 and CO2. Ariel says Bluefield will also expand from its initial focus on oil and gas emitting sources to monitoring landfills, wastewater, livestock, heavy industries, etc.
Colorado-headquartered PlanetiQ is focused on atmospheric remote sensing and plans to have a 20-satellite constellation by 2021 in sun-synchronous orbits to gain global coverage. "The first two satellites will be deployed by the end of 2019," says Steve Joanis, CEO, PlanetiQ. The company specializes in remote sensing instrument design and manufacturing, and seeks to make the seven-day forecast as accurate as a one-day forecast reading.
New areas of applications
Currently, most of the demand for AI-powered earth observation comes from defense, government and humanitarian organizations. Profusion in the availability of EO data has led to better insights, improvement in data analytics and service delivery, opening up a whole new set of application areas.
For instance, in addition to traditional users, Capella sees great business opportunities in monitoring key areas of interest such as major cities, ports, shipping lanes and critical infrastructure. "We can provide reliable and consistent information flows to many verticals, from insurance and finance to agriculture and shipping. We are looking to open up new possibilities, markets and applications for remote sensing data as we move closer to real-time and on-demand capability," Banazadeh explains.
ICEYE's current customer base is built out of data users who are already familiar with SAR data and need more of it. Additionally, the company plans to target commercial information users who aren't necessarily savvy with SAR data itself, but rely on customized analytics services based on the original imagery. For instance, insurance and finance sectors, and development organizations.
Likewise, Satellogic is developing solutions for areas such as forestry, agriculture, energy, finance and insurance, cartography and critical infrastructure, among others. High-resolution and high-frequency satellite data can be used to map land use and monitor infrastructure, track agricultural development and respond quickly to natural disasters, monitor borders and coastal waters, evaluate the health of crops and natural resource production, track economic activity like transportation and factories, observe and protect the environment, and describe and predict the impact of natural phenomena or provide insights into environmental health and protection of natural habitats, elaborates Kargieman.
Tracking 'dark ships' (vessels that are engaged in activities like smuggling or illegal fishing) is one area HawkEye 360 is looking to target. "The company is also interested in helping customers analyze how spectrum is being deployed for the most efficient use of telecommunication frequencies, aiding defense and security missions in identifying and evaluating potential threats, and assisting search and rescue operations," says Bennett. It is also capable of providing quick assessment of communications infrastructure after disasters.
ICEYE is also collaborating with Spire, a data and analytics company with 84 satellites in orbit, for detection of dark vessels and illegal activities at sea. With the economic value of illegal fishing estimated to be upwards of $23 billion annually, the partnership will allow a new level of accuracy in tracking vessels involved in trafficking of arms, drugs and people.
Satellite Vu is developing a dual-use solution that will help tackle the scourge of Urban Heat Islands (UHI) using high-value data that will enable the commercial sector to analyze its impact on UHIs and how to mitigate it. This data can be fused with other data sources to produce computer models of smart cities, also known as Digital Twins. The heat maps can help determine the carbon footprint, energy waste and the impact on surroundings of a building.
The company has a variety of customers ranging from environmental organizations, government bodies to financial investment institutions. "Currently, we are partnering with specialist analytics firms to identify end-users. We are also concentrating on making our products more insightful to a larger scope of customers by for example producing maps and highlighting features that change over time," elaborates Baker.
"Our satellites rely on high signal-to-noise ratio to operate, which requires large antennas. So, we are larger than the normal 6-12U cubesats, though we use a lot of technology developed for cubesats," explains Chris McCormick, Founder, PlanetiQ. The company sees opportunities for highly accurate weather forecasting in governments, military operations, commercial entities, and individuals, and aims to produce the climate record of Earth.
Rezatec, a UK-based geospatial data analyst company, applies data science to satellite imagery and other geospatial data to deliver sophisticated, Cloud-based analytics to customers owning and operating high value, distributed land-based assets. Its customers are industry leaders across vertical markets such as water, agriculture, infrastructure and forestry sectors that use the data services for improved margins, enhanced competitive advantage and optimized asset management.
"We see demand coming from all sectors where there is the need to monitor and manage assets accurately and precisely to reduce risk and be more cost effective," says Philip Briscoe, Chief Operating Officer at Rezatec.
Handling all these yottabytes 
With so many satellites in space, there is a growing need to quickly get all this yottabytes of data back on Earth for processing. Amazon's AWS Ground Stations is a real game-changer in this regard — the tech giant intends to provide ground station as a service through a network of 12 satellite facilities around the world. Capella, Spire, Maxar, Myriota and Thales Alenia Space are among the major customers and partners availing AWS Ground Station service. Amazon's idea is to invest in plenty of expensive infrastructures and then charge startups only for what they use, making it easier and more affordable to run a business up in space.
Colorado-based Bridgesat is an innovator in this space. It is offering small form factor laser communication terminals at a reduced price compared to equivalent RF data throughput solutions. The company is also engaged with laser communication terminal manufacturers to ensure compatibility with the BridgeSat ground network. Its first ground station is already in operation in California. The company plans to have 10 around the world. ICEYE is one of its first customers.
Rapid advancements in AI-based analytics is also leading to a situation where data processing via Machine Learning techniques can occur on-board since that would reduce clutter. Polish firm KP Labs is building a unique satellite that would be able to analyze and summarize data collected by it. Aptly named Intuition-1, the satellite will be equipped with an AI-based neural network modeled on the human brain. Intuition's hyperspectral imager will take pictures of a 15-km-wide swathe of Earth at a resolution of 25 meters per pixel. However, instead of beaming back on Earth, the onboard neural network will stitch together the images using powerful graphics chips hardened against radiation.
The data deluge needs cutting edge analytics
What will make this sea of data even more powerful is the ability to process it in large quantities. "So far, the EO industry has been completely outdated when it comes to providing a user-friendly, timely and easy service. We often still rely on manual processes — phone calls, fax machines, hard drives through the mail, FTP sites – to service orders," stresses Capella's Banazadeh.
This increase in the amount of data capture necessitates the use of Artificial Intelligence to parse through the information and find valuable insights. "There would simply be too much data and not enough eyes to look through it if we couldn't store it in the Cloud, use edge computing to process quickly and deploy Machine Learning algorithms for automated extraction of information," he adds.
Satellite imagery providers and service providers alike are recognizing that the real value is in delivering AI-driven data analytics. AI-driven EO startups raised $96 million in 2017 — nearly three times more than in 2016.
This has led to the rise of data analytics companies like Orbital Insight and Descartes Labs, which feed visual data into algorithms to make sense of any kind of imagery. The biggest example is of Planet, which threw its hat firmly into the data analytics ring when it launched Planet Platform. The platform makes it easy to build tools, ingest imagery and run analytics at scale. It downloads, processes, and manages 6+ terabytes of data every day.
"Machine Learning, data analysis and data science applied to satellite imagery and other sources of data are all critical to bring the promise of earth observation to more mainstream markets. Nobody can expect to do change-tracking, object identification or classification manually over trillions of pixels per week; we need AI to do these things and others, like predictive modeling, on a planetary scale," explains Kargieman. Satellogic is already employing AI and deep learning to great effect to make sense of the huge amount of multispectral as well as hyperspectral data (which multiplies the amount of information for each image as the spectrum gets broken into multiple bands) it is collecting.
With users demanding more insights than just pretty pictures, there is a definite shift from data to analytics that will define the EO industry in the near future. Looking ahead, the EO market will be increasingly driven by AI-enabled data analytics. "More and more we will see organizations just wanting to suck in data from multiple sources for wider analysis so the image itself is no longer relevant," stresses Briscoe of Rezatec.
McCormick of PlanetiQ thinks suppliers will need to "up their game" by adding more spectral bands, not just "red, green, blue", and calibrate each band in order to let the EO consumer know what materials and condition of the materials (crops in particular) the images are conveying.
The NewSpace edge
The sharing economy in space, already a double-digit billion-dollar industry, is one of the fundamental societal transformations that we are experiencing. It relates to the shift from just large players — governments and big corporations — who operate satellites, distribute data and supply services, towards opening of the market to dozens of startups that not only deploy new technologies to support traditional applications, but also develop new applications.
The Earth observation industry is going through a transition now from the traditional satellites to 'NewSpace'. "There are a handful of traditional players that are trying to reinvent themselves and a bunch of new entrants, coming up with disruptive models," points out Kargieman.
The market conditions have been right over the last few years for innovative startups to begin playing in the space sector, not least in the satellite applications sector, undelines Briscoe. These conditions include proliferation of Cloud-based computing; increased data storage and processing capabilities; increase in the supply of satellite data (including the European Space Agency's Copernicus program); and general education and understanding across multiple sectors that satellite data can provide a cost-effective new means of combating challenges historically solved using expensive or labor-intensive methods.
Agrees HawkEye's Bennett: "It is now possible to design powerful capabilities into a compact package because of the emergence of small satellite technology. And space is much more accessible given the variety of launch providers and general decrease in launch costs. This combination has made it feasible for smaller companies to develop effective satellites and get them into orbit."
Ariel of Bluefield points out that there are just six launch options available today, which will double by next year. The boom in the satellite industry is also creating interest among people, thus opening up a greater pool of talent and experience in satellite operation and data processing.
The NewSpace movement is bringing down the cost of manufacturing a satellite and sending it to space considerably. "Opportunities to operate satellites in low-Earth orbit are opening up new vistas and a small satellite can be just as capable as one of its large GEO cousins," says Baker of Satellite Vu.
The promise of AI and ML applied to satellite imagery, in conjunction with higher frequency and higher resolution of data, is to expand the earth observation market by orders of magnitude in the upcoming decade. "This market expansion will benefit both traditional satellite operators that will have to adapt and integrate some of the new technologies and techniques to remain competitive, and new entrants that can deliver on their promises." Kargieman couldn't have summed it up better.
Also Read: Satellites to pinpoint greenhouse emissions and monitor pollution