Unmanned aerial vehicles

take flight in India with drone startups scurrying to develop commercial applications for an ever-expanding market.

No other industry has transformed from military hardware to 'toy' as quickly as drones have moved from the armed forces' inventories to the shelves of Walmart. As compelling as they are controversial, unmanned aerial vehicles (UAVs) have stealthily gained the attention of manufacturers and investors alike, who are now scrambling to hit the market with innovative solutions for the civilian domain. India, as ever, isn't left behind.
---
Suggested Post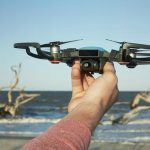 India seeks to open new skies with draft drone policy
---
In fact, data provided by Stockholm International Peace Research Institute (SIPRI) indicates that with 22.5% of the world's UAV imports, India tops the list of drone-importing nations. India's tryst with UAVs began in 1996 with the Army acquiring an Israeli Searcher Mark I. One decade later, it is difficult to spot a Bollywood-esque Indian wedding without these flying machines buzzing above a colorful throng of guests, taking photographs.
Part of the reason why the UAV ecosystem is witnessing potentially revolutionary innovations on an almost daily basis is because drones can boost efficiencies across a variety of sectors. From agricultural operations and surveillance to filmmaking and disaster management, drones have quickly proliferated into every aspect of our lives. So much so, a recent study on the commercial applications of drone technology by PricewaterhouseCoopers (PwC) predicts that drones could replace current business services and labor worth $127 billion in the 'very' near future.
Indian tech startups are also looking to get in on the act. Geospatial World talked to five such companies who would soon be populating your skies.
---
Skylark Drones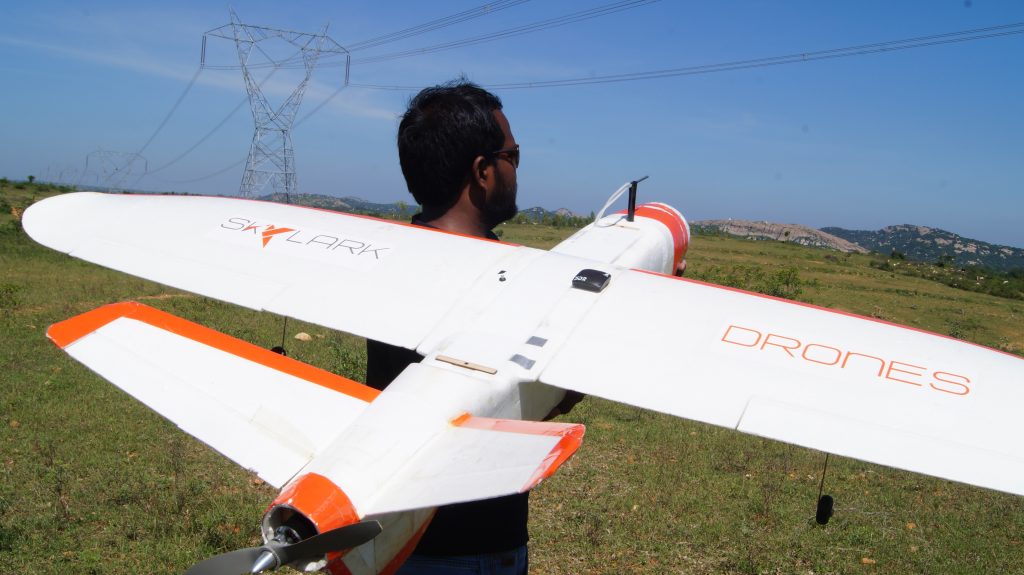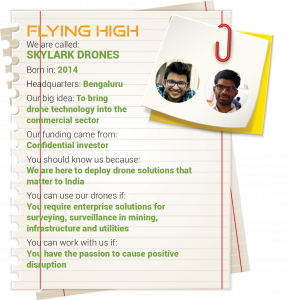 Skylark Drones provides cost-effective UAV solutions in sectors like mining, infrastructure and utilities by combining the power of Cloud-based intelligence with system-integrated UAVs to enhance a customer's insight about his assets.
The idea to form this company struck the co-founders Mrinal Pai, 24, and Mughilan Thiru Ramaswamy, 26, while working on project Vyoma at R.V. College of Engineering, Bengaluru. The project required them to build UAVs for various aero-modeling and aero-design competitions, including SAE Aero Design, Boeing IIT and AIAA. "The idea and the possibility that UAVs could change the way every sector functions pushed us to deploy turnkey solutions," Ramaswamy smiles.
Rather than seeking external investors, the founders bootstrapped their business through internal cash flow and cautious spending. "We set out with the principle of reinvesting profits in our growth. This approach allowed us to maintain control of the business, enabling us to focus on the customers, rather than the investors, and forced us to spend with discipline," explains Pai.
It wasn't long before Skylark generated revenue through its projects for the Indian Army and partnered with Bangalore Traffic Police Force for surveillance tasks. Today, the startup has successfully integrated and executed a number of projects collecting and processing more than 300 km and over 10,000 acres of geospatial data in under a year of operations. Their client list includes Odisha Mining Corporation, Tata Steel Mining Operations and L&T ECC, to name a few.
Ramaswamy beams as he talks about the startup ecosystem in the country. "Since 2010, the Indian technology startups landscape has seen a tremendous growth toward innovation creation. I think we are also taking more steps where we are not just replicating American ideas for the Indian landscape, but we are also coming up with several original ideas that are being implemented not only in the US, but, the world over."
Skylark imagines a world where drones and associated intelligence platforms form the vanguard of disruptive technologies with the likes of Cloud-computing and artificial intelligence. "India and South East Asia have historically been very resource-rich and geographically diverse regions of the world. This is also the most actively growing regions of the world with increased infrastructure and energy projects coming up every day. These are factors and ecosystems in which drone technology can especially thrive. Add to this the almost unimaginable scope with regard to agriculture and related activities like community-based forest management that stand to gain immensely from the drone revolution," Ramaswamy concludes.
---
Quidich Innovation Labs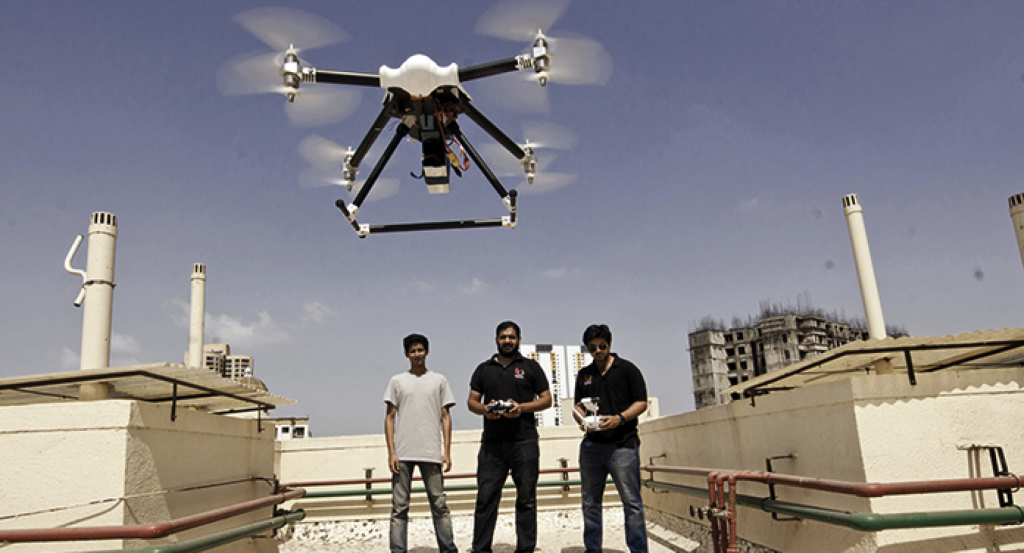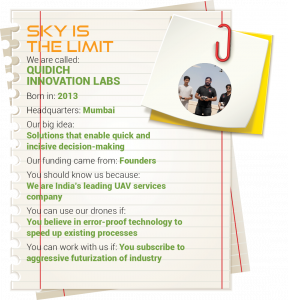 Founded by two talented Young India Fellows, Rahat Kulshreshtha, 27, and Gaurav Mehta, 25, Quidich Innovation Labs has a fleet of close to 25 drones. The startup couples cutting-edge hardware with intuitive Cloud-based solutions to ensure the best possible output on the tables in the minimum amount of time.
With the basic idea to futurize industrial solutions across India and speed up survey and development efforts, Quidich operates in two verticals — filming and industrial. Its repertoire of fixed wings and multi-rotor drones and a suite of 12 sensors offers UAVs as a service for agriculture, road and rail corridor survey solutions, urban infrastructure, mining, and search & rescue. The filming vertical caters to agencies from the film industry and documentaries from around the world.
"We have successfully completed over 400 projects since our inception, with close to 12,000 hours of flying experience. In the industrial vertical, Quidich boasts of several high-profile clients, including Border Roads Organization and Northern Railways. Our filming vertical bagged rights for aerial coverage for the IPL Finals 2016," Mehta reveals. Despite multiple offers from investors in the past, the startup has not felt the need to raise funds so far. "It is a reasonably cash-positive business. But, we are now looking to raise funds by March 2017. We are reaching the limit of what is possible with a self-funded startup and we are approaching a time where we will have more work than we can process. Hence, a scale-up is going to be required to fulfill the increasing demand for drone services in the market," explains Kulshreshtha.
While most UAV companies look to sell UAVs post assembly, Quidich puts in tremendous research and study into the service model by taking complete ownership of its survey, mapping and consulting solutions. Mehta says, "With every single mistake on the field, the scope for error grows exponentially. We have very strict parameters and processes for our field teams collecting the data. And then our in-house GIS experts convert the data into actionable outcomes enabling very precise and incisive decision-making."
For decades, survey and planning measures have slowed down development work. However, with UAVs bridging the gap between the conceptualization and development phases, the heat and excitement of the project stays intact. As Kulshreshtha quips, "The government is looking to increase road laying from 2km/day to 30km/day in less than five years. Given the speed of increase of road building, someone is going to need to survey a lot faster than before to enable this growth. Guess what technology can do that!"
---
AIRPIX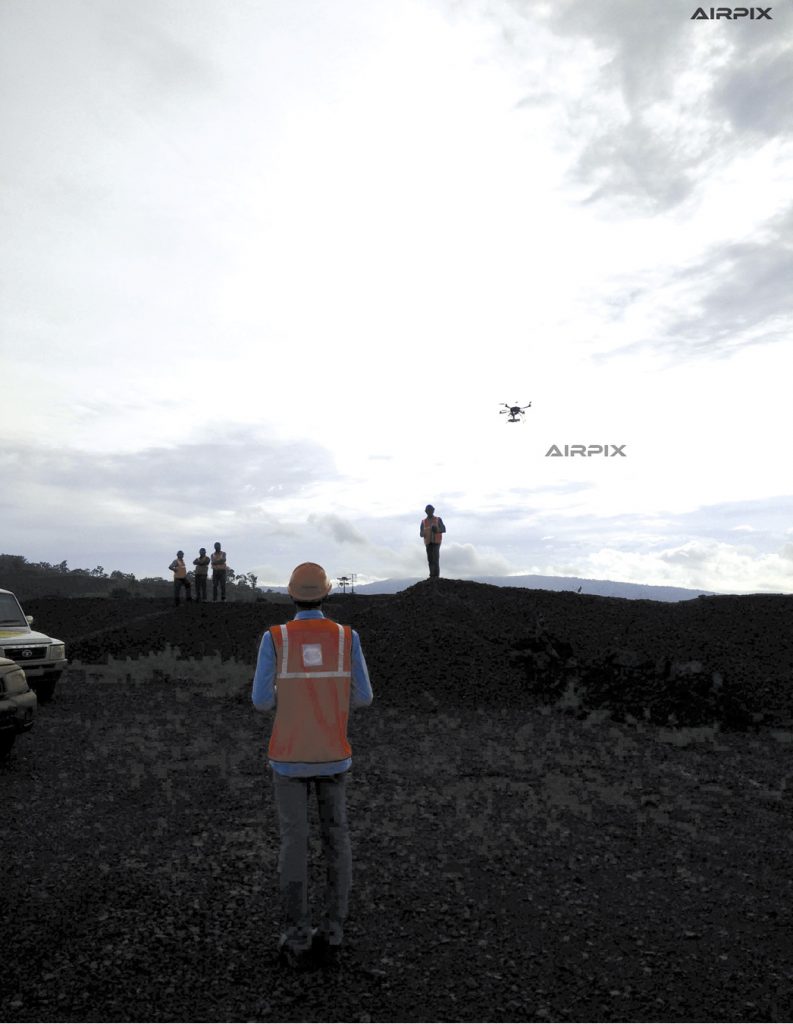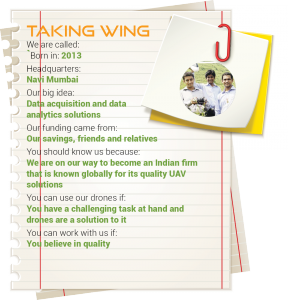 Using both multi-rotor and fixed-wing UAVs, AIRPIX provides data acquisition and data analytics solutions, giving insights that help enterprises in the designing, planning and project execution stages. Founders Aniket Tatipamula, 25, Neeraj Waghchaure, 25, and Shinil Shekhar, 27 are engineers from Veermata Jijabai Technological Institute, Mumbai, who have explored the fields of robotics and automation.
The services AIRPIX offers include topographical survey, volumetric analysis, feature extraction for site study and planning, project monitoring, 3D model reconstruction, crop health monitoring and yield estimation, and inspection of critical assets.
Talking about the startup ecosystem in India, Shekhar says, "There is a lot happening in the Indian startup community with the government issuing policies that encourage startups with funds and tax subsidies. However, infrastructure is yet to be available equally across different parts of our country and regulations and bureaucracy do pose as a hindrance to fast growth."
But, what is it that sets AIRPIX apart from others who are struggling in the young and growing UAV industry? "In the UAV industry, quick adaptability to the customer requirement is what will help you stand out in the long run and that is our advantage as well. We have handled projects in different environments and varied requirements — for road construction along new alignment, for open cast mining, for dumping ground waste volume calculation and disposal study, for land slide prevention survey along steep terrains and many more. The Indian Railways is one of our clients," says Shekhar.
AIRPIX believes the drone industry will evolve in a way similar to the automobile industry — it will have a lot of applications in the defense industry, it will cater to many solutions in the industrial sector and it will see a lot of innovative drone products in the consumer market too. "It is going to be pretty big," Shekhar insists. "With the government encouraging more usage of technology in its projects and India attracting a lot of funding from both local and global investors, it is definitely possible that India will be one of the top-runners in the drone industry in the coming years."
---
Johnnette Technologies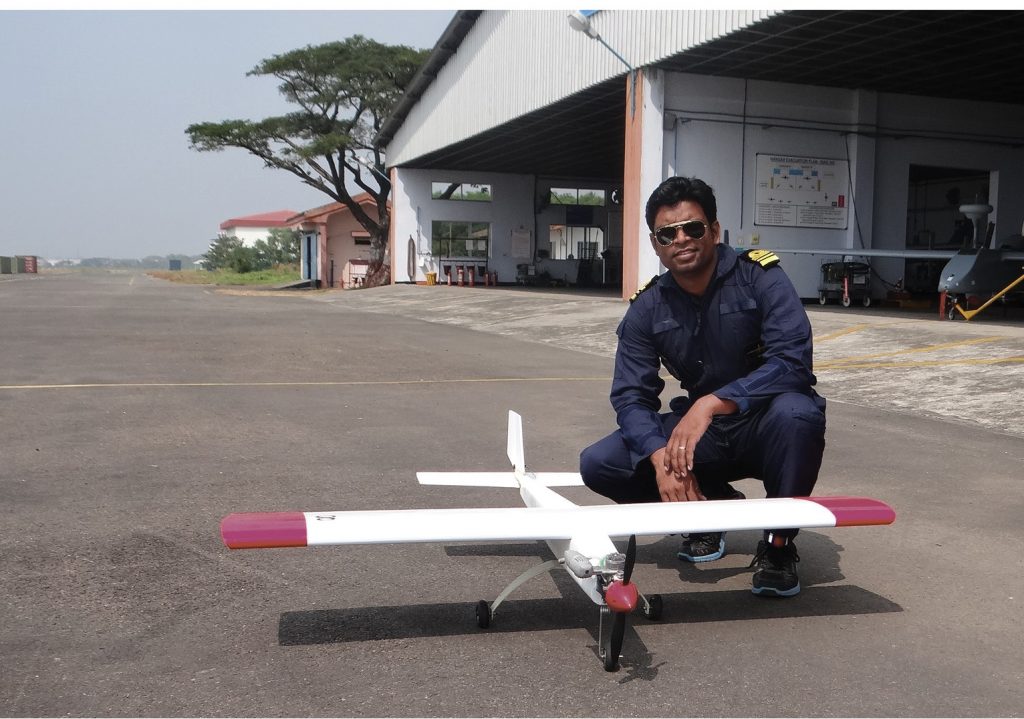 Incepted by Lt Cdr (R) John Livingstone, 35, Johnnette Technologies manufactures cutting-edge drones and robots that are 80% 'Made in India', the ISO 9001:2008 certified company gains from having a mature team with more than 20 years of combine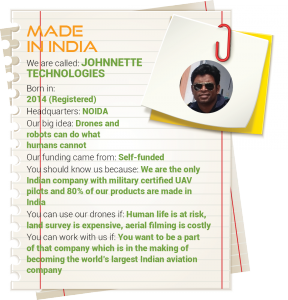 d military UAV experience.
"As a UAV pilot in the Indian Navy, I flew military drones from 2008 until 2014," Livingstone recalls. But, it wasn't long before he realized that in the entire Indian armed forces, the number of Indian-made drones and aircraft were almost negligible — counting only for Tejas, Saras and Dhruv aircraft and the Rustom UAV developed by the Defence Research and Development Organization (DRDO) — which have to really see the light for a full-fledged induction.
"When it comes to military operations, a nation must always be self-dependent. This is why I ventured into drone manufacturing. At present, we supply drones to private companies and PSUs in India. We are in the process of qualifying for government and military organizations to supply at a large scale."
The startup offers a range of products for the unmanned systems industry: consumer-grade Johnnette JR1 is; industrial-grade Johnnette JR3 for aerial mapping, land surveying and 3D imaging; and Johnnette JR5, which is designed especially for DRDO and other research organizations. A fixed-wing UAV called Johnnette JF2 is expected to complete its test flight soon.
With a meager investment of INR 60,000 ($897.73) and a turnover that has touched about INR 1.4 million ($0.21 million) today, you could say that Johnnette Technologies is doing pretty well for itself. "Being a bootstrapped company, we have been relying on our profits to sustain us. But now, it is time for us to raise funds to fly high," Livingstone smiles. "We have received a lot of invitations from various angel investors and venture capitalists this year. We are filtering the right investors to bring them onboard."
Many drone startups and consumer drone companies claim that anyone can fly a drone. But, Livingstone doesn't endorse that view. "I would say that anyone can use a gun, provided the gunman is trained to use it and is given a license to operate it. Flying a drone is as hazardous as any normal manned aircraft. We provide a mandatory training to all our buyers."
Johnnette Technologies has an ambitious billion-dollar target mark for the year 2025. And this is purely because the startup views drones as the future of this generation. "Drones are going to replace 80% of operations presently carried out by manned aircraft. While on the military side, countries are turning to network-centric warfare using combat drones, on the consumer side, the biggest user is the filmmaking industry. Our future is very bright and more than 70,000 jobs are envisaged in the next five years in this industry."
---
ideaForge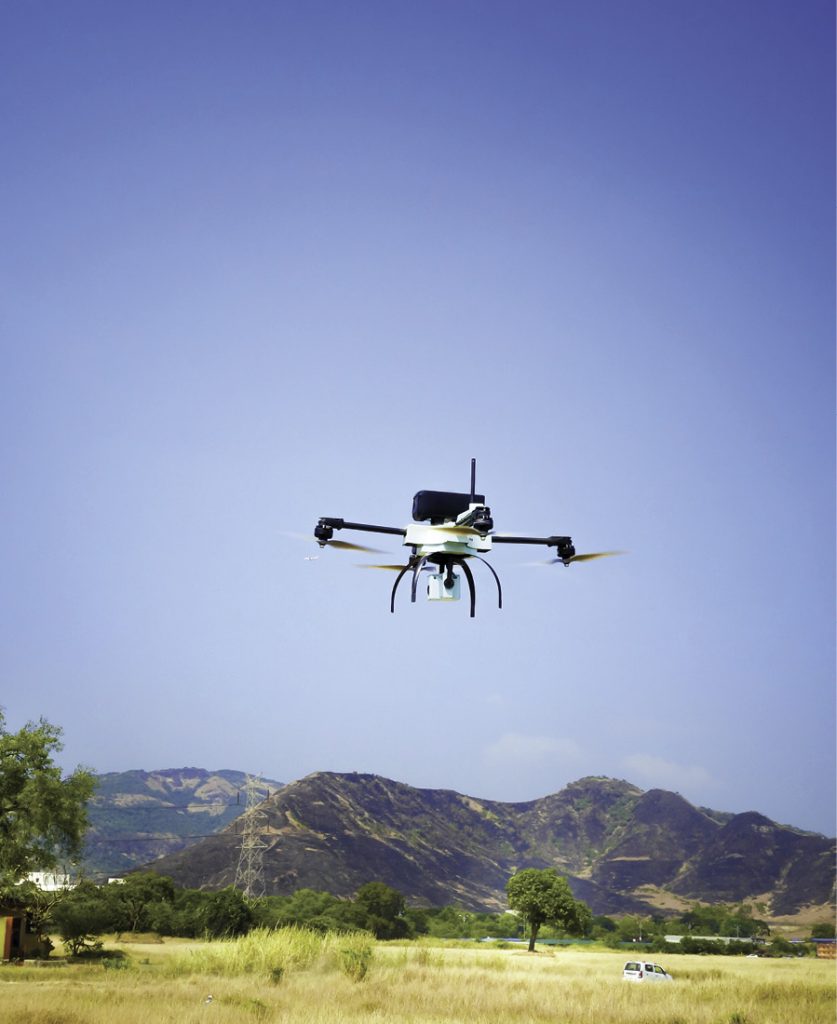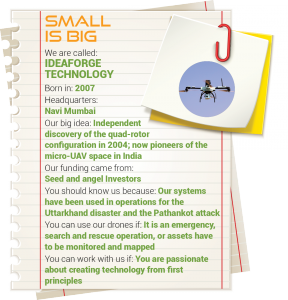 With the earliest sighting of their efforts showcased in the Bollywood movie 3 Idiots, ideaForge can easily be called the pioneer of micro-UAVs in India, even if you cannot technically categorize it as a startup. Their fixed-wing UAV products NETRA and SKYBOX have been deployed for applications such as counter insurgency, disaster management and others, most notably during the Uttarkhand disaster and the attack on Pathankot Air Force Station.
A driven team of tech-enthusiasts, brilliant engineers and dedicated management runs the company: Ankit Mehta, 33, Rahul Singh, 33, Ashish Bhat, 33, and Vipul Joshi, 34. "Beginning from our days at IIT-Bombay, we were driven by our love and craze for robotics. We were exploring the possibilities of making a hovering platform when we independently discovered the quad-rotor configuration in 2004. That's how we started on our journey of developing flying platforms," Mehta explains.
The company has delivered several hundreds of UAV systems and has a healthy order pipeline. But, that was not the case always. "It was very difficult to secure funding for the company. And it continues to be a challenge even today," Mehta says. That said, ideaForge has received sizable angel investments now and is in the process of securing more funds for growth.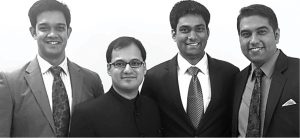 Being a licensed manufacturer of UAVs, with live defense contracts, ideaForge has been able to supersede others in the industry. So far, their UAVs have been deployed for operations that require aerial inspection, large area monitoring of sites, precision agriculture, and mapping and surveillance for maintenance procedures. "Our UAVs have also been deployed for homeland security involving crowd management, traffic monitoring and disaster management," Mehta adds.
Now, the company has begun tapping the industrial sectors. "We are targeting commercial use of UAVs very seriously at the moment, and are interacting with organizations which require large-scale deployment. India is still in the process of defining precise regulations with regards to the UAV technology and usage, making it slightly difficult for us to highlight our future goals and endeavors." Mehta sums up, "Accordingly, the company is also in process of providing inputs and suggestions to policymakers, which will hopefully streamline the entire process and get our dreams off the ground."