While the Indian government has taken numerous steps to capitalize the LBS sector, Indian tech start-ups have also jumped into the bandwagon.
Use of Location based services (LBS) has become an inseparable part of our everyday lives. The popularity of smartphones has all the more triggered this trend. While there has been a marked increase in LBS-based apps, which has breached into common man's day-today lives, the technology has become favourite amongst government agencies, corporate giants and start-ups too.
The Indian Government has mandated use of GPS in all smartphones by January 2018, will push the LBS market exponentially. According to a report published by Internet and Mobile Association of India (IAMAI) and market research firm IMRB, the number of mobile internet users in India is estimated to touch 420 million by June 2017 with the rural India growing at a much higher rate than urban India.
Inclusion of the new feature may initially cause prices of mobile phones to rise by about 50%, but the GPS chipset market will see a huge growth, given that India has roughly 934.6 million mobile phone users. Moreover, the 'location data' in the GPS
enabled phones will aid the government vastly in improving the quality of life. With all manufacturers making such phones, cost will also not remain an issue, as eventually, 'economy of scale' will be achieved.
"Location Based Services are crucial. We are looking at right from global climate models to individual communities or individuals. So that is the power of LBS. One of the important components of LBS is Geotagged data, which when it combines with business practices provides a lot of intelligent outputs," says Uday Raj, Chief General Manager of NRSC, ISRO, Department of Space, at a seminar organized by FICCI on Location Based Services 2017.
Transparency is the key word today in the business and economic sector, and geo data provides that transparency. So everything from evaluation to monitoring can be done by using geotagged data. For this, you need high-resolution data as image base and maps in the background. With the rapid advancement of technologies, today satellite image data with high resolutions straight away form image maps and no further inputs are required.
Improving accuracy
If we take the example of driverless vehicles, to make this concept really useful and efficient, it needs a very accurate location otherwise the car is bound to crash. So, when the dot moves on the map, it requires database at sub-centimeter level. This is a major challenge and ISRO is looking at resolving this problem. "We essentially need what is called foundation layers to make sense out of LBS. ISRO is looking at creating some highly accurate foundatious ways, which are available freely in the public domain. Even though everyone is used to Google Maps, ISRO is looking at indigenous maps of high accuracy," says Raj.
ISRO's value-added services like GAGAN provides very high accurate GPS system. The GPS system available in mobile phones may not be as accurate as it is required to be. The main culprit for GPS error budget is atmospheric corrections. India gets most of the data from global models and since the country is located in the tropical area, where ionospheric disturbances are much more, India needs to work on real-time atmospheric models to remove the error. A very good solution that ISRO has come up with is the option to integrate GAGAN dongle with mobile phones to improve accuracy.
Some of the new initiatives that ISRO has undertaken or will be undertaking based on LBS are agriculture insurance, mapping Indian heritage and monument sites, working on remote dashboards that can create automatic reports on traffic violations, fishermen warning systems, crop
intensification, crop distribution, high-value crops, horticulture, etc.
In order to cater to the growing demand of LBS sector a huge constellation of satellites is required. Meeting the expectations, ISRO is actively working with other players like Planet Labs for a heavy constellation of satellites, so that data available now is of high resolution and can be delivered on a daily basis, which was not possible earlier.
Stakeholders of LBS
To understand this rapid yet steady growth in LBS-based technologies in every sphere, let us look at the primary stakeholders of LBS:
Government: An enabler and provider of LBS infrastructure such as CCTV cameras and sensors, it is the primary entity that decides the governance and implementation of the infrastructure required for the LBS framework. The administration also decides the privacy and confidentiality of the information available and governs the usage of the information and the manner in which it is used.
BENEFITS OF THE MANDATE
• Real-time tracking will expedite aid in emergency situations
• Location data will be available
from approximately 420 million mobile users
• Mobile users with 'not so fancy' phones will also contribute to location based analytics
• More location data would mean more specific identification of issues
• A strong step towards better mapping of the country for community welfare
Citizens: Citizens are the core targets for LBS. They receive information and services over mobile devices and are the most dynamic and variable part of the LBS stakeholder system.
Businesses: Businesses include both the advertisers and mobile service providers. The data obtained through LBS is analysed and explored by businesses in various ways in order to predict their preferences and behaviours for various products and services that might be useful to them.
Service providers: Telecommunication service providers supply the communication infrastructure and the underlying processes that enable the transfer and identification of data. They have the information repository of both real-time and historical data of users enrolled into their services.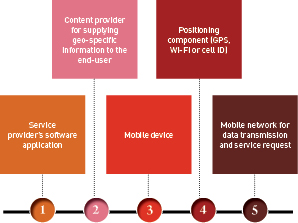 The steady proliferation of GPS enabled smartphones in India has boosted their morales further.
The Geospatial World spoke to five such start-ups who have used LBS technology to fulfil their innovative missions.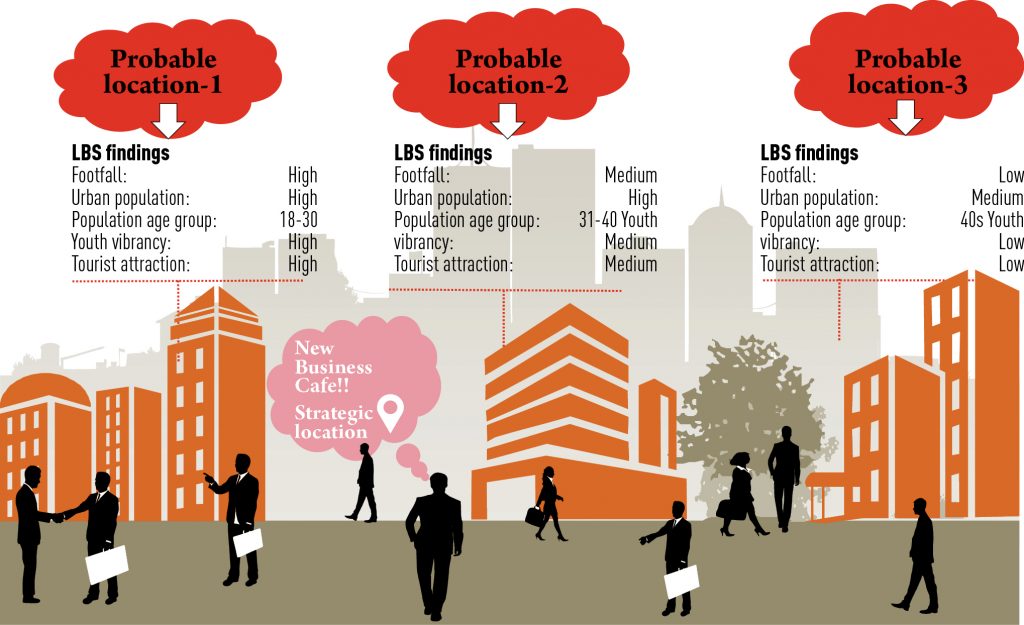 1. Myles 
—

self-driving rental car service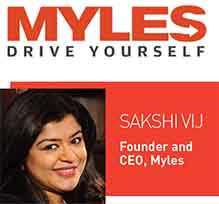 Myles is a pioneer in the Indian self-drive car segment and an offspring of Carzonrent India Pvt Ltd (CIPL), India's personal ground transportation service provider. The term Myles in itself is a combination of 'miles' and 'my' own car. And as the name suggests, Myles eliminates the hassles that come with maintaining a vehicle and provides an option to consumers to own a car only on need basis. With a fleet of more than 1,200 cars, starting from the smallest and the basic of hatchbacks to the most luxurious and premium sedans, and super premium SUVs, Myles offer consumers an option to take their pick.
Myles delivers the most affordable access to a car. From the consumer's perspective, they have to pay for a car only for the duration for which it is used. So, they could hire a car for as little as two hours or as long as three months. Additionally, the company lets consumers choose from more than 39 models of cars across 21 cities in India. To top it up Myles cars are available without any kilometer capping or security deposit. So as a consumer, there is flexibility to drive a Mercedes on a date night, a Fortuner for a road trip and a Maruti Swift for everyday trips. Services such as GPS Systems, Child Seats and Home Delivery ensure that the system is extremely convenient for the consumer.
Additionally, Myles has also brought onboard private car owners, who rent out their idle cars, through the Myles Angels Program. While this increases the options available to the consumer, it also creates an opportunity for car owners to become entrepreneurs.
However, what makes the company stand up amongst the other start-ups is the use of LBS technology in its smooth functioning.
"We use Location based Car Search on our website, mobile site, iOS app and android app. We also use LBS technology to auto detect a customer's city and push/show her/him relevant city specific notifications," says Sakshi Vij, Founder and CEO, Myles.
This has helped the company in achieving operational efficiency by showing a customer cars in a particular distance from her/his location. This helps the company negotiate well with driver sourcing companies; which then can deliver a car from Myles hub location to a stipulated maximum distance.
This way the clients get better user experience by not being worried about specifically submitting their locational preferences. The clients get better user experience by not risking their bookings to cancellation due to a reason like "hub location being very far from the client's selected pickup location".
"LBS will help us in planning each step of a customer's journey well from our end. We can show a customer customized offers and other ancillary services. We can also make the journey more secure and safe by LBS technology," says Vij.
However, she adds," The Android devices are far too many and differ greatly on the hardware quality and specifications. Due to this reason there is no standardization possibility in accurately detecting the Location."
The car rental business in India will only race ahead from here on and with the kind of technology Myles is been developing, the company hopes to spread its wings exponentially.
2. KahaHo 
— l

ocation-based social messenger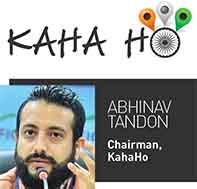 The Indian answer to Snap Map — KahaHo app — is the new location based social messenger that can help you track your near and dear ones at the click of a button. Apart from tracking ability, the app is an excellent tool that takes care of your safety in case of emergencies (ICE). The SOS button automatically sends alert to your ICE contacts and help them track you in real time to ensure you receive help on priority.
While KahaHo answers the "where" part aptly, it has many fun features too, like you can create a time bound group say for a meet-up you are planning, whereby the group members can see the route from their location to the destination i.e. the event location, can also see who has reached, who is how far, etc. Using Nearby feature, one can give a shout out to the friends in the vicinity of your location and plan impromptu or "Just in Time" meetings, discussions, etc.
The app has two versions to address B2C and B2B use cases, hence, KahaHo and KahaHo Enterprise has been devised respectively.
Location being the primary element of the app, KahaHo Enterprise is a field force tracking app that allows an organization to improve businesses and increase operational efficiencies while reducing leakages.
Abhinav Tandon, Chairman, KahaHo says, "It's a hierarchy-based system. Here a user can assign tasks to his team along with the route and location of the task. The user can monitor in real time the movement of the team, task completion status and also has AI-based analytics and dashboards that can give a snapshot view of operations, performance, activities as well as reduce overhead leakages. This is done by linking billing with actual distance traveled and geofencing the check-in checkouts of attendance. All this in an easy to use messenger like app in frontend and a customizable admin module at backend giving complete freedom to the organization to design and monitor the field force tracking program."
He further explains, "The app can also be integrated with existing enterprise applications to deliver more bang for the buck that the organization has spent." KahaHo is quite user-friendly and is SMAC compatible, so the app can leverage Cloud-based efficiencies.
"We use one of the most used API in the world, which takes care of up to date content, ultra-fast Location analytics and high degree of user familiarity as we are focused on android only and hence makes sense to utilize the Google based framework as much as possible," says Tandon.
Location Based Services (LBS) is the core of KahaHo business and through this app, the company wants to showcase "how through LBS a company can be built, solve problems and be profitable as well".
The start-up company plans to continuously release user-friendly updates every quarter, which will increase the usability of the app. Some of the defined features to be rolled out include AI and ML based predictive analytics, integration with billing systems and ERPs for operational improvement in the Enterprise version and Smart Notifications, Augmented Reality based gamification engine, CoolChat, User Rewards, Smart Check-Inns, etc. in Social version.
3. Atithi Pleasure 
— 

a tourism start-up, aims at innovating travel

Atithi Pleasure is a tourism start-up that aims at innovating the travel experience for tourists through its exclusive tours, student companions and personalized tours using a mix of geospatial technologies and artificial intelligence.
Atithi Pleasure is in the process of developing tourist-centric and highly personalized tours. The tours will be automatically generated for each customer based on his/her preferences.
"We will map the customer's digital footprint across different platforms on the Internet to get an idea of what he/she likes, to give them a highly personalized experience. This digital footprint is converted into an on ground footprint and a tour is made. Time optimization of the tour is made through GIS technology. The tour guides, who will be knowledgeable and tech-savvy youngsters, will take them on these tours to give the tourists a fresh and young perspective of the place. Thus, creating a combination of technology and offbeat tours," says Shubham Kumar, Founder, Atithi Pleasure.
GIS is used to find the best optimal tour path and GPS is used to reduce the time of the tour and get the best transport combination to undertake the tour. These technologies will also help the tourists to track real time positions and traffic as well as distance information.
Shubham thinks that LBS has a huge market capacity in India and companies need to tap this vast opportunity.
Taking que from this trend, Atithi Pleasure has already started working on next phase where the company is looking come up with more LBS-based products.
"What we are trying to do is feed the digital footprint of a tourist into a profile account and using GPS, track the tourist's real time location to suggest micro/mini tours or adventures to tourist within the city based on his or her location. Every new location will uncover a new tour/adventure based on your digital profile of what you like and merging it with your current location to give you a complete tailor made, self guided, mini adventure specific to your location. That's something I believe will be a revelation in the tourism industry," says Kumar on a positive note.
4. Get My Parking
— a s

mart parking service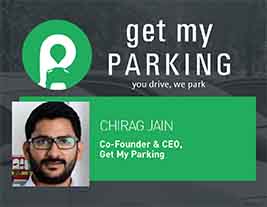 Worried about parking your car? Get My Parking has the answer. The Cloud-based mobile parking technology start-up operates an app that provides real time updates of parking information to commuters, enterprises and public administration firms.
So, you can make online reservations, make online payments, go cashless and directly navaigate to the empty spot. It also helps in reducing overall stress on the city roads, thereby reducing the traffic. What Get My Parking does is that it installs mobile pause at the parking lot. This helps the operators in easier check-inut and check-out process. The information gathered goes to the Cloud. This also helps in keeping a check on the payment. After assimilation of data algorithms is run on them so that the real time information of the parking can be derived, like how many spaces are free in the particular spot.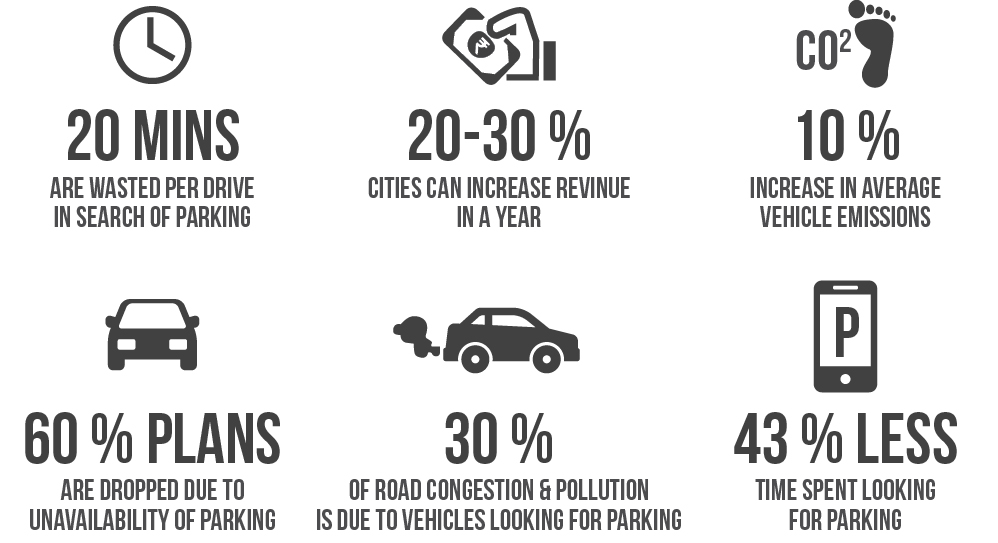 With a spur in the concept of smart cities all over the world, proper parking of vehicles is a key issue. Get My Parking has capitalized this trend effectively. However, what drives this start-up to success is the efficient use of LBS technology.
"LBS acts as one of the basis of our company's existence. Google maps form the under layer of all our functioning. It is one of the core technology used in our app development, data collection and maintenance. Without GPS services, even thinking of fetching any data or tracking any information would not have been possible at all. More so, a single parking booked can also be traced easily with LBS, thus enabling us to get the real time scenario," says Chirag Jain, Co-Founder and CEO, Get My Parking.
The start-up's end-to-end smart parking solution includes mobile based parking management system, real time availability displays, dashboards, and mobile app and web app for online booking. The company uses GPS, WPS and Geo Fencing for successful operations. It has organized parking for some of the major events of the country like Get My Parking was partners of Delhi Daredevils for the Indian Premiere League matches held in Delhi for two consecutive years. It were the official smart parking partner of Kumbh Mela, Ujjain, etc.
However, Jain concludes by saying that even though LBS technology has plenty of scope in India, it has till a long way to go. "It has overall been easier for developers to use LBS while working on the application but one major setback witnessed is switching smoothly between two location based service providers. The apps using these technologies are in good sync with the needs of their respective users but for one user to work simultaneously with two or more apps is tricky."
5. Dipper 
—

location sharing app for inter-city logistics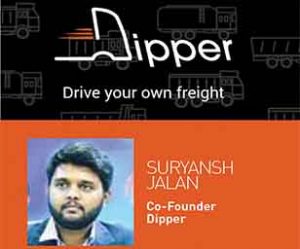 Dipper is an online ecosystem designed for inter-city logistics in India. The start-up provides turnkey solutions for all segments of the value chain, from freight management for consignors/consignees, load aggregation for third-party logistics (3PLs) to fleet management for vehicle owners.
By having integrated with over 15 plus OEM device providers and several ERP solutions, Dipper creates a unified solution for quick, transparent information and freight movement. The company organizes inter-city freight logistics within India and make it more efficient, convenient by leveraging technology.
Interestingly, Dipper has over 10,000 GPS enabled vehicles currently operational on its platform. The company leverages the data generated from all these devices and layers it with consignment information and performances to develop GIS that helps to visualize inefficiencies in freight and fleet performances.
This has widely benefitted the company to spread its wings further. Suryansh Jalan,
Co-Founder, Dipper gives a valuable insight: "We are working on exploring how Internet mapping and remote sensing technologies can further add value. The human mind finds it very tough to analyse raw data, however informative it is. But if we can put it onto a map/chart and code it with colors the magic starts and patterns appear. That is our key focus for future products."
The company's initial focus and proliferation lays along the NH2 route from the Indian states Haryana to West Bengal. Dipper currently operates in several cities in Uttarakhand, Uttar Pradesh, Haryana, Delhi NCR, Jharkhand, West Bengal and Odisha. The company intends to roll out services in Maharashtra, Tamil Nadu and Karnataka shortly.
However, the area where Dipper through its technology has made its major impact is Freight Management Solution. The technology is being accepted and deployed among the largest companies in the Indian manufacturing. Providing KPIs, analysis and MIS that impacts the efficiency and bottom-line of the customers has helped Dipper to make its mark. The Freight Management Solutions have been applied and used by Navratna, MNC companies in India. Applications range in domains such as manufacturing, FMCG, etc.
LBS being the core of Dipper, Jalan started the company in 2015 with Ayush Syal, Co-Founder and CTO, Dipper. "We decided to pursue the idea to start Dipper in June, 2015 and embarked upon a research of the industry in Hyderabad, Bangalore, Mumbai, Kolkata and Delhi. Based on what we learnt, we decided to focus upon long-haul heavy freight industry from large corporates. It is that initial groundwork and knowledge imbibed about the gears that move the industry, that has served us through navigate the unchartered waters through strategizing, implementation and operations," says Jalan.
But the journey was initially tough for Jalan and Syal. "It was initially a struggle to completely understand the large spectrum of logistics in India with a myriad array of options and activities. Processes are counter-intuitive and there is organized chaos with the operating principle apparently being that of Jugaad. Additionally, information was scarce and often competing. Competition was thick. But as we dug deeper to the root-cause the fog began to clear and the basic principles governing the processes took shape," explains Jalan.
Undeterred by the challenges, the future looks bright for Dipper as the start-up aims to create a complete digital ecosystem for freight movement in India.  It is also developing a stack of relevant products and services by leveraging on IoT devices and predominantly LBS guided technology.