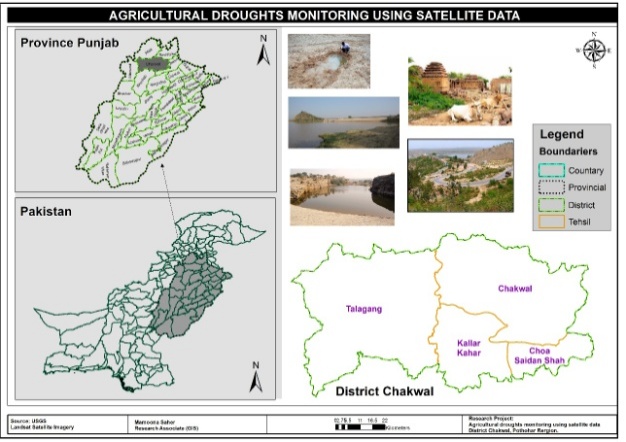 Pakistan think-tanks are using Landsat imagery to avoid drought conditions and increase vegetation cover
Agriculture is the back bone of Pakistan. Even though 45% of the country's total population belongs to this profession, people have to face many natural and manmade problems. Along the foothills of Himalayas, a vast agriculture plain is isolated. The Pothohar Plateau is a plateau in north eastern Pakistan, which is also known as the Panjistan. It is the home of ancient Soanian culture. Their fossils, tools, coins, and remains of ancient archaeological sites have been discovered here.
The area is bounded by river Jhelum on the east, river Indus on the west, Margalla Hills and Kala Chitta Range on the north, and Salt Range by the south.
People living in the rural and urban areas of the plateau vary and belongs to different professions. A military headquarter also lies here. A number of Sufi tombs are also found here.
Drought in Pakistan
Drought has become a phenomenon in the country. The drought of 1998–2002 was the worst in last 50 years. According to the report issued by Economic Survey of Pakistan, this drought was one of the most significant factors responsible for less than anticipated growth performance. According to the government, 40% of the country's water needs went unmet.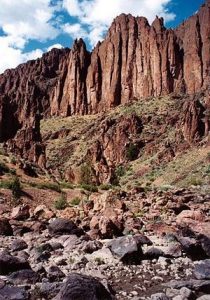 "The drought has wreaked havoc in 58 of the total 106 districts of the country, especially impacting rain fed and rangeland areas, causing damage and loss of human lives in semi-arid regions. The drought eliminated $247 million worth of livestock in the first five months of this year alone. Given that 70% of the entire population of Pakistan is rural based and dependent on agriculture for its livelihood. Negative agricultural growth of 2.5 percent (estimated) has not only impacted agro-based industry, but displaced a large number of rural poor. Huge migratory trends have been witnessed. If this trend continues, then the losses of agriculture sector will also trickle down to the banking and financial sectors."
Massive decline in floodwater in Sindh has led to fast sea intrusion in the delta, raising salinity levels in underground water and spurring cattle migration to irrigated areas as well.
District Chakwal
Chakwal District is between Attock, Rawalpindi, Khushab, Jhelum and Mianwali Districts. It covers the total area of 6,687square kilometers. The south portion of the area exists in salt range. It's a barani area and its terrain is mainly hilly covered, with forests in south west, and dry rocky patches in north and northeast. It has been classified into mountains, hills, rocks, plains, weather-rocked plains, piedmont plains and river plains.
It has been divided into five main subdivisions i.e. Chakwal, Choa Saidan Shah, Talagang, Kallar Kahar, Lawa and 68 Union Councils. The district's total urban population is 12.81% while the rest of the population lives in the rural. Literacy rate of Chakwal is 74% which is equal to Lahore and at 6th among all Pakistan cities. Oranges, sugarcane, wheat, barley and many other fruits and vegetables are the production of this area. Quality of the productions is very high that these are among export quality products. There are about 246 number of coal mines. There are also reserves of lime stones and marble.
Farming System
The fertility of soil in this area is the result of wind and water laid deposits and sedimentary rocks.
Soils developed by wind deposited materials have dark brown to dark yellowish brown color. It has medium to fine textures and are very deep. Most of them are well developed profiles containing lime
Concretions at varying depth, some are due to erosion by water from the upland areas and from local runoff. About 60 percent of the land area is highly eroded leaving the rest as a flat land which constitutes the main cultivated area.
Water Resources Development and Management
Hydrological Structure
Mostly mini dam are used for irrigation. There are two kinds of ownerships on mini dams i.e. the government owned and the individual owned. The government owned dams are not being managed well, while the individual is working properly. The mini dams are economical and they give benefits to individual and a group of farmers. These schemes subsidized ranging from 40-80%. Share of farmer ranges from 20-60% of the total cost. In small dams huge investment is required.
Sources of water
Chakwal is flood free area due to geographical location. No river exists in this area. No major flood damage the area. Anyhow, low lying floods have affected and caused damage to houses, cattle, crops, Nullah, roads and other infrastructure due to rain.
Mountains, spurs and hill with potential of rainwater comes to the plains through various streams and originates from Murree, Kahuta and Kotli Sattian hills surround Rawalpindi district.
There are different sources of water. These are large dams, intermediate dams, small dams, mini dams, check dams, ponds.
Soil Conservation
Agriculture Department is engaged to control the problem of soil conservation. To bring more cultivated area, Gully control technique has been used. The irrigation system has been improved, due to various development water resources.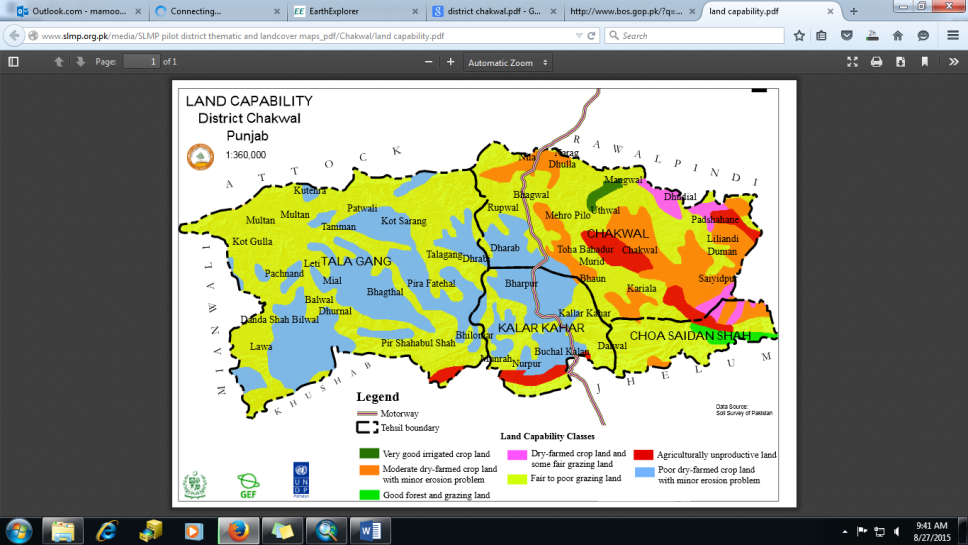 Methodology
Government should develop a management system and an organization which will work only for drought management in drought affected areas. Its purpose should be that to provide drought details and statutory warnings and develop a management plan so that such hazardous situation can be avoided.
For Drought Declaration process, precipitation measurements should be done and reservoir storage must be examined. Here the committee will examine the whole storage capacity and existing water level if it is alarming situation for future than the request should forward to government and demand to declare as drought area.
Analysis
The Landsat image has been used to show the different variability of landuse of District Chakwal. The given data is the temporal data of with the difference of twenty years. Year 1991 and 2011 has been used to show the landuse changes. In the given map, it has been distributed into six different classes i.e. buildup, water, vegetation, soil structure, river land, and rock land. It has been clearly seen that the most of the area has been covered with rock land i.e. 71% in 1991, remaining 3% with vegetation, 14% for soil structure, and the remaining 12% for river land and another 0.0226 % for water. In 2011, the land structure was changed and some developments were made i.e. rock land 84%, vegetation 11%, soil structure 3%, river land 1% and water is 1%. In 1991, it was not analyzed, but in 2011 it can be viewed through map which is 20.70 sq km.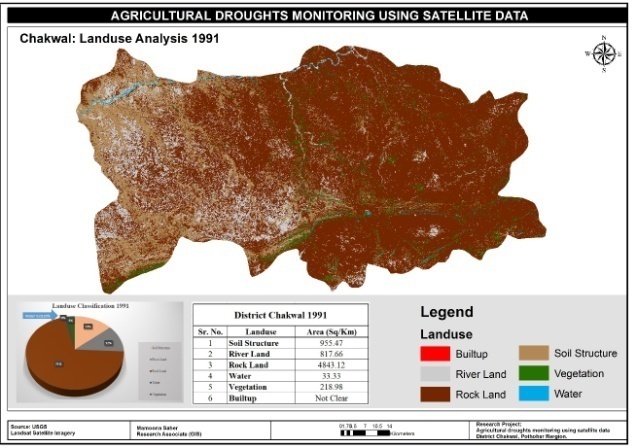 Land use analysis is determining the water channels which are dry, and where vegetation is low.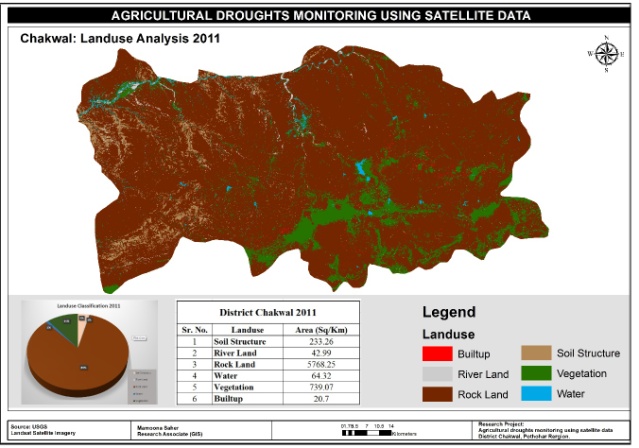 Land use analysis shows the increase in vegetation water sources and the increased structure of rock land. Built-up area can also be seen through this map.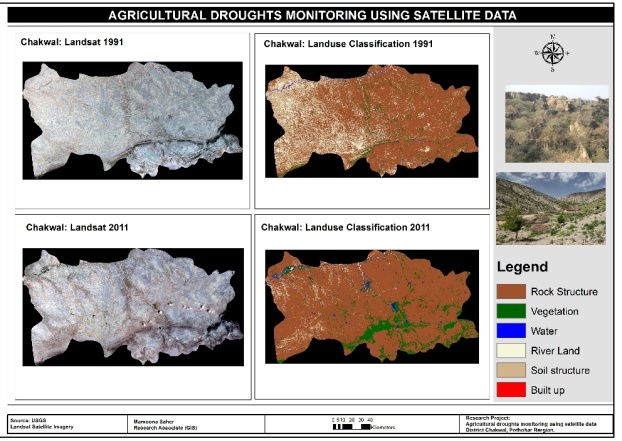 In this analysis, NDVI Technique has been used to identify the vegetative area. Classification of landuse has been used to show the variation in topography. The comparison of 1991 and 2011 shows the increase structure of vegetation, water sources and rock land. In vegetative changes and water sources increased values some changes has been developed due to the effort of human. Artificial water sources have been developed to increase the water capacity to fulfill the water needs for vegetation purpose, domestic purpose and other use.
By using analysis, approximate area has been calculated which is more accurate with the given area of vegetative land provided by agriculture department of Punjab.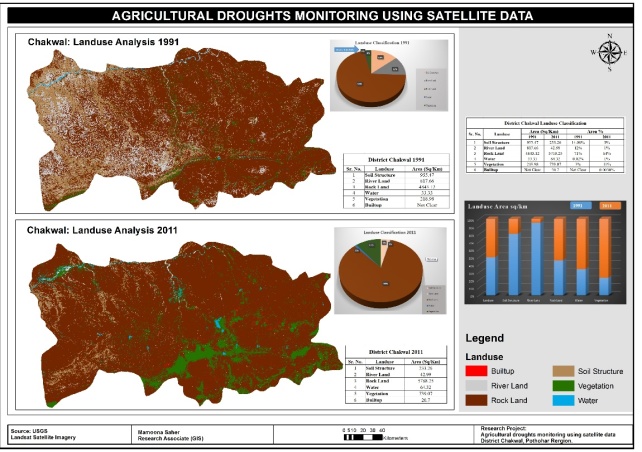 Findings reveal
It is said that soil changes its structure after 50 years which has been seen with the difference of 20 years. Chakwal exist in Pothohar Platue, which has great variation in its land use structure. It has steep slope, flat, plain, rocky structure.
Water conservation technique has been used to store the water. Mini dams are most suitable for such areas. These are economical too. An individual and a group of farmer can use and develop it. By conserving water the vegetation has been increased 3.67 times more.
By conserving water has been increased from 0.0226 to 3%.
Most of the changes are due to the developed structure of water storage system. Due to increment in water storage vegetation has been increased. Soil conservation technique has developed the soil compatibility. It has also increased for the water storage like gully technique is using to store the water. Applying cuts in soil of gullies to give the water route path.
Chakwal is not a drought affected area; it is drought expected area so think-tanks are working to avoid such hazardous situation. Similarly they are working to utilize land according to its land suitability like wheat, peanuts, oil Seeds, grams, chickpea, groundnut, millets, sorghum, fodders, lentils-(masoor, mong, mash), maize, millets, jawar vegetables, locates and citrus fruits cultivate here which are suitable for drought suitable.
The Participation of Agriculture Monitoring Sector will provide the more batter result. The Positive roll of Monitoring and Evaluation Team will provide correct results. Analysis Team will help to increase the capacity of water sources, agriculture, etc. It will also useful for the suggestion of perfect site or location for the project.
The way forward
It is highly recommended that most suitable vegetation should be cultivated according to drought situations. Suitable locations should be suggested by government, private organizations, etc. People should encourage suggesting these sites. Catchment area should be decided with the participation of engineers, public, stakeholders and government according to needs, capability, rainfall, water channels link and suitability. The development of mini dams must also be encouraged.
Mamoona Saher
Faisal Aleem
Muhammad Shafique
Muhammad Irfan Ullah
Muhammad Yaseen
Dr. Khalida Khan