Geospatial Media and Communications successfully staged the Geospatial World Forum 2016 in Rotterdam, the Netherlands, from May 23-26. Attracting delegates from around the world, the conference tackled the one important question every business organization is asking today: where is the money?
Discussing disruptive business models, the platform took on the business perspective of geospatial industry today and its direction for the coming years. Future technology trends and the next big opportunities were part of the servings.
The conference also proved to be an excellent platform to discuss the role of policymakers, decision-makers, technical users, multilateral agencies and academia in commercialization of the technology. In attendance were top industry leaders, including BVR Mohan Reddy, Executive Chairman, Cyient; Mark Freeburn, CEO, AAM; Nigel Clifford, CEO, Ordnance Survey, UK; Ron Bisio, Vice President, Trimble; Chris Gibson, Vice President, Trimble; Bhupinder Singh, Senior Vice President, Bentley Systems; and Taner Kodanaz, Director, Industry Leadership Champion, DigitalGlobe.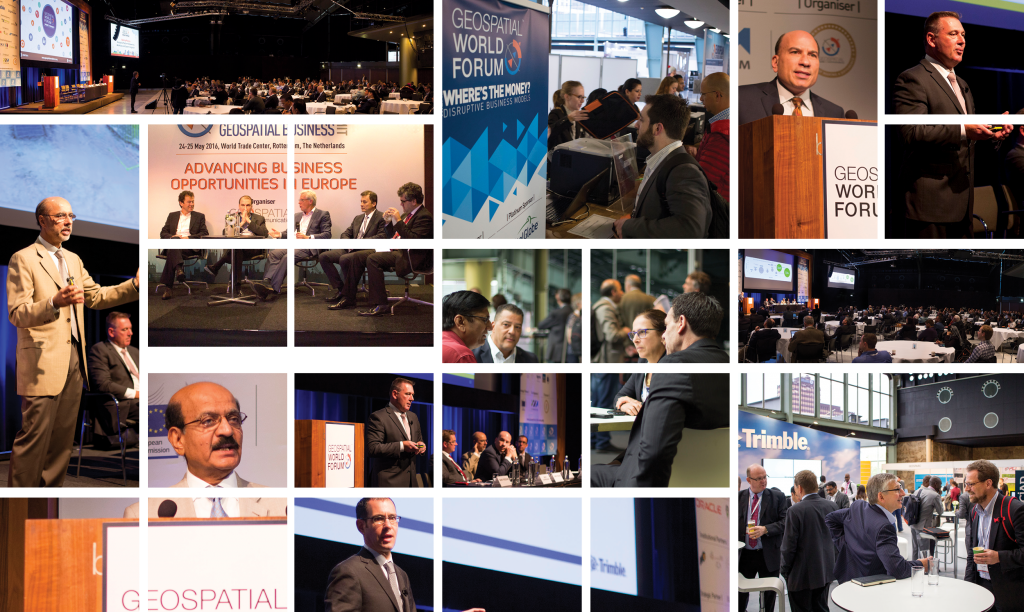 The plenary discussions were based on varied topics, including Geospatial Platform Empowering Workflows and System Integration, Disruptive Business Models of Geospatial Content and Business Opportunities of Location Intelligence. The thematic sessions and workshops featured high-level discussions with regards to policy, technology and user practices covering the entire geospatial spectrum.
On this occasion, the Geospatial World Leadership Awards and Excellence Awards were also conferred for exemplary innovations and practices in the global geospatial industry.
Additionally, the exhibition area provided a platform where the largest geospatial companies, most active regional industry and many large-scale user organizations from across the globe came together to showcase their products and services.
Geospatial World Leadership Awards honor the best in industry
The Geospatial World Leadership Awards 2015 were presented during Geospatial World Forum on May 25, 2016 at World Trade Centre, Rotterdam in the Netherlands. The ceremony saw the best minds and organizations of the industry being felicitated amidst appreciation from the peer community. The eminent jury comprised of Barbara Ryan, Secretariat Director, Group On Earth Observations (Geo), Switzerland; Ed Parsons, Geospatial Technologist, Google, United Kingdom; Prof. Josef Strobl, Head Of Department, GIS, University Of Salzburg, Austria; and Rob van de Velde, Director, Geonovum, The Netherlands.