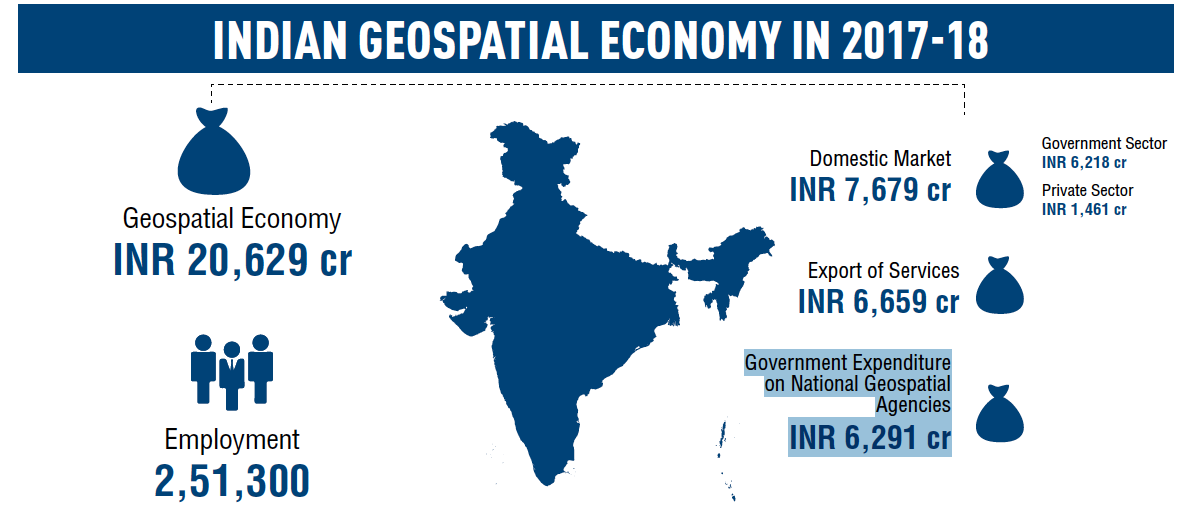 The Indian geospatial economy value is INR 20,629 crore (100 crore is 1 billion; $3.07 billion) and it employs over 250,000 people across the country. Of this, the domestic market is estimated at INR 7,670 crore ($1.14 billion) in FY 2017-18 growing from INR 5,338 crore ($0.79 billion) in 2014-15 at a compound annual growth rate (CAGR) of 12.9%. It may be noted that this growth rate is greater than the global average of 11.5% CAGR during the same period.
Further, the report pegs the growth rate for the domestic market at 13.8% between FY 2017-18 and FY 2020-21.These insights are part the Indian Geospatial Economy Report, released by Geospatial Media in New Delhi.
The report found that the Indian geospatial industry is strong in the services domain. A number of Indian companies cater to overseas markets, servicing geospatial data capturing, data processing and integration, applications and solutions development across multiple sectors. A number of global geospatial leaders have established their R&D centers in India. While India currently exports nearly INR 6,659 ($0.99 billion) worth of geospatial services, there is broad consensus that it is capable of delivering more on the exports front, adding further value to its international clientele and simultaneously generating employment opportunities as well as spillover effects for the Indian economy, says the study. The government expenditure on national geospatial agencies is estimated at INR 6,291 crore ($0.94 billion).
Despite its great potential, the study found that the sector feels constrained due to lack of integrated strategy with a myriad of restrictive, often outdated policies – as many as 15 geospatial-related policies under five ministries/ departments – holding it down.
READ: Why India needs a National Geospatial Strategy
The Indian geospatial economy comprises of a market size through commercial procurement of equipment, software, data, services; exports of geospatial equipment, software, data and services; and public expenditure on creation and maintenance of geospatial data, infrastructure and institutions.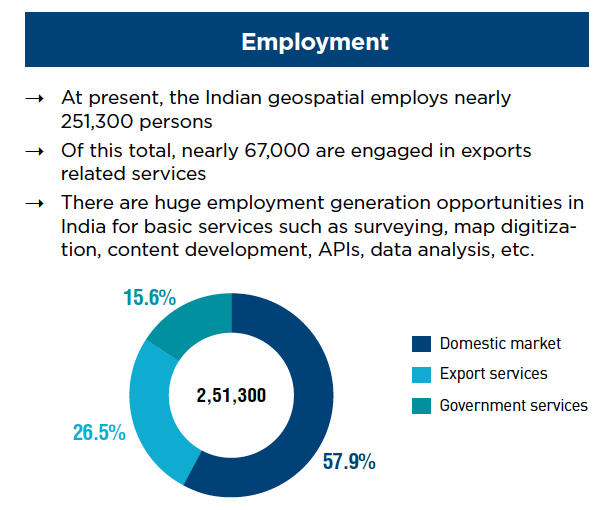 Of the 2.5 lakh odd people employed in the geospatial sector, nearly 67,000 are engaged in exports-related services. The report also reveals that there are huge employment generation opportunities in India for basic services such as surveying, map digitization, content development, APIs, data analysis, etc.
As was expected, the report found that the major growth drivers for the geospatial industry have been the push by federal and state governments for robust physical infrastructure, effective governance delivery including e-governance and digital economy initiatives, integrated programs on urban and rural development initiatives such as Smart Cities, RURBAN clusters etc.
Naturally in terms of end-user sectors, the study found that the geospatial market is dominated by infrastructure, urban development and utilities. Together, these three sectors had an estimated market share of 22.1%, 13.9% and 15.7%, respectively, representing nearly half of the total geospatial market of India. Mining, Education and Research, Water Resources and Irrigation sectors are the next three major user segments contributing nearly 5.5%, 5.3% and 4.9%, respectively, during the period.
The study found that the GNSS and Positioning segment dominates the market with a market share of nearly 72.8%, with GIS and Spatial Analytics coming a distant second with 23.1%. Earth Observation and 3D scanning and surveying segments were neck and neck for 2.1% and 2%, respectively.
To purchase the Indian Geospatial Economy-18 report, please contact – Ms. Megha Datta at [email protected]
ALSO READ
SoI to soon come up with G2G platform for data sharing: Lt. Gen. Girish Kumar, Surveyor General of India
Seamless availability of geospatial data in India requires developing capability, believes Dr Bhoop Singh, Head – NRDMS
Need: Detailed discussion on geospatial policy, says Vinit Goenka, Member Taskforce, Ministry of Shipping and Transport