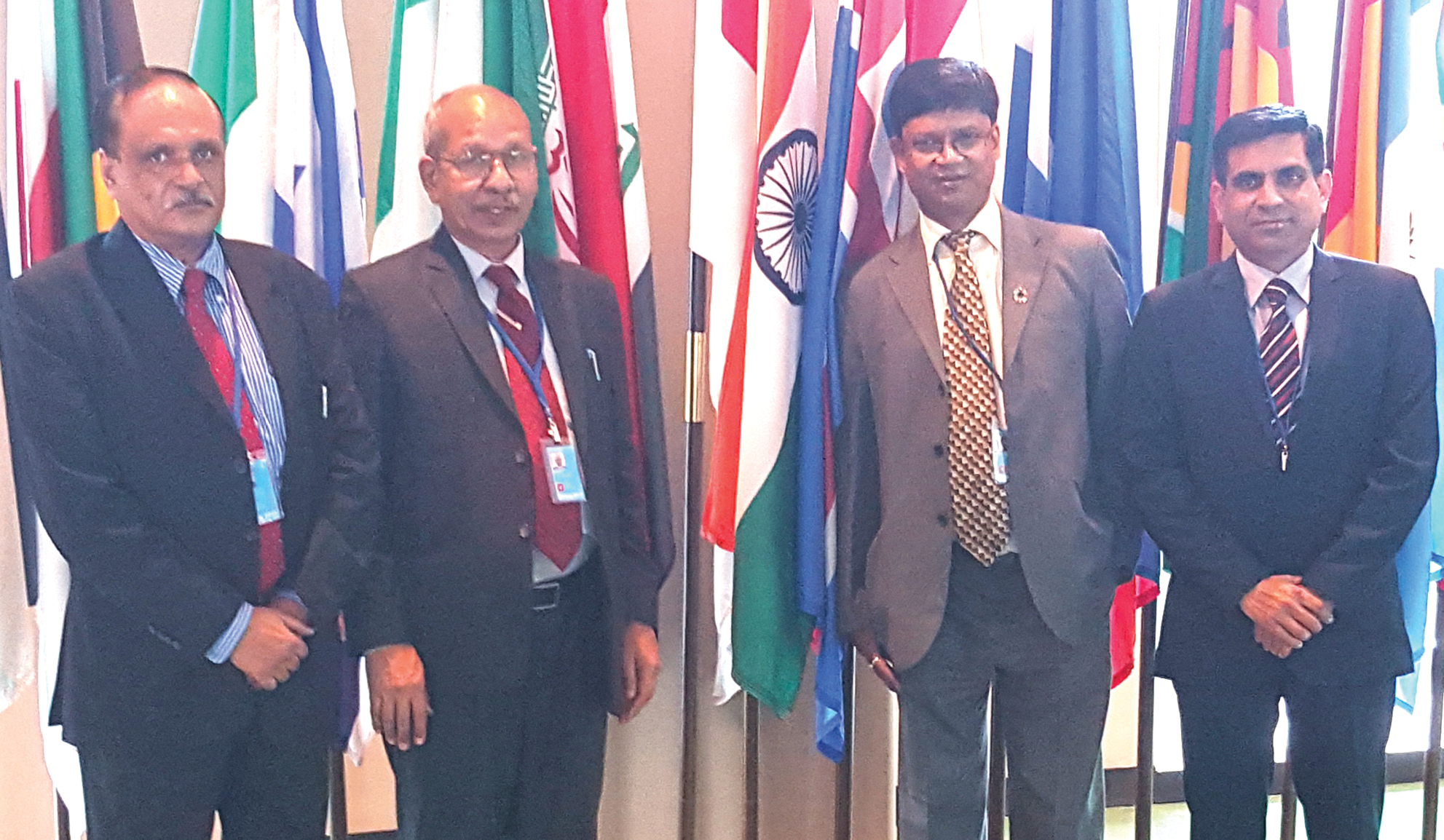 An Indian delegation team comprising of representatives from Survey of India (SoI), Department of Science and Technology (DST) and National Security Council Secretariat (NSCS) attended the Seventh Session of UN-GGIM. This was a significant step as India's participation came after a long gap and was widely appreciated for its efforts. In order to achieve excellence in geospatial information management in the Indian context, the delegation made the following interventions:
Contribution of regional committee and thematic groups to global information management
India suggested that it would like to participate actively in Working Group and sub committees like Global Geodetic Reference Frame (GGRF), Integration of Geospatial and Statistical Information, Geo Information for SDGs, Disaster Management, and Marine Geospatial Information. It would also extend its collaboration to United Nations Group of Experts on Geographical Names (UNGEGN) and in capacity building activities.
Trends in national institutional arrangements in global geospatial information management
India is also in the process of upgrading its institutional framework in alignment with UN-GGIM SDGs framework. In this connection, India is of the opinion that Working Group of SDGs should be established for the Asia Pacific Region, to facilitate more focused attention towards diversity knowing the fact that a major part of global population resides in this region and has a big scope to be fully enabled with benefits of geospatial technology. Another objective of this step is to bring the common man under the geospatial ambit, thus bringing in facilities in galore and this would also increase job opportunities.
Legal and policy frameworks, including issues related to authoritative data
India is presently upgrading its policy frameworks, so as to bring convergence, interoperability, ease of business, standardization and technological relevance to meet present and future needs. It is also focussing towards creating high quality authoritative data and making it more accessible and affordable. It is planning to create geospatial eco-systems, with a citizen centric approach, so as to make both technology and geographic data, easily accessible and affordable, to enable easier absorption and adoption of geospatial processes.
It is also supporting the setting up of a Working Group on Legal and Policy Frameworks and intends to actively collaborate with other countries. India would focus on issues that would include description on what constitutes open data, mechanisms that prevent unauthorized data acquisition and distribution as well as misuse of data for unethical purposes.
Integration of geospatial, statistical and other related information
One of the major challenges faced by various governments is integration of huge volumes of non-spatial statistical data with geospatial data and other relevant information. In this regard, India has requested sharing of technical tools and process that could ease the conversion efforts. India is already engaged in R&D work with the UN statistics department, which emphasised strengthening this engagement more with active participation in Working Group and Expert Group.
Geospatial information and services for disaster
India has taken affirmative initiatives in terms of rolling out an updated National Disaster Management Plan which is in tune with Sendai Framework. It has also created a web based geospatial national repository of data called the National Database for Emergency Management, which aids in providing Geospatial Information for Disaster Risk Reduction, Faster Mitigation measures as well as improvised early warning mechanisms. In this regard, the delegation suggested creation of a document to elucidate all dimensions of Disaster Management which includes Geospatial Infrastructure requirement, best practices, lessons learnt, etc. This document can serve as a reference guide for other countries.
Another important point that the delegates suggested was initiation of discussion on creation of a Working Group on aviation to address the present gap. Aviation is significantly important as it is the fastest mode to reach anywhere in the world. This uniqueness is most relevant in terms of both logistics and disaster management. India has taken an important step towards the integration of Maritime Geographic data through the creation of a Working Group.
Over the years India has emerged as a technological giant, especially in the Asia Pacific region. Actions taken on the above given interventions will place the country at a much stronger position in the geospatial world and especially amongst some of its neighbors.