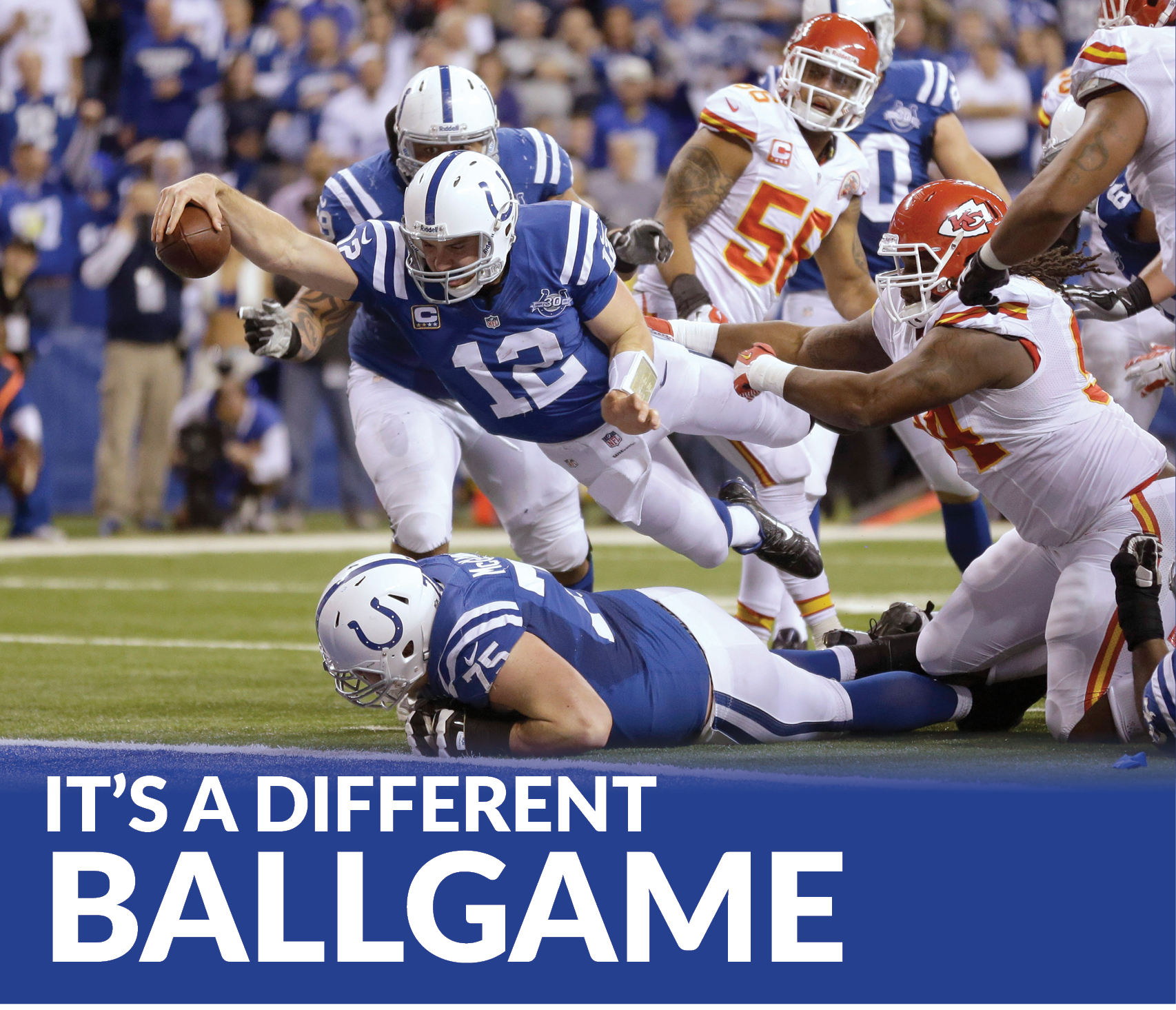 Revolutions bring disruptions; disruptions bring opportunities. The Fourth Industrial Revolution is leading to a new set of applications, business practices and revenue models. As the world undergoes these dynamic changes, it is important for the geospatial industry to keep up with the new developments.
"This Fourth Industrial Revolution is characterized by a range of new technologies that are fusing the physical, digital and biological worlds. The impact is profound as this revolution is evolving with greater velocity, affecting various industries, economies, and countries across the world and calling for a total overhaul of the existing systems and processes." — Professor Klaus Schwab, Founder and Executive Chairman, World Economic Forum
We are witnessing an unprecedented wave in digitalization, robotics, artificial intelligence, IoT, and cognitive computing to name the most relevant. These are causing major disruptions in every field.
The term 4IR is the revolution of the current era, which is happening with the fusion of physical, digital and biological paradigms, impacting numerous disciplines and industries, and economies. The ability of machines, devices, sensors, and people to connect and communicate with each other is creating a level of interoperability, information transparency, technical assistance, and decentralized decision making that is driving this revolution.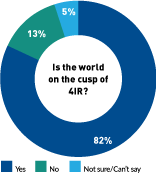 A vast majority (82%) of geospatial industry leaders believe the world is on the cusp of Fourth Industrial Revolution. The world is currently deluged with data, and Economist is on the money when it says data has replaced oil as the single most valuable thing in today's world. There are many sources that predict exponential data growth toward 2020 and beyond, and all are in broad agreement that the size of the digital universe will double every two years. This means roughly 50-fold increase from 2010 to 2020.
Regardless of whether the famous quote "80% of all data in the world has a spatial relation" — attributed to various sources — is accurate or not, it is true that over the last few years, the world has seen an exponential increase in the amount of geospatial information available, thanks to smartphones, new and cheap sensors, and automated machines. The question is how are we going to handle this data and what we are going to derive out of this. This is where geospatial comes in.
Location is fundamental to 4IR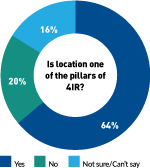 Everything happens somewhere. Over the past many years, the ability to understand the "where" aspect of our everyday lives has become increasingly powerful.
While leaders are split on whether location is one of the pillars of the 4IR — 64% think it is and 20% (graph on right) would like it to be called an enabler or a  critical contributor but surely not a pillar — they all unanimously agree that as geospatial gets integrated with 4IR at a global level, the impact on outside businesses and governments will be profound. With the industry infusing itself into new workflows, new business models and new possibilities, ultimately the cost of location data is expected to come down as it meets the 'Sharing Economy,' while the accuracy and accessibility of the data will increase with new technologies. "In a few years, we will be looking at governments and industries wondering how they succeeded without fully leveraging this type of information," says Ola Rollen, CEO, Hexagon.
"We all recognize that at least 80% of these data feeds have a locational reference. It's obvious that all of these new IoT and Big Data information feeds require a location context — a geospatial framework is needed to organize a framework for information management and access to these feeds in an integrated, orchestrated way," says Jack Dangermond, Founder and President, Esri.
Realising the importance of location in boosting businesses and tracking consumer demands, more and more companies are now integrating location into their business analytics and many are grounded in location data. Businesses like Uber, for example, wouldn't exist without it. "Consumers use location everyday — from checking the weather, to mapping out their route via GPS or ordering their dinner online. It's become
second nature to consumers, and it is quickly becoming second nature to businesses," points out Greg Van den Heuvel, COO, Pitney Bowes.
Geospatial getting remodelled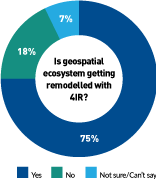 Majority of industry leaders (75%) think that the pace of the Fourth Industrial Revolution will transform and re-model everything, including the geospatial industry, and most of them the process has already begun.
"We will have to be alert to new partnerships and data flows at a scale and speed unseen in the past," says Nigel Clifford, CEO, Ordnance Survey, who feels location is a critical golden thread in this revolution that binds many different datasets concerning a single location and creates more value.
The geospatial ecosystem is being changed by the very same foundational technologies as 4IR. Base maps are helpful with existing autonomous vehicles, while robots in the future will increasingly have the ability to navigate in unknown environments. In the meantime, an intermediate, more expeditious step between these two will be to provide
vehicles with previous knowledge of their environment so that they can focus on managing only the dynamic changes. This means that both indoor and outdoor geospatial data will be required. In turn, robots will be able to keep updating geospatial databases, thus creating a virtuous cycle. As a result, 4IR will expand both the breadth and the update rate of geospatial data and re-model the entire ecosystem.
"We are already seeing this in various autonomous vehicle initiatives where Simultaneous Localization And Mapping (SLAM) technologies are being deployed," explains Nicolas Mangon, VP, AEC, Business Strategy and Marketing, Autodesk.
Users are no longer constrained by traditional computing limits as in the past. Geospatial ecosystems will be organized around Cloud computing and virtualization with GIS and data being accessible anywhere (connected or wireless) via URLs with orchestrated analytics running across networks.
While the geospatial ecosystem is going through a transformation, what is driving this revolution further is the integration of geospatial technologies with IT, analytics and major business processes. The geospatial ecosystem will evolve to both support 4IR, and 4IR will, in turn, put new pressures and requirements on geospatial industry particularly to support real-time data capture, fine-grain geolocation, rapid data analysis, and data synthesis across multiple sources.
As the demand for more consumer-centric services aimed at improvement of citizen and customer satisfaction levels increases, governments and businesses are being forced to ensure real-time access to data, and therein lies the opportunity for geospatial and 4IR to be optimized to meet this requirement. Typically in areas such as transportation, utility services, on demand retail shopping, these technologies are impacting the way we traditionally have done things.
Instead of restricting geospatial insights to a set of trained power-users, the integration of geospatial and 4IR will accelerate the innovations that will improve the quality of living conditions and infrastructure in developing nations around the world.
Technologies driving 4IR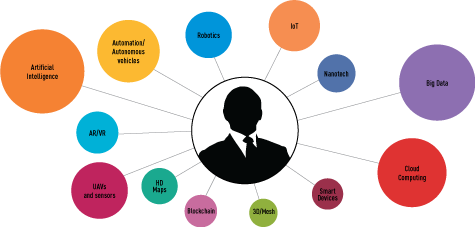 From a technology standpoint, Cloud, Big Data, Internet of Things, Artificial Intelligence and analytics are recognized as part of this transformation. The technology shift is also happening in the economy in form of digital currencies and Blockchain technologies.
Most of the respondents voted for AI, Big Data and Cloud as the top technologies that are driving the 4IR, closely followed by UAVs and autonomous vehicles (above graph).
While Cloud has become pervasive, there is hype for the adoption of Big Data and IoT. AI and analytics, on the other hand, are stuck in infancy stage and are in dire need for human intervention for derivation of insights. The societal shift with these technologies poses a new challenge in privacy of a data-driven world. The main focal point of the Fourth Industrial Revolution is the various technologies that is driving the revolution.
Future trends
Immediate, real-time data is the future. Artificial intelligence will continue to develop, especially as more sensors are added to replicate what humans are capable of doing today. We will also see smart cars and homes created using the above technologies improving and become more commonplace, allowing companies to gather even more data to specially target new products to those consumers. As self-driving cars and smart city initiatives become more of a reality, it will be imperative to understand how all the location information can be used to make smarter decisions.
With 4IR being underway, changes will continue to accelerate in the industrial world and it's important that companies, both geospatial and non-geospatial, learn to adapt rapidly. Also, businesses and governments need to adapt more quickly than ever before. They need to be as agile and flexible as possible as they are being asked to do more with less.
Geospatial organizations must take seriously their responsibility to turn these advancements into strategic advantages. There exists real opportunities to make an impact especially in developing countries. There is however, a great a need for organizations to collaborate to innovate and leapfrog technological advances in some regions. Outreach and sharing of experiences must be an important part of the overall development of the industry.