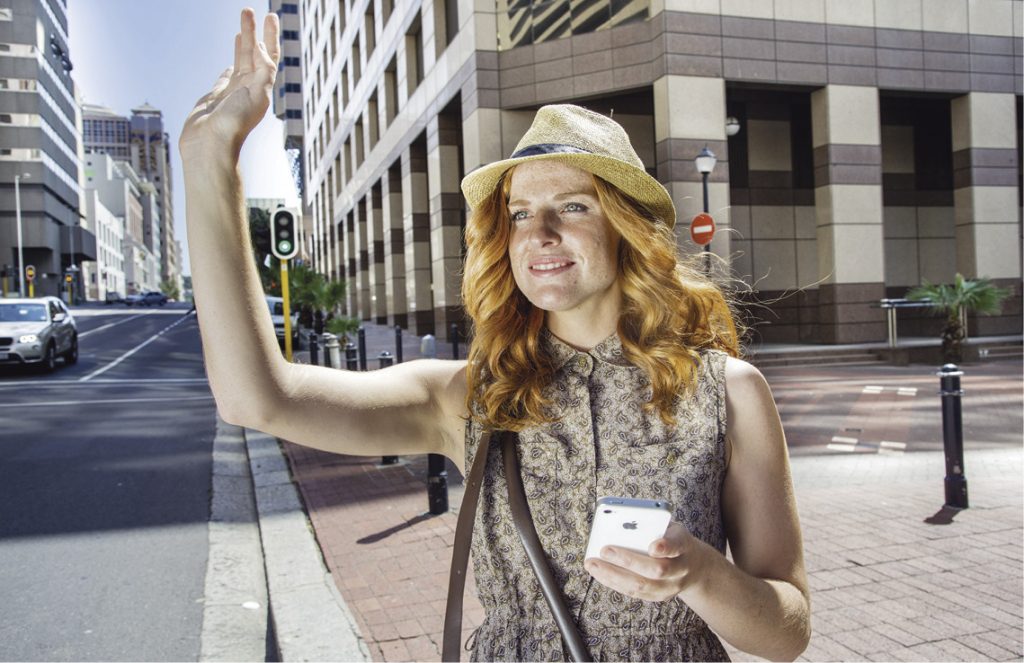 GNSS in Asia is booming. But which sectors are showing the most potential in the next five years? And which ones are most open to European involvement?
Home to more than 60% of the global population, Asia has long been the fastest growing economic region in the world. By increasingly transforming itself into a knowledge-based economy, Asian players are now on the verge of fielding indigenous GNSS constellations, seeking entry into every part of the GNSS value chain. Undoubtedly, Asia will continue to consolidate itself as a GNSS hotspot in the future. Why?
Firstly, it hosts a vibrantly growing and innovative GNSS-industry with access to an enormous talent pool. As Beijing and Mumbai are flourishing as startup hubs, young Asian entrepreneurs have emancipated themselves from simply cloning western technology and applications. New enterprises, like Northstar in India, are providing out-of-the-box solutions that are not only applicable to the Asian ecosystem. The Indian geo-technology based child safety platform tracks school buses on their way to school, ensuring children arrive safely at their destination.
Secondly, Asia sports huge markets, driving economies of scale in application developments. In China alone, application developers are wooing 890 million mobile Internet users, while the e-commerce market is expected to top $718 billion, according to a recent report published by AT Kearney.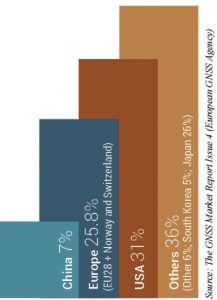 And finally, Asia will remain the global manufacturing hub for the bulk of GNSS-related electronic devices. With an approximate 38% of global market share of the GNSS downstream sector, China, Japan and South Korea are taking the lead in Asia as manufacturers of GNSS chipsets and integrated solutions, especially in the areas of intelligent transport systems (ITS) and location-based services (LBS).
Europe eyes the East
So it is clear that GNSS in Asia is booming. But which sectors are showing the most potential in the next five years? And which ones are most open to European involvement?
China: LBS
With an explosive annual growth rate forecasted at 46% up to 2020, this is a huge and relatively accessible market for European players. The gaming and marketing segments are the most promising for cooperation with Chinese partners, but companies like TomTom are also seeing successes in a joint venture with AutoNavi on mapping applications. A rapidly aging Chinese population is also triggering a surge of healthcare apps relying on GNSS data for personal health management.
Korea: Vehicle telematics
Considering Korea and the EU are both amongst the largest car manufacturers in the world, there is an immense potential for collaboration in the automotive telematics industry. The Korean commercial vehicle telematics market experienced a growth rate of 5% in the last five years as Hyundai and KIA are increasingly looking to GNSS as an integral part of future ITS. And not to forget: the EU-South Korea Free Trade Agreement signed in 2010, which eliminates duties for most industrial goods, further enhances the uniquely favorable business environment for European entities. Korea is also expected to adopt a GNSS-based e-Call scheme soon.
India: Smart cities
Launched in 2015 by the Indian government, the Smart Cities Mission for urban development aims to transform 100 Indian cities into sustainable, safe and citizen-friendly environments. With a budget of $15 billion, it is evident that GNSS applications will play a pivotal role into realising this vision. Solutions are needed for improving energy efficiency, waste management and urban mobility. With the authorization of direct foreign investment in railways in 2013, the upcoming modernization and automatization of India's under-developed railway system presents an opportunity for participation.
Japan: LBS
The GPS-based augmentation system QZSS, set to be operational in 2018, will drive domestic demand in centimetre class applications for receiver makers, system integrators and application developers. Almost 80% of the economic effects created by the introduction of QZSS are forecasted to take place in the market segments car navigation, mobile terminals, and value-added mobility applications. The upcoming Tokyo Olympics in 2020 will give an additional boost for precise positioning and timing solutions.
SE Asia: Disaster monitoring & surveying
In a region that is frequently hit by natural disasters, the governments of Indonesia and the Philippines have made the development of early warning systems for tsunamis, earthquakes and volcanic eruptions a priority. With its nascent GNSS industry, South-East Asia is an especially promising field for foreign providers of GNSS applications. In the surveying market, the density of the tropical rain forest canopies favors satellite-based surveying techniques.

Despite the growing GNSS downstream industry, western SMEs are still struggling to gain a foothold within Asian markets. While larger European industry players with their financial resources and elaborate networks have long been able to tap into the plethora of opportunities, European SMEs are lacking the knowledge of local regulations and the market peculiarities, needed to achieve long-term success.
Hands-on support services
In recent years the European GNSS Agency (GSA) has sought to address this shortcoming with the kick-off of a series of initiatives aimed at lowering the entry barriers for European businesses. Most notable of these initiatives is GNSS.asia, which was launched in 2012. GNSS.asia, financed under the EU Horizon 2020 Framework Program for Research and Innovation, provides a comprehensive range of free, hands-on support services to GNSS industry enterprises in Europe and the Asia-Pacific region. Initially covering India, China, Taiwan, Korea and Japan, GNSS.asia has expanded support to businesses seeking to connect with counterparts in South-East Asia and Australia as well.
Building on a team of GNSS experts spread across Asia, the initiative accompanies participating businesses from a first expression of interest to the successful formation of a partnership. This process begins by first taking into consideration current assessments of the local markets, which are provided by the regional teams. Overviews of the various Asian GNSS markets and sectors are freely available on the GNSS.asia website. Based on the assessment of individual needs and desires, contact points are identified in the target economy.
A stepping stone
Offering personalized support is a core service of GNSS.asia. Promoting the European-Asian GNSS community as a whole however is equally important. Frequent seminars on industry trends and local developments in GNSS applications give involved businesses a chance to gain visibility by presenting their own products, while simultaneously scouting for possible partners. Events like the GNSS.asia Industry Collaboration Seminar at the European Space Solutions earlier this year regularly draw participants from leading European and Asian institutions and businesses. So far, more than 100 businesses have registered as part of the community.
Over the past four years GNSS.asia has managed to assist dozens of European SMEs from the entire GNSS value chain in finding suppliers, clients, distributers and research partners. For many, this has only been a stepping stone.
Crucial interface
"For a specialized micro-SME such as ours, such initiatives are a unique opportunity for internationalization" says Petr Bares, CEO of IGUASSU Software Systems, specialized in the design and development of GNSS test-beds and simulators. His business, involved in GNSS.asia since its onset, has successfully managed to find distributors within a key Asian market, often deemed as especially tough for western businesses.
Other companies like TeleOrbit, a German provider of European GNSS high technology products and customized mobile positioning solutions, have also capitalized on the scheme by securing a partnership with a major Indian Steel company.
TeleOrbits' MODIS-Drish, a customized personal security system made for lone workers in difficult environmental scenarios was first deployed with Indian miners in 2015. Further deployments are to follow. For innovative European SMEs like IGUASSU and TeleOrbit, initiatives such as GNSS.asia often constitute the crucial interface to the Asian economy.
Undoubtedly, the evolving Asian GNSS landscape represents a land of opportunity even for smaller foreign players. Despite all its challenges, overcoming the entry barriers is not an insurmountable task. While institutional initiatives cannot alleviate the need for a significant investment in resources and time on the part of the aspiring business, they can improve the odds of success by providing an insider's perspective and a bridgehead for the establishment of first contacts.
Mark Luetzner
GNSS.asia Project Manager,
SpaceTec Partners