Accurate mapping of geographic and geologic features of farmlands is enabling scientists and farmers to create more effective and efficient farming techniques, leading to the production of higher quality crops and food.
Tom Yum Goong (spicy shrimp soup), spicy green papaya salad and Pad Thai (Thai fried noodles), these typical Thai foods have successfully conquered billions of peoples' stomachs. Thanks to dynamic farmers, fertile lands, rich spices, fantastic food culture, we can have a good Thai meal almost everywhere in the world today.
What leads to these delicious meals? Of course good quality crops, and thus it is necessary to use technology to maintain high quality in irrigation. Geospatial technology provides convenient tools to achieve higher yields.
Born this way — every field is unique (Challenge)
The year-long warm weather makes Thailand a Neverland of farming. Managing the plantations also becomes an issue since the starting date of planting varies paddy by paddy. One may have just been planted, while the neighbouring field is already waiting for harvest. Each type of crop has its growth curve, and the required water volumes in different growing stages are distinct, too.
For example, while rice has 6 growing stages, and each stage needs different water volumes, mango has only 4 stages. The difference between each crop and stage makes water calculation complex, and add to this the existence of million paddies with various growing status, and The Royal Irrigation Department (RID) has a highly complicated counting job to do.
Although it had been investing in expensive GIS software for years, the task couldn't be done efficiently.
RID as the largest department in Thailand government structure, has enough resources to find tools and solutions to solve issues related with irrigation, however, they need to ensure that the tool is reliable and suitable for their requirements. This is the reason they decided to go with the SuperGIS Irrigation Solution.
GIS in irrigation, a global demand (How the solution took birth)
Taiwan Agricultural Engineering Research Center (AERC) and Taiwan Agricultural Irrigation Association (TAIA), the long-term partners of RID truly understood the difficulty as this problem has been bothering the Taiwanese authority for a long time.
The experts from AERC and TAIA knew how to do the calculation, but needed a better way to have more efficiency. That's when they decided to combine the systems with GIS, and an integrated solution was brought by Supergeo Technologies Inc.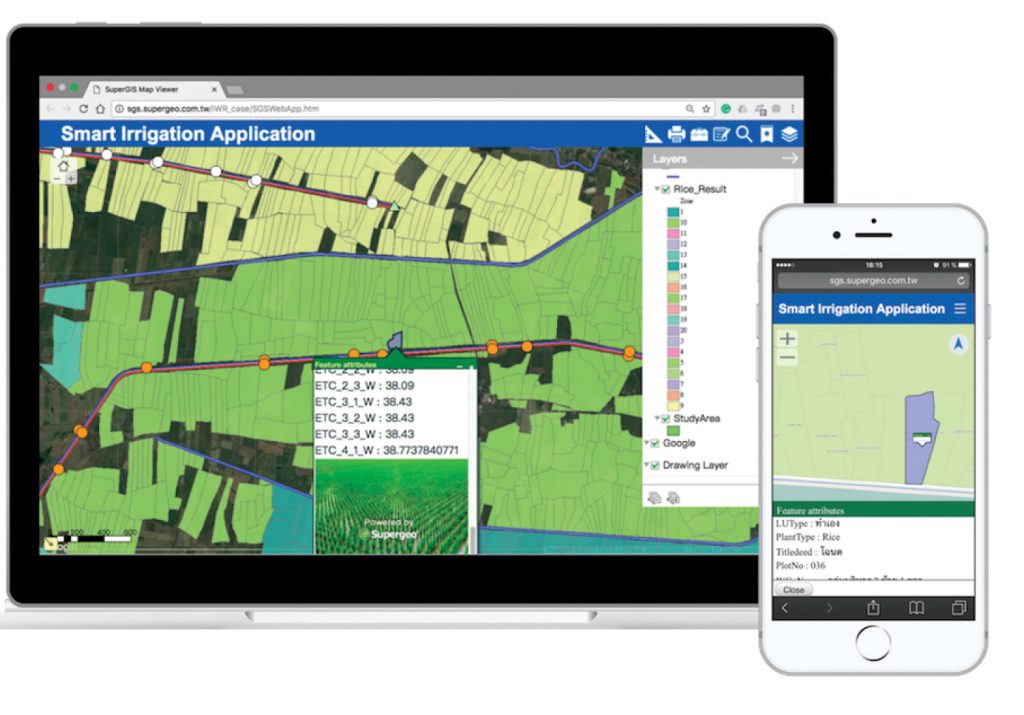 Supergeo is one of the main GIS software developers in the world. It provides off-the-shelf GIS software and also customization based on it. What RID analysts needed to do was the calculation and present it on the digital map for easy sharing. Also, a convenient tool to update field status and replace paper on the wall was also needed. Therefore, AERC, TAIA and Supergeo worked closely to integrate each other's strength to achieve the SuperGIS Irrigation Solution.
Watering lands by SuperGIS (Detail of the solution)
To solve the issues, Supergeo provided its SuperGIS Desktop and developed a brand new analyst extension, SuperGIS Irrigation Analyst. The extension is designed to count water volume by providing planting date, crop type, temperature data, and the most important, paddies saved in SHP.
SuperGIS Irrigation Analyst includes the water requirement index of common crops, called Kc Values. Users are also able to define values according to environment conditions in different regions. RID analysts only need to launch SuperGIS Irrigation Analyst and input data, and the water requirement of each paddy can be calculated easily with few clicks and presented on the map with different color levels or in form.
Preparation of data
• Land data (.SHP or. GEO)
• Regional weather data (max, min & average temperature and radiation)
Kc value of crops (support .CRO file from FAO Cropwat)
After the water requirement was counted, RID Analysts published the result through SuperGIS Server so that the directors, officers and staffs in the working stations can check land info by internet browsers, like IE, Chrome, Firefox.
Less sun exposure for first-line surveyors
The implementation of SuperGIS Irrigation Solution also means a smoother and lighter work for working station staffs in the first line.
Previously, they needed to check the latest crop growing status and record it on papers. And then, brought the survey result papers back to the working station, filled it on the map on the wall and keyed it field by field into a computer for reporting to RID headquarter. The weekly routine tasks took at least 1-2 working days to update the land status.
But, with the GIS app for Android, SuperSurv 10, the workers can simply install it in their Android phone or tablet, and import existing. SHP. When they go into the fields, no internet connection is required, just use the internal GPS signal, and SuperSurv 10 will locate to the current position. Staffs can query and measure the paddy in front of them. Of course, they are also able to add new paddy field as. SHP, edit its border, move its position, add a new vertex, manage the content of the table with various info, such as landowner, land number, crop type, crop growing status, reporter, special situation or any other self-defined info.
Now, the first line workers do not have to go far around his managed areas and stand there under hazardous sunlights, bearing humid air over 30 Celsius degrees (86 Fahrenheit degrees). He can shorten the survey process from 1-2 days per week to half day or less. Also, the data key-in job is simplified by importing data via cable or cloud service like GoogleDrive and Dropbox at the same time. RID headquarter is planning to open part of their land data for authorized staffs to access with mobile phones so that they can use browsers to view or use SuperSurv for Android for advanced editing.
Fluid GIS workflow, yummy Thai dishes
Since Royal Irrigation Department upgraded their GIS with SuperGIS Irrigation Solution, not only the processing time of data collecting, updating and counting and purchase cost are greatly saved, but also water resources can be precisely utilized as the tool provides the better solution for decision makers to also consider the spatial factors while distributing water. And, the most important thing is, make sure rice and crops production is well-irrigated and we all can enjoy the great yummy Thai dishes in every corner of the world.