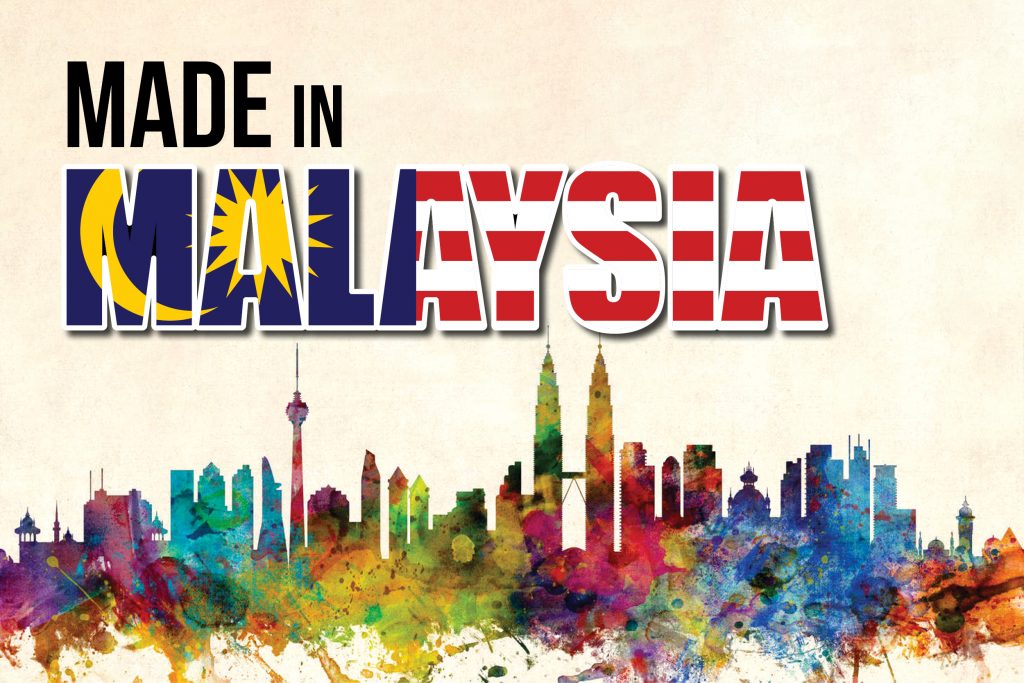 The Malaysian geospatial industry is going from strength to strength, but issues like data sharing and standardization are yet to be resolved
"Return home, Malaysians. We will connect you with top companies," hollers a Web banner advertisement. One click will tell you that an initiative by the Prime Minister's Department in Malaysia is trying to attract talent working abroad by stressing how the country's economic progress has given rise to new opportunities, and dynamic career pathways are emerging in key growth sectors.
If advertising is a country's most characteristic institution, it would appear that despite challenging times, the Malaysian economy is thriving, not just surviving. The International Monetary Fund (IMF) has projected a "still robust" growth of 4.4% for Malaysia this year. And Prime Minister Datuk Seri Najib Razak — who is also the country's finance minister — has also been quite vocal about the expansion of the Gross National Income by 47.7% between 2009 and 2014, the creation of 1.8 million jobs since 2010 and the tripling in private investments.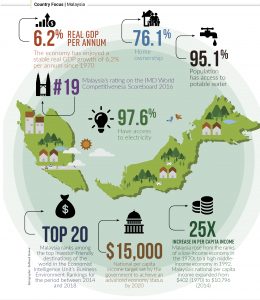 Indisputably, the private sector has been the locomotive of economic growth in Malaysia since 2011. In 2015, private businesses contributed a colossal 69.2% to the GDP, which Najib hailed as one of the highest growth amongst countries of similar-sized GDP. "It means that there is confidence in our economy — for the private sector will only invest and put its money in a country where there is a future," Najib was recently quoted as saying.
The winning formula
Much of this buoyancy can be attributed to the proactive steps the government took in the 1980s and '90s to diversify Malaysia's economy. The winning formula included an accelerated industrialization drive, an attempt to rapidly develop small and medium scale industries (SMEs), and concerted efforts to adopt new technology, including geomatics and geospatial technologies.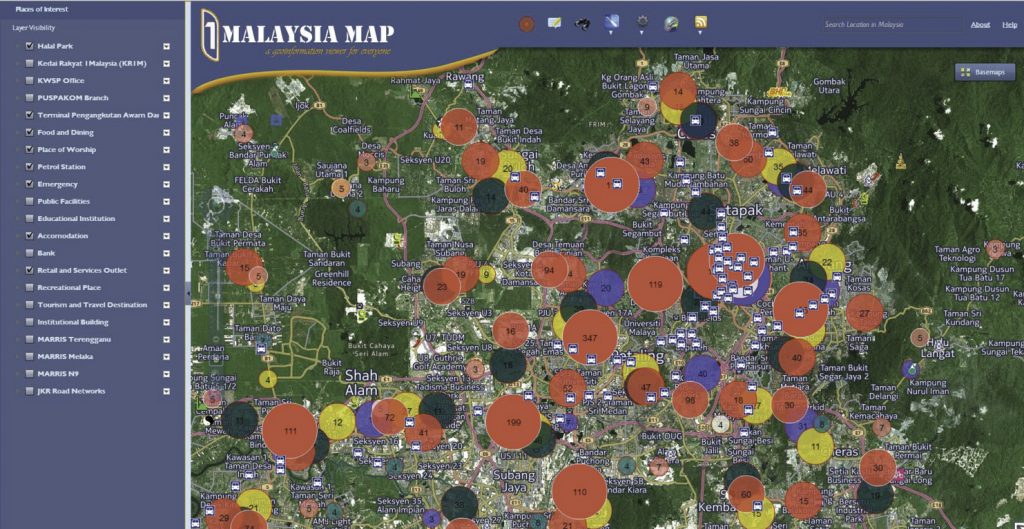 "The Malaysian government has been very encouraging on the use of spatial data and geospatial technologies to support many business functions, including planning, infrastructure, inventory, asset management, disaster preparedness, crime analysis, etc.," affirms Dr Sukanta Kumar Jena, who heads Sales & Account Management for Cyient's Utilities & CGP division in Southeast Asia.
Malaysia's tryst with spatial data infrastructure began in 1997, when its SDI was known as National Infrastructure for Land Information System (NaLIS). The government recognized that forming NaLIS was necessary to promote and facilitate the sharing, exchange, dissemination and use of geospatial information among Land Related Agencies (LRAs). It would also serve the purpose of avoiding duplication of effort in collection and management of geospatial information, and ensure accuracy, timeliness, correctness and consistency of data.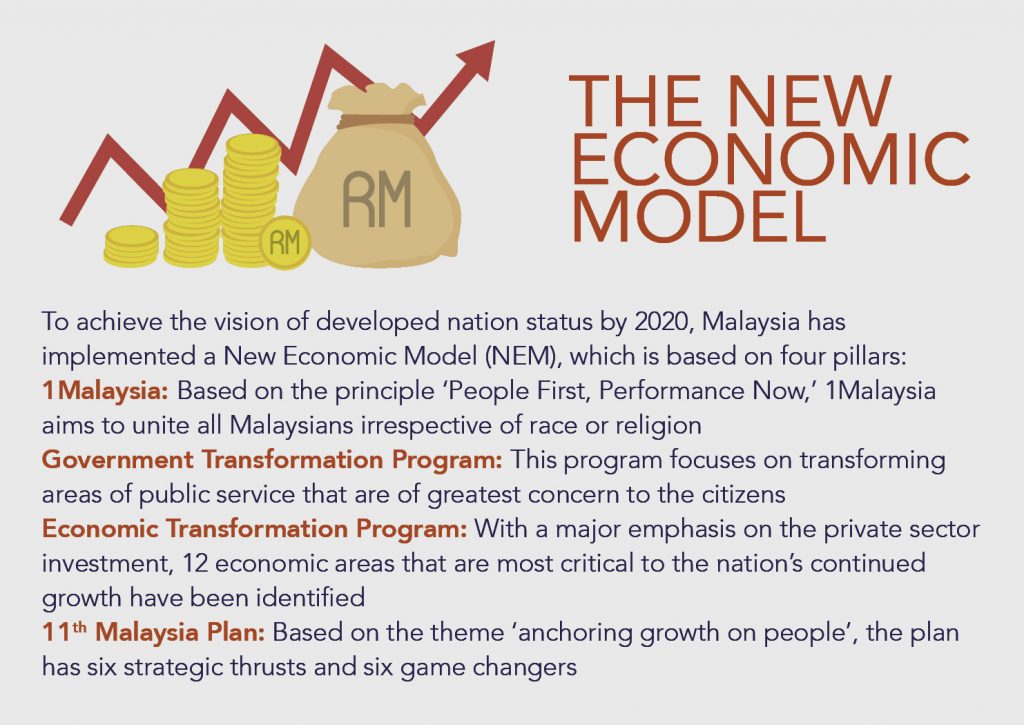 Following its restructuring in 2002, NaLIS was named Malaysian Geospatial Data Infrastructure (MyGDI). It is managed by the Malaysian Centre for Geospatial Data Infrastructure (MaCGDI) under the Ministry of Natural Resources & Environment Malaysia (NRE). In 2005, MyGDI came up with a policy on data sharing, which facilitated free data exchange between government agencies, but kept mute on the private sector and the academia.
Through its cadastral survey, mapping and geodetic initiatives, JUPEM, which is the national survey and mapping organization, plays an important role in providing the key elements of geospatial data infrastructure for the country. Datuk Ahmad Fauzi bin Nordin, Director General, JUPEM, explains, "Our complete baseline dataset, covering the core cadastral, and topographical or built environment datasets are the fundamental datasets of the national data infrastructure and are the ones that are mostly needed by other governmental agencies in particular. Out of the 10 framework data themes, all but two [geology and hydrography] can be extracted from these two core datasets."
Since early 2015, JUPEM has been actively contracting out topographic mapping works to private organizations. Nor Azman Baharum, CEO/Managing Director of Antaragrafik Systems, is quick to divulge that in the first year of the Eleventh Malaysian Plan (RMK11) itself, JUPEM has released 33 tenders, many of which necessitate a thorough know-how of geoinformation and the expertise of GIS experts. "JUPEM has also been outsourcing a lot of map-making components to private entities. We are one of the companies helping JUPEM come up with 1:5000 map of the country," he reveals.
Fauzi explains, "It has been very evident to me for long and proven over the past decades that JUPEM is not in a position to fulfil the ever-increasing demands for up-to-date geospatial data totally on our own, and thus the need to involve the private sector to participate in the mapping works."
The mouse that roared
Meanwhile, with its unusually active space program and participation in international space forums, Malaysia has proved to be the proverbial "mouse that roared" of the space economy. The Malaysian government has three arms that deal with space technology: national space agency ANGKASA, remote sensing agency ARSM and a government linked company called Astronautics Technology (ATSB).
ATSB was entrusted with the design, development, launch and operation of TiungSAT-1 — the country's first microsatellite — in 2000. That year, wildfires in Sumatra and Kalimantan regions made suffocating whitish haze a regular feature above many of Malaysia's territories. Data from TiungSAT-1 helped assess the scale of the environmental disaster.
In 2002, ANGKASA was established under the Ministry Of Science Technology, Innovation (MOSTI). The agency developed an earth observation satellite, RazakSAT, in collaboration with South Korea to acquire timely ocean and meteorological data for the world's equatorial region. RazakSAT, the first remote sensing satellite on the near equatorial orbit, was launched in 2009 by SpaceX, making it the US-based company's first commercial launch. With RazakSAT becoming defunct after a year of operations, ANGKASA is currently receiving remote sensing data from foreign satellites and partner agencies. RazakSAT-2 is awaiting a 2017 launch.
The agency's policy on data sharing is quite liberal. Data is provided free of charge to education sectors, disaster management agencies, for the infrastructure planning and development, and for security purposes. If the private sector needs any data, it has to bear the cost of processing the images.
National Geospatial Act
Back at the NRE, a national policy on geospatial information with the aim to improve governance of activities related to the application of geographically-based data is being mulled since 2011. The then-Director General of JUPEM, Datuk Prof. Sr Dr. Abdul Kadir Bin Taib, was quite vocal about the significance of a National Geospatial Act. "This is necessary to advance policies concerning the geospatial activities in a comprehensive and well-planned manner by establishing basic principles and clarifying the responsibilities of federal, state and local governments, as well as defining policies on the dissemination of geospatial information," he had said.
While a consensus is yet to be reached on the particulars of the Act, it appears that the government would be able strike it off its to-do list within the tenure of the Eleventh Malaysian Plan (2016-2020). This should appease Trudy R Ganendra, Managing Director of high-tech LiDAR survey provider Ground Data Solutions, who wants the government to provide more guidance to industries and Malaysian geospatial communities for best practices and standards to follow.
"Due to the scarcity of technical knowledge in Malaysia, and the absence of standards and quality control of geospatial data, the community often ends up creating datasets which are not easy to use as the information they portray conflicts with other information," Ganendra rues. "More rigorous applications of suitable standards and detailed quality checking, along with a better understanding of where the data comes from and how it was created, is essential for projects to progress smoothly."
Standardization tops the wishlist of Kamarul A Muhamed, Founder and CEO of Aerodyne, a leading provider of drone services in Malaysia, as well. "Currently geospatial data are collected and managed by many different agencies — with different objectives and format — resulting in autonomous, heterogeneous and distributed system and management. Whilst efforts are already in place towards integration and centralization, the speed should be accelerated for the benefit of the community," he elucidates.
According to Dato' Ir. Hj. Nor Hisham Bin Mohd Ghazali, Senior Director, Department of Irrigation & Drainage, technology providers should be careful in gauging the technical capacity of their clients and provide more flexible and modular systems. "Meanwhile, policymakers should be more sensitive to raw data requirements and support funding initiatives to procure more geospatial data," he recommends.
Flying high
Today, as Malaysia steps into its 60th year of independence, the country is chasing the dream of achieving a high-income, developed nation status by 2020. With the implementation of a New Economic Model, the government seeks to expedite technology adoption, entrepreneurship, skill-building and development of intellectual capital in science.
Earlier this year, the Department of Civil Aviation (DCA) clarified its stance on unmanned aerial vehicles (UAVs) by releasing a set of drone usage rules in the Civil Aviation Regulations 2016 handbook. Muhamed calls this a step in the right direction. "I think we lost a lot of time waiting to see where the US Federal Aviation Administration stood on the subject. Now that the US has allowed commercial usage of drones, Malaysia also seems to realize that this industry has the potential of generating billions of dollars for the economy."
AAM's Business Development Manager, Maziana Muhmad, sees notable participation of UAV imagery and UAV LiDAR for small area mapping. "Airborne LiDAR is being actively used by government agencies lately for road design and disaster studies, such as, landslides and floods," she tells.
The construction industry is one of the biggest users of drone technology in Malaysia. Drones are also being actively used for rig inspections and mapping palm oil plantations. However, Aerodyne's Muhamed believes that the government departments are taking a big risk by operating drones and capturing data on their own. "This technology requires a very specific skill-set. If it is not your core business, you will take longer to capture the data, and mistakes can turn out to be quite costly. Rather, you should let the professionals provide you the data, and you should find ways to act upon it."
Let's talk openly
Of what use is the data if it cannot be used to drive innovation and create economic opportunities? With only 10% of its data open, Malaysia ranks a dismal 112 in Open Knowledge Foundation's Global Open Data 2015 Index. SMEs often express that they would like to see government relax restrictions and encourage the sharing of GIS and related data, so that the most value can be received for the existing data. After all, the government is collecting the data using the taxpayers' money.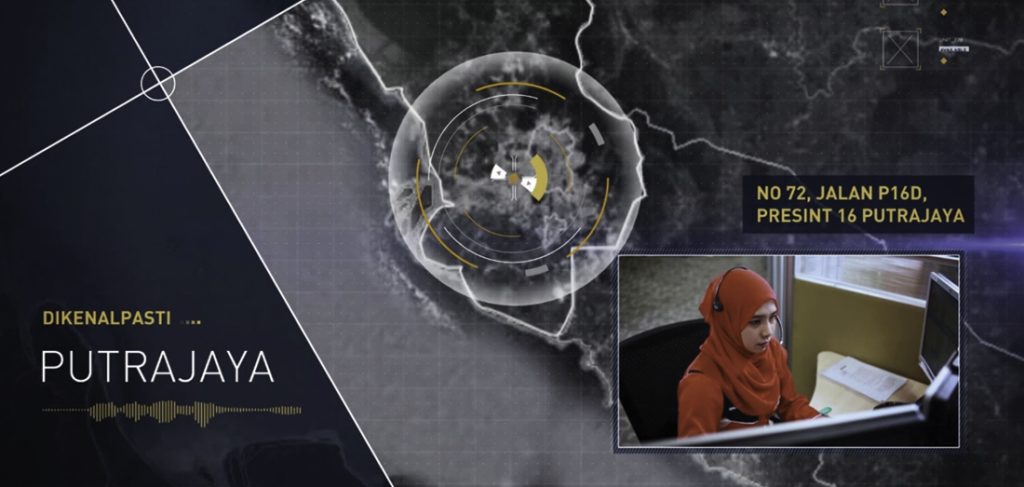 Highlighting that collaboration breeds innovation, Ganendra explains, "Other countries make LiDAR data freely available to the public, but in Malaysia, even just the application for capture of aerial survey data can be highly onerous and sharing of data is discouraged. Opening data to more users could be an engine of growth for the Malaysian economy. I hope the government will move toward this."
Agrees Azrin Zainal Abidin, CEO of Tuxuri, a geo Web company actively working for the utilities sector. "I would love to see the day when I can simply walk into a Land Office and ask for a dataset," he says. "The government has amassed so much data in the last two or three decades, they really have to figure out how to make that data beneficial for others."
And it's not that the industry faces challenges only while procuring data for private or commercial projects. Even when it comes to public safety, the problem persists. Telekom Malaysia (TM), which operates the Malaysian Emergency Response Service (MERS) 999 on behalf of the Ministry of Communications and Multimedia is no stranger to the issue. The coordination of information among different emergency agencies from various ministries is always an uphill task.
Collaboration is key
The Malaysian Communications and Multimedia Commission (MCMC), which is the regulator for the converging communications and multimedia industry, has a Geospatial Services Department which sits under the Digital Ecosystem Sector. And Dato' Mohd Ali Hanafiah Mohd Yunus, Chief Officer, Communication, Digital Services and Standards Sector, is also rallying for basemap (topographical/terrain/satellite) and administrative spatial data sharing. "Without this data sharing, all agencies have to purchase the information from various sources resulting in duplication of investment. The establishment of a common spatial data sharing among agencies will benefit the government, agencies and users, apart from boosting development and utilization of local generated content," he asserts.
Malaysia needs to accelerate the formulation of a national policy on geoinformation and standardize  datasets and open up its datasets
Hisham perceives open data as more of a policy issue, and believes that collaboration can be successful only when a personal connection is achieved between players. "Agencies who are custodian of certain data programs are not always in a financial position to procure them according to the schedule and requirements of user-agencies. At this point, further communication is needed to allow alternative approaches to be employed. Jurisdiction and 'turf' issues must be addressed up-front," he insists.
Revenue rules
Could it be that the departments do not want to make their data freely and openly available because they see it as a source of revenue? Fauzi — whose department (JUPEM) makes data freely available for government agencies, and applies a subsidized fee on all other users — wouldn't say no. "If a national mapping agency wants to survive, it needs to show its economic relevance to the government. We need to formulate a model wherein we waive-off the cost to the user, but still record it as revenue for the department," he proposes. "Many countries in Europe follow a similar process."
While studies by European countries show that the economic benefits of data reuse exceed the loss of government revenue in varying degrees, Malaysia would need to encourage more users to use the freely available data creatively for economic purposes. Nonetheless, lack of standardization and open data are not the only challenges that the private sector faces.
Even as the government urges the private sector to engage the foreign investor in a mutually beneficial partnership and joint ventures, Cyient's Dr Jena sees a big roadblock in getting work outsourced to Malaysia from other countries. "The local rules seem to restrict foreign investment and foreign knowledge workers. Because of this the Malaysian outsourcing business doesn't seem to be reaching its potential. Countries like India and the Philippines are able to attract such outsourcing work, which is contributing to their economy to a larger extent," he explains.
For AAM's Muhamad, "The main challenge the private industry faces in Malaysia is the limited budget for the full study. Normally, projects get split into a few components or phases in order to meet the budget."
Eyes on the goal
It cannot be denied that the Malaysian government is trying its best to create a propitious business environment for all. It is also playing a leading role in the integration of the ASEAN Economic Community (AEC) by pushing for more reforms and liberalization in the region. However, more efforts are needed to encourage both local and foreign investment in the country.
Accelerating the formulation of a national policy on geoinformation, standardizing datasets, and opening up the already existing data to private businesses are only some of the measures the state can take to ensure that Malaysia continues to be considered as a success story of economic growth in Southeast Asia. After all, if the country wants to turn its Vision 2020 into reality, that's the least it can do.