New technologies like artificial intelligence, automation, robotics have all opened up a host of possibilities. To stay competitive and emerge as winners in this game, the industry leaders are thinking on feet, setting new priorities and rapidly adopting innovations.
As new technologies and innovations are transgressing the physical, digital and biological worlds in ways that will transform the mankind; governments, public institutions and businesses are trying their best to keep up with these disruptions. And like all industries across the world, the geospatial services ecosystem is in throes of this change. They are together in their focus on innovation, convergence and transformation. Rethink and reprioritize seems to be the mantra of the industry leaders, with more focused on investing in innovation and collaboration, paying more attention to data and location
intelligence, and staying focused on consumer expectations.
In the words of Jack Dangermond, President, Esri, "New Cloud and Web computing paradigms are enabling capabilities that were once thought to be unachievable. Today, the geospatial community will need strong and creative GIS analysts and data scientists, great mappers and cartographers, incredible storytellers, analysts of all stripes, and imaginative software engineers to help us collectively achieve our visions."
The leaders are upbeat about the future as the industry infuses itself into new workflows, new business models and new possibilities. Armed with technologies such as Cloud, IoT, deep learning and artificial intelligence et al, majority of the industry leaders feel that the geospatial industry will continue to see further consolidation in keeping with similar
trends in the IT sector. Along with consumerization of geospatial, the industry will be driven by partnerships.
Investment in innovation
Majority of industry leaders are in favor of adopting a wholesome business approach to foster and leverage this innovation, from funding new R&D projects to understanding the capabilities and advantages of emerging technologies, to engaging with key clients on their digital transformation and innovation programs and providing thought leadership,
to market research on the demand cycle in the growth sectors.
Business models
Democratization of geospatial has also added to consumerization of the technology. This is evident in the way majority of the respondents are enthusiastic about the subscription-based business model, which is beginning to be known as pay per use model. While the transition from a desktop perspective to mobile platforms and Cloud is driving this
change, the fact that many non-geospatial players could provide a part of the software or solution that an end client may be looking for instead of a whole package is also pushing companies to go for this model.
However, with further integration of technologies and complete workflow solutions, we will see companies move towards offering platform as a service in the coming days.
Acquisitions and mergers
Industry leaders feel there will be more consolidation in the tech industry, particularly in the geospatial domain. The building of strategic partnerships, co-creation of solutions, collaborative selling and partnering with prospective competitors are key for success in the new world. The acquisitions so formed will enable the businesses to provide a single platform to consumers, who are now demanding complete solutions.
Howard Lance, CEO of Maxar Technologies, corroborates: "We formed Maxar Technologies to address the ways the industry is changing and to enable the growing demand for answers that can only be derived from persistent, high-resolution imagery, and rapid and highly advanced data analytics."
The combination of MDA with DigitalGlobe in 2017 created the leading global provider
of advanced space technology solutions for commercial and government markets, bringing four cutting-edge satellite companies under one umbrella – SSL (satellite manufacturing and servicing), MDA (communication satellites and ground stations), DigitalGlobe (EO satellites and Big Data platform) and Radiant (data analytics).
As Steve Berglund, CEO, Trimble predicts, "The next three years should be somewhat similar to past several years where acquisitions have played a role in our strategy, principally as mechanisms to establish beachheads in new market spaces, fill in product line gaps or add new technologies to our solutions portfolio."
Biggest Investment on new technologies
To stay relevant, the industry needs to invest in acquisition of new technologies. About 50% of the leaders interviewed could not agree more- stating acquiring new technologies will be their biggest investment in the next three years. This could be through acquisitions of other companies, mergers, partnerships – inter- and intra-industry both -or by developing in-house specialized capabilities.
A good example of this is Hexagon's recent acquisition of Luciad. Ola Rollen, CEO, Hexagon explains: Luciad's visualization technologies support live connections to dynamic sensor feeds in a 3D environment. The result is a 5D digital reality – real-time, rapid fusion of multi-source content and the ability to perform analytics on-the-fly. This acquisition strengthens Hexagon's ability to deliver the smart digital realities for our SMART X Solutions, specifically enhancing our Smart M.App platform with 3D, 4D (real-time sensor feed integration) and 5D (dynamic analytics) capabilities. The ability
to rapidly integrate sensor data in a visually compelling environment provides the location intelligence and situational awareness for mission-critical operations.
Solution-centric approach
Consumers are continuously demanding "whole" solutions, making, greater integration in workflows a top priority for industry leaders. They are largely focusing on bridging the silos across all platforms and technologies like AI, Big Data, analytics etc. The go-to-market challenge has also become more complex and requires a more tailored approach
to ensure customer satisfaction. The traditional criteria for engaging the market were formulated for hardware-centric products. "A bundled solution, including both hardware and software, requires new criteria for elements such as training, conformity to workflow requirements and support," elaborates Berglund.
The market for geospatial intelligence is at its beginning and tools like artificial intelligence are driving the next generation of capabilities. The emerging demand for location data/technologies and the growing trend of the convergence of IoT, AI and analytics has led to many innovations. The leaders see the maximum impact of this convergence in sectors like transportation, Internet of things, and infrastructure (including smart cities), with automated vehicles also ranking pretty
high on the list.
Becoming more data-driven
We see a huge interest among the industry leaders to become more data-driven, since the increased availability of data is creating more location intelligence opportunities. Consumers demand a level of personalization and geospatial answers the question of 'where' – accuracy and precision of those tools equates to a specific level of performance that's required to serve the consumers of today and tomorrow.
Geospatial data is increasingly recognized as a valuable corporate asset and organizations across industries are taking a more structured approach to stewardship. "Ultimately, the cost of location data will come down as it meets the 'Sharing Economy,' while the accuracy and accessibility of the data will increase with new technologies", stresses Rollen.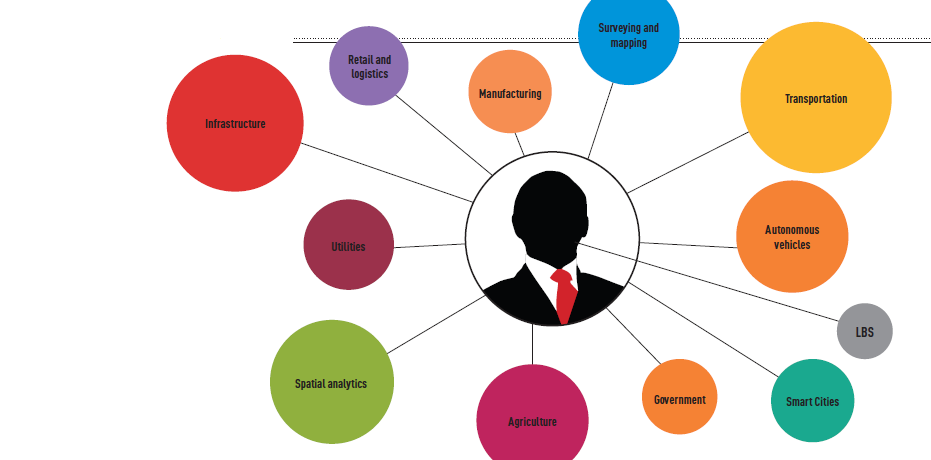 Consumer preference the top priority
Information products as required by the customers are need of the hour. Consumers are demanding a level of personalization, and the industry is focusing on customer experience. For most of the industry leaders, the vision is to make geospatial data real-time, accessible and usable for their customers, and they intend to design their future
products to strongly support this vision. The leaders intend to keep the customer as the key priority and not lose the focus on this despite all the exciting technologies and developments that are arising.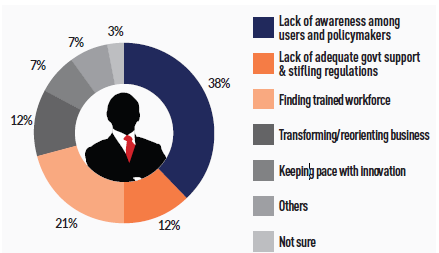 Overcoming the hurdles
While the path ahead is gaining clarity, companies are faced with new challenges that they need to address soon for better outcomes. The principal issues that the industry is facing include low awareness, restrictive regulations, lack of trained workforce, and the ever-increasing pace of innovation not giving the industry enough time to amortize investment in new equipment.
As the graph above depicts, about 38% of industry leaders consider lack of awareness as the biggest challenge facing the industry. More so because the effect is spread over multiple segments making the growth enter into a vicious cycle of restriction. Lack of awareness among the governments is plaguing the industry with restrictive and ambiguous policies. This, in turn, is delaying user adoption. If at all any technology is getting adopted, the lack of trained workforce to carry out execution and updates at large scale is limiting awareness and usability. Currently, the industry is also not equipped to undertake capacity development at the scale desired. This is also limiting growth.
However, the situation seems to be improving as more and more industry leaders are recognizing the need for investment in skills. Challenges propel every industry to perform better. "There are many challenges for the world ahead, but we need to stay positive and channel the energies of the geospatial industry to addressing these challenges. I'm an optimist and I'm filled with excitement about the possibilities!" says Edzard Overbeek, CEO, HERE Technologies. Afer these exciting words, do we need to say more?