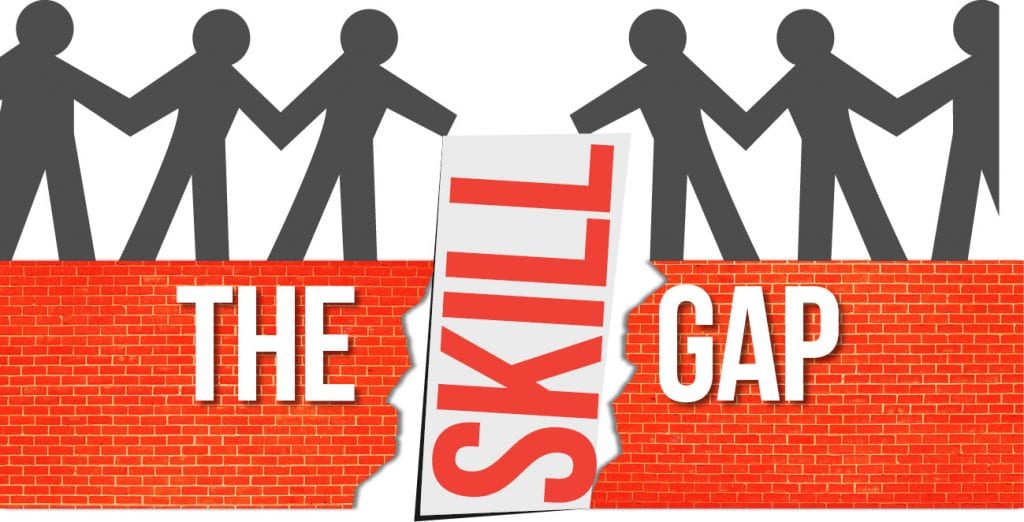 The geospatial industry is on the cusp of a revolution, getting largely disrupted by the emergence and convergence of a gamut of technologies. This was the most prominent sentiment when we interacted with the leaders of the industry last year. This year too the CEOs and the geospatial industry business leaders are unequivocal that new technologies are making the industry take a new shape altogether.
In a fast-transforming technology environment while businesses are struggling to keep pace with new developments, one thing the industry leaders unanimously agree is that there is a constant need to innovate to stay relevant, and capable workforce is a necessary requirement to continue the pace of this innovation.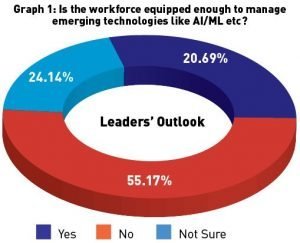 Workforce is the basic foundation of any industry. Ideas can get implemented and bring the desired outcomes only if skilled workforce is available to drive the vision. Geospatial is a niche domain and has traditionally been underprivileged when it comes to having the support of a trained workforce. The concern becomes more acute with further technological advancements. As technologies get integrated, the challenge of finding the workforce with the right skillset is becoming a stronger concern by the day. For instance, as Graph 1 shows, majority of industry leaders (55%) feel the existing workforce is not skilled in handling emerging technologies.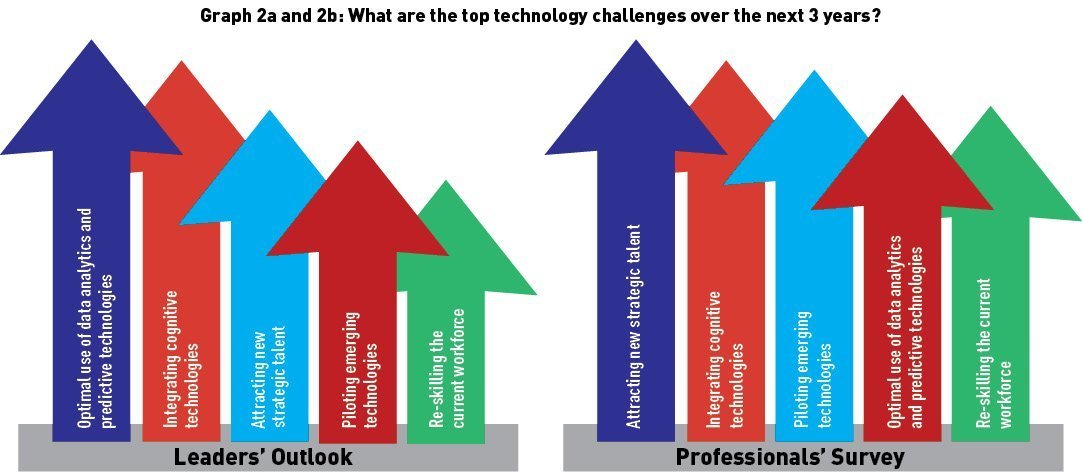 In the 2018 survey, an overwhelming 52% of industry leaders said they thought talent acquisition was a key HR challenge while 16% felt re-skilling the existing ones was a problem. The sentiment continues in the 2019 survey as well. As Graph 2a shows "attracting new strategic talent" emerged as the third most important challenge hindering the uptake of geospatial technology over the next three years.
In the Geospatial World Readers' Survey of 1,500-plus professionals, "attracting new strategic talent" emerged as the foremost of the challenges for the industry (Graph 2b).
Technological advancements outsmarting skill development
Mainstreaming of geospatial has also ushered in an era of disruption where geospatial data and technologies are getting into every business, governance and daily lives. On one hand technological advancements are making the industry leapfrog into new domains rapidly, on the other, the sheer speed of this transformation is leaving the workforce gasping for breath. Before they are able to adapt to a new technology, another one makes its way in.

For instance, GIS or remote sensing professionals maybe handling their work efficiently, but when it comes to integrating these platforms with mainstream IT or using advanced technologies like artificial intelligence or machine learning they are found to be ill-equipped. Similarly, in the Architecture, Engineering and Construction (AEC) industry, the landscape is changing so drastically that an engineer or architect, who first has to take training to work in a GIS-BIM environment, now suddenly has stuff like real-time 3D modeling to deal with. Real-time data streaming and constant feeds only make it all the more complex for the workforce to keep pace.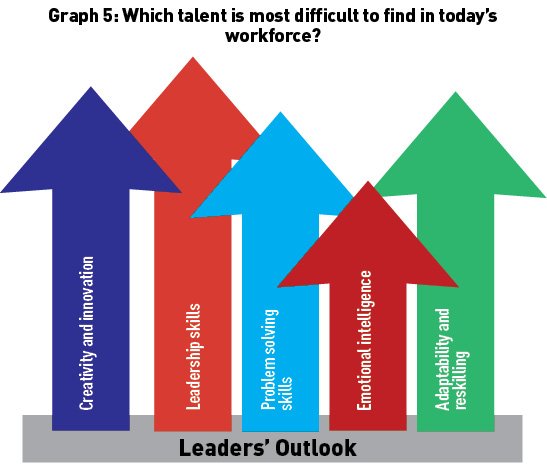 As indicated by Graph 3a and Graph 3b, industry leaders and the geospatial professionals both agree that the existing workforce is able to understand the technology platforms they are currently delivering services on, but not equipped to handle new technologies. About 46% of CEOs agree that the current workforce is equipped only to understand the currently used technologies, and 37% of geospatial professionals feel the same.
The rise of the robots
The rise of automation and robots has led to one of the primary concerns in recent times — will they take away jobs? It is inevitable that AI will replace some jobs. But then one must understand that machines have for ages now replaced humans — this trend is older than even the First Industrial Revolution — but that didn't lead to mass unemployment. There is a continuous shift in the way we use technology to automate previously manual tasks. In that sense they will both take away as well as create jobs.
Graph 4 represents how the two sides view AI and robots. While over 67% of industry leaders are confident that automation will create more jobs than eliminate (Graph 4a), about 46% of the geospatial professional feel they will take away jobs (Graph 4b).
Clearly there are a set of manual tasks that computers and machines will do better than humans – especially the lowest level menial jobs that are done by hand. In fact, in many obvious cases we already employ machines to do a lot of jobs that used to get done by human beings earlier. What will happen, and what the business leaders emphasize on, is that automation and robotics will create newer jobs. They will open new industries and new avenues, which will need new workforce. Therefore those jobs will be in new areas needing new skillset.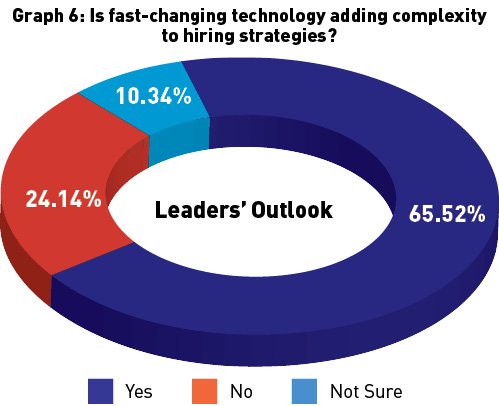 This is where the issue of reskilling comes up. "Adaptability and reskilling" came up as the second most difficult talent to find among today's workforce (Graph 5). Most of the industry leaders consider both upskilling and reskilling as arduous goals to achieve. Unwillingness to learn often comes as a challenge with seasoned professionals, and not everyone possesses the ability to acquire new technical know-how, and more so implement and effectively use them.
Further, while most CEOs worldwide agree that effective management of the recent technological advancements require not only technical competence, but also strategic thinking and leadership skills, they also believe that "leadership skill" is another talent hard to find. Along with that, they believe that today's workforce also lacks critical talents such as "creativity and innovation", problem-solving skills and "emotional intelligence".
Additionally, a large chunk of the industry leaders (65%) feel that fast-changing technology is adding a lot of complexity to hiring strategies (Graph 6), making things more difficult. The sombre mood continues in the professional side as well. As indicated by Graph 7, majority of geospatial professionals (52%) feel the industry is not providing them with ample opportunities for training and skill upgrade to strike it out in a new "machine age" of AI and automation.
All in all, the situation is not so favorable and the skill gap continues to stretch.
Lessons to learn
For efficient outcomes, it is necessary to mitigate the skill gap, and it can be mitigated only through efforts from multiple stakeholders. Key leaders within an organization must be able to identify the knowledge, skills and abilities required to accomplish daily work. They need to know what employees need to know and able to do. A competency-based approach could be used to define required skills.
The pace of development within the industry and academia must match. It has been observed that while the industry is developing at a fast pace, the academic world is lagging behind. This was highlighted in our 2018 survey where 49% of the industry leaders said they didn't think academic institutions were churning out industry-ready professionals.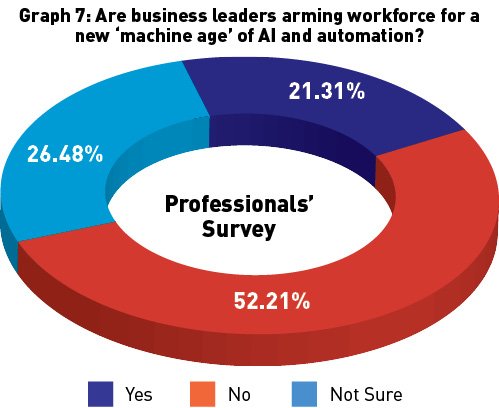 Considering the evolving nature of the industry and changes in the labor market, it has become imperative to ascertain how best the academic curriculum can address various requirements and demands of the dynamic industry. There is also a need for geospatial professionals to learn data science as a subject.
It is also essential that education in geospatial technologies begins right from the school days. GIS leaders like Esri are already taking concrete steps in this direction. K-12 initiatives like the GIS for Schools program, the GeoMentor Program etc. are making the students more geospatial ready.
Companies also need to intensify their academic interventions in order to tackle the shortage. Employers should come forward and work with the academicians to develop a shared model for jobs and curriculum that ensures benefits for every stakeholder — that the graduating students are able to transition into industry roles more smoothly, employers are able to hire skilled and job-ready people, and academic institutions are able to place their students with reputed firms immediately after completion of the course.
Industry-academia partnerships like the Constructioneering Academy, Bentley Academy are significant steps towards bridging the skill gap, but a lot more needs to be done to bestow the geospatial industry with an adept workforce that can take it to new heights. As geospatial gets subsumed in more and more workflows, the days of standalone technologies and skillsets are over.
ALSO READ: As geospatial data grows, so will our analytical abilities – Dr. James Crawford, Orbital Insight