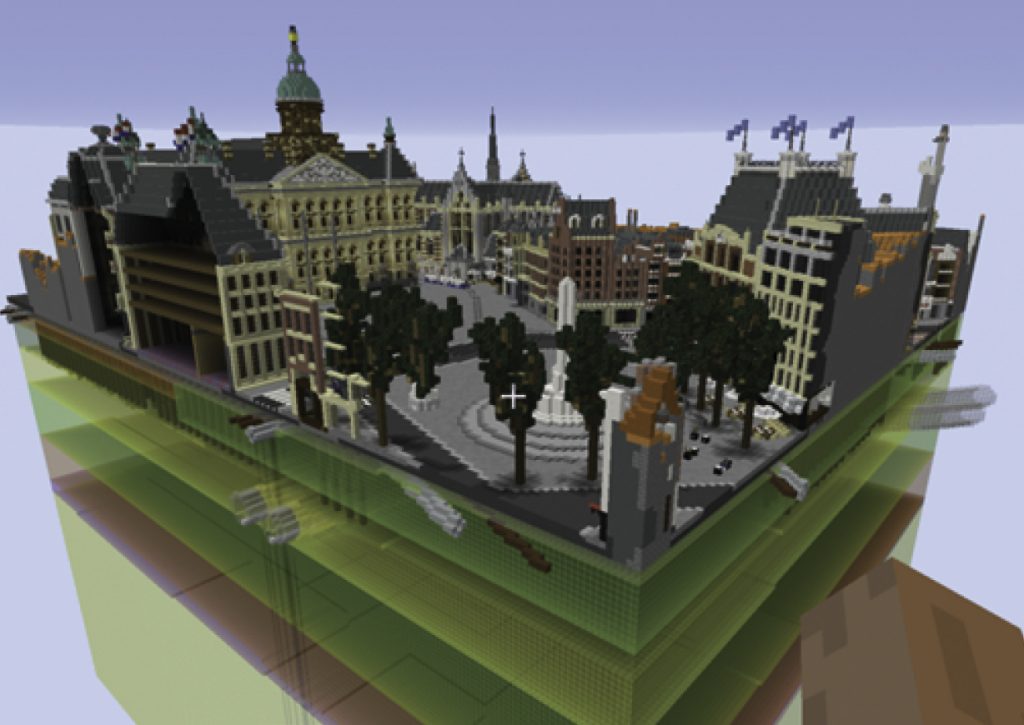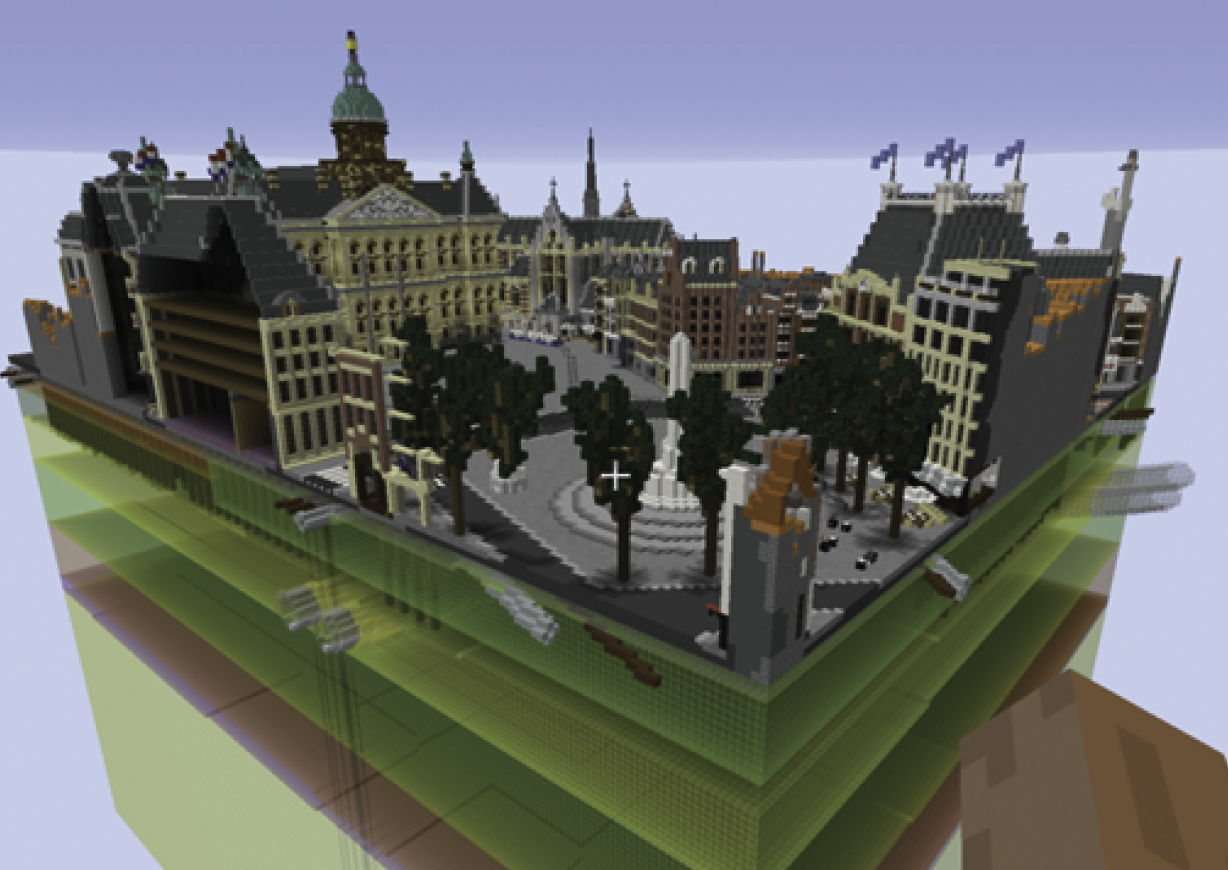 Netherlands-based Geodan has created an educational tool called Geocraft to enhance spatial insight, and to raise awareness in a number of geospatial issues. 
Worldwide, we envision the need to develop smart cities to answer future demands. If a city is to function properly, it has to coordinate very diverse agendas related to land use, energy, water, waste, mobility, health and education, economic development, and the promotion of cultural vitality and social inclusion. The UN declared that the battle for a more sustainable future will be won or lost in cities. Past and current trends provide some important lessons for what to avoid. Geocraft might be helpful to address some of them. For example, to establish effective participation and engagement of citizens, youth included.
Getting all stakeholders involved
Using smart conversions, Geodan is able to import data from existing databases into the virtual environment of the popular Minecraft game. This georeferenced representation of the real world we call Geocraft. It provides an excellent interactive virtual 3D environment at a well chosen level of abstraction to design, visualize and explore present and future scenarios. Similar to LEGO bricks, everybody intuitively understands how to use Geocraft blocks to adequately simulate reality and to easily design future scenarios.
In Geocraft, we can visualize any 3D geospatial data you like. Not only concrete structures can be depicted, also features like traffic capacity, flood risk, air pollution levels, noise disturbance, energy use and supply, etc. The visualization of various data in the same virtual environment supports the exchange of insights across the limits of disciplines and raises mutual understanding between different stakeholders. Via advanced Internet technology, Geocraft enables us to get all stakeholders on spatial issues involved, including the people of the place who have highly valuable expertise and unique insights into local situations and prospects.
Geocraft is a smart environment wherein real-time impact models can be run to virtually simulate and visualize future developments and their implications, evidencing relevant information during design and decision processes. More and more realistic models are being developed, simulating a variety of processes. Data generated or added in Geocraft can upgrade existing databases and data infrastructures (SDIs).
Path toward optimal solutions
After creating Geocraft, the first thing we did was offering it to various high schools in The Netherlands: it is an excellent educational tool to enhance spatial insight, to raise awareness and insights in a number of geospatial issues. Over a number of months, teams of students worked for several hours a week on real issues the government has to deal with. For example, water management, land use, urban planning, renewable energy and circular economy. In this article we present three of these projects.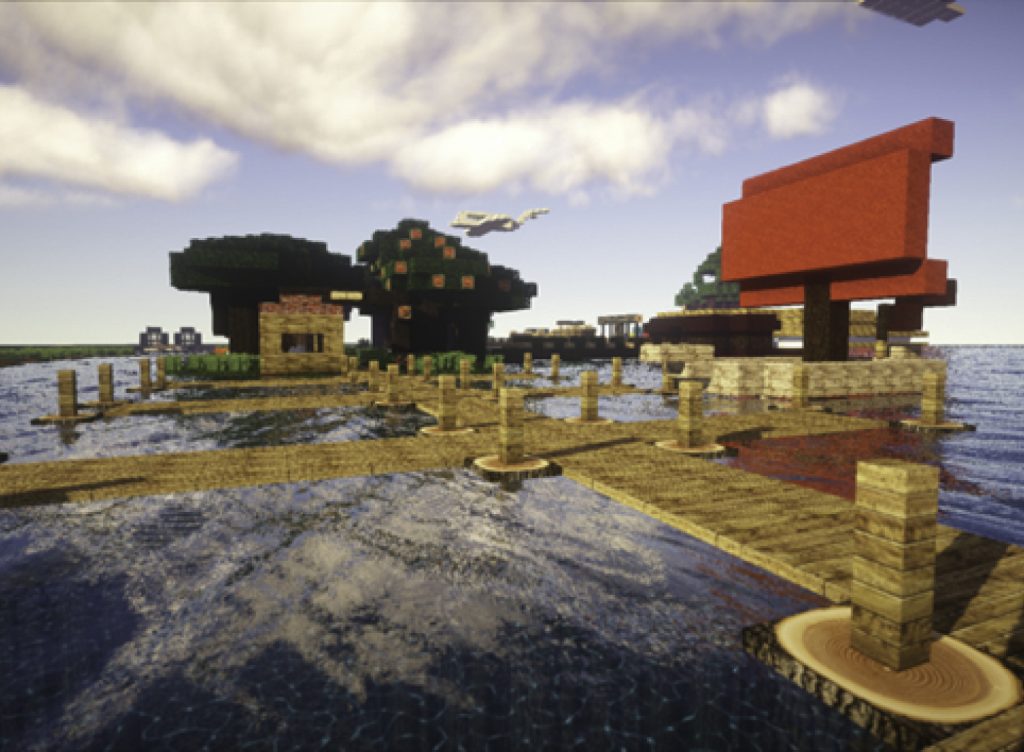 Redesigning the Markermeer
The Dutch government wants to turn the Markermeer into a 'future proof ecological system'. They aim for a variform area, comprising 500 hectare island surfaces. The area should provide recreation space to accommodate the nearby densely populated urban areas. Furthermore, opportunities to gain renewable energy and to raise freshwater food production should be explored. Potentially, the area is suitable to cultivate the Chinese mitten or usable algae. Durable energy might be generated by wind turbines, solar modules or by growing biomass.
Students of the Technasium Lelystad were asked to come up with scenarios to recover the damaged ecosystem and to optimize the combination of the above objectives. After studying literature and gathering information from the Internet, the students designed their solution in Geocraft and presented it to the Minister of Infrastructure and Environment of the Netherlands. She stated the students' solutions are in advance compared to the plans of her department.
Spatial planning in IJburg
Students of IJburg College (Amsterdam) were invited to redesign the space around their school. This project collected and inventoried the students' needs and wishes as users of the space. Using Geocraft, the students participated actively and were enabled to express definite wishes within the actual available space (such as the desired size of a football field, the preferred location of a skate park, etc.). This way, they provided distinct input for the professional urban planner, who amalgamated the different ideas of the students into one, feasible design. The final design met the students wishes, including a playground for kids, pop-up stores, leisure and places to meet, in- and outdoor activities.
Towards more renewable energy and energy saving in Zaandam
For the students of Zaanlands Lyceum, a serious game was developed, aiming for the best solution to realize the most energy efficient neighborhood (most energy savings at the lowest price). Hereto, in the Geocraft representation of their neighborhood groups of students could implement three measures: raise wind turbines, place solar panels or apply thermal insulation. The plans of the students were judged on three parameters: investment cost, energy savings and CO2 emission savings. The students were provided with rough models to keep track of their progress and smart models calculated their exact score in between classes, to encourage the students to think rather than use trial and error. The students could chose whether they found costs, energy efficiency or CO2 emissions savings the most important, generating very different plans that can all have great benefits for their neighborhood.
Advanced learning and design processes
During these high school projects, Geocraft offered an immersive experience. Instead of trying to understand the spatial relationships from descriptions and 2D maps, the students could walk around in the virtual simulation of the studied area. Every spot can be approached and examined from every direction. Geocraft generated direct insight in scale size, dimensions and proportions. The students got an immediate look on the actual result while making changes; the impact of the changes revealed themselves at once. That made it a 'real experience' instead of a theoretical exercise.
In addition, Geocraft makes it very easy to modify the designs. This enables a 'sketching design process': students can try, modify, and renew their ideas without being confronted with considerable efforts coming along with making changes. As a result, the students obtained a higher creative freedom compared to 'the old way' of designing. Progressive insights could be accommodated much more easily.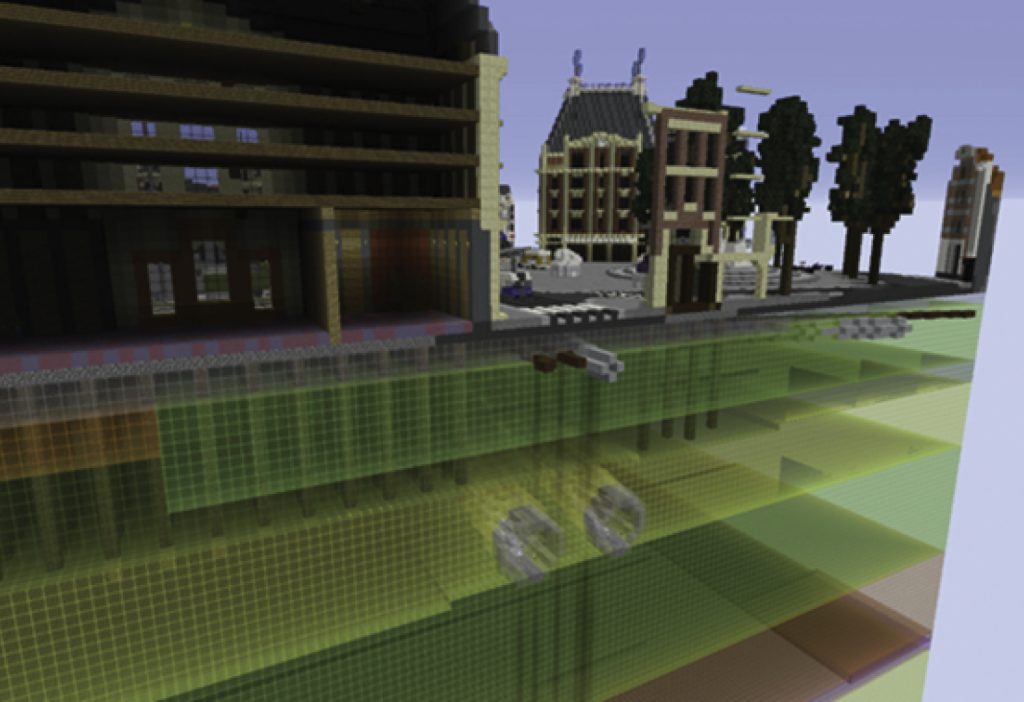 Ameliorated communication and collaboration
Geocraft turned out to be a great tool to induce typical 21st century skills: communicating, finding and evaluating information, creating and innovating, collaborating, problem solving. The learning content was transmitted much more effectively. Moreover, this approach maximized the engagement of the students. Not only because they became much more aware of what they were doing, but also because they had great fun 'playing with Minecraft'.
Geocraft showed to advance communication and collaboration processes within the design teams. Working simultaneously in the same virtual environment necessitated tuning and adaption. Different subjects had to be amalgamated into a coherent joint design. Working isolated from one another was impossible, conflicting approaches revealed themselves at once. This provoked the substantiation of actions and decisions and coerced a more or less continuous exchange of substantive arguments. The students became much more aware of the impact of what they were planning to do. Problem solving thinking arose spontaneously; it was simply the only possible way to proceed.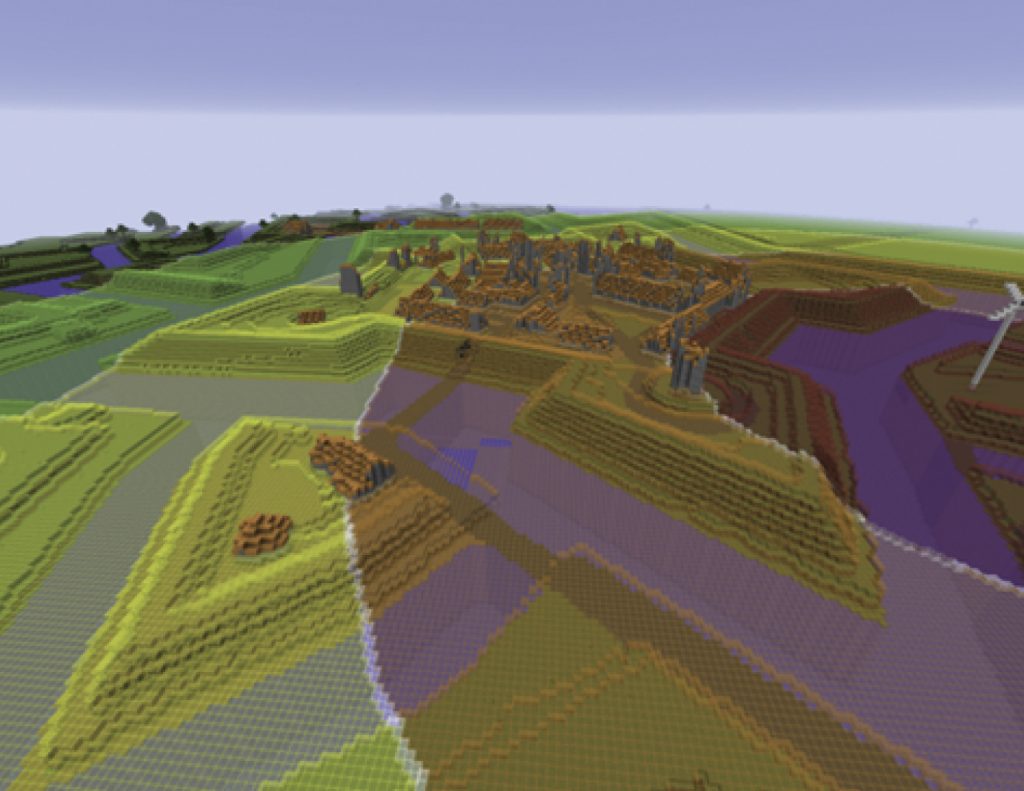 Public participation
During these high school projects, we got an impression of the power of Geocraft and tested how a tool like this can be deployed for public participation processes. At the moment of writing, we already started several projects to use Geocraft for civil participation. For example Geocraft will be used to engage the people of a community in the redesign of their public spaces.
In principle, there is no limit to the amount of users you want to give access to a Geocraft world. We generated the complete Netherlands on a scale 1:1 in Geocraft, details being restricted to the 1 to 1 metre blocks of Minecraft. All topography, relief, roads, rivers, buildings, trees etc. are represented, only the real colours are lacking. Geofort invited the children of The Netherlands to turn the grey Geocraft towns into a realistic impression mimicking the real world. Every Minecraft player can join the Geocraft.NL server online. The results were stunning. At the moment, over 3,000 kids registered as GeoCitizens and a virtual society is dawning.
Games addressing real-life problems
Via the Internet, children play all sorts of games in Minecraft. For example 'conquer the flag': two teams of children, each build the best defense structure they can imagine, in only 5 minutes time. Then the battle begins. The team with the best defense structure, the best battle strategy and the best cooperation wins.
We can apply the gaming environment of Minecraft to address real-life problems by serious gaming in Geocraft. For example the battle against sea level rise or noise disturbance. Geocraft is a smart environment. Teams can get a budget and aim to strive for, and choose from different options to achieve that aim. Impact models will instantly supply information on the results of the used interventions. The team solving the problem with the best result against the lowest costs wins.
Why bother to use Geocraft for serious gaming? Firstly, because the interface is very user friendly and can be intuitively used. Secondly, because it evokes synergetic cooperation between participants who can have a totally different background and even do not have to know each other, as we see with the kids conquering the flag. Thirdly, because Geocraft is a smart environment in which we can simulate the real world and raise real strategies and solutions for real problems.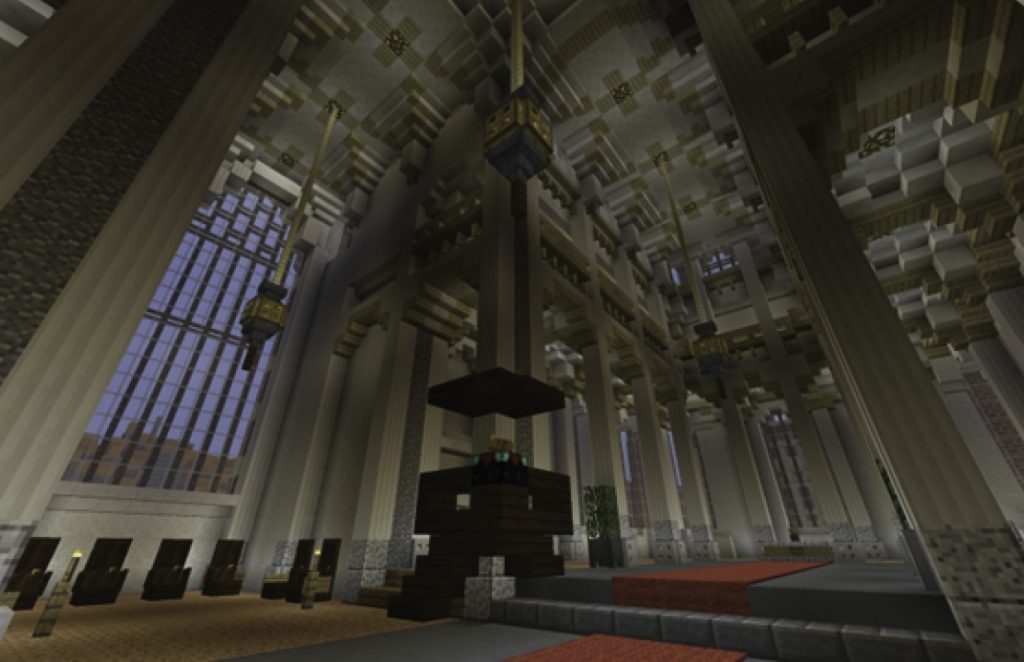 Trends in spatial planning and citizen science
Let's have a look on current planning systems and current policy themes to further clarify the usefulness of Geocraft in the pursuit of sustainable and healthy cities. From various points of view, we stand at the threshold of a new era with respect to the development and governance of cities:
The worldwide growing population lives more and more concentrated in cities.
After decennia of top-down ruling and dominance of big players in the market, local initiatives blossom shifting governance towards a more bottom-up approach. The advantages of large business estates and top down planning systems are no longer valid.
At the same time, lots of cities face the limits of expansion; for example in The Netherlands, we cherish the limited green areas left. The focus has shifted towards intensifying, improving and transforming existing urban areas.
The above means that values of people of the place become more important. Citizen initiatives in spatial development are on the rise. A distinction is made between citizen involvement through participatory planning and spontaneous civic initiatives, which are hard to fit in with formal planning procedures. Both forms of activities of people of the place are in line with the ideas of active citizenship. Spatial planning strategies must bridge the gap between these informal processes and the formal framework of the planning system. Top down planning strategies are converted into more bottom up planning strategies.
Amsterdam, like many other cities, has created an informal platform to facilitate different types of initiatives. Civic enterprises are stimulated in many different ways. Actual themes are circular economy, sustainable energy, healthy living and cycling, local care systems, urban food, multi functionality of public space and reliability of sustainable mobility and transport networks. Citizen initiatives can be undertaken by residents, entrepreneurs, artists, etc., in loose and informal structures.
For both participatory planning and citizen initiatives, Geocraft can be of added value at low costs. Geocraft offers citizens the opportunity to communicate their ideas on geospatial issues towards authorities in an effective way and vice versa: governments can offer citizens the opportunity to virtually visit and examine future scenarios. Geocraft can be used as a strong communication tool to display and share ideas and plans.
Exploiting the possibilities
In the next few decades, nearly three-quarters of the world's population will live in cities. More than 60% of the built environment needed to accommodate these new urban dwellers has yet to be built. How we plan, build, and manage our cities now will determine the outcome of our efforts to achieve a sustainable and harmonious development tomorrow. Various disciplines and all kinds of professionals put forward opinions how to create smart cities and how to answer future demands. What we need is a synergetic multidisciplinary approach, exchanging data and insights across the limits of disciplines.
We think the use of Geocraft can contribute to a better urban future by facilitating the creation of high level solutions. Via advanced Internet interfaces, all urban actors can get a voice and communicate their insights and ideas. Smart models can be run to display the impact of future scenarios. Visualizing cities in Minecraft results in an innovative representation of the city, displaying the specific aspects of the city you want to analyse or display.
Geocraft enables us to get the people of the place involved, including the youth. The full potential of the collected experience and knowledge of urban dwellers can be inventoried and utilized. This opens the way for innovative higher level solutions, firmly grounded on public support. Policy principles can be translated in practicable plans tailored to local conditions. A wealth of talent and ideas can be explored and shared, contributing to the creation of smart cities.
Geocraft could be the way for citizens' participation in spatial development and inspire them to take ownership of the city they inhabit. Worldwide 70 million children, among which 80% of all kids in The Netherlands, build design and play in Minecraft. We expect adults to follow their example. Our Geocraft journey has just begun. We look forward to future developments and applications, and invite governments, social entrepreneurs and geospatial industry to exploit the possibilities of Geocraft.
This article is a summary of Scholten et al, 2016: Geocraft as a means to create Smart Cities, getting the people of the place involved – youth included
Prof. Henk Scholten
CEO, Geodan