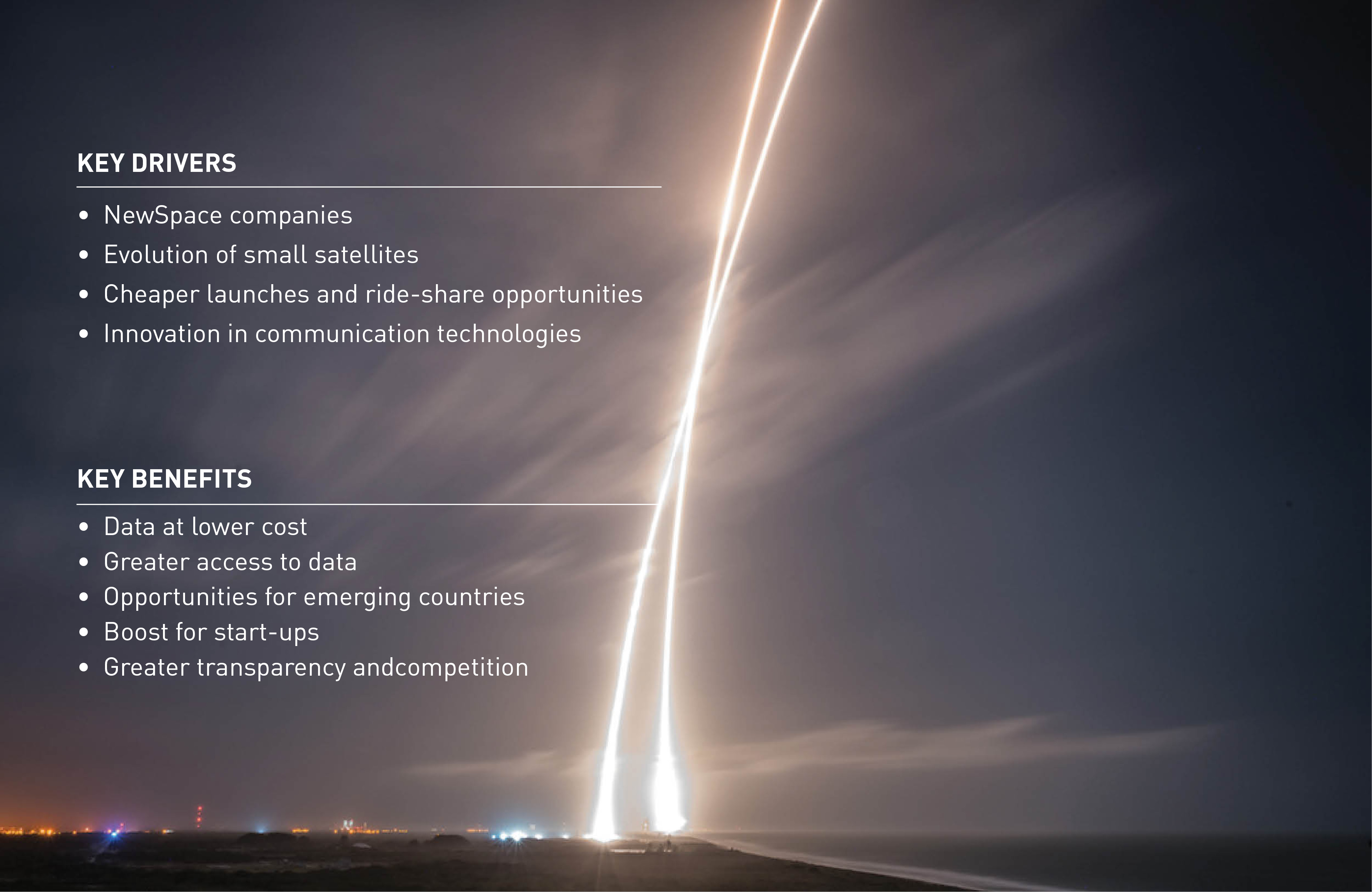 Decreased costs, increased capabilities and pathbreaking innovations are making earth observation satellites more relevant to businesses and public good.
There is a silent revolution happening with space technology. The ability of satellites to transform businesses and quality of life today is more relevant than ever, and associated technologies have expanded at an exponential space in the recent times.
This phenomenon, which is coming to be known as 'democratization of space', essentially implies that more people and/or organizations are participating in the industry. This is to say we are on the verge of a new space race where the players, technology, and services are as diverse as it is innovative.

As Anne Hale Miglarese, CEO, Radiant.Earth, puts it: "The transformation of the space industry is largely driven by innovations in launch and satellite manufacturing technology." For instance, we have moved from a satellite launch mass of 20,000 kg to less than 4 kg in the span of 60 years. This "NewSpace" industry is not only defined by rapid inventions, lower costs, and rideshare opportunities, but also commercially available parts and incremental development.
The sharing economy in space, already a double-digit billion-dollar industry, is one of the fundamental societal transformations that we are experiencing collectively. It relates to the shift from just large players — specifically, governments and big corporations — who operate satellites, distribute data and supply services, towards opening of the market participant aperture to include many dozens of startups that not only deploy new technologies to support traditional applications, but also develop new applications, she adds.
"We are witnessing a convergence of technologies that will revolutionize remote sensing, generating more diverse data than ever before," points out Fritz Schlereth, Head of Product, Descartes Labs.
What are the drivers
The state of technology within the satellite industry is evolving rapidly. On one hand, improvements in launch systems, sensors and other input technologies, and innovations such as the smallsat architecture are driving down costs. On the other hand, more sensors and a greater diversity of sensor types mean greater spatial resolution, higher temporal cadence, and richer spectral coverage.  This combination of decreased cost and increased capabilities opens up new use cases, industries, and applications for businesses, stresses Schlereth.
These innovations, along with advancements in sensor integration, machine learning, predictive algorithms, and natural language processing techniques, contribute to providing relevant and timely insights that help organizations understand their world, as events unfold, says Jason Andrews, CEO, Spaceflight Industries.
"A recurrent theme is that the barriers to access are being reduced and that this is at the core of this revolution," feels M. François Lombard, Head of the Intelligence Business Cluster, Airbus Defence and Space. There is significant ongoing investment in telecommunications, navigation and earth observation applications — it isn't just the global superpowers and multinationals that have access to space and related services, but also emerging countries, startups and even individual users with smartphones that are able to reap the rewards from this investment.
Agrees Miglarese: "The first change is associated with lower costs to access earth imagery, as well as an explosion in the availability of high-quality spatial, spectral and temporal imagery. The second is linked to the innovations in computer science, such as Cloud computing and machine learning that allows us to analyze imagery faster, and at scale." Other changes are related to the removal of technical and financial barriers to entry, and creating global standards.
Why smallsats are a big deal
Traditional large satellites, as big as school buses and weighing tens of thousands of kilograms, typically cost hundreds of millions of dollars per piece and often take years to build and launch. Because of the massive investment required to build, launch and operate them, all these years, only governments and large corporations had the necessary deep pockets.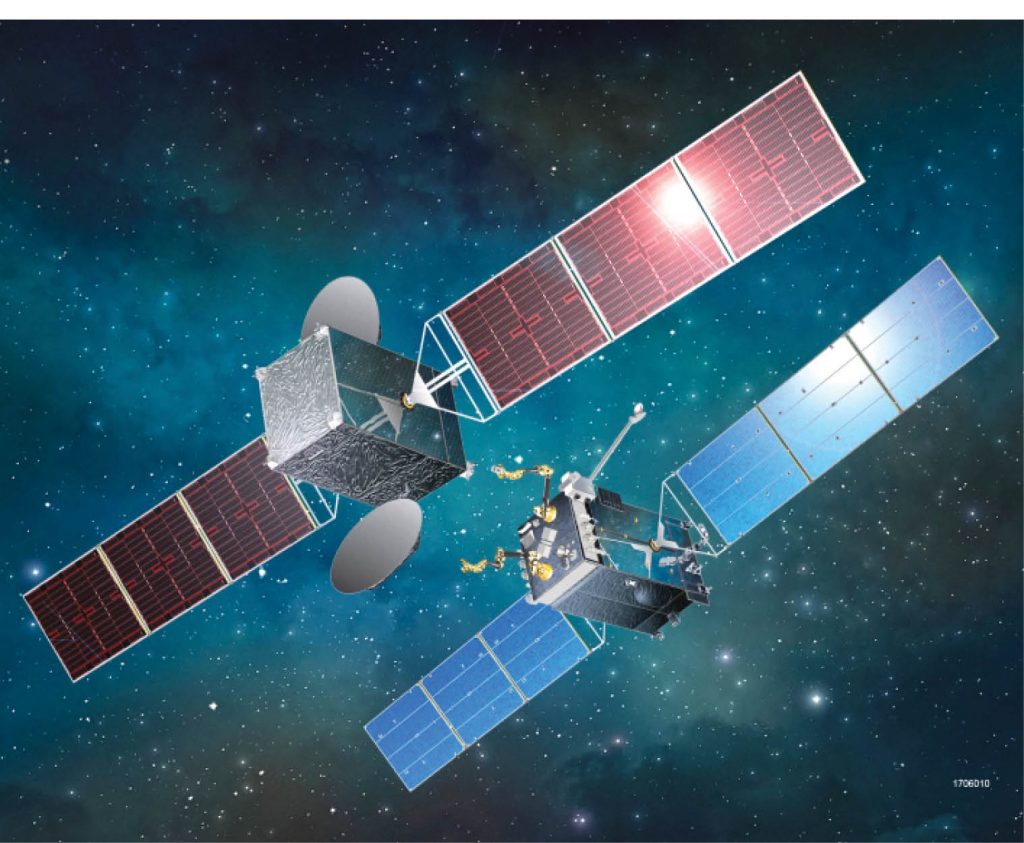 But all that is changing. "The recent advent of smallsats, spacecraft that weigh anywhere from an ounce to as much as a few hundred pounds, has upended that status quo," a White House document Harnessing the Small Satellite Revolution to Promote Innovation and Entrepreneurship in Space said in October 2016. The same advances in electronics and communications technologies that enabled smartphones and put significant computing power in the palm of everyone's hand are allowing scientists and engineers to design smallsats and coordinated networks of multiple smallsats (known as smallsat constellations) that deliver novel and diverse capabilities from orbit.
These satellites — typically weighing anything between 1 to 10 kg — are made of off-the-shelf parts, and manufactured in just a matter of days, thus lowering the barrier to entry for commercial entities — from complexity, timing and cost perspective.
"Because smallsats are developed with commercial technology, we are able to build less expensive, larger satellite constellations that allow for more opportunities," reiterates Andrews. Naturally, this is encouraging a new model driven by commercial companies that are committed to making space more accessible and affordable for organizations outside of government and defense.
For instance, in February this year, the Indian Space Research Organisation (ISRO), put a record 104 satellites into orbit from a single rocket, 88 of which were from Planet, each weighing just 5 kg.
It packed in 48 doves on a Soyuz trip on July 14, making it the owner and operator of the largest fleet ever put in orbit — 197 in total, enabling it to photograph every inch of Earth's surface every day. Something even the US government can't do! No wonder the National Geospatial-Intelligence Agency (NGA) has awarded a $20-million contract to Planet, to obtain imagery of at least 85% of the Earth's landmass every 15 days.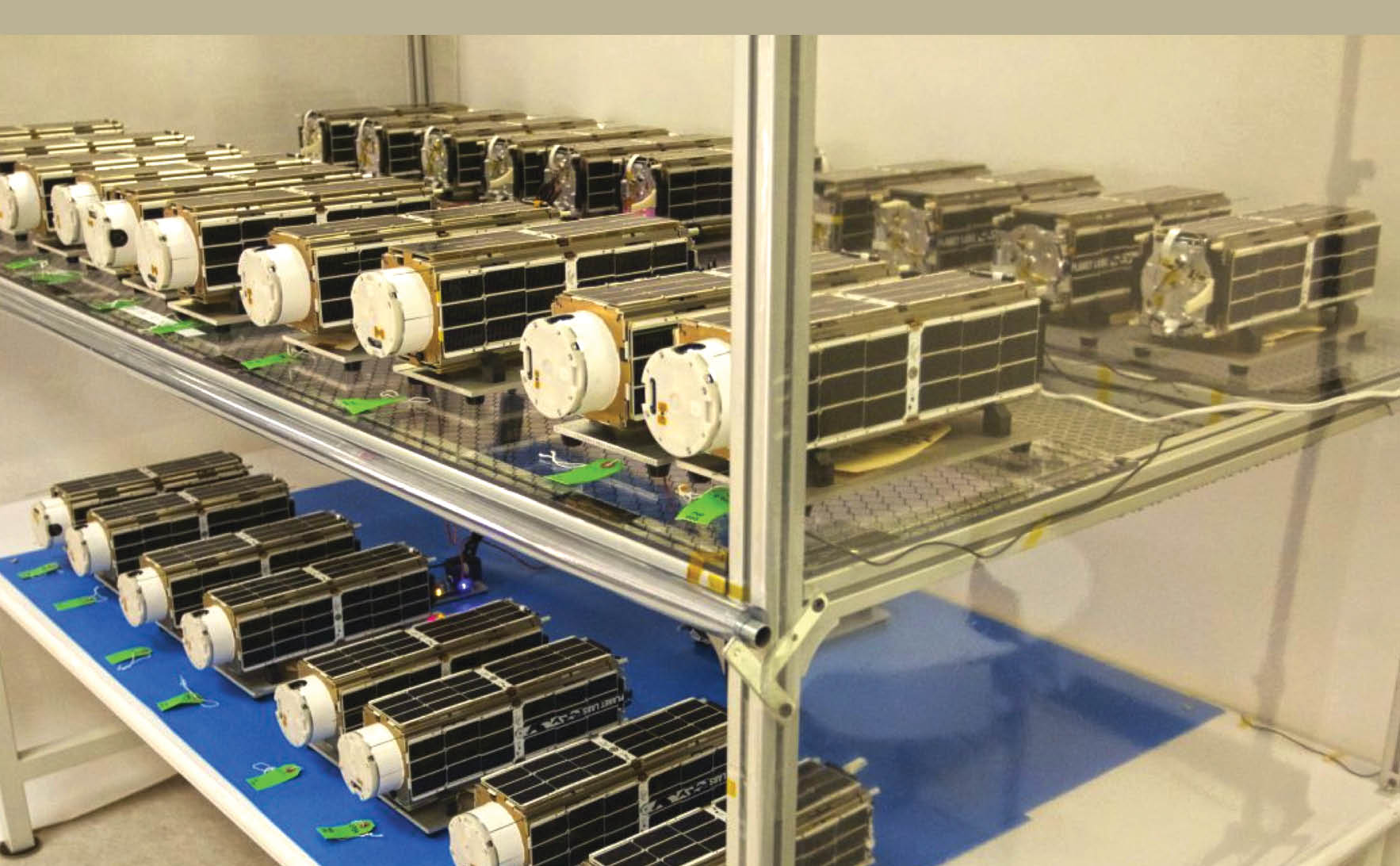 No other company has perhaps been as significant as Planet in this nanosat revolution. As Robbie Schingler, Co-Founder, Planet wrote following the historic ISRO launch: "This is not just a launch (or a world record, for that matter!); for our team this is a major milestone. With these satellites in orbit, Planet will reach its Mission 1: the ability to image all of Earth's landmass every day."
"The shrinking size of the satellite has helped us (and will help others) launch more satellites. The small, standardized size of the cubesat allows us to build a larger, risk tolerant disaggregated sensor network to collect imagery of the entire Earth every day," says a Planet representative.
As the White House document noted: These capabilities can sometimes be delivered at a fraction of the cost and time of legacy satellite systems. Scientists and engineers can more quickly test their systems on orbit, allowing them to devise new, better systems more quickly, shortening the cycle of innovation and finally bringing 'Moore's Law' to space.
A growing trend that Matteo Genna, Chief Technology Officer, SSL (an MDA subsidiary), points to: "The popularization of smallsats and nanosats is not only making space more accessible to the masses; but since they are smaller, lighter, and less expensive to build and launch, it is within the realm of possibility for pioneering university students and individuals to build their own satellites and have them actually reach space."
The emerging commercial space industry and new technologies
Along with the nanosat revolution, the other obvious driver is the dramatic and ongoing reductions in the cost to launch satellites into orbit by private start-ups. The most prominent example is SpaceX, which has made a habit of successfully landing boosters back on Earth and has even launched re-used boosters twice this year. While Elon Musk's miracle company remains the first and only one to do so thus far, Jeff Bezos' space venture Blue Origin is close on the heels, and Richard Branson's Virgin Galactic is working on the world's first commercial spaceplane.
SpaceX already boasts of lower launch costs than its traditional competitors. The starting price to launch the company's Falcon 9 rocket is $62 million, half the price of its traditional competitors like United Launch Alliance. If Musk succeeds in making his rockets routinely reusable, SpaceX costs could drop as much as 30%. Add to it the innovations in launch being done by the likes of Blue Origin or Virgin Galactic or even traditional giants like Boeing, the great advances happening at some of the Silicon Valley startups, and the already high bar in terms of low costs set by the Indian space agency ISRO, we are looking at a completely new ball game in launch space.
Then there are things beyond technology innovations. For instance, as Andrews points out, the concept of a sharing economy in space is essentially what Spaceflight's launch business is built upon, and is similar to other industry disruptors such as Airbnb and Lyft. As a launch services company, Spaceflight offers the most access to global launch opportunities by working with nearly every launch vehicle provider on the planet. "Customers can hitch a ride to popular destination or secure a launch on one of our dedicated rideshare missions. As the secondary payload, we are able to secure an extremely cost-effective option for our customers.
As the cost barriers come down, and the market opens up further, new business models like these will become the norm.
Other technological advancements
The satellite industry is constantly evolving and manufacturers are paving the way with flexible solutions that are ready to meet next generation demand and are helping to democratize access to space-based resources, emphasizes Genna.
There has been a tremendous progress in the use of software-defined components and new sensors, further bringing down the cost and time required to provide new space-based services. Increasing intelligence of satellites and concepts like SpaceDataHighway, machine learning and blockchain are revolutionizing the industry like never before.
As Carsten Stöcker, Senior Manager, innogy SE, who is also a member of the Blockchain Global Future Council at World Economic Forum, writes: Blockchain-enabled "smart contracts" can also allow satellites and systems that need their services to autonomously negotiate and complete transactions based on predetermined criteria such as the price a customer is willing to pay for a certain image and how quickly they need it. Users, satellite owners and even the satellites themselves could dynamically create new services to pay for their launching, insurance and other costs.
Then there are unprecedented advancements in areas like satellite servicing. As Genna reveals, SSL is working with NASA and DARPA to lead the development of satellite servicing technologies that will provide operators with unprecedented flexibility to inspect, augment, refuel, and repair satellites in GEO and LEO orbits, even for satellites that were never designed to be serviced.
The evolution in space robotics is another interesting area — remote controlled or self-supervised space robots are making space cheaper and much more accessible. Add to it the continuously evolving cutting-edge technologies like Quantum Key Distribution (QKD) — an application built upon Heisenberg's, Planck's and Feynman's principles of quantum physics for secure distribution of very long encryption keys — quantum electrodynamics (QED), and how the technologies of light waves — whether visible or not to humans — are propelling a new global enlightenment age — including a future- habitats design movement that could be named astrospatial architecture… The future is uncharted but exciting. (Read: How Satellites are Rebooting Building Design)
Schlereth believes machine intelligence and data fusion are the keys to maximizing the value of earth observation data. This conflux of technologies is unlocking more opportunities to understand the planet and transform the way businesses use earth observation data.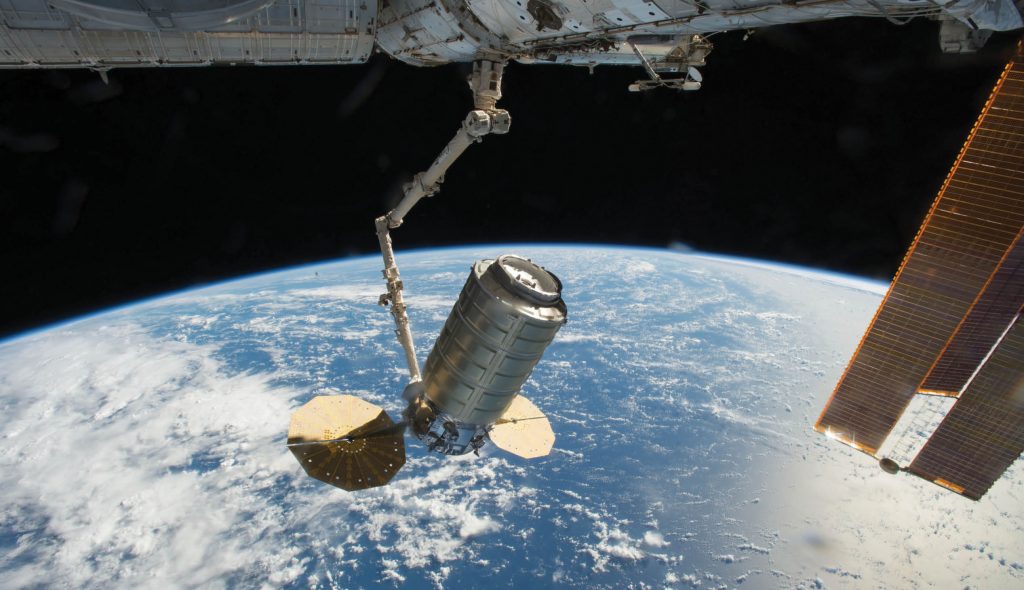 Access to data
Not only is space becoming more accessible through new launch technology and spacecraft form factors, but the data that is beamed down from satellites is now made available same-day online via GUI and API. Making the data more accessible enables governments, researchers, NGOs and even students to run analysis and make new discoveries, says the Planet representative.
Democratization is also translated into how we allow partners and third parties to plug analytics over our own datasets. Plug-and-play APIs are a powerful yet easy way to develop meaningful applications and a good example would be Airbus's recent contracts announced with Space Know or Bird I. "Our objective is to simplify earth observation, to the point that seeing the world from above can be as easy as taking a selfie. With OneAtlas, a yearly updated basemap of the entire world at high resolution, we even take the picture before you need it," Lombard adds.
However, he also points out that space-based resources were already available to a significant extent for some time now. For instance, programs such as the US Landsat and Europe's Sentinel program have been furnishing high-quality globally orientated datasets free at the point of use for many years. GPS data, deployed by the US military, is open to all. What is changing now is the seamless way of merging datasets supported by different funding models to derive new services.
Shared satellite platform arrangements like CondoSats, PODS (Payload Orbital Delivery System), and hosted payloads are providing more frequent and cost-effective access to space, and companies like OneWeb plan to utilize smallsat technology to make satellite internet available on a global scale, believes Genna.
Similarly, with BlackSky, Andrews was among the first ones to attempt to build and scale an entire system — from developing the user interface people use to search and buy imagery, to combining the images, ground sensors, social media, news and other data feeds, building and operating the satellites, and bringing the images back to Earth. The commercialization and heightened access to Big Data globally has made satellite imaging, data and communication less expensive and more prevalent. In the near future, almost anyone with the desire will be able to explore Earth in ways we never dreamed about some 20 years ago.
New business models
Smaller, lower-cost satellites that are able to effectively operate as autonomous swarms allow us to increase the amount of relevant data we can gather and analyze in a shorter period of time (for a lower cost). Andrews thinks this is a real game changer for commercial entities when it comes to making well-informed business decisions about global assets. As the recent trends have shown, these advances, along with the advances in the economic models of commercial space launches, will continue to make geospatial intelligence more affordable and accessible for everyone.
However, as Miglarese points out, the disruption in the market extends past the space segment hardware. In terms of the remotely sensed imagery itself, a dramatic increase in the supply of earth observations has implications for new business models, lower costs and more flexible licensing terms for commercial imagery. There is also an expansion in the utility of satellite data for a broad range of new applications. At the same time, lower technology barriers and costs are encouraging new participants, from high-tech professionals to non-experts, thereby further broadening the market.
Startups and the commercial space industry will drive improvements and transform all steps of the satellite data value chain, feels Schlereth. This extends from the origination of the data (i.e., the satellites themselves) to the processing and refinement of the data, and finally to the insights and analysis that represent value to businesses and public organizations.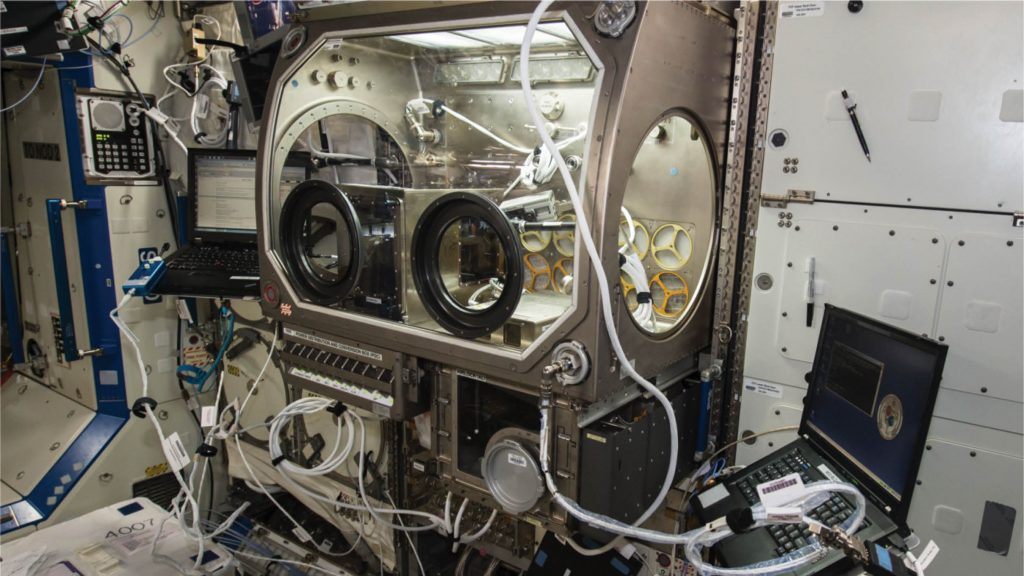 One outcome of this new business environment for space-based remote sensing industry is that it will drive greater transparency and competition in the market. It will also inspire more people to participate, thinks Miglarese. Indeed, the idea of space is becoming so approachable that we now see high school students designing, building and launching cubesats. This can only lead to positive results for the industry and humanity.
"We are seeing some creative and exciting ideas come from new entrants to the industry. Unfortunately, space is hard, and the barrier to entry is often significant," feels Genna, whose company SSL partners with startups to help them across the board with new business challenges by providing a holistic support environment including testing and engineering facilities, technical support, supply chain assistance, sales channels, and financing.
It is by leveraging the startup model, which is geared for rapid iteration, that the commercial space industry will push for scale and efficiency, emphasizes Schlereth.
There is a feeling that this innovation is accelerating and is increasingly being commercially led with the government fostering the environment and acting as a catalyst, thinks Lombard. And there is no doubt that this is a positive trend for the future. "However, I would like to make one point — innovation shouldn't be concentrated on hardware and software. Of equal importance, though often over-looked, is commercial innovation. We need appropriate business models, routes to market and derived service offerings that close the business model for rolling out the infrastructure," he reflects.
Not all smooth sailing
Of course, it's not all smooth-sailing, and there are obstacles along the way that need to be successfully navigated in order to reach space. Genna is spot on when he says while there has never been a more exciting time to be involved in the industry, the legal framework for non-traditional commercial space operations has yet to be established. In order to develop rules that maintain a safe and predictable space environment while at the same time encouraging commercial innovation and growth, countries need to develop innovative new national space laws to support activities ranging from satellite servicing to asteroid mining.
Miglarese also thinks political and policy frameworks struggle to keep pace with the fast changes in technology; and, many legal frameworks are inappropriate and outdated in today's world.And although these issues are being raised and addressed, it does take time.
"That said, I believe the most important challenge we face is to discover, expose and scale impactful commercial and humanitarian applications that can help our planet, and everyone who inhabits it. If we can make this happen, we will see the growth of a healthy commercial and public earth observation market place for the benefit of society and the industry at large," she adds.
Schlereth points to two major stumbling blocks today to unlocking the true value of data.  The first is technological — from both the generation of the data and the compute resources to turn the raw data into actionable insights.  The second is the distribution model itself — the ability to rapidly test the data for a given application and transact will accelerate the iterative loop.
The transactional model for satellite imagery is largely optimized for just sale and purchase of imagery, and to accelerate the progress, we must shift to a model that is better suited to data, which entails an ensemble of fundamental changes. First, transactions need to be instantaneous and programmatic. Second, transactions need to reflect the value that the purchaser obtains from the imagery. For example, the purchaser should be able to easily evaluate the value of the data for his/her application and purchase scenes (or even pixels) in a piecemeal fashion. Third, the transactional space needs to be accompanied by a compute environment that allows the buyer to work with the imagery immediately and efficiently. One of the major barriers to rapid development is simply the fact that datasets aren't co-located in a high-performance computing environment. Fourth, the transactional space needs to house multiple datasets in the same compute environment. Ultimately, the most interesting and valuable applications leverage multiple data sets to create a richer awareness (and greater predictive accuracy) of the observed phenomena.
"The idea of a 'sharing economy' implies a revolution in the ownership of space-assets. Here all users have access to increasingly relevant data free at the point of use under a distributed ownership scheme where, for example, NGOs could play a part. This trend is being driven by multiple technical innovations, for example reusable launchers and nanosatellites," says Lombard. There are questions over the sustainability of this model, especially for for-profit organizations that need to make a return on their investment and have gone to significant lengths to support, for example, the operations of NGOs and the UN International Charter on Space and Major Disasters. Additionally, there are certain applications such as the ones that are security or defense-related where such a shared-ownership model may not be appropriate.
Miglarese's Radiant.Earth is trying to address some of the challenges — the need to build a vibrant community of GDC users of space-based resources; a place where the global development community can go, not just for earth imagery and geospatial data, but also for focused thought leadership, remote sensing market analytics, best practices guides, return of investment methodologies and discussion of the important policy issues of the day. Supporting the growth of informed, skilled and motivated geospatial practitioners working on global development can also help accelerate democratization of space.
From the iconic Blue Marble photograph to our first experience zooming into our hometown with Google Earth, satellite imagery has always produced a startling effect in people.  In part, this is because satellite imagery extends our perceptions in space and time.  In contrast to our unaided senses, satellites allow us to see entire regions, or the entire planet, in a single image or to witness changes that unfold over years, or even decades.
The road ahead
Of course, as Schlereth says, this expansive observational power extends beyond the visual — it enables scientific predictions and analytics that can be fed into decision-making for public policy and commercial interests.
"It is fair to say that this ground-breaking creativity and modernization of business models could not have happened in-part without open data and satellite systems, which have ushered in new ways of consuming and attending to customers," says Miglarese. As is happening in the satellite industry, the disruptions in the earth observation data market are allowing for more people to participate in the economy.
In his new book, The Fourth Industrial Revolution, Professor Klaus Schwab, the Founder and Executive Chairman of the World Economic Forum, argues that humanity is being changed on a level never experienced before. This individual and societal change is typified by new technologies that blend the "physical, digital, and biological worlds."
"For our trade, it translates to the amalgamation of the satellite industry, new computer technology, creative applications, and the influx of venture capital that have ushered in new business models, which are transforming the very foundation of the industry," Miglarese adds.
Amazon, Airbnb, Uber, among many other ingenious businesses, are testament to this new age of individual and social transformation. These companies have completely disrupted traditional markets, based on the idea of the sharing economy. Perhaps more telling however is that these new businesses are changing the way people shop, communicate and think. In fact, studies are suggesting that this new global economy is changing us biologically, that is, being connected online is essentially rewiring our brains. We have come a long way since the world's first successful satellite launch in 1957. Yet, as Miglarese puts it, this new space race is just the tip of the iceberg!
Also Read: An exclusive interview with Dr Scott Pace, Executive Secretary, US National Space Council