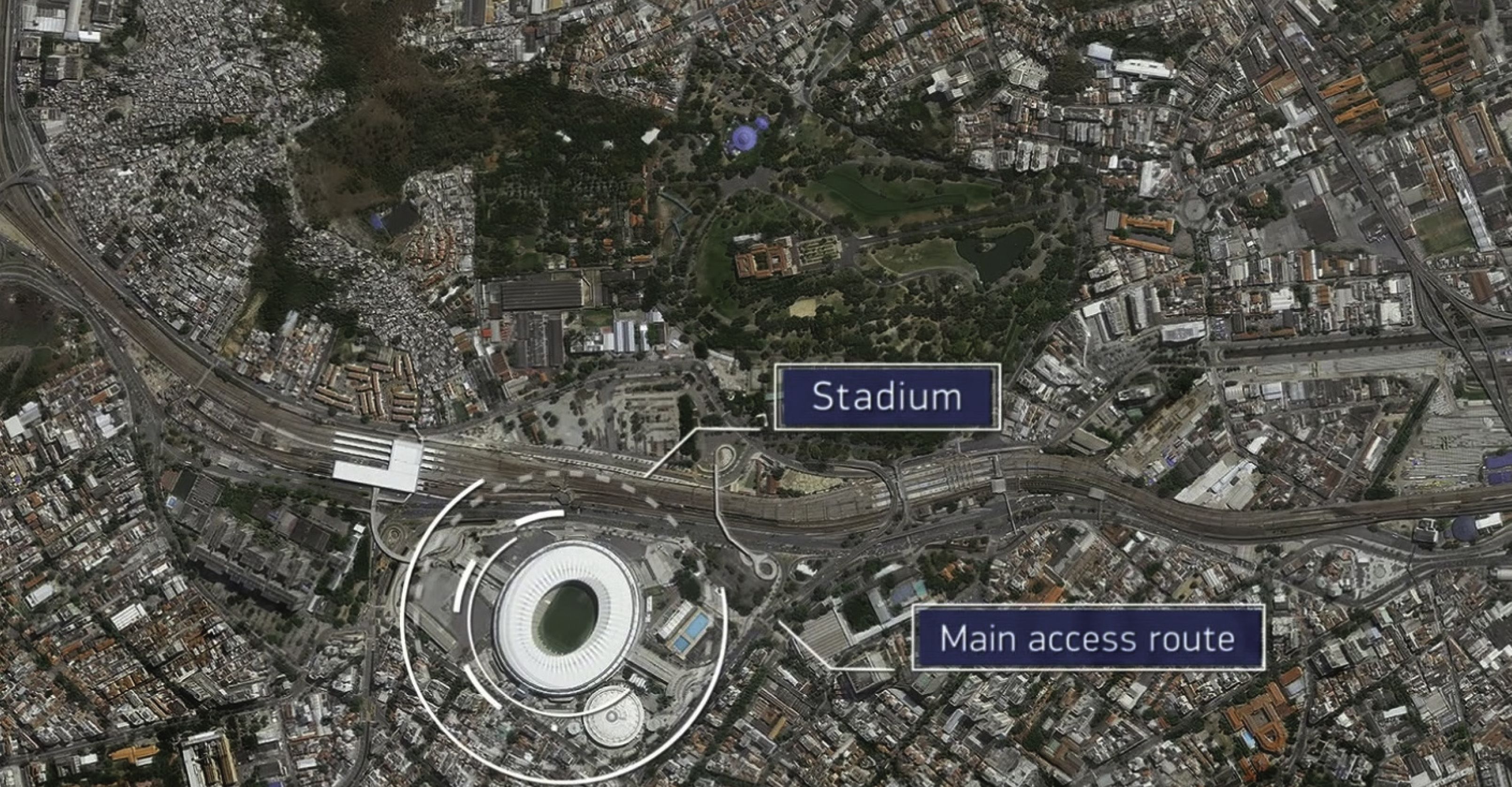 As the eyes of the world turn to Rio, DigitalGlobe's professional-grade data is equipping the authorities with the best contingency plan for situational awareness, logistics, and much, much more to keep the Rio Olympics 2016 safe and secure. 
Sports disciplines 42, events 306, venues 37, participating nations 206, athletes 10,500. Fans unlimited.
The world's biggest sporting extravaganza is scheduled to unveil in Brazil's Rio de Janeiro on August 5. And Rio authorities are taking no chances for those two weeks by deploying approximately double the number of security personnel used at the 2012 London Olympics.
A total of 85,000 security forces, 47,000 policemen and 38,000 military personnel will ensure security and safety of athletes and spectators. And they have the finest grade geospatial data and technology up their arsenal to achieve this mission.
Since the announcement in 2009, that Rio de Janeiro, Brazil, would host the 2016 Summer Olympic Games, DigitalGlobe has been developing extensive security precautions to ensure the safety of participants and spectators. Using its fleet of WorldView satellites, DigitalGlobe is formulating a series of 3D models that can help VIP attendees plan for security breaches, avoid mosquito zones (Brazil is facing a servere Zika virus outbreak) and plan a quick exit if needed. The company has developed a security and intelligence package that will ensure public safety by detecting disruptions to infrastructure, identifying high-crime zones and offering the most up-to-date imagery of Rio as seen from space, providing security officials with the information needed to formulate a comprehensive security planning.
"Security for global events requires rapid access to current, accurate, and complete geospatial information for enhanced contingency planning, risk management, and emergency response," elucidates Daniel L. Jablonsky, General Counsel and General Manager for International Defense and Intelligence, DigitalGlobe.
CrimeWatch: Rio de Janeiro
Rio 2016, the first ever Olympics in Latin America since 1968, will present security challenges very different from other Olympic host cities. Brazil is a crime-prone country, with around 52,000 murders a year and Rio is witness to over three of these murders every day. Brazil in particular is known for protests, street crimes, and its favelas (slums or shantytowns located within or on the outskirts of the country's large cities, especially Rio de Janeiro and Sao Paulo). Large parts of the city are off-limits to tourists and street crime is common. Whole areas of the financial centre are considered dangerous to walk at night.
Brazil has a low profile in world conflicts and therefore receives little attention in the international media. While Brazil may have so far escaped the radar of radical Islamist groups, Rio authorities are taking no chances following the recent rise in Islamist extremism and terrorist attacks in Europe and US. The government has set up an Integrated Anti-Terrorism Centre comprising personnel from the police, law enforcement and intelligence to increase the exchange of information, training and knowledge.
The vision of the Brazilian government also involves efforts to make Rio de Janeiro safer as a whole, not only the areas surrounding the Olympic venues. "We cannot think about staging the Games if the city as a whole isn't safe," says Andrei Rodrigues, Special Safety Secretary at Brazil's Ministry for Justice for major events.

Rio Olympics: Enter DigitalGlobe
DigitalGlobe's Rio de Janeiro Summer Olympic Security Package gives access to professional-grade data covering the venues and regions associated to make the summer game safe and secure. The high-accuracy, high-resolution imagery, elevation model, and detailed information on the infrastructure, livelihood and criminal behavior in the region will present security firms with information whose scope and clarity allow for planning with the highest degree of confidence. As Amanda Marchetti, Product Marketing Manager, Product Management, DigitalGlobe explains, the comprehensive geospatial security package for the Rio Olympics will include earth imagery of the full Rio de Janeiro region, including all the games and other venues, along with corresponding geospatial data that will lend a previously unseen lens into event management and security planning.
These include over 60 geospatial layers with 120,000 points of interest, 1.25 million building footprints, human behaviour information, venues and event details, high-resolution land classification. The easily accessible and expansive datasets will equip security groups with greater situational awareness, enhance logistics and force protection planning, encourage collaboration among security personnel, and enable planning for radio frequency propagation, threat assessment, tipping and anticipatory mapping. Not to mention, the package also includes a high-resolution land classification map of the region to support a threat analysis for higher risks of the breeding of the mosquitoes related to the Zika virus.
DigitalGlobe has bundled as part of the package three imagery intelligence (IMINT) products — Basemap+Daily,  Human Landscape, Vricon DSM.
Easy imagery by Basemap+Daily
DigitalGlobe Basemap, the best imagery from its image library accessible online anywhere in the world, simplifies the process of finding and producing imagery, so a security personnel can quickly get the answers they need to give them a leg up in case of any eventuality. Basemap+Daily, will provide historical and the most current imagery of Rio de Janeiro leading up to and during the 2016 Rio Olympics.
The service includes an online, historical foundation layer and the latest imagery collections from DigitalGlobe's constellation of imaging satellites, with resolution as sharp as 30cm and terrain and perspective distortions removed to make for a suitable map base layer. Basemap+Daily will enable users to view and download imagery within hours of acquisition to support a broad range of event security applications and ensure the protection of athletes, spectators, and supporting resources. It supports a variety of event security applications, including, mission rehearsal and contingency (evacuation) planning, situational awareness, personnel and civilian security, threat assessment and monitoring, and tipping and cueing all together will help to make confident and rapid decisions.
Human Landscape
Understanding human landscape becomes important when analyzing a location vulnerability. Curating, and enriching consumer grade data to solve a problem than solving for the problem is always a priority for geospatial analysts. The human landscape geodatabase for Rio de Janeiro provides professional-grade datasets, and powered by DigitalGlobe's proprietary technology, allows geospatial analysts to gain a head start on pre-event planning, threat and risk assessment, and emergency response modeling.
DigitalGlobe's Human Landscape gives a very close understanding of the local environment, including details on transportation infrastructure, to population characteristics, to crime rates. The Rio Olympics security package consists of 100-plus geospatial layers containing over 80,000 features and 1.25 million building footprints extracted and compiled from DigitalGlobe imagery and publicly available data. The dataset provides a baseline of understanding that allows geospatial analysts to get a head start on pre-event planning, threat and risk assessment, and emergency response modelling.
This highly detailed database contains over 600% more location-based content than public datasets, enabling analysts to quickly answer meaningful questions related to location, time, and context. Religion, communication and economy being important, human landscape provides in depth information on 13 key themes of human geographies in the entire region of the Rio Olympics.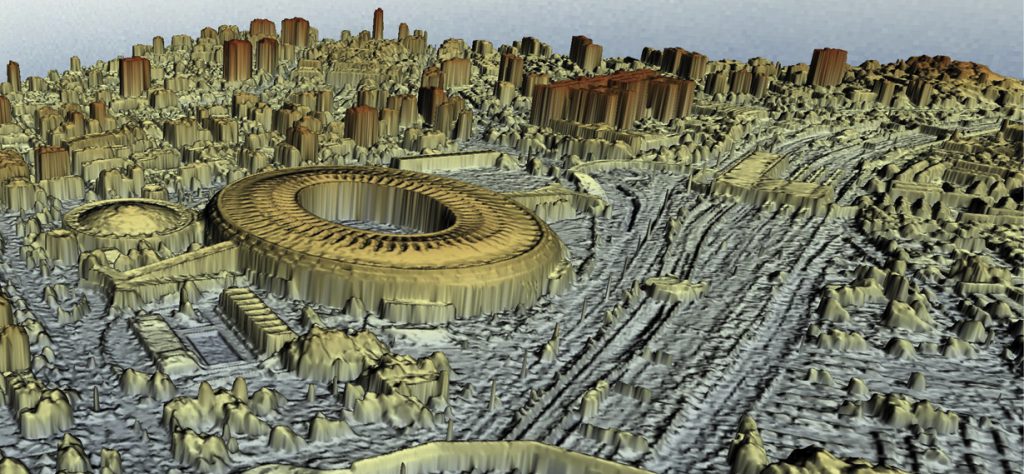 Vricon – the JV with Saab
To make the Rio Olympics 2016 safe and secure, special force operators need to work under extraordinary circumstances. Vricon, a joint venture between DigitalGlobe and Saab (Swedish aerospace and defense major), produces Vricon DSM (digital surface model) from commercial satellite imagery with an industry-leading automated 3D modeling technology.
This is the first time that high-resolution satellite imagery is being used with Vricon digital surface models, which are delivered rapidly and with high precision over both urban and rural areas. Featuring 0.5-meter post-spacing and 3-meter absolute accuracy in all dimensions, it will enable analysts to determine, for example, where helicopters can land, where radio communications are possible, and where lines of sight are clear or obstructed and analyze potential threats or jamming devices. It can also help provide the best entrance and exit routes through the venues. "Our joint partnership with Saab will provide security groups with an in-depth understanding of the dimensions of Olympic venues and surrounding neighborhoods," claims Marchetti. The Vricon technology will give officials access to a high-resolution digital surface model of all venues associated with the Rio Olympics, providing them with an unprecedented degree of spatial information and awareness, and allowing for more detailed view, line of sight and, radio frequency propagation analysis.
How it will work
At the heart of DigitalGlobe's offering is the power of its constellation of earth imaging satellites, which has captured the earth's landmass 40 times over with the greatest amount of spatial, temporal, and spectral data available on the commercial market.  The satellites have captured images of Olympic venues with stunning clarity and precision, to the level at which a single diving board can be seen and geopositionally located within a few meters of its actual location on earth, explains Marchetti. This imagery will prove invaluable in helping security groups map and plan activity in and around venues and other areas of interest. Beyond imagery, the package will also include a comprehensive geodatabase of key factors pertaining to the region's human geography, including language, religion, income, etc. The underlying data will also quantify and detail key information regarding event capacity and frequency, venue infrastructure, criminal activity, entrance and exit points, etc.
Vricom DSM will provide a line of sight or view-shed analysis, helping to determine the best vantage points for security personnel and possible ingress and egress routes for Rio Olympics venues. Radio frequency propagation will help to understand the best placement points for communication assets and analyze potential threats and risks from hidden transmitters or jammers. It will also provide emergency responders to locate potential helicopter landing zones as well as to develop real-world mission planning and training activities with model fire, medical, and law enforcement response routes.

Going beyond imageries
Street addressing is just not accurate enough and does not cover all areas and certainly not temporary areas during global events like the Olympics. While GPS coordinates are accurate, communicating long strings of numbers is prone to error. This is exacerbated in a high-pressure situation in the field and when mistakes happen it can cost lives. What is required to make it more powerful is better communication. Communicating accurate location information is essential for effective security. To solve this challenge, DigitalGlobe is partnering with what3words. "[Our data] when combined with DigitalGlobe's high-resolution satellite imagery and detailed datasets enable security teams to quickly identify and easily communicate incidents, team rallying points, helicopter landing sites, or temporary triage tents," describes Clare Jones, Head of Global Partnership, what3words. They can simply communicate an accurate location to a paramedic, security team member or even civilians and guests. Better communication of location means more efficient management and a faster more effective response.
Looking ahead
Security is one in a long list of problems facing South America's first Olympics. Brazil is going through a several crises, including a deep political one that sees its President Dilma Rousseff caught up in an impeachment process. With steep budget cuts, a deep recession and the Zika virus outbreak adding to overall complication, the Brazilian government wouldn't want to take any chances with the Rio Olympics. Even as attention is focused on Rio de Janeiro, the government is also beefing up security in other cities and regions anticipating increase in tourism. When the eyes of the world turn to Rio, be confident it has the best contingency plan possible to keep all the athletes and spectators safe.
Save