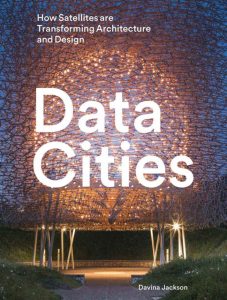 Data Cities: How Satellites are Transforming Architecture and Design by Davina Jackson, published by Lund Humpries, UK in 2018 is an interesting take on the influence of geospatial technology on architecture and design. It does not look at the conventional interaction between geospatial and architecture and design, rather it looks at the interaction at a philosophical level and examines how the space age and its artefacts in general have influenced architects and their creations.
I am not quite sure what the author means when she talks of the "fear mongering years before Y2K" and "post-Internet era of urgent environmental challenges" which set her on a journey of discovery of the digitization of architecture, but her journey is remarkable. She states, the digitization of architecture was foretold as digitization affected the world in general. However, the book is more than about digitization. In fact digitization is disposed of in the first paragraph of the first chapter itself! "Space" in this book is more about the larger concept of place, situation and time viz-a-viz human perception rather than about something as mundane as "location".
The author brings in the term "spime" — a blend of "space" and "time" — which according to one definition is a neologism for a futuristic object, characteristic to the Internet of Things, that can be tracked through space and time throughout its lifetime. Looking at geospatial in this context we do see that spatial data collected over time does contain "coded messages about people, buildings, places, movements and nature's complex interactions". Light is not just what we can see but what sensors on satellites can see for us. A case is made for sci-tech architects who have to support sci-tech entrepreneurs and vice versa. Human habitat must now incorporate environmental factors and architects need to respect this as they design spaces. In short, architects need to move the world to 'livingry' as envisaged by Buckminister Fuller.
In Machines and Matter the author echoes the Fourth Industrial Revolution where computation and living beings merge to form a continuum. Thus, AI, robotics and automation influences the architectural world. Architecture must come alive and be one with nature and its inhabitants. Modelling, material and making makes a case for integrated modelling echoing the need for BIM and CIM to integrate with Natural Systems Modelling which is precisely what GIS helps to do. Use of different materials in building, specially locally available material is something that many have successfully experimented with. Beyond this, 3D printing brings in a new aspect where new materials and shapes can be added to the architecture.
The impact of climate change and destructive weather events aggravated by poor siting and use of inappropriate materials teaches an architect that a building should not be a foreign object put down on a location. Rather, it should blend with the environment, be ecologically sustainable and interact with the environment in a sustainable manner. Here again we see the role of Natural Systems Planning. An important point is the inadequacy of GIS to meet these modelling needs. While data handling is appreciated, the lack of tools does offset its utility for an architect.
This book is amazing in that it tries to bring together modern science and technology and architecture. Though some parallels are a bit contrived but the overall attempt to show how science and technology impacts architecture as much as it impacts other human endeavors is appreciated. After all architects design spaces using innovative techniques and materials and geospatial informs about and helps understand physical space. The twain should meet.
Authors / Davina Jackson
Publisher / Lund Humpries