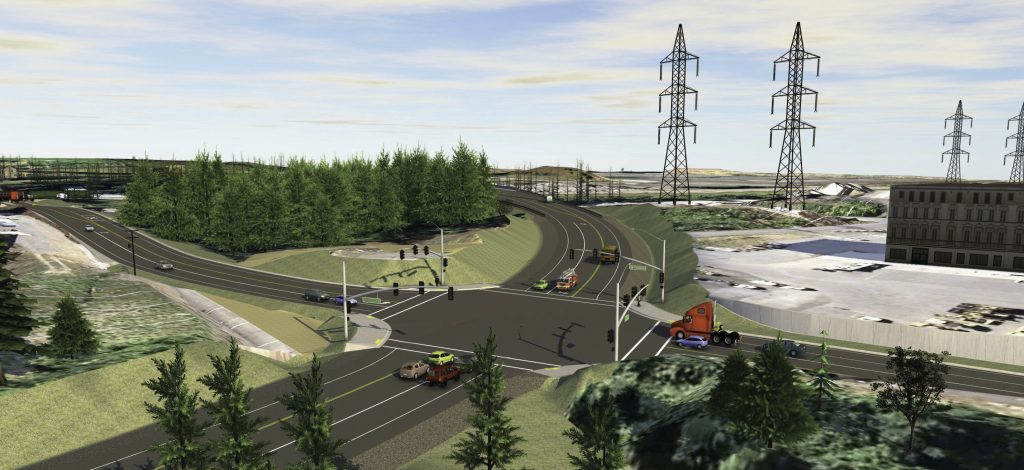 Game changing firms leverage real-world data to improve project outcomes in civil infrastructure
The demand for civil infrastructure is expanding to new levels as key trends in population growth, urbanization, and economic expansion continue to grow. To address these pressure points, we need to reimagine how infrastructure is designed and built.
What civil infrastructure professionals need is a way to more effectively aggregate all the available real-world data (CAD, GIS, raster and vector, LiDAR, photogrammetry, and more) and then use that data to quickly create an intelligent design model of their project. This intelligent model helps civil infrastructure professionals assess different design options faster, stay better connected with project stakeholders, and more effectively communicate design intentions with technical and non-technical stakeholders — improving efficiencies and project outcomes.
Fortunately, Autodesk InfraWorks 360 can deliver on all counts. InfraWorks 360 is a building information model (BIM) platform that enables model-based planning and design of civil infrastructure in the context of the real world. InfraWorks 360 delivers better interoperability so teams can stay connected, and gives designers the ability to design in the richer, more realistic context of the project's actual environment.
Today, world-renowned design and engineering firms are using InfraWorks 360 to more fundamentally change their workflows and methodologies. Here's a look at three of these companies and their recent InfraWorks 360 projects.
Designing a 20 mile addition to the E16 Highway in Norway
The E16 is a 610-mile long highway stretching from Northern Ireland to Sweden, with 220 miles (354 km) comprising the fastest route from Oslo to Norway's western fjords. The Danish construction firm COWI recently designed and built a four-lane 20-mile (32 km) addition to the E16 in what became the largest contract ever awarded by the Norwegian Public Roads Administration.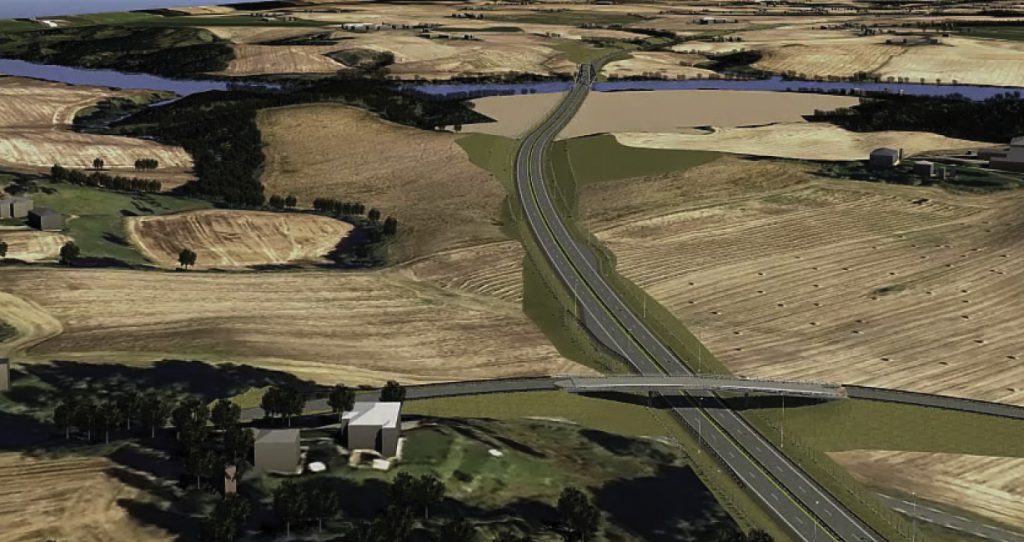 With four lanes, five crossings, three bridges, and 15 flyovers, the E16 addition presented a complex design challenge, especially in an area known for its diverse landscape, unstable clay soil, and harsh winter conditions. COWI had to address significant geotechnical concerns and flooding issues on this project.
To get started, COWI took enormous amounts of land, geology, flooding, natural resources, and agriculture and forestry data from various sources and loaded the data into InfraWorks 360 to build a unified 3D model of the project. COWI engineers then began fine-tuning the initial route to determine the engineering needs for each segment.  During ongoing review sessions with their client, the COWI team presented its work by conducting a fly-through of the 3D model that showed how the highway and its elements would function in the actual terrain. Based on client feedback, the engineers modified the design with changes applied in real-time during the meetings.
The ability of InfraWorks 360 to incorporate a wealth of real-world data into a 3D model played a significant role in speeding up, and improving, COWI's highway design process.  "One of the datasets we loaded into InfraWorks 360 contained data of a 200 year-old flood," notes Gjermund Dahl, BIM coordinator at COWI. "We used these data to inspect swampy areas and ensure that the roadway was properly elevated, and we investigated ways to avoid areas where the clay soil would compromise stability. InfraWorks 360's modeling helped us locate an expedient route more quickly."
COWI finds InfraWorks 360 to be an invaluable tool in everything from job bidding to project final approval, and motorists along the E16 no doubt appreciate the tangible benefits that come from designing highways within a real-world context.
The rebirth of the Westside Bypass in Oregon
The Westside Bypass in Oregon, first planned in the early 1980s, was envisioned as a high-speed beltway to solve Washington County's gridlock problems and pave the way for continued economic growth. Tempered by widely held public sentiment against unchecked growth and urban sprawl, it was, from the onset, a controversial project that eventually was abandoned. But years later the pressures of the county's rapid population growth brought the project back into the limelight. What was needed was a carefully designed bypass highway that would foster prosperity and convenience in Washington County without compromising the quality of life.
The Oregon-based design firm David Evans & Associates (DEA) was signed on to design the 124th Avenue extension, a key component of the bypass project. For public outreach, DEA started with project visualizations in the form of traditional 2D plan drawings and strip maps. When shown to a non-technical audience, such as local businesses and homeowners, these visualizations were simply not effective. Blueprints and flat plans could not adequately depict the project's design or quell fears that the proposed roadways would degrade neighborhoods and ruin home values. DEA knew they were dealing with stakeholders who were engaged and vocal, and with the project 75% complete, they realized that any visualizations they produced would have to depict, and sell, their design in a way that was both memorable and easy to understand.
That's when DEA turned to Autodesk InfraWorks 360 and Roadway Design for InfraWorks 360. With InfraWorks 360, DEA merged their own design data with publicly available digital terrain models, aerial photos, and GIS-based road and building data. What resulted was a highly realistic and accurate 3D model of the project set against the actual location terrain. With the design model complete, DEA produced a series of high-resolution project renderings and four drive-through/fly-over videos (one for each major roadway on the project) for the open house meetings.
The stunning context-based visualizations did the trick in demonstrating the design and were an instant success with both DEA's client and the public. According to Daniel Illiyn, civil engineer for roads and highways at DEA: "InfraWorks 360 gave us a new way to clearly communicate the design to the community and other project stakeholders at the meetings, and definitely helped the county move the public engagement process forward."
In addition, Washington County was so impressed with the InfraWorks 360 renderings and videos that it asked DEA to create similar project visualizations for another roadway project as a tool to keep that project moving forward.
Highway expansion and a new bridge in Norway
Highway expansion and a new bridge over the Glomma River were the prime objectives of an ambitious project undertaken recently by the Norwegian Public Roads Administration (NPRA). The project, planned for an important transportation route approximately 30 km east of Oslo, also included the investigation of new routes and alternative locations for a new river crossing. One of NPRA's requirements was a presentation of the preliminary design options in the form of 3D project visualizations. The design contract was awarded to Multiconsult AS, a leading Scandinavian civil engineering consultancy.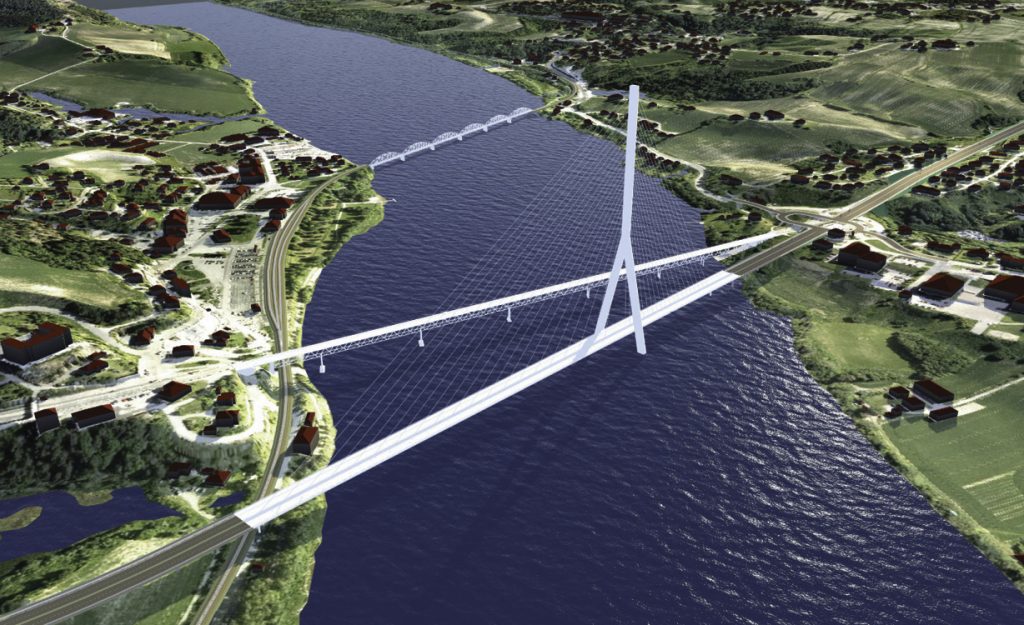 Multiconsult AS used InfraWorks 360 for BIM to quickly and cost effectively create and present multiple preliminary design alternatives — visualized in the context of the existing environment — using a single model. InfraWorks enabled Multiconsult AS to create a large model of the surrounding environment from existing 2D CAD, 3D model, GIS, and raster data; and then develop and evaluate its conceptual design alternatives in that single model.
The Multiconsult AS team started with digital terrain models of the project area, encompassing approximately 30 sq km. Over this terrain, they merged and draped 2D and 3D data representing existing water bodies, bridges, railways, roads, roadway junctions and interchanges, and buildings. The GIS data also included the building footprint and height, satisfying client requirements that existing buildings in the concept model be shown at their actual-to-scale heights.
The resulting model included preliminary design alternatives for the road alignments, bridges, tunnels, and interchanges. Within this single InfraWorks model Multiconsult AS developed 17 possible road alternatives and 8 different designs for the new bridge across the Glomma River.
Multiconsult AS also used the InfraWorks model to produce high-resolution still images and animations that were presented during meetings with the client and project stakeholders. These project visualizations have since been used on NPRA's website as well as the websites of affected municipalities and counties to help explain the design proposals to the public. "InfraWorks helped our designers simulate the environment and present our design alternates within the context of the surrounding environment. As a result, we succeeded in delivering a project that met our client's requirements within the time and cost limits," says Philip Hon, a road designer and BIM coordinator for Multiconsult AS.
Setting the new standard of reality-based BIM in civil infrastructure
The results achieved by each of these firms are not atypical of what many other design and engineering companies around the world have achieved by including Autodesk InfraWorks 360 in their project workflows. With its unique ability to aggregate enormous datasets into a single 3D model, InfraWorks 360 makes real-world context-based design modeling a reality and sets the new standard for BIM for civil infrastructure workflows. Companies can now develop preliminary design alternatives and visualizations in the context of existing environments more quickly and cost effectively than ever before. By fostering a collaborative design environment via the Cloud, InfraWorks 360 improves every phase of the design process while opening the door to even faster and more agile design modification.
Bobby del Rosario
Manager, Civil Infrastructure Product
Marketing, Autodesk