In an age of disruptions, much of what will happen in times to come is unpredictable. What is impossible today will become mainstream tomorrow, and only those companies who can accept the challenge to transform themselves will remain relevant in this new era
The Fourth Industrial Revolution ushers in the era of Big Data, artificial intelligence, machine learning and Internet of Things. The speed of disruption will be drastic as the advance of machine learning and robotics drive forward changes more quickly than we humans could ever achieve. While disruption gets to be the new normal, geospatial is becoming ubiquitous, pervasive, and 'by-default' in our daily lives. From smartphones to self-driving cars to machines that think, the sheer level of ubiquity is subsuming geospatial systems into common everyday processes. In the Fourth Industrial Revolution, geospatial is not just about location. It is more about how the information revolution will affect humankind and the surrounding environment.
In 2018, we found the geospatial industry excited about the future, as they viewed the disruptions as an opportunity to further evolve. That optimism continues in 2019 — an overwhelming majority of business leaders (75%) are confident about their near-term prospects (Graph 1) in a somewhat rosy global economic scenario (Graph 2)— 39% believe it will improve while 28.5% believe it will remain the same.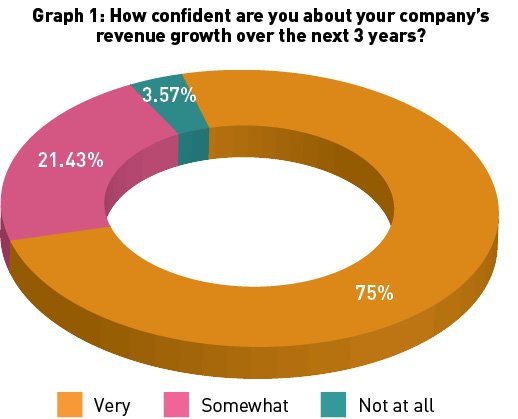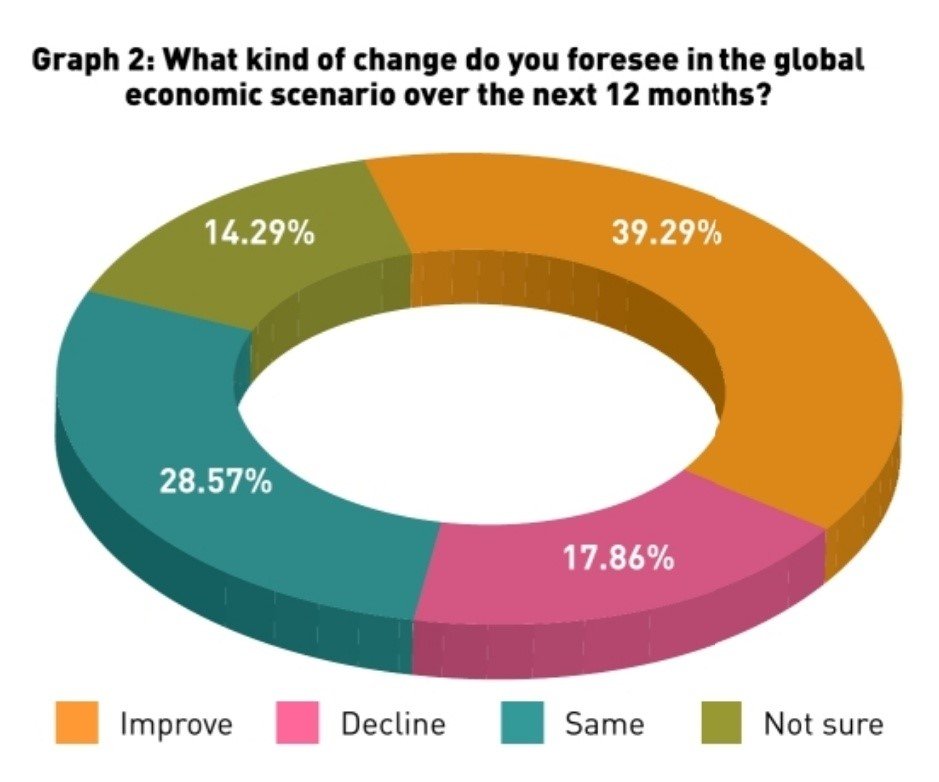 However, this optimism is tempered with a sharp dose of realism — that while technological disruptions have/impacted the industry, they need to seize the opportunities unleashed therein, and continue with pathbreaking innovations. There is a sense of determination to this optimism, as if they were conveying the message "now or never".
The "never" in the message may sound too dramatic. But if we look at how the industry has been reshaped/impacted by technology disruptions (See Graph 3) and how a majority of the disruptions in the geospatial domain have come from outside the industry (In 2018, 65% of the leaders felt so), the underlying message seems to be you need to innovate to stay in the game. The start-up community has fostered a rapid pace of innovation, and the Location Analytics and Space 2.0 communities in particular have completely challenged the incumbent business models and cost structure.
Also Read: Maps are becoming a common language across organizations – Jack Dangermond, Esri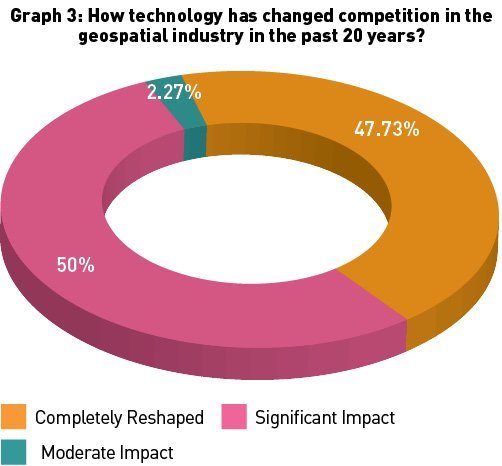 Like all technology domains, drivers such as artificial intelligence, automation, Cloud, Internet of Things and miniaturization of sensors are adding to the momentum. As indicated by Graph 4, business leaders see Integration of artificial intelligence, machine learning and Big Data with geospatial as the next big thing for the geospatial industry.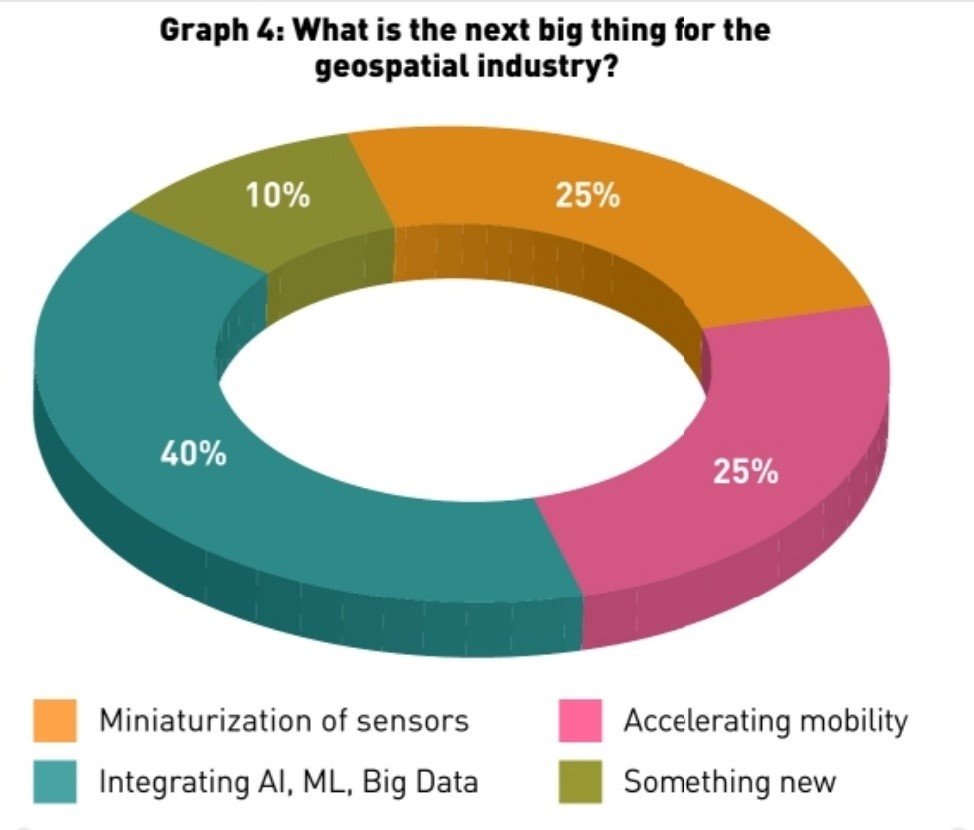 The business leaders are also struggling with a spectrum of challenges grappling the industry and they acknowledge a growing list of concerns (Graph 5) — from changing customer loyalty to restrictive regulations, to availability of skilled workforce. There are also a number of additional critical issues that have emerged recently, ranging from rapid pace of technology to data privacy issues.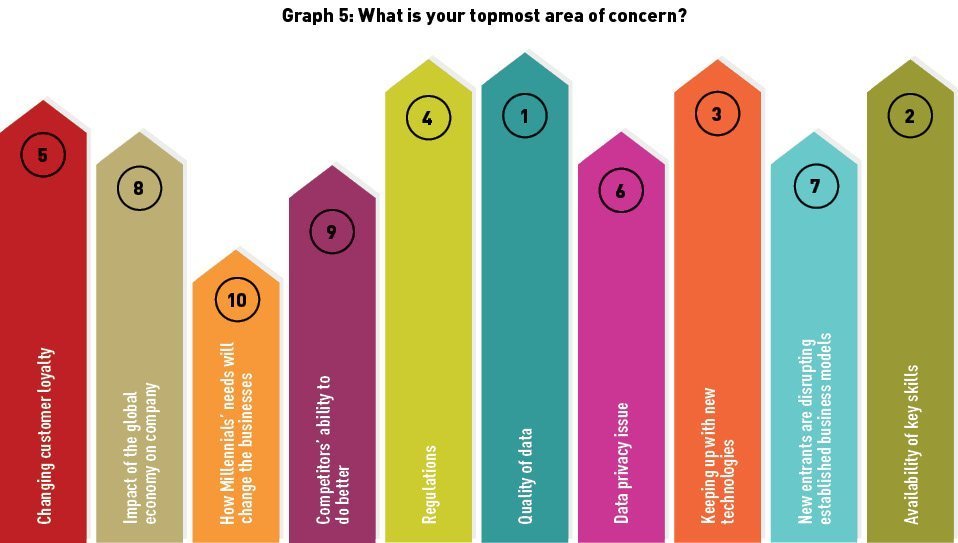 Majority of leaders identify the need for optimal use of data analytics and predictive technologies to be the top most technology challenge facing the industry (Graph 6).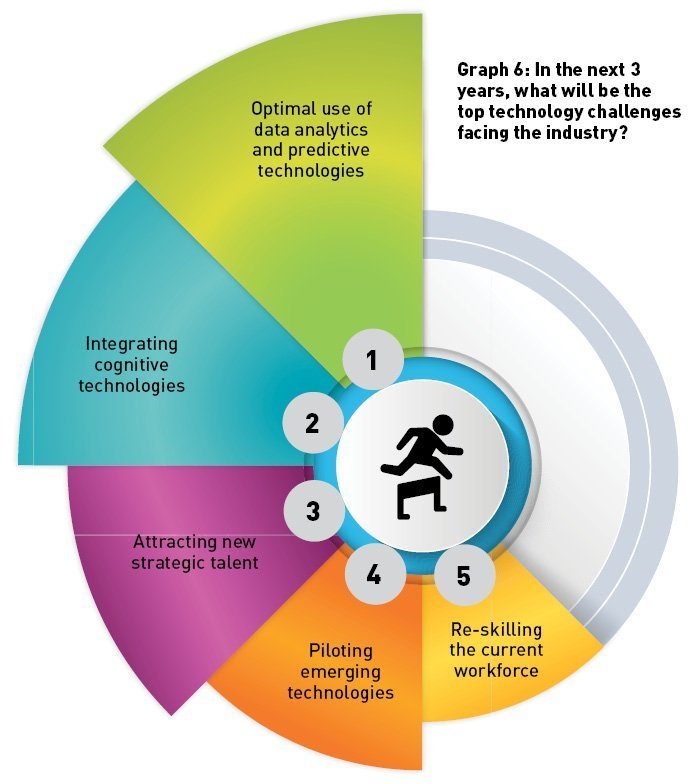 To keep going on in this rapidly transforming landscape, companies are reviewing their business strategies. As per our 2019 leader's survey, the top five strategic priorities for the CEOs include implementing collaborative business models, innovating new products and services, adopting more disruptive technologies, increasing penetration in existing markets and becoming more data-driven (Graph 7).

Collaborate, not compete
With the processes of geospatial data capture and maintenance getting dramatically reshaped — thanks to open data movements and advances in Cloud technologies — the lines separating industries, companies and technologies are fast disappearing. The proliferation of location-based technologies has raised awareness and accelerated the development of applications for user-based needs. Today, location technology is going into chipsets, cars, drones, enterprise software, traffic management systems, and no one CEO or company can have all of these things at the same time across the whole spectrum.
Consequently, the past decade saw a growing number of M&As within the industry. Even though the consolidation process still continues, an increasingly larger number of companies in the geospatial domain are now interested in entering into partnerships to deliver better shareholder value, customized solutions to their customers or enter new markets.
As Graph 8 shows, strategic alliance or joint venture emerged as the most preferred plan of action (32%) for the industry leaders to drive growth. This was followed by organic growth (25%); and collaboration with startups (13%). This is in sync with the 2018 survey, where an overwhelming 85% of the leaders said geospatial companies should go for collaborations within and outside the industry. M&As continued to be fourth on the list of priorities (10%) — in sharp contrast to the 2018 survey when 45% of the CEOs saw acquiring new businesses/technology to be their biggest investment in the three years (See Graph 8).

This change in mindset is largely because of the realization that the speed of technological transformation demands faster turnaround times, and in such an environment, collaboration is a viable and alternative to buying and building/customizing from scratch. We have seen companies forming partnerships and alliances with competitors, startups and even universities and customers, making everyone in the ecosystem part of the innovation process.
Also Read: Geospatial 4.0: Time to focus on social equity and sustainability
Analytics the way to go
It is a given that in a highly digitalized world, every business must become more analytics driven to sharpen its competitive edge. This is not easy for an industry which traditionally has been product-oriented, with the end consumer either developing in-house capacity or hiring consultants or system integrators to help with its implementation, operations and maintenance. While large companies suffered from legacy issues, this is a gap area that the start-up community were able to quickly fill up in the past few years. These startups — mostly backed by VCs and quick-thinking on their feet — realized early that analytics is the way to go.
While the large geospatial companies typically started off on unique technology platforms, even they have understood that data analytics is integral to survival, let alone grow. Naturally, majority of the business leaders see increasing data analytical capabilities as one of their top areas for investment over the next three years (Graph 9).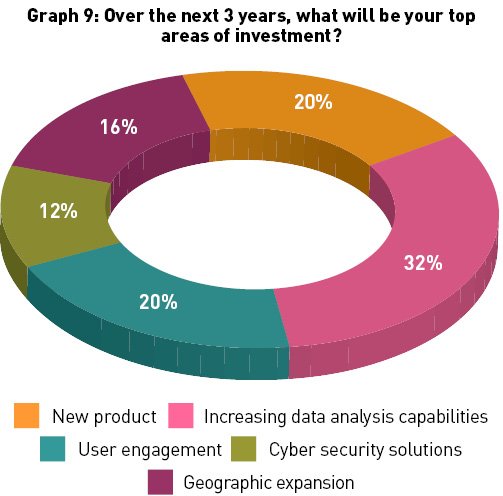 New business models
With frequent innovations and disruptions cutting down gestation periods and shortening product/solution lifespans, businesses are adopting new models to manage profit vulnerabilities. Further, there is also a realization that users today want complete workflow solutions rather than a piecemeal approach. Most of the business leaders we interacted with stressed on the need for delivering services to customers rather than a standalone product-centric approach.
With the gradual realization of the consumer preferences/limitations and increasing market competition, it would be safe to conclude that X-as-a-Service is fast emerging as the most preferred business model. And, it is expected to gain further momentum with technologies expanding their applicability and reach to new user segments.
This is in contrast to the 2018 survey, where CEOs were seen to be gung-ho about a subscription-based business model, which was gaining traction for the past few years because of a smaller upfront investment and low upgrade cost. It, however, continued to remain the second preferred model for doing business this year too (Graph 11).

Geography — where is the market
While US continues to be the preferred market for business, the Indian growth story here is interesting. It emerged as the second most preferred market, even overtaking Europe, and leaving China lagging far behind in fourth position (Graph given below). India and China when taken together along with the rest of the region make Asia Pacific look like a hotbed of change with an interesting combination of new entrants and technology companies constantly making new markets with new business models leveraging disruptive technologies. Industry leaders see the demand for geospatial data and services in these regions to be driven by sharp expansion of the user base — aided by numerous initiatives being taken by the governments in these regions to bridge the prevailing digital divide. They also see a sharp uptake of technology in Africa and Middle East but due to the very low base, the real value of business growth will be comparatively low.

Not innovating is not an option
It is amid such shifting realities that CEOs are setting their short and long-term strategies and executing them. They are anxious and at the same time excited about all the disruption coming their way. These business leaders — many of them young and restless — also realize sitting in the corner office will not make a successful CEO; instead they need to be on their feet thinking, innovating and adapting. A significant majority of CEOs recognize the importance of the need to foster a culture of innovation, respond quickly to technological opportunities and invest in new processes. They also recognize the need for skilling new workforces and re-skilling existing ones.
Mainstreaming of geospatial, smart devices and miniaturization of sensors has led to an ever-increasing amount of spatially located information where maps have become like a toothbrush.
Much of what will happen in times to come is unpredictable. What is impossible today will become mainstream tomorrow, and only those companies who can accept the challenge to transform themselves will be more relevant in this new era.
Also Read: World Economy, Digital Divide and SDGs: The Geospatial Way!