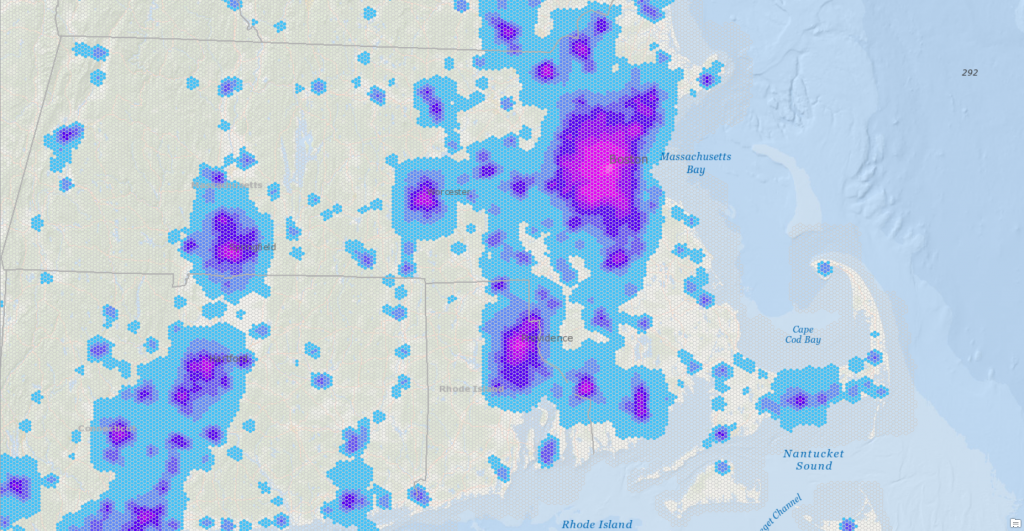 It's incredibly interesting to see the work that ArcGIS technology empowers our users to do. Their projects are fascinating because they are taking on some of the biggest, most urgent problems on the planet.
Today, hundreds of thousands of organizations use ArcGIS to make maps that communicate, allowing users to perform analysis, share information, and solve complex problems. This is literally changing the way the world works.
Extending the reach of their GIS work has become a new goal for our customers. With the Web GIS capabilities of ArcGIS, all the advanced geographic intelligence that our users create as data, maps, and analytical models can be mashed up and delivered as online maps and apps and shared with others who can put them to work—both within their organizations and beyond. The people who need geographic information can work with easily configured apps on their computers, tablets, and smartphones, bringing geographic information to life for their work.
At Esri, our belief has always been that GIS has the extraordinary potential to extend its reach to everyone through a common visual language that connects people across organizations and throughout the world. 
The new ArcGIS 10.5 release has something for nearly everyone. It's not just about new professional GIS capabilities. ArcGIS 10.5 is fundamentally enabling a transformation, making it easier to connect to and integrate many types of distributed data from multiple organizations. It's also about delivering GIS across our users' organizations and onto the World Wide Web. Here is a rundown of a few of the new ArcGIS 10.5 capabilities that users will begin to see at the end of 2016:
ArcGIS Pro 1.4 
ArcGIS Desktop has always provided the foundation for modern Web GIS. ArcGIS Pro, the new, comprehensive desktop GIS, adds new capabilities for everyone. Many of the capabilities in this new release are grabbing the interest of desktop users. Since its initial release, ArcGIS Pro (pro.arcgis.com) has included integrated 2D and 3D mapping and visualization, a 64-bit multithreaded processing architecture, and a dramatic new user experience for performing desktop GIS work while also connecting to and extending the reach of your GIS throughout your organization by using ArcGIS Enterprise—and beyond by using ArcGIS Online. 
ArcGIS Pro 1.4 adds new tools for smart mapping, data visualization, interactive charting, and exploration, along with capabilities for creating and publishing your own vector basemap designs.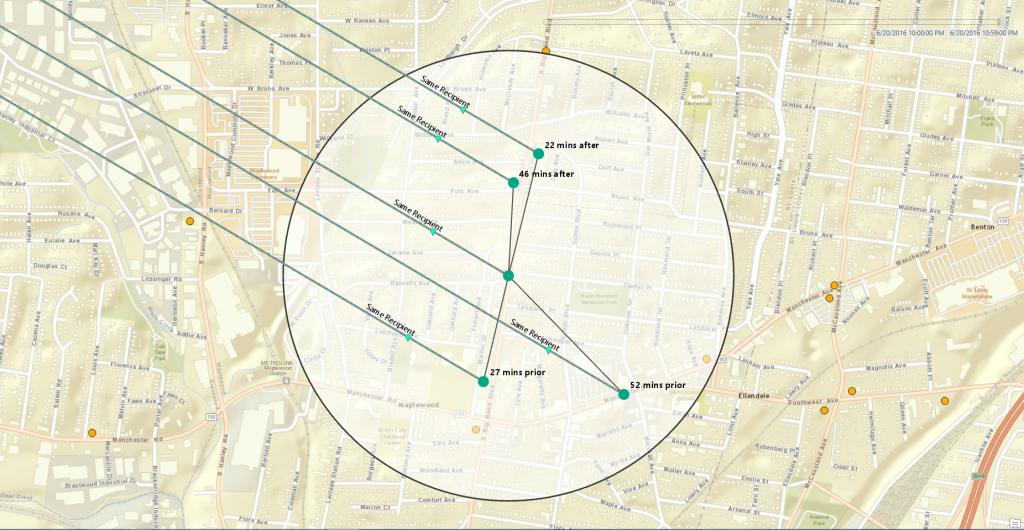 ArcGIS Pro also allows the creation and publishing of tasks to implement workflows and simplify complex operations. Access to the amazing maps, data layers, and analytics in the Living Atlas of the World is enabling ArcGIS Pro users to get connected to the GIS of the world and to publish and share their good work beyond their organizations.
Getting Started — Learn by Doing
ArcGIS Pro 1.4 comes with some great online lessons that enable you to get started quickly and gain confidence in your adoption of this powerful desktop application.
ArcGIS Online: What's New
The big news about ArcGIS Online (arcgis.com) in 2016 and 2017 is about how the great work of the professional GIS community is being leveraged and used throughout organizations. The release of the ArcGIS platform has always been about how to extend the reach of your GIS beyond your professional users.
The adoption and growth of ArcGIS Online in these past few years has been pretty amazing. Users everywhere are deploying ArcGIS Online to deliver GIS across their organizations and out to their constituents. ArcGIS Online membership and usage has more than doubled in 2016. Hundreds of thousands of GIS apps have been deployed throughout organizations and to the public. The use of story maps has grown rapidly. We estimate that more than 1,000 story maps were published and shared every day this year, with literally millions of views. Close to a billion basemaps are being served daily. 
The ArcGIS Online December update wraps up a great year with new software that features more advanced GIS capabilities, more improvements to the user experience, and better ways to manage your account and share your work.
Vector Basemaps
Vector basemaps are moving from the beta stage into full release. From ArcGIS Pro to apps, these are highly efficient and more flexible basemaps for your apps. You can find these in the ArcGIS Online basemap gallery, with nine new map styles from a single tile service. They are designed to work well on your high-resolution retina displays as well.
The nine styles—which are derived from commercial, community, and open-source data worldwide—include a dark and light gray canvas, three street variations, terrain with labels, navigation, topography, and an imagery hybrid. These map styles are published as web maps and can be customized by users. For example, ArcGIS Pro users can create their own map styles, which are deployed by simply sharing a style file. The database behind these new maps is a vector tile cache, which is only 18 GB in size for the entire world. 
These basemaps will be updated more frequently in 2017, enabling access to the most recent updates. Early in 2017, vector basemaps will be available for download and distribution to mobile devices. 
New Web Mapping and Analytic Capabilities
Users will discover a more inviting experience that includes editing and creating related records, more smart mapping styles, and labeling enhancements for both 2D maps and 3D scenes. These improvements will enable them to explore and gain insight from the data behind their maps, along with improved pop-ups to reach deeper information.
Analysis functions have been expanded in the December release. The Join Features tool will transfer attributes from one layer or table to another based on spatial and attribute relationships. The tool is especially useful for operations such as appending common boundary or demographic information to incident data, identifying the facilities that are closest to a known location, or determining the number of things that fall within zones. A Find Outliers tool can create maps showing statistically significant clusters and spatial outliers present in data.
Better Identity Management
The December update to ArcGIS Online will include easier account switching for users with multiple accounts.
Richer Living Atlas of the World Content
ArcGIS Online includes the Living Atlas of the World—a curated catalog of the best available maps, data layers, analytics, and apps coming from the ArcGIS user community, partners, and Esri. The Living Atlas currently contains over 4,000 items and is growing daily. The Living Atlas means that you connect to the GIS for the world and bring your own data and ideas to the GIS community. This is changing the GIS paradigm.
Demographic maps for Canada, the United States, and several other countries have been updated. Canada now features 2016 demographic data. The United States updates include the latest data for the Esri Retail MarketPlace and shopping centers, and daytime population is now available for mapping and analysis. Other countries with updated data include Belgium, China, Denmark, Finland, France, Germany, Italy, the Netherlands, Norway, Poland, Russia, Spain, Sweden, Switzerland, and the United Kingdom.
Item Description and Management
Numerous improvements are being added to the content management capabilities in ArcGIS Online, including better item descriptions and usage reporting, along with the ability to nominate items for inclusion in the Living Atlas.
Social Logins
ArcGIS Online also supports creating new organizational accounts using credentials from social networks, such as Facebook and Google+.
Explosion of Apps
In addition to the comprehensive GIS apps provided in the ArcGIS system (for example, ArcGIS Pro), there is a broad array of new apps being released by Esri, our partners, and the user community every day. Many of the new and existing ArcGIS apps are described below.
It's worth acknowledging that the expansive growth of these focused, purpose-built apps is driving the use of GIS across organizations and into public settings everywhere.
ArcGIS Marketplace
To find apps that go beyond those offered by Esri, check out ArcGIS Marketplace (marketplace.arcgis.com), where new apps are being released and shared daily. 
New ArcGIS Apps
A key Web GIS capability in the new ArcGIS release is the use of focused apps to extend the reach of your GIS to many people both within and outside of your organization. This starts with the great maps, data layers, and analytic models that you create and share using ArcGIS. This information catalog comes to life through an amazing array of apps—some new, and others with updated capabilities—that put your GIS to work for hundreds of users. Here's an overview of some of them:
Esri Story Maps
Everyone has a story to tell, and Esri Story Maps (storymaps.arcgis.com) provides one of the most compelling ways to tell stories by harnessing the power of maps. Hundreds of thousands of users have begun to leverage their ArcGIS information by employing story maps to reach new users. The new Esri Story Map Cascade web app is one of the fastest-growing apps in ArcGIS history.
Apps for the Field
Use these apps to take GIS to the field and back into your office:
 ArcGIS Earth 1.3
Explore the world in 3D with ArcGIS Earth, one of our most popular free desktop apps. Work with a variety of 2D and 3D data and map formats including KML. With ArcGIS Earth 1.3, you can now do more with terrain, imagery, and KML. You will also discover authentication improvements and new ways to add personalization to the app. This release enables ArcGIS Earth for the upcoming ArcGIS Online update, as well as including the amazing basemap collection with your ArcGIS Online subscription.
Insights for ArcGIS
One of the most exciting new apps, Insights for ArcGIS allows you to interactively explore and analyze your data through the use of maps, charts, and graphics that are synthesized into interesting workbooks of maps, tables, and charts from multiple sources—not only from ArcGIS but also your enterprise data warehouses, Excel spreadsheets, big data stores, and more. The new interactive visualization power of Insights will be a critical analytics tool for data science. You can expect more updates and capabilities to be delivered to Insights throughout 2017.
ArcGIS Open Data
ArcGIS Open Data connects businesses and citizens to your authoritative data. Your organization can share your authoritative information through easy-to-configure public-facing websites, enabling the public to search for and download data they need.
The New ArcGIS Enterprise
Today, thousands of organizations use ArcGIS for Server to enable GIS throughout their organizations on their own computer networks and infrastructure. At version 10.5, ArcGIS for Server is being significantly upgraded, and as part of this, we are changing the name to acknowledge the emergence of a new platform called ArcGIS Enterprise (https://www.esri.com/software/arcgis ).
ArcGIS Enterprise provides a modern GIS server along with an information catalog for your organization's users to both share and discover GIS maps, data layers, analytics, and apps. It significantly enhances analytical and problem-solving capabilities and can be expanded to offer sophisticated enterprise capabilities on your organization's computing infrastructure. It turns your GIS server into an online GIS for use throughout your organization.
Here are some new server capabilities that can be used to extend your ArcGIS Enterprise capabilities:
A New Portal for ArcGIS App
ArcGIS Enterprise has become much more intelligent at 10.5. It includes an information catalog, called Portal for ArcGIS, which provides GIS access throughout your organization. Portal for ArcGIS includes a catalog of the individual datasets in your GIS server. But it does much more by sharing access to intelligent information items, such as web maps, analytical models and scripts, and configured apps, with users across your organization. You control access to the information by choosing which items you want to share and with whom.
ArcGIS GeoAnalytics Server
ArcGIS GeoAnalytics Server adds big data support. It makes space-time analytics considerably faster through the power of distributed computing. The GeoAnalytics Server architecture harnesses the computing power of multiple servers and nodes rather than relying on a single machine. It enables users to analyze and make sense of billions of data points in just minutes instead of hours or days.
ArcGIS Image Server
At 10.5, ArcGIS Image Server, which also taps into a distributed computing infrastructure, allows users to build their own imagery and raster analytics workflows for fast, multi-CPU, parallel processing of massive imagery collections. ArcGIS Pro users can take advantage of these massive processing capabilities to manage this work and generate analytic results.
ArcGIS GeoEvent Server
ArcGIS GeoEvent Server harnesses sensor networks to integrate the Internet of Things (IoT). It provides the ability to connect to and use streaming data from sensors and devices, as well as social media feeds. With GeoEvent Server, organizations can track their most valuable assets in real time. They can monitor assets that constantly change location, such as vehicles, aircraft, or vessels, as well as those with static locations—such as weather and environmental monitoring stations, traffic sensors, stream gauges, and utility network sensors.
These information assets come to life in the Operations Dashboard for ArcGIS app (esri.com/products/dashboard), allowing you to monitor, track, and access operational views of your daily work.
ArcGIS Pro 1.4 Integration
ArcGIS Pro 1.4 includes tools for batch processing and raster analytics that connect to ArcGIS Enterprise—specifically to GeoAnalytics Server, GeoEvent Server, and Image Server—so users can create persistent results faster and share them throughout the organization. In addition, users can share and publish Python scripts and tools and 3D scene layers throughout ArcGIS Enterprise. 
Conclusion
This ArcGIS release heralds another big step in the adoption and use of GIS, not only within professional GIS workgroups and departments but also all across organizations and out on the web to the public. The trend of "societal GIS"—a global network of GIS professionals connected to society at large—continues apace.
 The release of ArcGIS 10.5 will make for an exciting 2017. As geospatial analysis continues to evolve and becomes ever more accessible, our hope is that you join in this interesting era of GIS transformation and deeper engagement across society.